Mammarelli Driven to Succeed
CORAL GABLES, Fla. – Dominic Mammarelli stood there, waiting for the moment.
And then, as he steeled himself for what was to come, one of his veteran teammates gave him some essential advice Mammarelli didn't even know he needed.
"Will [Mallory] just grabbed me by the shoulder and said, 'You better grab someone. You've got to hold on to someone,'" Mammarelli recalled. "I was like, 'okay,' but we went and I realized if I wasn't holding on, I would never have been able to get out of there. Your adrenaline is going crazy at that moment. It's all white and then you just get out and see everyone in the stands.
"There's nothing like the first time you run out of the smoke at a home game. I felt like I was in a movie or something."
Two weeks after that moment before Miami's season-opening win over UAB, Mammarelli got another memorable moment at Hard Rock Stadium.
The freshman tight end found himself back on the field when the Hurricanes hosted rival Florida State in what was eventually a 52-10 Miami win.
That he had the opportunity to play in one of college football's most iconic rivalry games just four years after he began playing football is something Mammarelli doesn't take for granted.
Though he played basketball and baseball growing up and his father was a kicker at Cincinnati, it wasn't until Mammarelli got to high school that he decided to really give football a try.
By his sophomore year, he got his first scholarship offer. Not long after, Miami offered, too.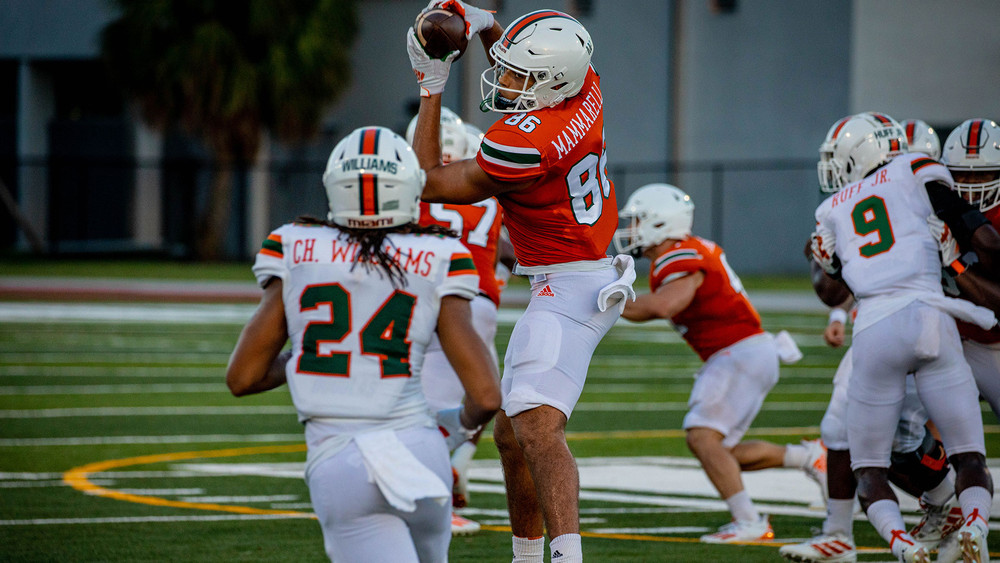 Mammarelli committed to play for the Hurricanes and through two seasons and multiple coaching changes in Coral Gables, the tight end held firm.
He wanted to play at Miami and now, that's the what he's gotten to do.
"For me, for some family reasons, it was better to stay close to home, but I would say the reason why I stayed locked in is because of who I am," said Mammarelli, a former four-star prospect at Naples High. "Once you commit to something, you should stick with it. They stuck with me and I stuck with them."
Establishing that relationship early in the recruiting process allowed Mammarelli to start getting to know some of his future teammates, including Mallory and fellow tight end Brevin Jordan, before he enrolled at Miami in January.
That, the freshman says, has been a major reason he's been able to get adjusted and adapt to the college game.
That he happens to be learning from two of the best tight ends in the nation hasn't hurt either.
"I really got to learn early on from those guys, just ask them different things. I've known them since I was a sophomore in high school. So it was really cool to come in here and be with them all the time," Mammarelli said. "Brev's awesome, obviously. And Will's a dude as well. It's good to have those guys in the room and being able to learn from them as a young guy, on and off the field."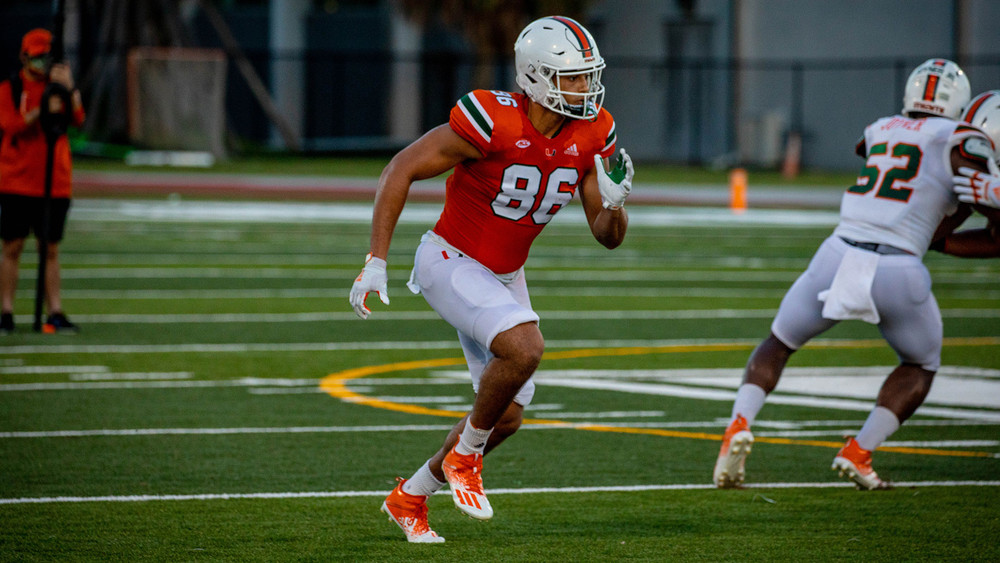 Though he's gotten plenty of help adjusting to both college life and the college game, Mammarelli concedes his first few months as a Hurricane have had their share of challenges.
Like any freshman, he's had to learn to manage his time and his schedule. Waking up for pre-dawn workouts with the rest of Miami's 2020 class has taken some getting used to. And in March, Mammarelli and the rest of the Hurricanes were forced to end spring practices and leave campus because of the COVID-19 pandemic.
Once he and his teammates returned to campus, there was another test waiting.
"When we got back a couple months ago, I was going against [defensive end] Jaelan Phillips and that didn't really go well for me," Mammarelli laughed. "That was when it hit me: this is college football. In the spring I had to go against Greg [Rousseau], so those have been some moments for me. But for me and all the guys that have to go against those guys, it only makes us better."
And pushing himself to get better has long been one of Mammarelli's driving forces, something his father says he's seen from his motivated son from the moment he started playing the game.
"It can be a curse and a blessing because sometimes, he can be overly hard on himself," Jason Mammarelli said. "I've always told him to put his best foot forward, whether it was in school or in sports. Be coachable, listen to directions and he's always been good at that. … He really cares and I think that's a great thing about Dominic. He always wants to do his best. Hopefully, that keeps him going in that direction so he can continue being successful."
Added Dominic Mammarelli, "I don't think any of this is for me. It's for my family. It's deeper than just playing. And for me, I hate the thought of being average. I don't want to be average. That's my biggest fear. It comes down to who you want to be. … I want to be the best player I can be. I want to be able to get through whatever adversity comes in the future and take my career forward. I want to have a positive impact on the guys coming in."