Canes Embracing the Challenge
CORAL GABLES, Fla. – There is no doubt the Hurricanes understand the challenge ahead of them.
Their opponent Saturday has won five straight conference titles and two of the last four national championships. They are a perennial College Football Playoff contender, the standard bearer of the ACC and a measuring stick for programs all across the country.
They are led by a Trevor Lawrence, a quarterback widely expected to be one of the top picks in next year's NFL Draft. Travis Etienne, their lead running back, is the reigning two-time ACC Player of the Year. And their defense is one of the best in the nation, holding opponents to an average of 4.3 yards per play.
But as seventh-ranked Miami continues preparing for its prime-time showdown with top-ranked Clemon in Death Valley, the Hurricanes know Saturday night is more than just a test.
It's an opportunity to learn more about themselves; a chance to see how they match up against one of college football's powerhouse programs. And that's an opportunity worth embracing.
"What we're trying to do is we're trying to get ourselves in a position where playing these games is not extraordinary for Miami anymore, that we're in these types of prime-time matchups, the College GameDay thing, playing against a team like Clemson," Hurricanes head coach Manny Diaz said. "This is how you build a program, to be in these positions and have it feel kind of natural and normal, which is exactly what it [feels like] to Clemson. This is a great opportunity for us, in terms of what we've done over the first three weeks to go test ourselves against a team who is very comfortable in these settings, but had to earn the right to be there."
Added offensive coordinator Rhett Lashlee, "We have a ton of respect for Clemson. They're No. 1 and they've been the champ in our league for a while for a reason. They've earned that opportunity. At the same time, I think this is why you come to the University of Miami: to be able to play and coach in games like this. It's a great opportunity."
The stage on which Miami and Clemson will meet Saturday is a familiar one for the Tigers, who are 7-2 in top-10 matchups since the start of the 2016 season. Miami, meanwhile, has played in just three top-10 matchups during that time, posting a 1-2 mark.
One of those losses came against Clemson in the 2017 ACC Championship Game where the Tigers capitalized on their experience and skill to secure the conference title with a 38-3 win.
It was a game Diaz says served as a teaching moment for the Hurricanes, though many of the players on both sides that night have since moved on. Now, a new set of players – and coaches – will see how they stack up against Clemson.
For Miami, D'Eriq King – who has already twice this season earned ACC Quarterback of the Week honors – will lead Lashlee's fast-paced, high-scoring offense. He'll be joined by a trio of running backs in Cam'Ron Harris, Donald Chaney Jr. and Jaylan Knighton who have combined for 504 rushing yards through three games. And two of King's targets include the tight-end combination of Brevin Jordan and Will Mallory, both of whom are averaging more than 13.5 yards per catch.
In Miami's last game – a 52-10 win over rival Florida State – King spread the ball out among 11 different pass catchers, highlighting the variety of options at his and Lashlee's disposal.
All of that should help against Clemson's defense, which has been a consistent force under coordinator Brent Venables, but don't expect Lashlee to stray too much Saturday from what's helped Miami outscore its first three opponents 130-58 – even as Clemson counters with a high-scoring offense of its own.
"I think if we were to prepare different for this game than we would anyone else, that would just prove we're not always giving our best," said Lashlee, who joined Miami's staff in January. "While this is a phenomenal opponent and by far the biggest challenge we've had since I've been here, you've got to prepare the same way every week. They have our utmost attention and respect. We know they've been the champs for a reason and we're going to give it our best and see where we stand. But we're not going to do anything different than we normally do."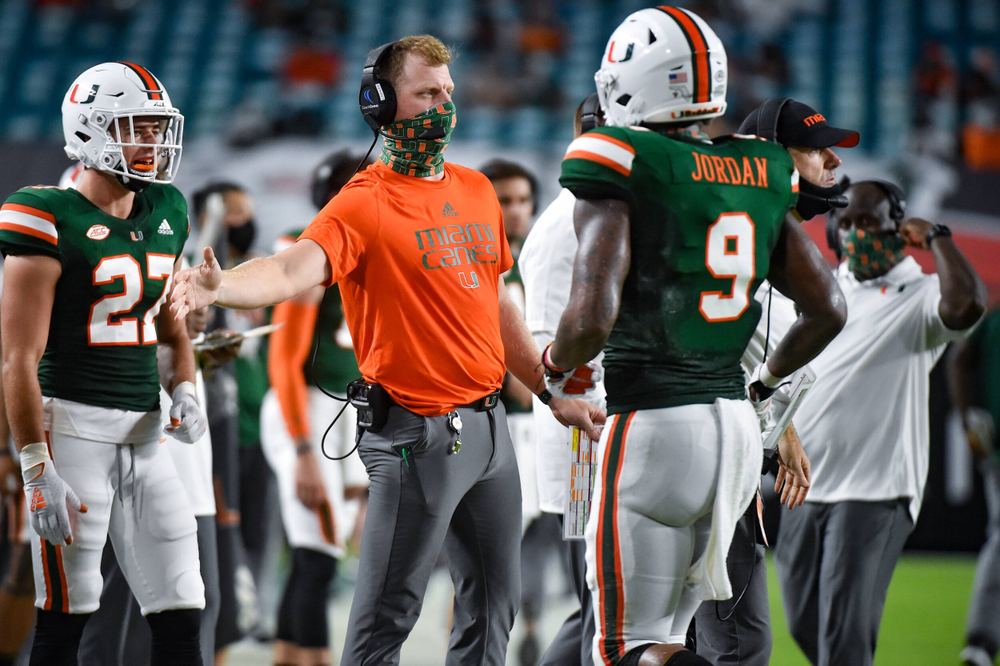 Defensively, Miami hopes its potent pass rush can make a difference against Lawrence, who has completed 73 percent of his passes for 848 yards with seven touchdowns.
Defensive end Quincy Roche, a graduate transfer who joined the Hurricanes earlier this year after earning American Athletic Conference Defensive Player of the Year honors, has notched 5.5 tackles for loss in Miami's first three games. That ranks him sixth in the nation. Fellow end Jaelan Phillips, meanwhile, already has 2.5 tackles for loss and an interception.
In the defensive backfield, safety Bubba Bolden has emerged as one of the Hurricanes' most consistent players early on, totaling 17 tackles, three tackles for loss, a sack, an interception and two forced fumbles. Fellow safety Amari Carter has a team-high 19 tackles and cornerback Al Blades Jr. is among national leaders with his two interceptions.
The Hurricanes feel confident they have playmakers – but like Diaz and Lashlee, defensive coordinator Blake Baker understands those playmakers will face a test against Lawrence and the Tigers.
"The biggest thing is we have to be able to contest a lot of his throws. Even when you think you have a guy covered, he is so accurate that he is going to put the ball in there," Baker said of Lawrence. "We have to make sure, especially on the back end … other quarterbacks, you might think you have the guy covered up, but he has such great arm strength and such great accuracy he's really able to throw it in there like an NFL quarterback, into really, really tight windows.
"And then the other thing about Trevor Lawrence is his legs. He's a problem. That's the best way I can put it. He's 6-[foot]-6, 220-[pounds]. You can tell he's got great leadership, physically can make every throw, has great accuracy, tremendous arm strength and with his legs, that's where he does a lot of his damage. He's great, in my opinion, when the play breaks down of extending that play and either throwing on the run … or scrambling for yards. And once he gets into the open field, he's a load to bring down. Real, real fast. People probably sleep on that more than anything … We will have to be on top of our games at all three levels in order to contain him."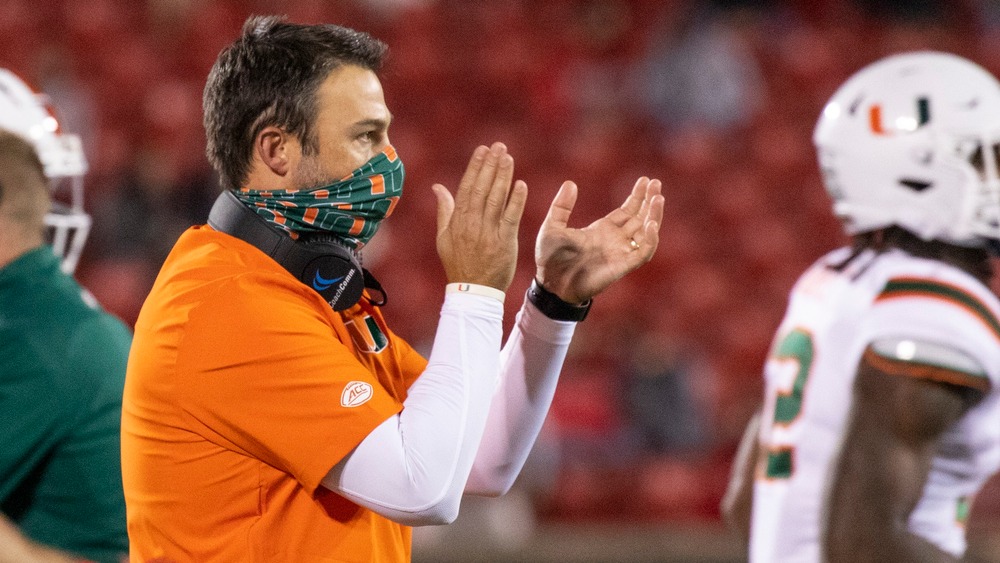 And that, the Hurricanes say, is what Saturday night essentially boils down to.
In every facet, they have to be at their absolute best against Clemson.
Doing that will require preparation, confidence and execution – all things the Hurricanes will be focusing on in the coming days.
"I think for players and coaches alike, no matter what the hype that surrounds the game, it's still going to be decided by the things that decide football games," Diaz said. "We're just trying really hard to focus on doing those things against a team that, again … this is not a big game to Clemson. This is just what they do. We've got to get our program where it's the same way, where we're just go play football against those guys."