Week 4 ProCanes Report: Back at Hard Rock Stadium
The weekly ProCanes Report will weed through all the NFL highlights and news to bring you the information you care about the most… what the University of Miami Hurricanes did during the week prior. Miami fans at Hard Rock Stadium may have started to have flashbacks when DeeJay Dallas and Travis Homer started to trade off carries in the Seahawks backfield in Sunday's win over the Dolphins. Read on for more from across the league.

Top Performers:
Travis Homer (Seattle Seahawks) – four carries, 3-yard touchdown reception, two kickoff returns
Travis Homer was all over the field on Sunday in a homecoming for the second-year running back at Hard Rock Stadium, and had an extra special moment when he scored the first touchdown of his career on a pass from QB Russell Wilson. Homer, who finished with four carries, a touchdown reception and two kickoff returns, earned some thoughtful praise from head coach Pete Carroll for his contributions to the Seahawks in the season's early going.

DeeJay Dallas (Seattle Seahawks) – two catches, 15 receiving yards, two carries, eight yards
Though his numbers were by no means eye-popping, DeeJay Dallas' first offensive snaps as a professional player happened in the same venue where he built a legacy for tough running. Dallas took advantage of some extra time due to an injury to the Seahawks' top running back Chris Carson and caught the first two passes of his career in the win. Dallas took the first carry of his career six yards and showed some nifty footwork in a 31-23 win.

Calais Campbell (Baltimore Ravens) – four total tackles, two solo tackles, one pass defended
The disruptive play of Baltimore Ravens' Pro Bowl defensive lineman Calais Campbell, in his first year with a talented defense, is unsurprising. What may catch people off guard, however, is Campbell being tied for second in the NFL with five passes defended through four games. The athletic, 6-foot-8 Campbell now has 53 career passes defended in his 13-year NFL career – including one in Sunday's win over Washington.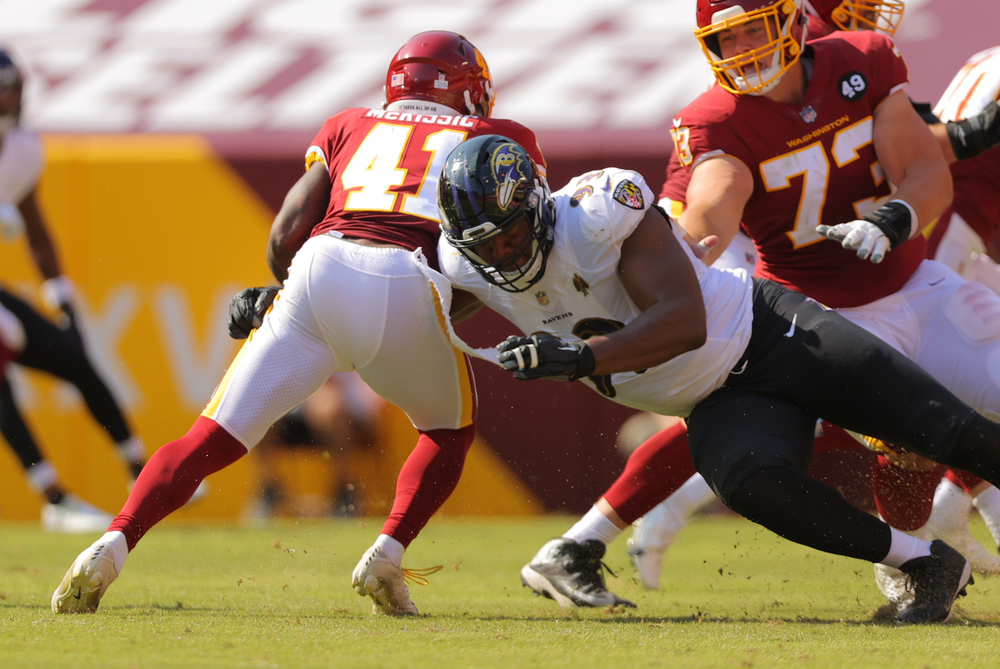 "ProCanes, Activate!": In addition to the return of Houston Texans' RB Duke Johnson, who had not played since a Sept. 10 opener at Kansas City, two other ProCanes made their season debuts this past weekend: Jamal Carter, who was activated off the practice squad by the Atlanta Falcons, and OL Kc KcMcDermott, who saw the first NFL snaps of his career for the Jaguars.

Punters Are People, Too: Pat O'Donnell delivered a strong performance for the Chicago Bears on Sunday, averaging 44.7 yards per punt with a long punt of 62 yards. O'Donnell is in his seventh year with the Bears and is averaging a career-best 46.1 yards per punt so far this season.
Other Notables:
Denzel Perryman (Los Angeles Chargers) has played a big role in the middle of the Chargers' defense this season, and was at it again on Sunday against Tom Brady and the Tampa Bay Buccaneers. Perryman had six tackles, including two solo stops, and one pass defended.
Duke Johnson (Houston Texans) was playing in his first game since the season opener due to injury, but wasted little time in making an impact as an all-purpose back. The sixth-year pro and second-year Texan had five carries totaling 24 yards and three catches for 21 yards Sunday.
Greg Olsen (Seattle Seahawks) has continued to increase his production week by week, and had another five-catch game in Sunday's win over the Dolphins.  In his first year with Seattle, Olsen is on pace for his most production (by receptions) since 2016.
photos courtesy of Jasen Vinlove, Baltimore Ravens and Houston Texans.