Defense Delivers Against Rival FSU
Game Recap: Canes Blitz Seminoles, 52-10
MIAMI GARDENS, Fla. – They knew entering the season they had a group of playmakers.
With Quincy Roche, Jaelan Phillips, Nesta Silvera and Jonathan Ford up front, Zach McCloud quarterbacking the linebacking corps and Bubba Bolden and Al Blades Jr. patrolling the defensive backfield, expectations were high for Miami's defense.
Against Florida State on Saturday night, that group more than delivered.
The Hurricanes defense spent a good portion of Miami's 52-10 win over Florida State in the Seminoles' backfield, making life next to impossible for Florida State's trio of quarterbacks.
James Blackman was sacked four times. Tate Rodemaker was dragged down behind the line of scrimmage once. So, too, was Jordan Travis.
Altogether, the Hurricanes totaled six sacks and 13 tackles for loss, both season highs. The negative plays cost Florida State a combined 119 yards and more often than not, put the Seminoles in tough situations throughout the night.
"I think that's big. I think any game starts up front. Any game starts with the o-line and the d-line," said Roche, a graduate transfer who finished the night with a sack and two tackles for loss. "It's just great playing with these guys. Had a good game, dominated up front, but we need more of that. I'm proud of these guys. We can enjoy tonight."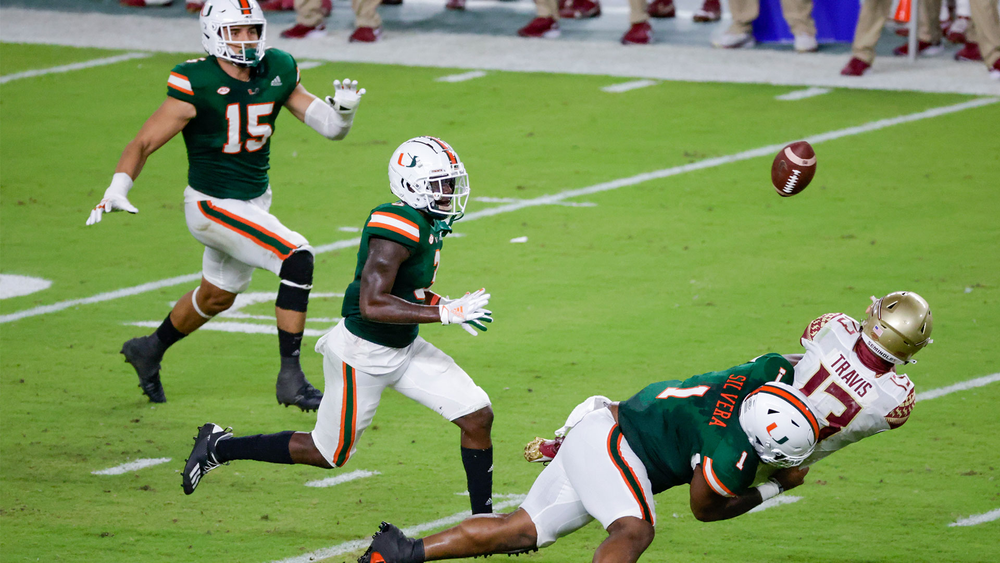 Enjoy the night they most certainly did.
The Hurricanes didn't waste time setting the tone against Florida State, delivering a big goal-line stand and holding the Seminoles to a field goal on their opening possession.
But it was in the second quarter that Miami's defense put together one of its biggest series of the night, totaling four sacks on a single Florida State possession.
First, Roche got Travis for a seven-yard loss. Three plays later, Silvera sacked Blackman for a 14-yard loss. Three plays after that, redshirt freshman Jared Harrison-Hunte brought down Blackman for a 10-yard loss. Later on the drive, with Florida State already down 35-3 and attempting to covert on a 4th-and-20, Bolden got Blackman for a loss of five yards.
That defensive showing gave the Hurricanes one last possession before the half and ultimately, Miami was able to capitalize on its solid field position with Jose Borregales connecting on a 30-yard field goal that sent the Hurricanes into the locker room with a 38-3 lead.
The 35-point halftime lead marked the most lopsided first half in the history of the Miami-Florida State rivalry, surpassing the 31-0 lead the Hurricanes had at the half in 1976.
That the defense was able to play that way against the Hurricanes' biggest rival only made the performance that much sweeter.
"I definitely felt it and it felt great," Roche responded when asked about his introduction to one of the most well-known rivalries in college football. "It just felt great to be out there, playing and competing with these guys. I feel like we've gotten better every week this season and I'm just excited to see us keep improving. We've got to keep working hard in practice and … achieve our goals for the season."
But sacks and tackles for loss weren't the only ways the defense came up big Saturday night.
For the second straight week, Miami's Turnover Chain made multiple appearances.
The first came in the first quarter when Phillips, making his first appearance in the rivalry game, picked off an errant pass Travis threw as he was pressured by Silvera. Miami's offense turned that interception into a touchdown three plays later.
The next came in the third quarter when Blades Jr. – no stranger to the legacy of this rivalry game – made a leaping grab of a deflected Blackman pass. The interception also led to a Miami touchdown.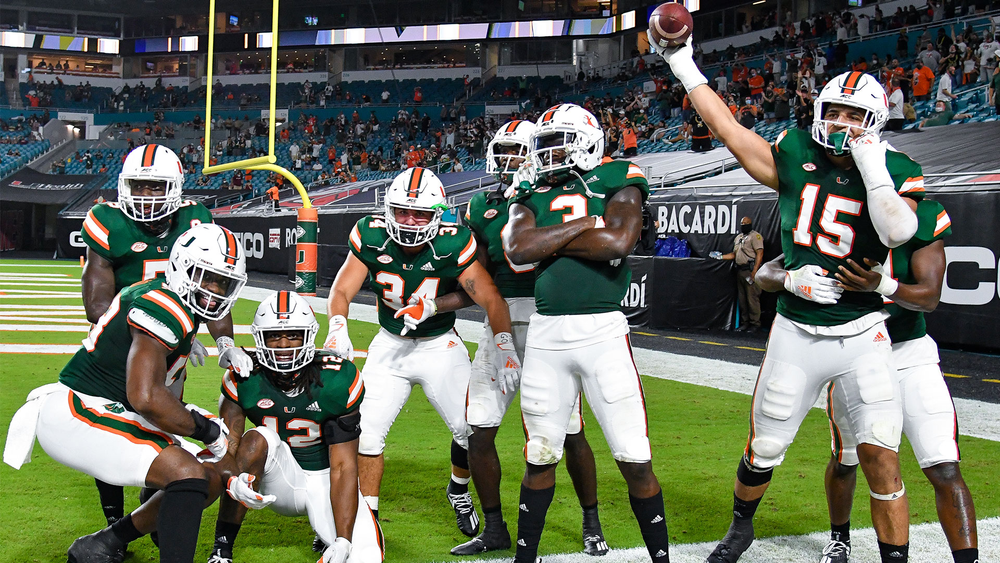 On Florida State's next series, Bolden picked off Rodemaker and once back on the sideline, made sure his Turnover Chain celebration included a nod to his mother, Breezy, who was celebrating her birthday at Hard Rock Stadium this weekend.
"It means a lot. It's her birthday tonight," said Bolden, who last week was named the ACC Defensive Back of the Week after his performance at Louisville. "Last year against Florida State, on my interception I broke my leg. So, coming out this week and getting that Turnover Chain and making a play, it made me happy. It also made her happy."
Still, as many big plays as the Hurricanes' defense made and as well as they responded to the rare Florida State scoring drives, players say they aren't satisfied.
There is more to be accomplished and they know one of their biggest tests looms in two weeks when they travel to face Clemson, the nation's top-ranked team and the reigning ACC champion.
"As good as the game turned out … there's so much we need to improve on," said McCloud, who finished with five tackles and a sack. "There's so many things we can tie up and get clean. We'll celebrate this victory the way we need to and then we'll move right on and get back to the grind."