Family Inspiring Balom's UM Journey
CORAL GABLES, Fla. – In the excitement of the moment, it was hard to spot his family, even with a limited, socially-distanced crowd scattered safely around Hard Rock Stadium.
But when Brian Balom took the field for his first game as a Hurricane in Miami's season opening win over UAB earlier this month, just knowing his parents and siblings were there was enough.
That wasn't always the case just a few years ago.
During Balom's time at Miramar High School, his mother – Sandra – was diagnosed with breast cancer and the intense course of treatment she had to endure sometimes kept her from attending Balom's games.
It tore at both mother and son, though each obviously understood the circumstances. But the two still found ways to support each other, with Balom spending as much time as possible at his mother's side during her personal fight.
"Brian, when he could, he'd come and sit with me when I was having my treatments. He was very supportive. Like I told him the other day, I miss him coming in and tucking me in every night," Sandra Balom said with a slight laugh. "If my lights were still on, he'd turn out the lights. He'd make sure my phone was on the charger. He, and all of them, were really there for me and I was so appreciative of that."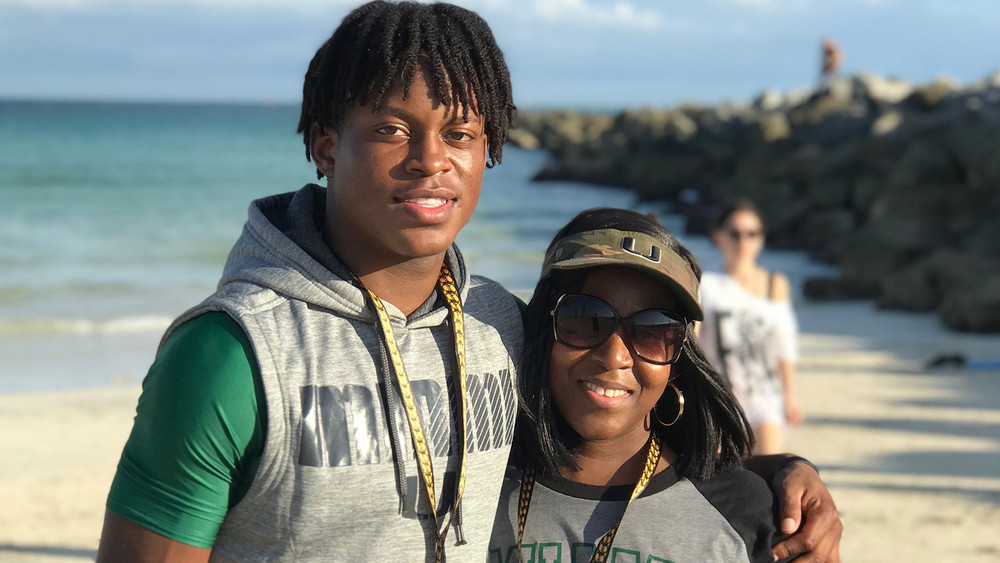 That sense of appreciation goes both ways.
Every time Balom takes the field, he can't help but think of his mother's perseverance, her strength and her ability to keep smiling through one of the toughest chapters in her life.
His goal, as he takes the first step of his Hurricanes' career, is to make her proud and find a way, somehow, to inspire his mother in much the same way she inspired him.
"Really seeing her go through that and still have to work, still have to worry about stuff around the house and family, you saw my mom was the glue that holds our family together," Balom said. "She showed me what it is to be strong and how to make things happen, regardless of anything else. She's why I keep pushing. She set a good example of how to be strong mentally and physically, even when your body is weak and your mind is telling you can't do it anymore.
"When I feel like something is hard, I know something is harder for someone else."
Balom, who was one of only a handful of Miami's 2020 signees to arrive on campus this summer, concedes that his first few weeks as a Hurricane have had their share of challenges.
The 5-foot-11, 182-pound safety didn't have quite as much time as some of his fellow freshmen to train in Miami's offseason conditioning program ahead of the season and learning to manage his new schedule required a little bit of juggling and a lot of adjusting.
Still, Balom has made a solid first impression on teammates and coaches, performing well in the Hurricanes' preseason scrimmages and already earning early playing time on special teams.
"He's extremely smart and very athletic. He really reminds me a lot of Gurvan Hall," Hurricanes defensive coordinator Blake Baker said. "He doesn't say much, but he's extremely focused. He's a guy that pushes himself both mentally and physically on a daily basis. He's really one of the more impressive freshmen I've ever been around, just from a maturity standpoint. He doesn't take a play off. He's physically talented. He's got all the tools to be a really great player for us."
For Balom – a South Florida native – the opportunity to play at Miami is a dream come true.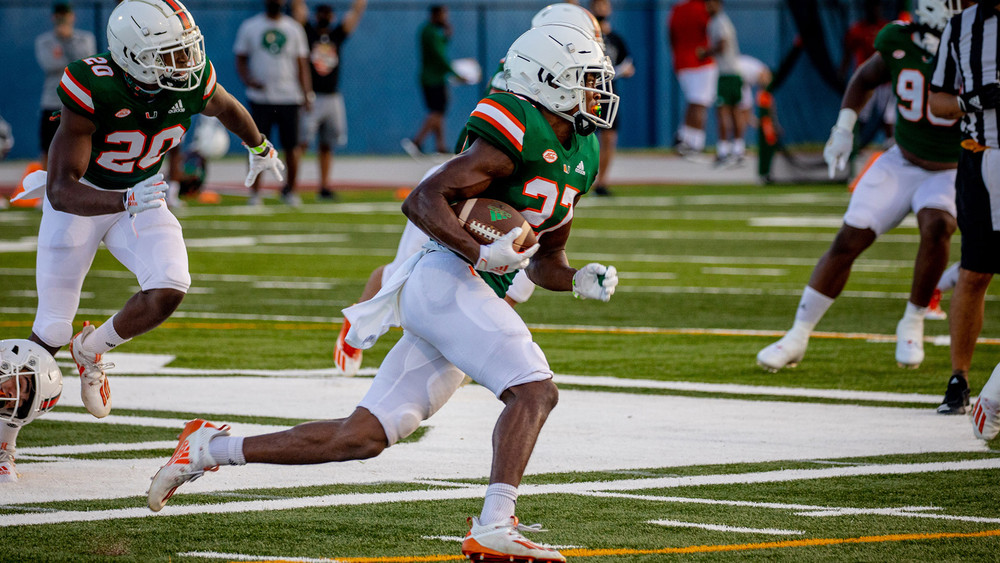 More than once during games or practices at Miramar – which is just three miles from Hard Rock Stadium – he'd look up, see the Hurricanes' home field in the distance and imagine what it would be like to wear orange and green for his hometown team.
Today, Balom has made that his reality, and he couldn't be happier, especially since Sandra, his father Arthur, his brother Brandon and his sister Brittany can all share the journey with him, especially during that first game of his career.
"That moment, running through the smoke the first time, I had goosebumps. I was so eager," Balom said. "I remember my teammates telling me, 'Grab onto somebody and hold on' and that's what I did. I didn't want to be the one person to fall. I didn't want to mess anything up. It honestly felt like I entered a different world in that moment. You leave the real world to just go have fun and play with your teammates."
But getting to run through the smoke and notch his first college minutes aren't the only things that have helped make his Hurricanes experience already so memorable.
Like many of his teammates, Balom has taken advantage of the opportunity to connect with Hurricanes great Ed Reed, who in February, was hired by head coach Manny Diaz as the program's new chief of staff.
The Hall of Fame safety has been at more than a few of Miami's practices and has shared his expertise with players and coaches alike, something Balom has relished.
"He'll just pop into the film room, start asking questions, pick your brain and having him around is a blessing. It's been beneficial," Balom said. "He comes talk to me and we have regular conversations, just laugh and then it's back to business. He gives me tips on how to play a certain coverage, technique, how to disguise something. Having him around is just amazing, someone with that experience, that much wisdom, anything he says, 10 times out of 10 is correct. It's a real blessing to have him around.
"When I tell my family I broke down film with Ed Reed, it just doesn't even sound right. Ed Reed! It's just something that really leaves you at a loss for words sometimes."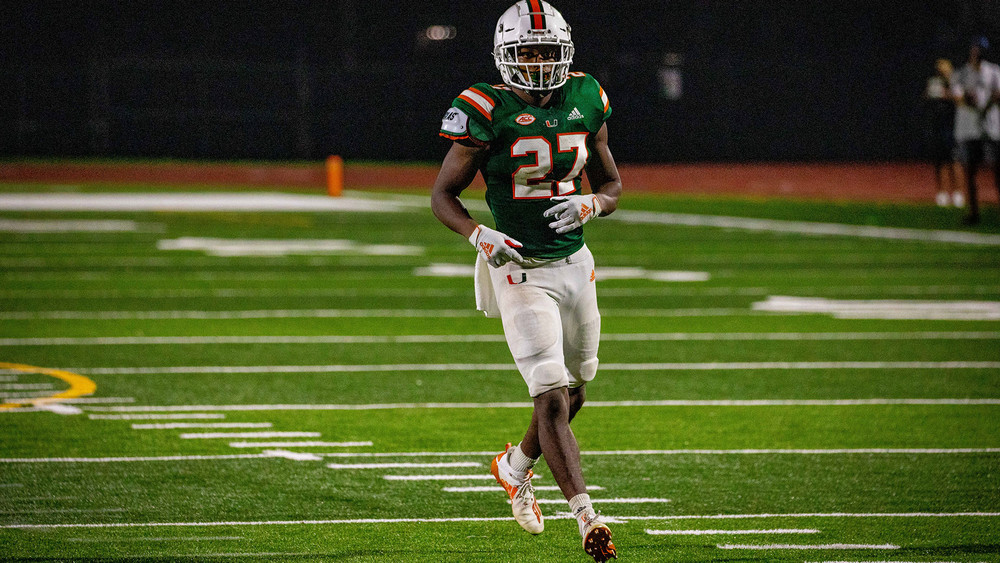 As much as Balom has enjoyed his opportunity to learn from one of the best to ever play the game, he knows now his goal is to take that knowledge and use it on the field.
And he's confident he can rise to that challenge.
He already has the inspiration and support from his family. Now it's time to put it all together.
"I'm still trying to write my goals, but, this year, my main goal is to play," Balom said. "Coming in late, during the summer, makes it a little harder. But I've tried to learn my plays as much as I could so I can play early, not just on special teams, but on defense. I want to be one of the best in the country one day, so I know I have to work on the little things. That will feed the bigger things."