Borregales Enjoys Career Day at Louisville
LOUISVILLE, Ky. – There were so many text messages, so many missed calls.
But after his career night in Miami's 47-34 win over Louisville on Saturday night, Hurricanes kicker Jose Borregales knew exactly who had to reach out to first when he came off the field at Cardinal Stadium.
"I was on FaceTime with my parents, and they called my uncle who lives in Chile," Borregales said. "[My uncle's family] said they watched the game all the way over there. They've never seen me play in person, so just having them on that call was really great. They told me I had a great game and they were all crying. So, that was really good."
Really good is also just one way to describe Borregales' performance Saturday.
The kicker, who transferred to Miami earlier this year after a record-breaking career at FIU, added his name to the Hurricanes' record book in just his second game in orange and green.
His 57-yard field goal late in the second quarter wasn't just the longest field goal kick of his collegiate career – it tied a Miami record, one Borregales now shares with Michael Badgley, who hit from that distance in 2015 against Georgia Tech and Danny Miller, who hit from there in 1981 at Florida State.
The kick, which also set a Cardinal Stadium record, bested Borregales' previous career best by four yards. And the redshirt senior is confident he could have done even better.
"I didn't really hit it that clean," he chuckled. "But my technique was smooth enough that the ball went straight. I knew as soon as I looked up, the ball was staying straight. … I just turned around knowing that I'd made it and I got the team hyped a little bit."
Though Borregales hasn't been at Miami all that long, he's already made the kind of impact the Hurricanes hoped he would when they added him to their roster earlier this year.
The kicker was 4-for-4 on field goals against Louisville and converted on all five of his point-after attempts. Included in those four field goals were a 48 yarder, a 22 yarder and a 40 yarder and through the Hurricanes' first two games, he has accounted for 24 points.
And his experience and consistency have given the Hurricanes – who were 12 of 20 on field goal attempts in 2019 – a weapon they simply didn't have last year.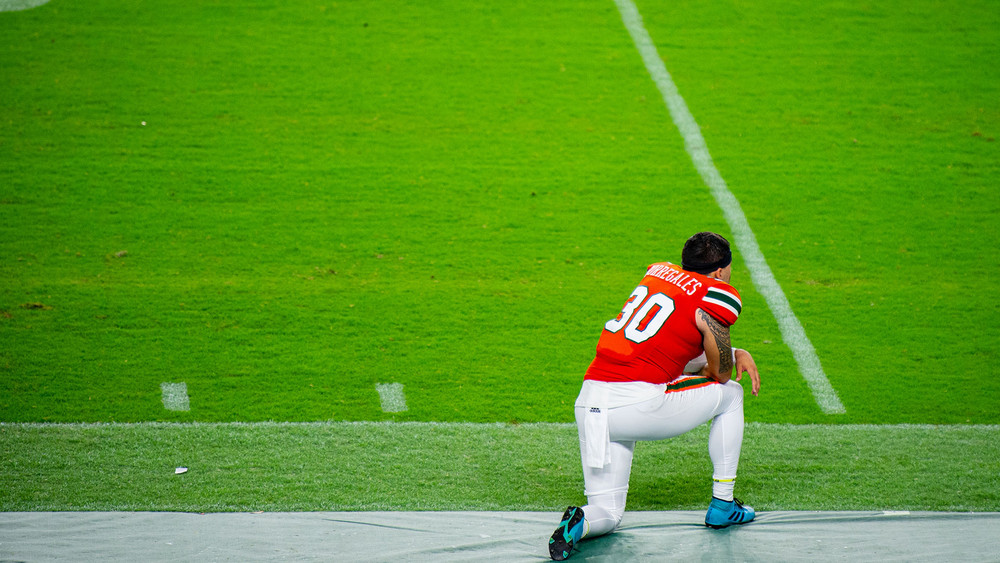 "Jose adds such confidence to our football team. There was a little bit of a wind going that direction [but] that's a situation that a year ago, we're punting. Most people are punting. Or you're going for it," Miami head coach Manny Diaz said. "To have a guy that can be good from that range…I don't even know if the ball has landed yet, it seemed like it had that much leg on it. That really helps us because those points really mattered as it turned out at the end with some of those [Louisville] onside kicks."
Added Hurricanes quarterback D'Eriq King, "Jose's a great player. Every time we cross the 50, I know we're in field goal range. That's a big goal for us as an offense. I know on third down, I don't have to force it. I know we have a great kicker. Let's get the ball moving, try to cross the 50-yard line, try to get into field goal range and I'm confident he'll make the kick."
As well as he's played throughout his career and as solid as he's been since transferring to Miami, Borregales understands the innate pressure that comes with his job.
But, hours and hours of work have bred a necessary confidence in him. And he credits a strong support system for encouraging him at every turn. His family has been cheering him on from the beginning. His girlfriend has always provided support. And his new Miami teammates and coaches have quickly made him feel welcomed and appreciated.
That's something Borregales doesn't take for granted, especially given that he grew up hoping to one day kick for the Hurricanes.
"This is a dream come true. Like I said before, this is my dream school. Being able to play for the Hurricanes has been my dream since I was born, basically," Borregales said. "To be here, and be the guy that gives the team confidence, it's a dream come true."
With two games at Miami now under his belt, Borregales now turns his focus to what comes next: the Hurricanes' annual rivalry game against Florida State.
Like most Miami fans, Borregales knows full well how – more than once – kickers have impacted the series, in both good ways and bad.
He understands he could very well be called on to help the Hurricanes' extend their three-game win streak over the Seminoles.
And whether he's called on to kick from 15 yards or 70 – the longest distance he's hit in practice – he says he's ready to build on what has already been a memorable start to his Miami career.
"It's going to be crazy. I'm going to have jitters, but it's all about consistency and giving the team confidence," Borregales said. "I'm going to do whatever it takes to get prepared this week and get ready for that game."