Van Dyke Learning the Ropes
CORAL GABLES, Fla. – It didn't exactly take long for him to realize things were different.
It wasn't unexpected, of course. Every freshman understands lining up against experienced college football players will be a challenge unlike any other they've had on the field.
Still, when Tyler Van Dyke took one look around the Greentree Practice Field and sized up the players around him during his first practice as a Hurricane, the reality of his new world stared him right in the face.
And he couldn't help but appreciate the moment.
"In the spring, when I saw Greg [Rousseau], Jaelan [Phillips] and Quincy [Roche], yeah, they're huge. That made it feel like college football, just seeing that big defensive line," the freshman quarterback chuckled. "I'm not used to that, but practicing against those guys is definitely going to make me better. It's going to help me move around the pocket and help me learn to make difficult throws, off-balance throws."
Van Dyke, a former four-star prospect, has been on campus since January and hasn't shied away yet from any of the challenges he's encountered, be it lining up against Miami's defense or waking up for pre-dawn offseason workouts with David Feeley, the Hurricanes' director of strength and conditioning.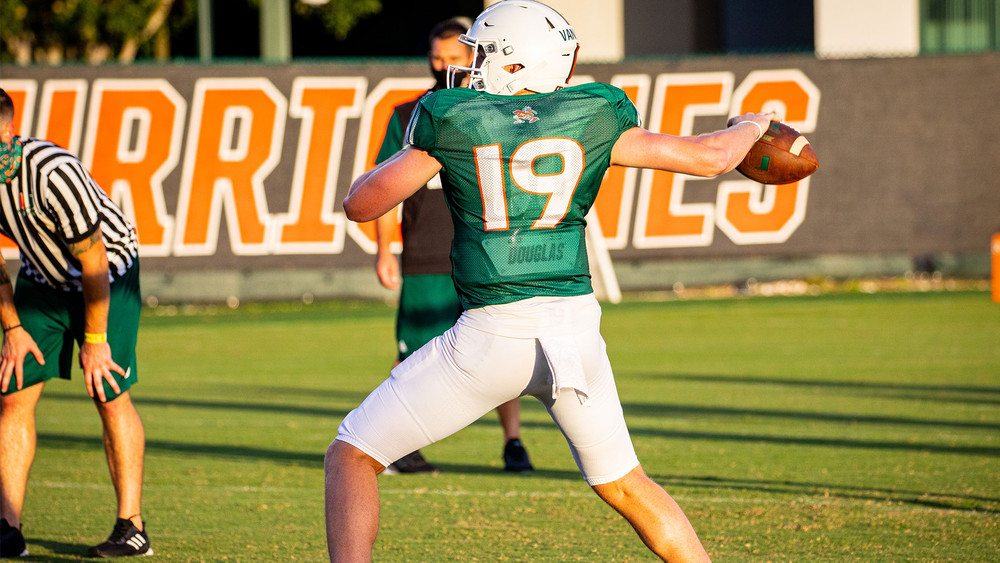 His approach and his mentality have helped him quickly earn the respect of his new teammates and coaches.
Last week, ahead of Miami's season-opening win over UAB, Van Dyke was listed third on the depth chart behind veteran quarterbacks D'Eriq King and N'Kosi Perry. In more than one preseason scrimmage, he showed his ability to both make big throws downfield and scramble. And even in the midst of the COVID-19 pandemic, he made it a point to try and learn as much as possible, understanding he could be called on to play at any time given the uncertainty surrounding the 2020 season.
"Tyler Van Dyke has been really good for a freshman. He has a very calm demeanor about himself. He doesn't seem to get too rattled, doesn't seem to get too high or too low, which is a good quality for a quarterback," Hurricanes offensive coordinator Rhett Lashlee said last week. "He can really throw the football. The thing he obviously lacks is that he's never played a college snap. But hopefully, [Van Dyke and Perry] will continue to get nothing but better. In a year like this, you never know who you're going to need to count on. We're really happy with those two guys and how they've progressed so far."
For Van Dyke, earning a scholarship at the program that has produced the likes of Jim Kelly, Vinny Testaverde, Gino Torretta, Steve Walsh, Bernie Kosar, Craig Erickson and Ken Dorsey wasn't always guaranteed, even given his 6-foot-4, 220-pound frame.
Though he grew up in a football family – both his father and grandfather played and his grandfather, Bill Leete, coached at Hofstra – it wasn't until his junior year at Connecticut's Suffield Academy that he became a full-time starter.
Once, he did, though, the accolades began piling up and colleges took note.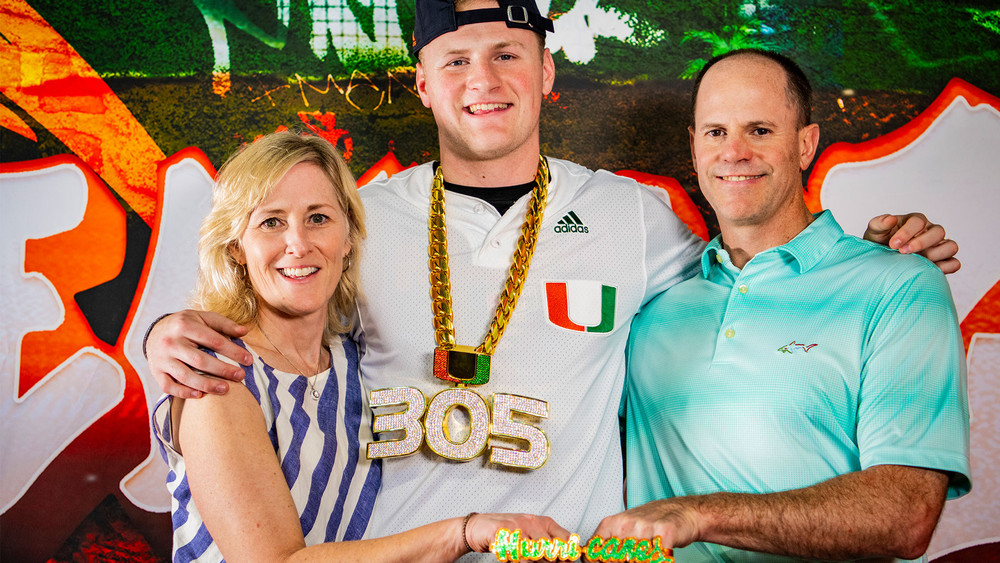 Last fall, Van Dyke completed 123 of his 200 pass attempts and threw for 2,260 yards and 21 touchdowns. He led Suffield to an undefeated season and its first Class A New England prep school championship. In his two years as a starter, he totaled over 4,600 passing yards and 39 passing touchdowns and was rated the No. 2 pro-style quarterback in the nation by ESPN.
He earned attention from a number of college programs, including Michigan, Michigan State, Minnesota and several ACC schools including Boston College, Duke, Georgia Tech, Louisville, Pitt and Syracuse, among others.
But he was drawn to Miami and its family atmosphere, despite a series of coaching changes. So in December, Van Dyke became the first player officially announced as part of Miami's 2020 signing class.
More changes came in January, when Lashlee was hired as the Hurricanes' new offensive coordinator and King, a graduate transfer from Houston, joined the program and emerged as the eventual starting quarterback.
Still, Van Dyke adapted, as he has several times in his career. He embraced the opportunity to learn from King, who broke records at Houston and is already on the watch list for multiple college football awards this season.
Patience, the quarterback and his family say, will be a virtue for him.
"His best trait is his ability to be patient and understand the situation he's in," said Bill Van Dyke, Tyler's father. "He's so level-headed. He's just so level-headed that it doesn't bother him. It's the situation he's in. He'll work through it and he's happy. He's been there before. He had to wait three years to start a game in high school and I talked to him through that entire process and he never got upset about it. He's a patient kid and the situation he's in at Miami, I don't think he could be happier about it."
Added Van Dyke, "With D'Eriq, it's been great to learn. I've learned a lot of stuff from him. We go, probably twice a week, after practice and just watch film together and learn. He helps me get the grasp of what teams do on defense and the game plan. It's been really good. D'Eriq's been a great resource. He's going to prepare me for the next level. As much as I want to play, I also want to learn and get better before getting into the game. I don't just want to go in, get into the fire. I want to go in and give everything I've got and do my best."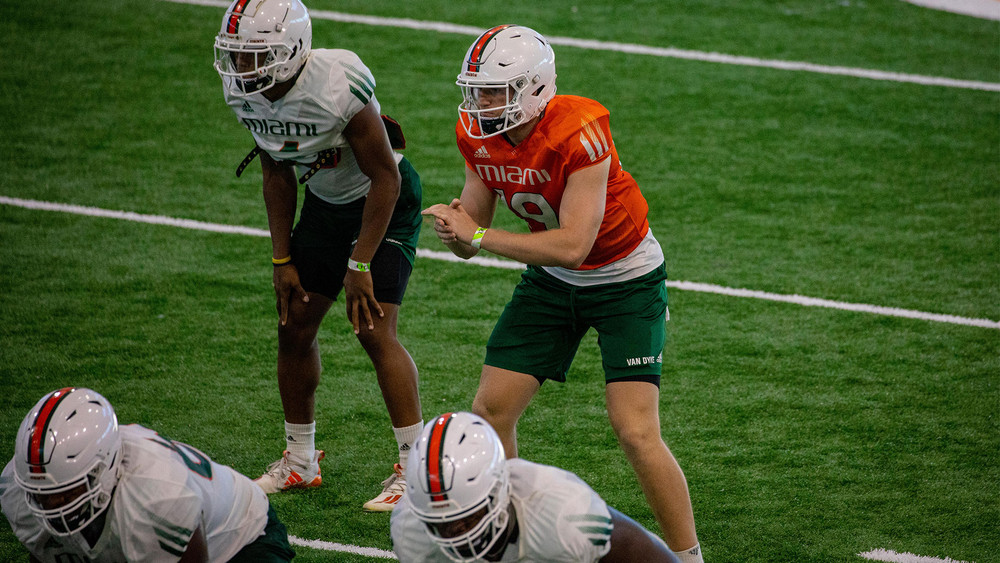 When that time comes, Miami's coaches believe he'll be ready.
"We think Tyler's got a really, really bright future here. He impressed us the first four days he was here in the spring and then when we came back in training camp, his ability to make some throws, I think, caught the eye of everybody on the football team," head coach Manny Diaz said. "He's got some ability to move around and keep plays alive. Now, he's just a young guy that needs seasoning and just needs reps and at-bats. But I think everybody's been impressed with what Tyler has done since he showed up on campus."