King Shines In Emotional Canes Debut
MIAMI GARDENS, Fla. – In many ways, it was as solid a debut as he could have wanted.
In his first game as a Miami Hurricane, D'Eriq King led his new team to a season-opening win. He threw for a score and ran for another, extending his FBS record of 16 straight games with at least one passing touchdown and one rushing touchdown. He even threw a bone-crushing block that electrified the Miami sideline and paved the way for his lead back.
But as he went through every throw and every scramble, there were twinges of sadness.
For the first time in his life, he was playing a football game knowing his father, Eric King, wasn't there. And as King left the field after Miami's 31-14 win over UAB on Thursday night at Hard Rock Stadium, the quarterback knew his father – the man who'd taught him to love the game – wouldn't be waiting to offer some post-game advice for the next one.
It was a night, King conceded, that proved a bit more emotional than he expected.
"I thought I would be fine. I thought I would be good. But, going to the stadium on the bus, I just kept thinking about my dad. It was tough," said King, who lost his father in February. "But I feel like it was good to get out there and get a game under my belt."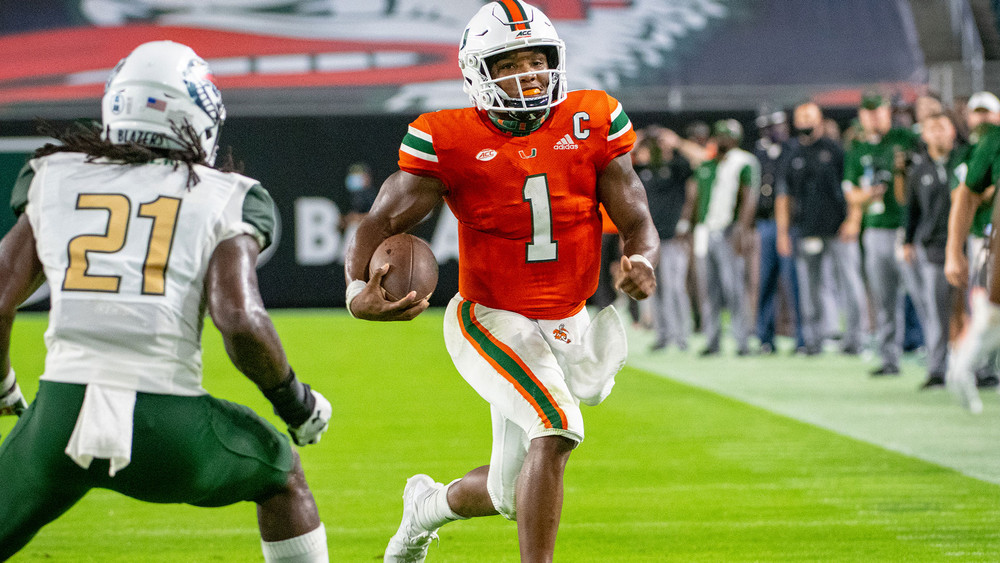 King, a graduate transfer from Houston, arrived at Miami in January with plenty of fanfare.
In his four years as a Cougar, he accounted for 78 total touchdowns, 50 of them coming via the pass, the other 28 on the ground. In just 22 starts, he totaled 4,925 passing yards and 1,421 rushing yards. He accounted for 50 touchdowns in 2018, setting a new American Athletic Conference single-season record despite missing 2.5 games that year with injury. And at the end of his redshirt season in 2019, he was one of just three quarterbacks in FBS history with at least 35 passing touchdowns and 13 rushing touchdowns.
The hope – and expectation – was that King would be a perfect fit for new offensive coordinator Rhett Lashlee's system, a system King had seen up close when his former team lined up against SMU, Lashlee's former team.
But just as King was beginning to find his footing at Miami, he got devastating news from home. Eric King had died. The quarterback flew back to Houston immediately to be with his family.
The Hurricanes pushed back the start of spring practice to give King time to say goodbye. When King returned to Coral Gables after his father's funeral, his brother Keshon made the trip with him, keeping his younger brother company during those first difficult days.
King's new teammates rallied around him and even when the quarterback returned to Houston after Miami's campus closed because of the COVID-19 pandemic in March, text messages, phone calls, video chats and virtual meetings helped him stay connected to the Hurricanes.
Though he'd only been on campus for a few weeks before so much in the world changed, King was determined to be the leader he knew Miami needed him to be.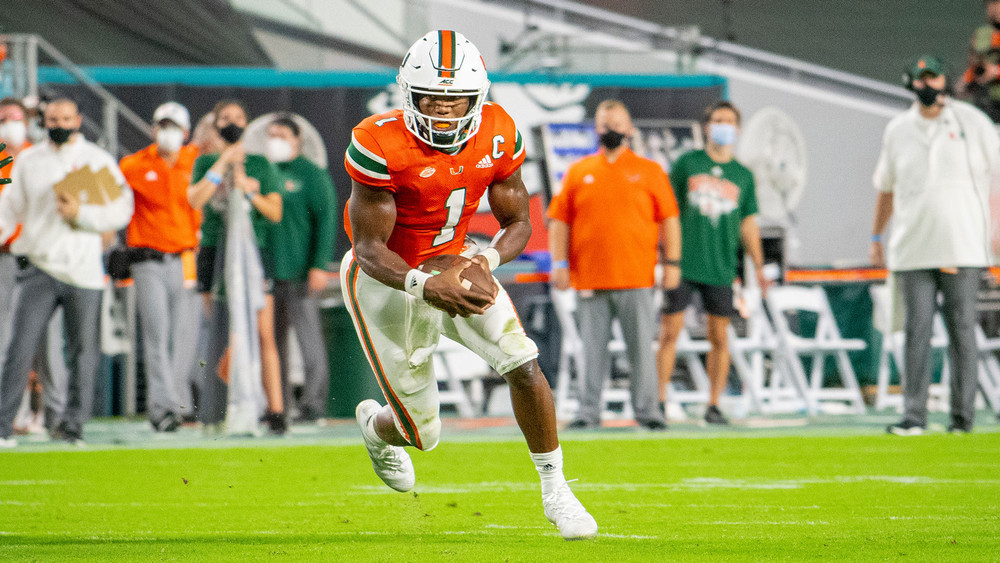 His efforts were noticed.
Before the start of preseason camp, Lashlee and Hurricanes coach Manny Diaz named King their starting quarterback. And just before Thursday night's season opener, King was named one of Miami's captains, along with three Hurricanes veterans: linebacker Zach McCloud, safety Amari Carter and center Corey Gaynor.
Serving as a captain with that trio is a responsibility King isn't taking lightly.
"I was a three-year captain at Houston and just being named captain here is a big honor," he said. "I think a lot of people take that for granted, but it says something when you're named a captain by the coaches and players. It means a lot. I'm excited. When they put my picture on the screen, there were a lot of cheers. That was a big moment for me."
There were more big moments Thursday – and several reminders of why he'd earned the respect of his teammates so quickly.
Just before scoring Miami's eventual go-ahead touchdown in the second quarter, the 5-foot-11, 202-pound King turned the tables a bit and threw a block that helped running back Cam'Ron Harris pick up a 15-yard gain that put the Hurricanes inside the 12-yard line.
One play later, King scrambled in a for a score and when he came to the sidelines and was handed Miami's new Touchdown Rings, the quarterback sought out his offensive linemen and gave them the jewelry.
It was, King said, the right thing to do.
"Those guys deserve it. I think they're a reason our team is going to win a lot of games this year," said King, who rushed for 83 yards on 12 carries. "They work extremely hard and they don't get a lot of praise. Every time we score, I think the skill guys should give the rings to the offensive line. They deserve it."
But it wasn't just King's blocking or his ability to run the ball that made a difference against UAB.
The quarterback completed 15 of his 23 passes Thursday for 141 yards. His 4-yard touchdown pass to Brevin Jordan on the final play of the third quarter capped Miami's scoring for the night and though he was sacked twice, King didn't turn the ball over at any point Thursday.
His ability to execute at a high level stymied the Blazers and left them looking for answers.
"The big thing for us was defending that quarterback. That's all I've heard, I mean, it's true. He's electric," UAB coach Bill Clark said. "I thought we did a pretty good job on him all night, but what happens when you've got zone-read is that that guy can really run. … They had some really good running backs and him. Anytime you have a guy that can really throw the ball and run it, it is tough to defend."
As well as he played Thursday night, though, King is confident he can do better.
He knows he missed on some deep shots down the field. He understands things are only going to get tougher as the Hurricanes begin their stretch of 10 straight Atlantic Coast Conference games.
And as he starts to turn his focus to all that still lies ahead, King has an idea how his father might have reacted to his first game as a Hurricane.
"I think my dad would probably tell me a lot of things I can get better at, but I know he would have been proud of me. He was a coach, so every game, he always had little pointers to give me so I could be better the next practice," King said. "He loved the University of Miami ever since he was growing up. He watched them in the 80s and 90s, so I think he'd be super, super proud of me. I think he would have been happy to see me on the field again."