From Brothers to Teammates
CORAL GABLES, Fla. — Baseball is a family affair in the Del Castillo household.
For as long as they can remember, Adrian Del Castillo and his older brother, Christian, have always played baseball.
And they were always good at it.
Christian was a standout at Belen Jesuit in Miami, leading the Wolverines to a state semifinal berth as a senior. After batting .500 with two homers, 24 RBI and 12 stolen bases, the three-time All-District and All-County selection was named the 2016 Miami Herald Player of the Year to cap his high school career.
Two years younger, Adrian was a star at Miami Gulliver Prep. He was named to the Miami Herald All-Dade First Team in 2018 after hitting .530 with 15 home runs and 39 RBI. As a junior with the Raiders, he hit .435 with six home runs and batted .449 with eight home runs as a sophomore.
Despite all the success on the field, their baseball careers took different paths. After graduating high school, Christian went to Seton Hall. Two years later, Adrian became a Hurricane.
But the brothers finally will get a chance to suit up in the same uniform and take the same field for the first time since they were in little league, as Christian came to Miami as a graduate transfer and joined his younger brother at The U.
"I grew up loving the Canes and following them, always hearing about them and their reputation," Christian said. "It feels great to be here and, especially with my brother being here, it feels even better. This is an awesome experience that we're going to have."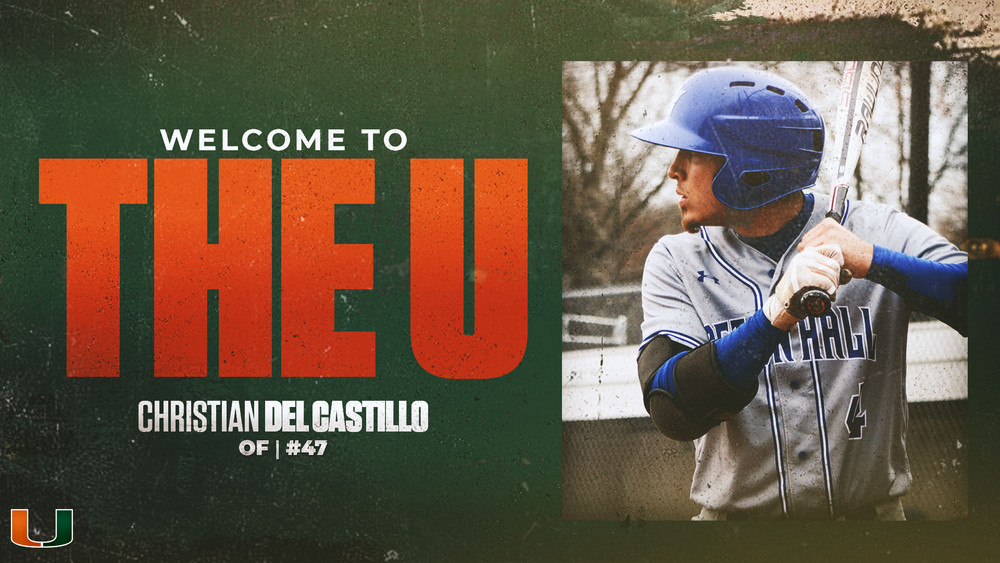 The excitement is spread throughout the Del Castillo family, as Adrian finally gets to team up with the brother he has trained with all his life.
"It's a dream come true for us and especially for my parents and my whole family," Adrian said. "Everyone is psyched. It's awesome to be teammates and I can't wait to play with him. Hopefully, we get on the field as quickly as possible so we can be on the same team. We haven't been on the same team since before high school."
While Christian and Adrian are thrilled to be teammates, the most enthused members of the Del Castillo family might be their parents, Carlos and Madeline. After splitting up between Belen and Gulliver and then Seton Hall and Miami for most of their sons' high school and college careers, Carlos and Madeline will finally get to watch their boys play together for the Hurricanes.
"Obviously, we're all excited, but I think my parents were most excited because when I was at Seton Hall they were always trying to catch a flight to see me play up there," Christian said. "They'd obviously come here a little more since they were local, but I think they were the most excited because now they have me and my brother both on the same team playing the same sport, so they can watch both of us. My parents are the most excited because they don't have to split up anymore to watch us play."
The Del Castillo brothers recall last being teammates when Christian was 11 or 12 and Adrian was nine or 10, so they are looking forward to playing together again for the first time in a decade.
"Obviously, we're going to have high expectations of each other, but it's going to be fun because we've lived with each other our whole lives, we've been training together our whole life and we know what we're capable of," Christian said. "I think it's going to be fun to be teammates and push each other to try and meet our goals."
The opportunity to team up with Adrian at Miami did not become a reality until Christian earned his bachelor's degree in biochemistry this spring.
"It was something that happened quickly. I just wanted to continue playing baseball because I love the sport and I wanted to continue in school," Christian said. "I was mainly talking to coach [Norberto] Lopez. He reached out to me and I'd talk to him a lot. He said, 'We'll be really excited to have you here.' So, after that opportunity came about, I was just waiting on getting accepted into grad school. When I finally got accepted, I told coach Lopez and the other coaches, and they welcomed me. I was very excited about that and excited to be a Hurricane."
A three-time BIG EAST All-Academic Team honoree, Christian is pursuing a master's degree in biochemistry and molecular biology at Miami, and aspires to go into medical research once his baseball career is over. His academic and athletic goals are both lofty, which will make time management crucial for the elder Del Castillo
"It's going to be a tough schedule with my academic schedule, but I want to make it work," Christian said. "I've been talking to my coaches and my professors and I'm willing to make it work. I'm willing to put everything out there to make this team successful."
Success is something both Del Castillos strive for. Adrian has been one of the top hitters in the country in his two years at Miami, but Christian has had plenty of success himself.
In 2019, Christian was named Seton Hall's Male Breakthrough Athlete of the Year after an outstanding redshirt sophomore season. The 5-foot-10 outfielder started 47 games for the Pirates, batting .286 with five home runs and 35 RBIs, all career-highs. Christian led Seton Hall with a .505 slugging percentage and 17 doubles and had a team-best 26 extra-base hits in his final full season there.
"I would describe myself as a hard worker, I'm committed and I always give it my all," Christian said. "I may not be the best or most talented player on the field, but I always give my all; I don't care who I'm facing or who we are playing against, I'm just not scared on the field."
While the brothers admit they do not look like siblings in their physical appearance, they see a lot of similarities in their personalities.
"I think we're very similar in our personalities. In the beginning, we are a little bit shy, but once we get confidence, we will be a little bit looser with a person," Adrian added. "I feel like my brother may be a little bit quieter than I am, which isn't bad, but he'll express himself when he needs to. In high school, he was the captain his senior year and I'm sure he told the new guys stuff like to get after it and to be a good teammate."
While Adrian played some outfield as a freshman at Miami, his primary position is catcher. Christian is an outfielder known for his defensive prowess, as well as his ability to make contact at the plate.
"We're two completely different players. Some people even say that we don't even look like brothers," Christian said. "He's more of a heavier guy, so he has a little more power and I'm a little more of a contact hitter and I have a little more speed than him. That's mainly why we play two different positions, but we're both really committed and we want to win. There are a lot more similarities than differences in us because we both want to compete at the highest level as possible and win."
Adrian, who is considered one of the best pure hitters in college baseball, had some impressive things to say when describing his older brother's game.
"He's more of a contact guy, but he does have some pop. He's getting stronger now and we're working out every day, so he's getting a lot more pop," Adrian said. "He's obviously an outfielder and he's faster than me, by far. I don't know who the better contact hitter is, though, honestly."
A team captain at Miami last season, Adrian believes his brother will be a welcome member of Miami's locker room and thinks he can make a big difference for a team that will feature 22 new players this year.
"He's basically like me. He works hard. He's a good teammate. He's going to be a good outfielder for us," Adrian said. "Most importantly, he's going to be a veteran guy that's been in college baseball already for four years. He redshirted his freshman year and played three years, so he's going to be a veteran guy that's going to have experience and, hopefully, show me and my other teammates as well as the new guys coming in how to do it right."
One thing Christian wants to do early on is show his younger teammates how to prepare for the grind of a college baseball season.
"I've been there before as a college baseball player, so I think that's good, especially since we are 22 new guys. That is a big group and a lot of them are young, so I think bringing experience is important," Christian said. "I can help my teammates through the season, especially later in the season. I want to help teach the other guys that it's a long season, so it's important to take care of their bodies and how they can take care of their bodies so they are less tired on the back end of the season when the games matter most."
Now that he is finally making his dream of being a Hurricane a reality, Christian is fully invested in making the most of it for himself, his team and the program he has always grown up idolizing.
"Seeing the success at Miami over the years and knowing the history of UM baseball, putting on this uniform is going to mean a lot to me," Christian said. "I'm very grateful to put on this uniform and very thankful of the coaches for giving me an opportunity to play for this baseball program. I'm going to do everything possible to help win games and to help the team succeed in the long run."