Wanger an Ace on the Mound, at the Plate and in the Classroom
In baseball, a two-way player is someone who contributes both as a pitcher and position player.
While calling Ben Wanger a two-way player is accurate since he has proven himself to be an excellent pitcher and hitter, it seems a bit limiting.
The Newton, Mass., native is probably best described as a two-way student-athlete. He is an All-American ballplayer now working on his third degree.
"His academics are unbelievable and then to match that with his ability, it's a very impressive combination," Miami head coach Gino DiMare said.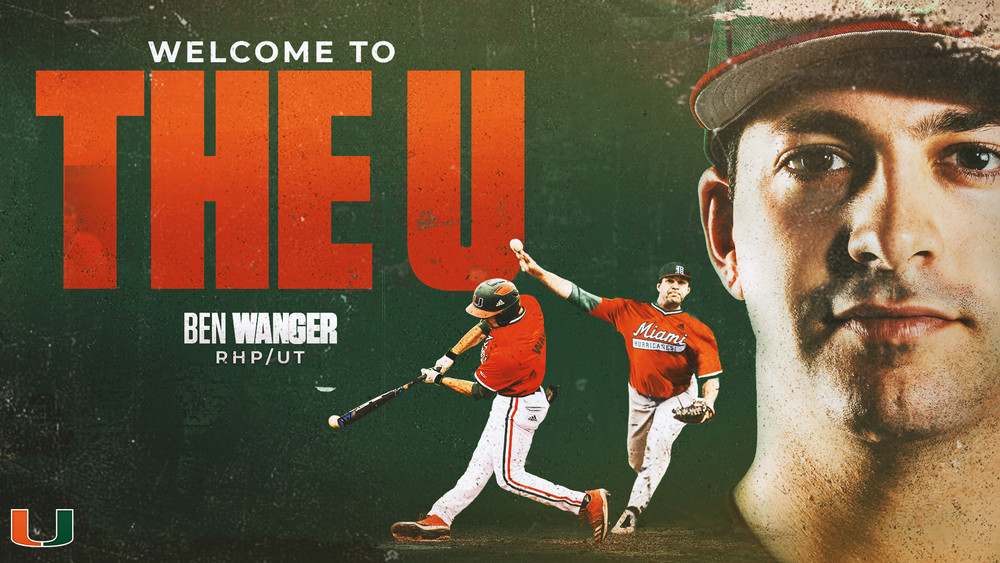 Wanger came to Miami as a graduate transfer and will pursue a master's in international business, but his track record of success on the field and in the classroom is extensive.
The two-way standout began his collegiate career at Yale in 2016, following the tradition of his Ivy League family. Wanger's father, David, pitched at Harvard and his mother, Gwen, played lacrosse and field hockey at Brown. His older sister, Emily, graduated from Yale in 2013.
In 2019, Wanger earned a bachelor's degree in economics and environmental engineering from Yale, where he was an All-Ivy League selection both as a hitter (first team in 2017, second team in 2018) and as a pitcher (first team in 2018).
With a year of eligibility remaining, Wanger transferred to USC and completed a master's in entrepreneurship while starring for the Trojans in a shortened 2020 season, earning second-team All-America distinction from Collegiate Baseball Newspaper.
But the NCAA granted an extra year of eligibility to all student-athletes in spring sports due to the COVID-19 pandemic, so Wanger had the opportunity to play another year of college baseball.
After a stellar Ivy League career and an impressive performance at USC over 13 games, Wanger could have been an attractive prospect to professional teams, so the 23-year-old had several excellent options ahead of him.
"Everything happened fast when the season got canceled and we went on from there," Wanger said.
Wanger weighed the options of staying at USC, transferring or signing a free agent deal with a professional team and kept all options open. He chose to enter the transfer portal to see what kind of interest there was in him from programs around the country.
"Miami actually reached out right away after I got in the transfer portal and said they were interested, but just to wait and see what happens as things move along," Wanger said. "We kept in touch over the next few months. Once we kind of found out that there wasn't going to be minor league baseball this year and that pretty much those guys were just going to be asked to show up for spring training next year, which is already halfway through the college season, I kind of got a little bit more serious about staying in college and going that route."
DiMare and his staff at Miami initially heard Wanger was leaning towards turning pro, but they continued to pursue Wanger with the hopes of adding him to an already stellar incoming recruiting class. While the Canes were gathering information on Wanger, the two-way star was learning as much as he could about The U.
"In the meantime, I was able to do some research about Miami's program and I saw how successful they've been over the years," Wanger said.
"The first time I heard about Miami was back in 2015 before I was going to start at Yale," Wanger added. "When Columbia came down here and they actually stole a game from Miami during that regional. Miami went on to win the regional, but I remember these people making a huge deal out about how Columbia just beat like Miami, who was like a god to them. And I realized that was special because of the reputation that Miami has. They're expected to win whenever they step on the field, so that's something I want to be a part of and I'm excited to be a part of that culture."
Miami was ecstatic to learn of Wanger's decision to become a Hurricane, as DiMare, recruiting coordinator Norberto Lopez, pitching coach J.D. Arteaga and director of player development Jonathan Anderson identified the talented two-way player as their top transfer target.
"As soon as we knew what we had available and that we had some scholarship money available, he was the first one that we offered and we got him," Arteaga said. "He was our number one target and we were able to land our number one target."
"Ben is one of those guys that we got in the transfer portal late — early in the summer but late in this whole recruiting class is when he came about," DiMare said. "It was a great job on Lopes and J.D.'s part of staying on it and finding the right guy and I think we did. We're lucky to have him."
Now that he is in Coral Gables, Wanger has immersed himself in the South Florida culture. On his first day of school, Wanger took a walk around campus to explore his new surroundings and came away amazed.
"I love the modern feel to it," Wanger said. "This is the first school that I've gone to that has a modern feel. Yale and USC are more kind of older and Yale is very Gothic, so it's a nice change. I've enjoyed it so far and I'm excited to be out on the East Coast. My parents are happy about that because there is no time difference. I'm excited and my initial impression is all good things."
As a Hurricanes baseball player, Wanger was eager to see Mark Light Field, Miami's iconic home field where so many legends have played.
"The Light is probably the best college field I've seen," Wanger said. "The grass is incredible. The field is pretty flawless right now. So, it's going to be a fun year to be able to play on that."
Once he gets to play at The Light, DiMare and Arteaga both envision Wanger as Miami's closer and they believe that is a role he can thrive in.
"We watched a lot of tape on him and then, of course, we got a lot of input from other people and the thing I take away the most from Ben is his competitiveness and that's why we're thinking of giving him the opportunity — he's going to have to earn it — to be our closer, which is such a huge role in our program and in any program," DiMare said. "As we've known over the years when you have a great closer, you've got a good chance you're going to go to Omaha. Every year that we've ever gone to Omaha, we've always had great closer and Ben has those attributes."
Arteaga describes Wanger as "a strike-thrower who has a very good breaking ball." He also likes Wanger's ability to retire both left-handers and right-handers, but is most impressed by his ultra-competitive mentality.
"Adding Ben is huge in a number of ways. Number one, the veteran experience is important. Number two, he's a guy that has experience being a closer, which is amazing," Arteaga said. "One of your first jobs in building a staff is figuring out who your closer is going to be and then what working from there. If we have somebody on the staff that is better than him in that role, great, but at least you know you have a guy that has had a lot of success as a closer. That role is not always about how good of a pitcher you are or your stuff. It's more about your mental makeup and mindset and to be able to handle those situations. We already know that he can."
A year ago at USC, Wanger served as the Trojans' closer, recording three saves, good for second-most in the Pac-12, and a 0.00 ERA. He did not allow an earned run in his six relief appearances, striking out eight batters and walking one in 6.1 innings pitched.
"I love being out there with the game on the line," Wanger said. "When I was younger, whenever I would play a sport, whether it's like soccer or hockey or something like that, I would want to be the goalie and the one the last line of defense. Baseball kind of magnifies that because the spotlight is on you and it's exciting. I get a big adrenaline rush from it and it's my favorite spot to be in."
While Wanger's dominance on the mound is evident, his ability at the plate is impressive. In 2020, Wanger slashed .410/.500/.564, leading the Trojans in hitting while finishing fifth in the Pac-12 in batting average. He also drove in eight runs and scored five, hitting four doubles and one triple.
"First of all, he can pitch," DiMare said. "He's got an unbelievable breaking ball; it's a swing and miss breaking ball. He's extremely competitive and, a bonus, he swings the bat from the left side, so I'm excited."
Wanger will embrace whatever role the Hurricanes give him, putting the team's goals and successes over his own.
"I've always said, 'I just like being on the field and doing whatever it takes to help the team win.' Now that may be hitting or pitching, wherever the coaching staff sees fit," Wanger said. "I've always had success at both positions, so nobody's told me to hang one or the other up, so I've just kept on going and seeing success."
The 6-foot-3 Wanger, who bats left-handed and throws right-handed, attributes part of his success as a two-way player to his refusal to quit on either side of his game.
"I've always let my competitive side drive me, especially on the field," Wanger said. "I think when it comes down to it, baseball is a one-on-one battle and you just have to outcompete the other guy who you're facing off against. That's kind of the mentality I take onto the field and it's worked out so far."
His desire to compete against the best has always motivated Wanger, leading him to make the jump to a Power Five conference after his career at Yale. After having success in the Pac-12, Wanger is eager to see how he will fare in the ACC.
"The ACC is probably the best conference, so I'm excited to be a part of it and kind of see what it's all about," Wanger said. "When I was at Yale, we would come down here and play one or two big teams a year. I've been able to play against Florida and we played against UVA, so I've had a taste, but now I'm excited to spend the whole year in the conference."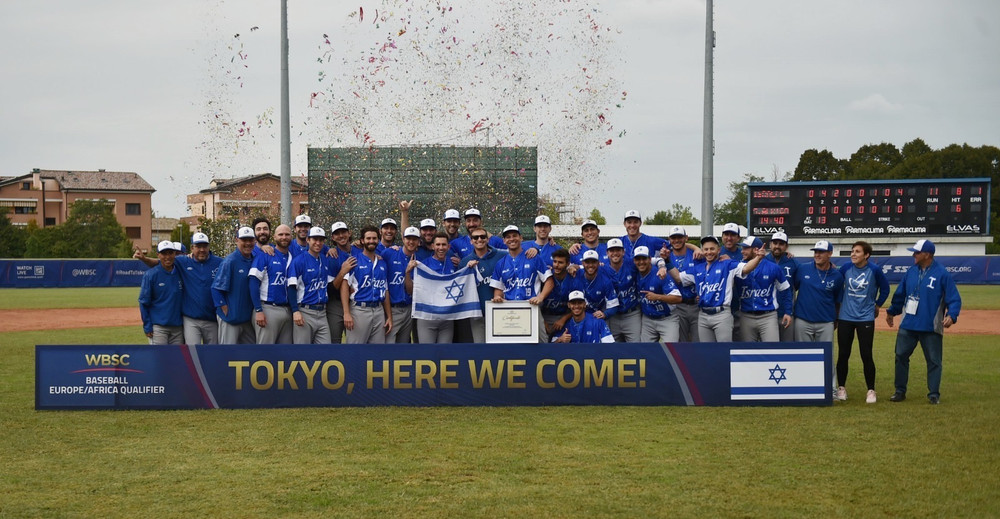 Wanger, who helped Team Israel qualify to win the Europe/Africa Olympic Qualifier Tournament and earn Israel a spot in the next Olympics, reached out to his Israel teammate Danny Valencia to get information on The U and playing in the ACC.
"I was excited to tell him when Miami actually started recruiting me," Wanger said of his Team Israel teammate.
Valencia, who starred at Miami in 2005-06 before going on to play nine seasons in the big leagues, feels Wanger will be an outstanding addition to his alma mater's baseball program.
"As a player, I felt like he was impressive because he can do both things," Valencia said. "He can hit — he had quality at-bats for us in our qualifiers — and he was also a big part of our bullpen. It's not too often where you get a guy, at least at the college level, that's going to be able to help you pitching and offensively and I think Ben does a really good job at that.
"As a guy, he's fantastic," Valencia continued. "He's very smart and he's one of those guys where you enjoy the conversation. … He's a great teammate to have. He's going to help you on both sides of the ball. I think his calling is more on the mound, if you were to ask me. I think he's got great stuff, especially late in the games."
The opportunity to spend time around Valencia and some of his other Israel teammates is something that Wanger feels helped elevate his game to a higher level.
"Playing with Danny was an incredible experience," Wanger said. "There were actually four ex-MLB guys on Team Israel, which was amazing because I got to spend some time with them in Israel and I was like their little brother because I was about 10 years younger than all of them. That was really fun just to kind of pick their brain and be able to practice with them for a little bit and then ended up playing with them for I think it was around 15 or so games. So, you kind of pick up things and kind of take a more pro approach to everything. That actually helped a lot and I took that with me to the season last year at USC."
Knowing the type of athlete and person Wanger is, Valencia thinks the two-way player will fit right in at Miami and make a big difference for the Hurricanes.
"I think he'll embrace the Miami way," Valencia said. "I feel like he knows what he's getting into. He's obviously not scared of playing in the big settings at all. He's an integral part of our Olympic team and he helped us tremendously when we were out there for qualifiers. I think he's a guy that's going to fit in pretty easily. He's going to definitely give you great innings and he's just going to be a good guy to have around the clubhouse. Obviously, at this point, he's got a lot of experience after five years of college, so you're getting experience that I think he'll be able to use to help other people like freshmen and other new guys as they adjust to Division I baseball. I think it's great that he's down here and that he's a Cane."