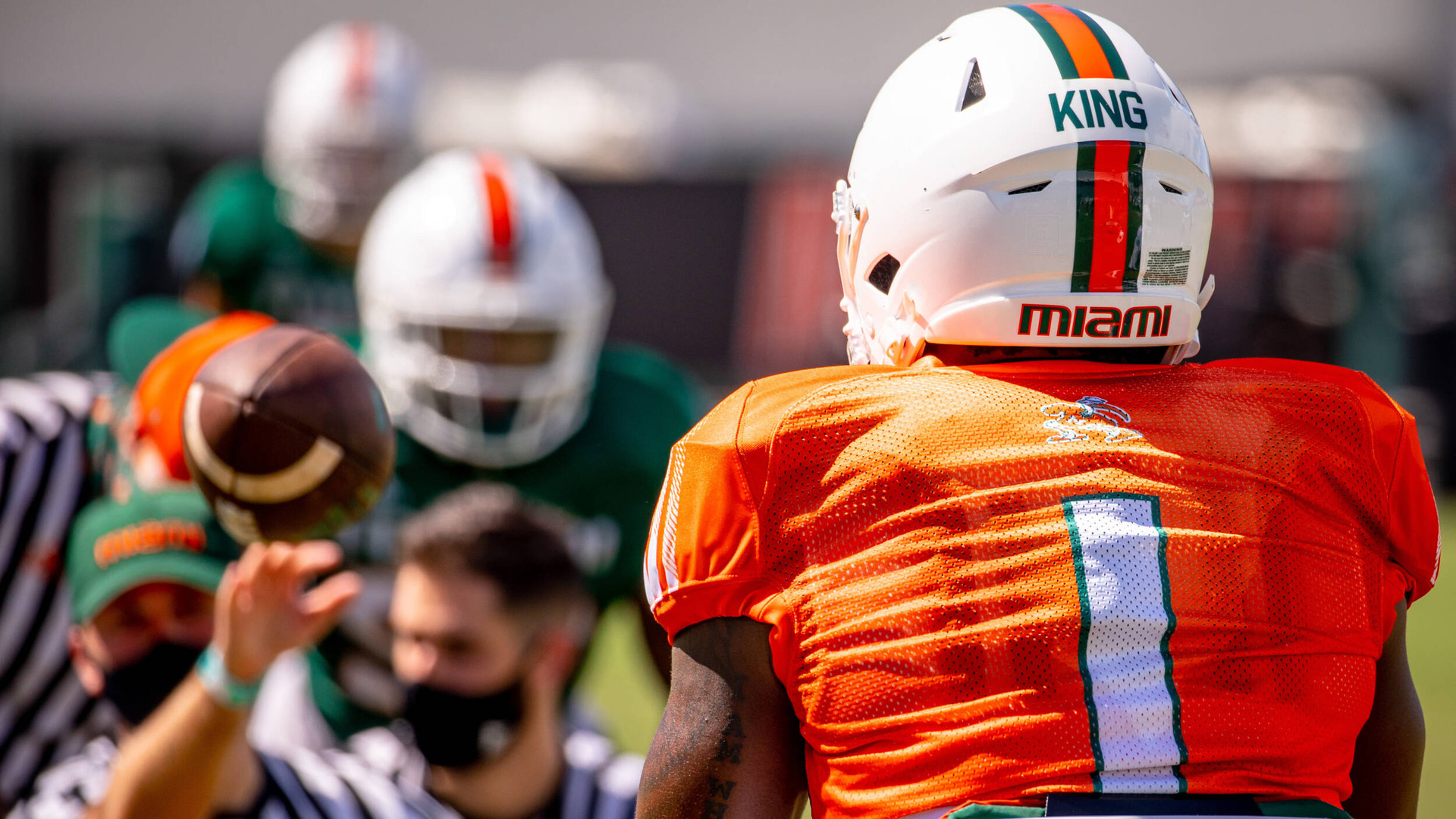 D'Eriq King stopped himself mid-sentence.
No, maybe there wasn't a specific play or singular moment he could remember. But if there was ever a point where it felt like 'this is coming together' – it was the totality of Sunday night's scrimmage, his first as a Miami Hurricane.
"The scrimmage was probably the most game-like it would get…the way we were moving the ball, everybody was clicking, plays coming in fast," King said. "I had a really good feel out there at the scrimmage."
The list of Hurricanes who made plays Sunday night felt shorter than the list of guys who didn't – at least in head coach Manny Diaz's post-scrimmage comments Sunday, and again throughout the early part of the week.
Diaz spoke highly about Miami's freshman running back tandem of Donald Chaney Jr. and Jaylan Knighton, a great performance from tight end Will Mallory and two touchdown catches from Mike Harley. Miami's offensive line is a year older and a year wiser, King said, with several projected starters having cut their teeth with significant action in 2019.
"Me and Mike Harley have a good connection on the field," King said. "He made a lot of plays [Sunday]. Dee Wiggins, Mark Pope and also Xavier [Restrepo] and Mike Redding…all those guys made plays in the scrimmage. There were a lot of plays made. I feel like I have a good connection with a bunch of those guys."
Combine those names with more than 175 rushing yards and a pair of touchdowns from Chaney and Knighton, and it's safe to say Miami's offense was firing on all cylinders.
Diaz said Sunday was the best first scrimmage he has seen on the offensive side since arriving in Coral Gables as defensive coordinator in 2016 – and it was about more than just lots of points or chunk plays.
"Not just in terms of performance and number of touchdowns and yards and those type things, but even watching the film, I know I mentioned it…the amount of mental errors was so low," Diaz said. "We did not call a timeout. We didn't have a procedural penalty or delay of game until maybe the last drive, when we were getting everyone in."
To Diaz, King's impact across the board has been immeasurable – and the reason the second-year head coach named King the team's starting quarterback before the start of training camp.
"What we've been talking about is someone that the entire offense trusts and can rally around, and he's given us that," Diaz said. "It was fun to watch him go out there [Sunday] and perform in a setting where you've got to move the ball and make things happen."
To senior linebacker Zach McCloud, Miami's offense is operating at another level in the early going.
"Even if you think you might have something down in a concept or matchup or whatever, you think you have it down, you don't have it down like you think you do until you get it right against that type of speed," McCloud said. "Those guys, they're lining up quick. They know their jobs and they don't really miss assignments. The defense has to be just as sharp."
Diaz's decision to hire offensive coordinator Rhett Lashlee was met with excitement from players and fans alike. Lashlee arrived at Miami with a track record of fast tempo and high-performing offenses; the SMU Mustangs ranked No. 7 in scoring (41.8 points per game) and No. 9 in total offense (489.8 yards per game) in his final season last year.
To McCloud's point, SMU ranked No. 3 nationally in "plays per game" – averaging a whopping 80.9 as a testament to Lashlee's up-tempo style.
King said he has had no difficulty transitioning in his first year at The U, and has said Lashlee's offense was a big determining factor in his decision to transfer after a record-setting career at Houston.
"He's a great offensive coordinator. He calls great plays. And obviously the tempo of the offense is a big help to us as well," King said. "It hasn't been many adjustments. Obviously, if you coach different kind of quarterbacks you kind of tweak it to fit those guys. I feel like he put in some quarterback run for me. I think the best thing about this offense is, there aren't a lot of plays where you hold the ball. We get the ball out really quick."
To Diaz, the success of Miami's top offensive unit was even more encouraging given the schedule tweaks and lack of a true non-conference slate, outside of Miami's opener vs. UAB on Sept. 10.
"We have to get going with a team that has been either division champions or division champion runner-up the last three years. They've won 28 games the last three years," Diaz said. "We don't have a lot of time to put our toes in the pool."
If Sunday's performance under the lights is any indication, Miami is headed in the right direction.
All that said, Diaz was emphatic Tuesday that the Hurricanes turn the page.
"What it means? We had a good first scrimmage. I didn't notice a parade being scheduled for downtown because we had a good first scrimmage," he said. "That's all it means. We have to build on that…we've had good days before. We've followed up some good days with some real stinkers. Anybody can be good every now and then. The challenge is really trying to be good consistently."