Knighton Making Big First Impression
CORAL GABLES, Fla. – There were so many days father and son left the park frustrated.
Jaylan Knighton was still a newcomer in his youth league, a relatively unknown player trying to earn the respect of the Pee Wee coaches at Mills Pond Park.
Rodney Knighton kept pleading with those coaches to give his boy a chance, let him have a carry or two. He'd impress, the former NFL running back implored. His son has speed and agility. He just needed a chance.
"I considered taking him to another league, but they begged me to keep him there," Rodney Knighton recalled. "I said, 'But if he's going to stay here, you've got to give him a shot.' And I told Jaylan, 'You've got to be ready. They're going to give you a shot this time.' He looked at me and said, 'Dad, I'll be ready.'"
Jaylan Knighton was more than ready. When his opportunity finally came and his coach, Dave Williams, put the ball in his hands, the young speedster scampered down the field. His father cheered. His coach laughed. The Fort Lauderdale Hurricanes found themselves a running back and Knighton was no longer an unknown.
He even earned himself a nickname that stuck, through youth football and beyond.
"He had this red hair and he had a mohawk and the coach, first play of the game, gave the ball to Jaylan and he scored a touchdown," Rodney Knighton laughed. "As he was running, his coach, Coach Dave, yelled, 'Look at that rooster go!' and that was it. That's where the name Rooster came from. That's how it all started. He's been Rooster ever since."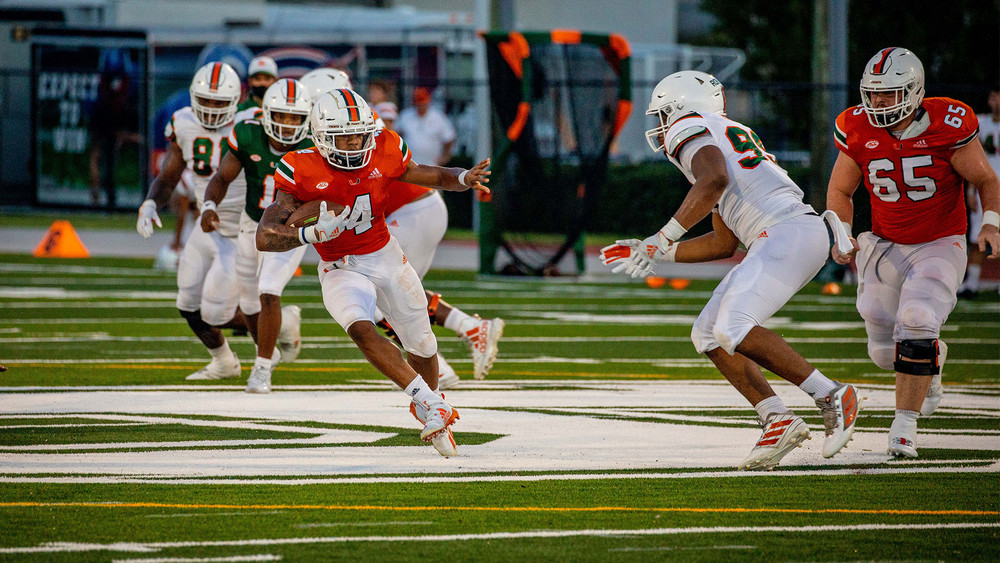 A decade later, Rooster is still running hard for the Hurricanes. This time, though, he's doing it at Miami, where he and fellow freshman running back Donald Chaney Jr. are both hoping to make an impression this season while playing with veteran Cam'Ron Harris.
And any time Knighton needs inspiration, he can pick up the phone to chat with the father who introduced him to the game or look down at his arm where he can soak in the tattoo memorializing the coach who have him his first opportunity on a youth field in Fort Lauderdale.
Though his college career is just beginning, so far, it's been the stuff of dreams, Knighton says.
"It felt so great, putting on that uniform. I know I played in high school, but it was like, 'Now I'm in big-boy football.' It was a great feeling," Knighton said. "I'm trying to make a statement for myself, showing everybody my ability, showing the coaches what I can do, showing my team what I bring to the table. That was the main thing I thought when I put on that uniform. You have to let everybody know what your ability is and how much you can perform."
Knighton has wasted little time on that front.
After a solid week of work during Miami's first practices on Greentree, both Knighton and Chaney were given a significant number of opportunities when the Hurricanes held their first scrimmage of camp this past weekend.
Each scored a touchdown and earned post-scrimmage praise from coach Manny Diaz, but Knighton's numbers were especially impressive.
The former four-star prospect who was rated the No. 5 running back in the nation coming out of high school finished with 10 carries for a scrimmage-high 126 yards, a good number of those yards coming while Knighton played with Miami's No. 1 offense.
In a handful of plays under the spotlight, Knighton showed why Alabama, Auburn, Clemson, Florida, Florida State, Georgia, LSU, Ohio State, Oklahoma, Oregon, Penn State and others had hoped to land him on their rosters.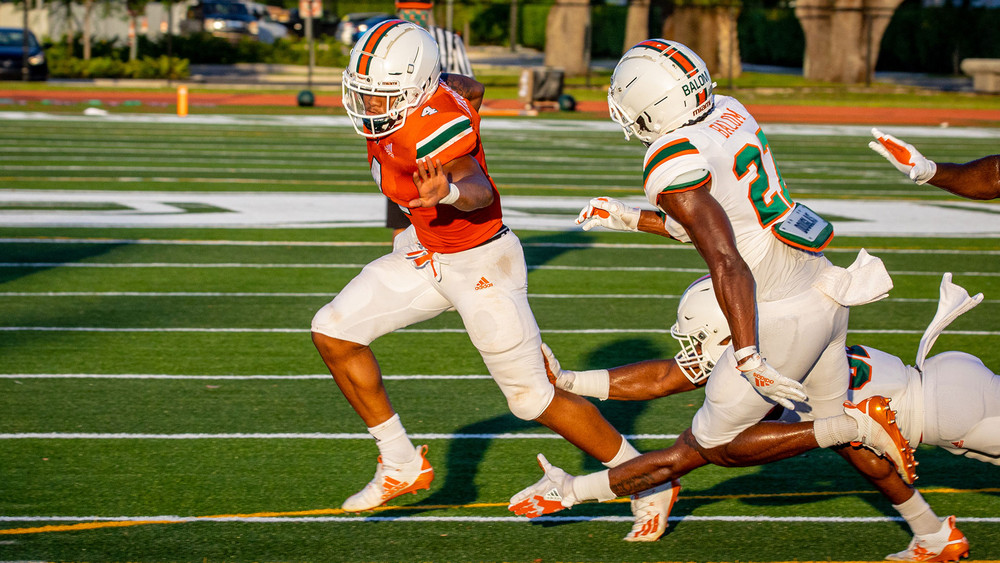 "What's impressive about Jaylan is we knew about his speed and his home run hitting ability," Diaz said of the 5-foot-10, 190-pound back ahead of Sunday's scrimmage. "Sometimes with younger guys, just seeing the cuts might take a while and early on, seeing the way he has a feel for it, how he puts his foot in the ground and get through that hole, I think that's been very impressive. …
"We brought him and Don in here to compete with Cam and Robert [Burns]. They came to play this year. That's what we want. We want to create competition every day in practice. The fact Jaylan chose to come here, even when we already had Don, that's a guy that wants to be great. He understands if he comes to practice and he isn't at his best, somebody's going to take his carries. That slowly is how you build a program, when you can get that at every position. That's when you've got something."
Knighton believes he and Chaney can be that "something" for Miami for years to come.
The two, who have already built a rapport as backs who grew up playing against top-notch competition in South Florida, combined for 183 yards and two scores on Sunday.
They – and the Hurricanes – hope that's just the beginning of big things from the two backs.
"Oh, me and Don, we're dangerous. The reason we're so dangerous is that we both have power and speed. You can't beat that," Knighton said. "We're like a machine. It doesn't stop. If one's down, the next will go. If we're both up, it's just going to keep going up. Working together, me and Don have bonded so well. We're only going to get better every single day. We're just learning each other, learning how each other plays so we know what we have to do."
While in Coral Gables, Knighton continues making a name for himself, back home in Fort Lauderdale, his parents continue keeping tabs on the youngest of their five children. His siblings, nieces and nephews are cheering him on. And the hope is that Knighton will just continue building on what's already been an impressive start to his college career.
"We couldn't be more excited than any parents in the world right now. He could have gone anywhere, but ultimately, he chose Miami and that's going to save us a lot of traveling time so we can be at all of his games," said Knighton, who played at Louisville and with the NFL's Washington football team. "For him to be with a great program, that was the best fit for him, at home, we just lucked out on that as his family. He's got the best of both worlds and we're grateful for that."