Canes Ready to Turn It Up in First Scrimmage
CORAL GABLES, Fla. – It will, in some ways, be different. It has to be during this surreal time.
There will be no sideline huddles on the bench. Instead, they'll sit on socially distanced chairs between plays. Their coaches and the staffers around them will be hidden behind masks. Individual, personalized water bottles will keep them hydrated. They'll be out of the spotlight.
But on Sunday night, for the first time in more than seven months, the Hurricanes will play a game of sorts when they take the field for their first scrimmage of camp. Given how much the world has changed since last season ended, they are both grateful and excited for the chance.
And every expectation is that there will be some high-level competition between the lines.
"We're going to put the ball down and we're going to play and we're going to have special teams and I'm just really excited," Hurricanes defensive coordinator Blake Baker said Saturday night after Miami's final pre-scrimmage practice. "It's been a long time and this is what these guys train so hard all offseason to do. For us to finally get to roll the ball out there, even though it's just a scrimmage, I think it's important for a lot of different reasons.
"I think it's really important for this defense and this offense and the team in general to grow."
While Miami's defense will have to make some adjustments – it will be the group's first scrimmage without veterans Shaq Quarterman, Mike Pinckney and Greg Rousseau, for example – most veterans have experience in the scheme designed by Baker and head coach Manny Diaz.
For their teammates on the other side of the ball, though, Sunday will be the first time running offensive coordinator Rhett Lashlee's fast-paced, high-powered system in a game-like scenario.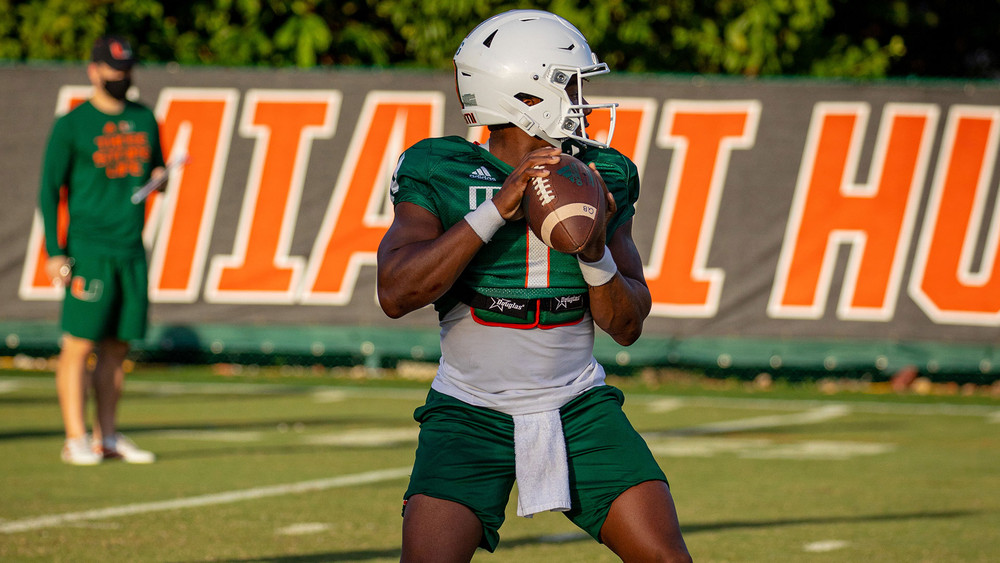 And Lashlee, who joined Miami's staff in January after leading a top-10 offense at SMU last fall, is eager to see how much his new charges have learned, especially after the Hurricanes saw their spring workouts cut short earlier this year because of the COVID-19 pandemic.
"To me, it's a great opportunity, after a week of work, to kind of see how guys are," Lashlee said. "Practice is one thing. Even when we do some scrimmage-type things, some move-the-ball situations, you find a little bit more about guys. But when there's down and distance, there's officials, there's time on the clock and it's a little more of a game-like situation, I'm just excited to see how our guys respond. Who knows what to do? Who plays extremely hard? Who's physical? Who can take all the work they've done over the last week and in that moment, just play the next play and play like they do every day in practice. It'll be good for us as coaches to get a lot of information from our guys. … We're going to do what we do and try to play fast and try to do the things we've done and see how our guys respond and see kind of where we are about three and a half weeks out before our first game."
One of the players that will likely be under the microscope Sunday is graduate transfer D'Eriq King, who was named Miami's starting quarterback just before the start of camp.
In his three years at Houston, King was an electric force, totaling 78 touchdowns, 4,925 passing yards and 1,421 rushing yards in just 22 games. He totaled 6,346 yards of offense and in 2018, set a new American Athletic Conference record when he accounted for 50 touchdowns, despite missing the last 2.5 games of the season with an injury.
Through the first two weeks of camp, he has proven himself a leader, earning praise from teammates and coaches alike for his steady, consistent approach on and off the field.
Sunday, though, will be one of his first real opportunities to lead the offense in some higher-pressure situations and it will be a chance for Diaz, Lashlee and the rest of Miami's coaches to see just how much chemistry he's built with his new teammates.
"He's been doing well. He's been solid, very similar to the first four days in the spring. I think he's getting very comfortable with what we're doing and just as importantly, comfortable with the guys out there, receivers, running backs, tight ends, the o-line," Lashlee said of King. "There's something to jelling and everybody playing together and being on the same page. It's one thing to know what to do. It's one thing when everybody can kind of be on the same page and play well together. It's a big part of camp. That's when you get your timing and your rhythm and your continuity down. But he's been good. You never know until you get in games what guys are going to be like, but he's been steady, as a lot of other guys have been."
What else will Lashlee be looking for Sunday evening? He said he's hopeful that after Miami's first scrimmage he and offensive line coach Garin Justice will be able to settle on a starting rotation after trying out several players at various positions along the line. He also wants to see whether redshirt junior N'Kosi Perry, redshirt junior Tate Martell or freshman Tyler Van Dyke can emerge as Miami's No. 2 quarterback behind King.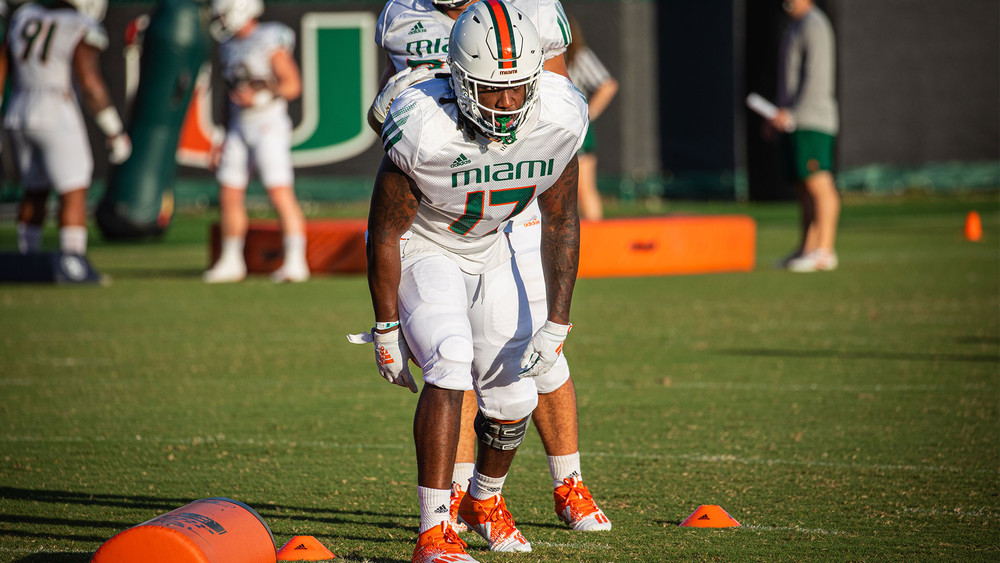 Sunday's scrimmage will be a key test for some Hurricanes players that are working their way back from injuries, including tight end Brevin Jordan, safety Bubba Bolden and linebackers Waynmon Steed and Bradley Jennings, Jr.
Coaches have noted that all four have been doing well in camp to this point, but being able to handle the rigors of a scrimmage will be one more necessary step for each as the Sept. 10 season opener against UAB draws ever closer.
"They have exceeded any expectation that I've had. They both look great," Baker said of Steed and Jennings specifically. "I didn't know how they would respond, obviously, coming off serious injuries and being out for over a year, really, both of them. But those two guys are playing their tails off, they're smart, they've been in this system a long time and they've really matured. Just from a mentality standpoint, they know how quickly the game can be taken away from them and injuries usually tend to do that to guys. I'm so happy with those two guys. I think they're going to surprise some people this year. Both of them are doing a heck of a job and I couldn't say enough good things about either one of those young men."
There's no doubt that Sunday's scrimmage will be key for all the Hurricanes, whether they're coming back from an injury, adapting to a new scheme or hoping to impress their coaches and work their way up the depth chart.
It's an opportunity none will take for granted.
"I'm very, very anxious to see [Sunday] and through the next couple of weeks," Baker said. "Someone will emerge. The cream usually rises to the top about Week Two or Week Three in camp, so that is to be determined."