Harley Determined to Finish Strong
CORAL GABLES, Fla. – There were a few early mornings he'd hear the alarm and cringe.
Then Mike Harley would remind himself of one simple fact: If he didn't get up and work, someone else, somewhere, would. And he wasn't about to let anyone outwork him. Not now. Not before his final season as a Miami Hurricane.
"You have to be driven and self-motivated," said Harley of the early-morning workouts he put himself through while Miami's campus was closed because of the COVID-19 pandemic. "I know I have to outwork every opponent and sometimes, my only opponent is myself. It was really about being self-driven. I wanted to come back and be one of the leaders on this team. I have a lot of goals to reach. That's what made me get up every morning and get it."
While staying at his family's Fort Lauderdale home during this spring's shelter-in-place orders, Harley found himself getting back to basics: lots of running, lots of speed ladder drills, lots of weightlifting and lots of healthy, home-cooked meals from mom.
The result? Harley got stronger. He bulked up to 180 pounds, an 11-pound increase from his playing weight in 2019. He hit 24 miles-per-hour on a treadmill. His footwork improved.
With the Hurricanes now back on campus and working their way through training camp, Harley says he's determined to continue building on the gains he made in the offseason. He also wants to make sure Miami's talented, young receivers understand what it takes to be successful at the college level.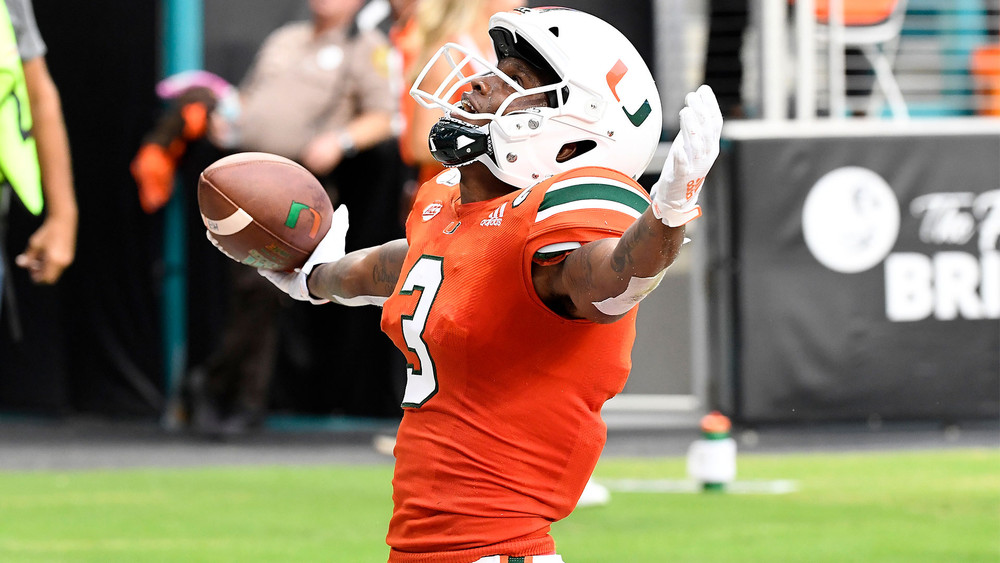 "I've been working with the young guys a lot on both the mental and physical stuff," said Harley, the lone senior in Miami's receiving corps. "They're at UM for a reason. They're naturally talented. They're hardworking. They're fast. They can catch the ball. I want them to really understand the game, really understand how to play receiver, understand defenses and how to beat this guy. I want to go all out and show effort. You have your [playbook] for a reason. You're going to study. You're going to write things down, take notes, stuff like that.
"But when you get on the field, you have to go all out. Just, go all out. Show you have 100 percent effort. You can't teach effort. It just has to be in the person, so I try to be that example. I want to set the tone in every practice, be that tone-setter."
There is, Harley notes, a sense of urgency for him this season.
It's his last chance to make a mark at Miami, to leave a legacy that will inspire younger players the way Santana Moss, Reggie Wayne and Stacy Coley inspired him. And he's eager to improve on what was the most productive year of his college career.
In 2019, the Fort Lauderdale native finished second on the team with 38 catches and third with 485 receiving yards. He played in all 13 games, started four and finished with three touchdowns.
Now, it's time to step it up and to help him do that, Harley sought advice from one of his longtime mentors, former NFL receiver and six-time Pro Bowler Brandon Marshall.
"He was huge. He helped me a lot. He told me to work on my weaknesses and work on the things that got me to the position I'm at today," Harley said. "I applied all of that to my work. He brought me a couple of books to keep me up, spiritually. He's been a huge blessing. He's been in my life since my senior year of high school, so it wasn't anything new to us. He's helped me a lot."
With the season fast approaching, Harley has tried to become a mentor of sorts himself, spending time with another Broward County product: fellow Miami receiver Xavier Restrepo.
The two have known each other for a while, training at the same facility before arriving in Coral Gables. Now, Harley is excited about the possibility of being on the field at the same time as Restrepo, a player he says has a work ethic similar to his own.
"He's probably one of the hardest workers on the team. Not just among the freshmen, on the whole team," Harley said. "It'll be a blessing to see both of us on the field at one time. That's why I'm learning a lot of the positions, so he can get his feet wet and he and I can be on the field at the same time."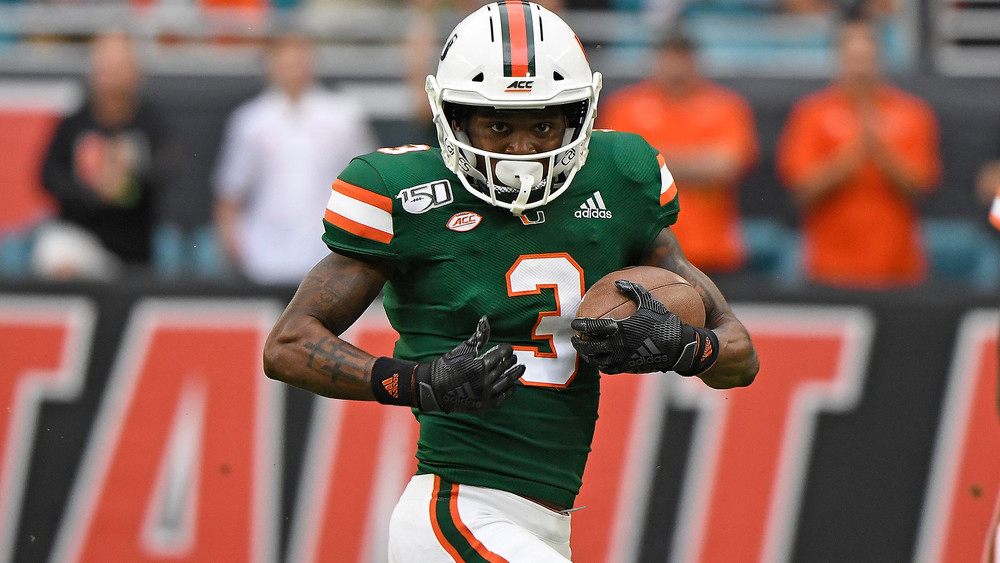 That, Harley says, would be a boon – especially given the way playmakers can thrive in offensive coordinator Rhett Lashlee's high-powered, up-tempo scheme.
"The thing about this offense that a lot of folks don't know is that I'm challenging myself to not just learn my position, but the other three positions, to play wideout on both sides, to be a running back out of the backfield, to create mismatches," Harley said. "I'm trying to learn everything so I don't get off the field with this offense."
But as he starts to reflect on the fact this will be his final season as a Hurricane, the field isn't the only place where Harley hopes to make an impact.
As an active member of Miami's Fellowship of Christian Athletes and its leadership training program, Harley was one of seven Hurricanes football players who traveled to the Dominican Republic in 2019 as part of a mission trip.
There, Harley, his teammates and three UM volleyball players spent time playing with orphaned boys living in a local group home. They delivered solar-powered lights to families who lived in a neighborhood without electricity. They painted homes and handed out meals.
It was an experience Harley said then taught him to appreciate all he and his family are fortunate enough to have. Now, he's hoping he and his teammates can help spearhead a drive for school supplies as South Florida students prepare for an uncertain school year.
"We're all more than football players. I was in a kid's shoes like that before and I remember a lot of folks gave to my family when my family didn't have," Harley said. "I know the struggle a lot of kids go through. I want to be that light that gives hope. And Lord's will, if I make it to the next level, I'll have even more to give."
Harley knows a big senior season will help on that front and in so many other ways.
"I want to be remembered. I want kids to commit to Miami and wear No. 3 one day," he said. "Stacy Coley is one of the reasons I wear No. 3. He's from my neck of the woods. I wanted to come to Miami and be like him. I want to give hope to kids back home. I want to be on that list of legends."