Harris Ready to Ball in Year 3
For the fourth time in the last four seasons, Miami's offense will feature a new running back lining up on the season's first snap.
But for Miami Hurricanes junior Cam'Ron Harris, the work needed to earn that starting job has never been in question.
"The work started from the summer. Whenever we got the chance to come in and work, everybody had the mindset that we've got to work and we want to win," Harris said. "We take every day one day at a time…we have to grind."
Harris did start three games in 2019, including the Walk-On's Independence Bowl. But it was DeeJay Dallas, eventually selected in the 2020 NFL Draft by the Seattle Seahawks, who earned the starting running back job before succumbing to an injury that ended his junior year.
Despite playing as a reserve for much of the early part of the season, Harris averaged 5.1 yards per carry and had the best single-game rushing output of any Hurricane all season with 136 yards against Georgia Tech.
With Dallas hurt that same week against the Yellow Jackets, Harris earned the first starting nod of his career the following week at Pitt, and delivered a 60-yard performance that included a rushing touchdown.
We don't know when our name is going to be called, so we're going to be ready to work.

Cam'Ron Harris
The Opa-Locka, Fla., native finished last season with 574 rushing yards and five rushing touchdowns, and added 118 receiving yards with one receiving score.
But head coach Manny Diaz thinks those numbers may not tell the full story of Harris' impact on the offense as a budding sophomore.
"I think, as he got even more comfortable a year ago, just his ability to make big plays. This is still a guy, it's a shame, he had a great long run called back in the Florida game and the North Carolina game, early on, on two pretty dubious holding penalties," Diaz said. "I think that ability to get the tough yards when they're there, but at the same time, to get out in the open field and create some chunk plays, I think, is what he brings to our offense."
Like all of the Hurricanes' offensive players, Harris will be playing his first season in a new scheme under the direction of first-year coordinator Rhett Lashlee. For Harris, adding weight – he's up to 210 pounds after playing his freshman year at 190 – was an important goal entering his first year in the new system.
"I gained more weight for a reason," Harris said. "Going into the season, I've got the mindset that we're in a fast-tempo offense so I'm going to be getting hit left and right and I've still got to get back on the ball. I gained more weight to wear down the defense."
A consensus four-star prospect out of Carol City High School, Harris was rated as a top-10 running back in his high school class by every scouting service. He helped Carol City to its first Class 6A Championship since 2003 during his junior year, earning second-team All-Dade honors from the Miami Herald in the process.
Wearing down defenses has never been an issue for the rising junior. Count starting quarterback D'Eriq King among those who came away impressed with Harris from the spring.
"When I first saw him run, when I first got here and we were doing workouts, I was like, 'Whoa. This guy is that big, running that fast?" King told the Packer & Durham Show on the ACC Network. "Then we got into spring ball and he showed out during all four days. He surprised the heck out of me. I'm anxious to see him play this year."
Harris' strong 2019 as second-string back behind Dallas continued a trend that started his freshman year. He didn't see his first significant action as a freshman until late in the season – a Nov. 10 game against Georgia Tech, to be exact.
But he finished that game with 48 yards, including his first career touchdown on a 22-yard rush.
The next week? 77 yards with one rushing touchdown in a road win against Virginia Tech that clinched bowl eligibility.
After that? A then-career high eight carries against Pittsburgh in a home win on Senior Day.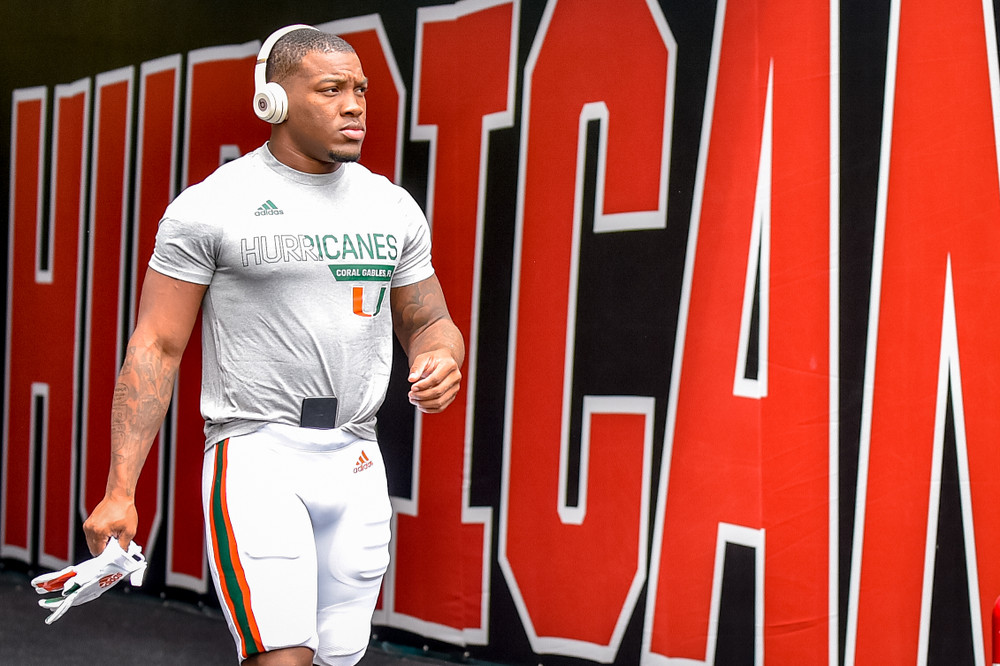 Harris has always delivered when called upon, and he expects the same to unfold in 2020 – his first season as an upperclassman. He's taken that role to heart, taking freshmen running backs Donald Chaney, Jr., and Jaylan Knighton under his wing.
"They came in with a mindset that they were ready to work, and they're following in my steps – they see me after practice lifting, doing more conditioning with Coach [David] Feeley…they see me do it, so they want to do it too, to be prepared," Harris said. "If I go down, they have to step up."
For Diaz, Harris' attitude since offseason workouts began oozes the type of work ethic he'd like all of his players to embody – not just ones who figure to be starters in the fall.
"I think what stood out with Cam is what do you do above and beyond what is asked," Diaz said. "That started when we came back in January and February. What he did in the weight room, in addition to the lifts, you almost couldn't chase the guy out of there. Just the extra work, which is what happens when a guy knows it is his time and he's ready to have that role of being that guy, which is what you want your upperclassmen to feel. I think that's been the most impressive part for Cam."
Now, the soft-spoken Harris is focused on just one goal: making 2020 a memorable season.
"We're ready to play," he said. "We don't worry about what's on the outside. We worry about the Miami Hurricanes, and we're ready to play – no matter what."