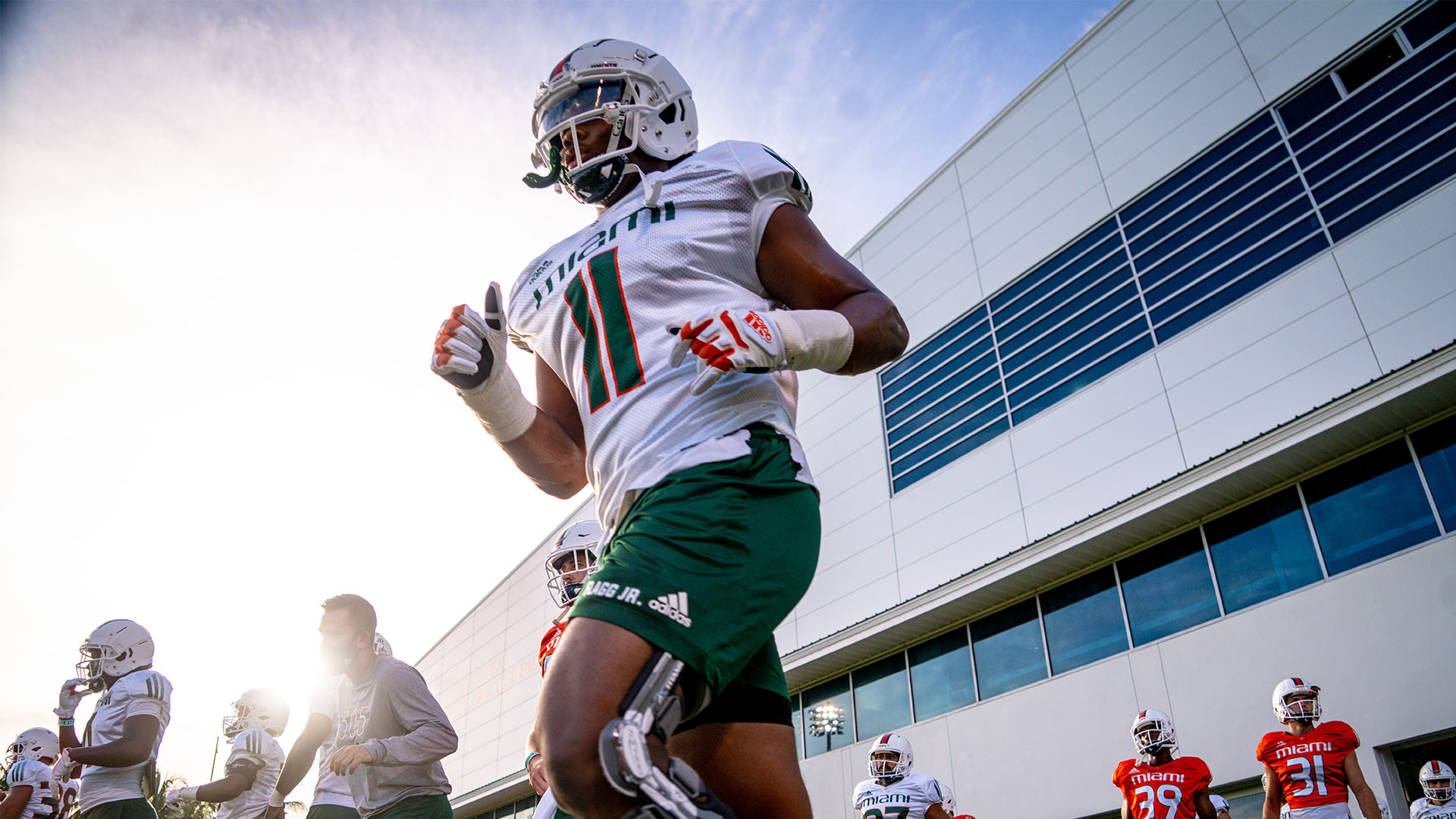 CORAL GABLES, Fla. – The debates, good-natured though they may be, are pretty intense.
But even though he's outnumbered in his own locker room, Corey Flagg, Jr. is holding firm.
When it comes to Texas football versus Florida football, the freshman linebacker will always stand up for his home state, though he knows his current home produces plenty of talented players, too.
"Man, it's a conversation we keep going back and forth with, but I just tell them, 'Look at the numbers. Look at the numbers. If you look at the numbers, you'll get your answer,'" laughed Flagg, a Houston native. "Of course I am throwing my hat in there for Texas. I mean, we play for our state championships in [Arlington's AT&T Stadium]. They play their state championships at a regular high school. I know that's not fair, but … I've played in front of 60,000 people before. It's just different in Texas. It's different."
He paused for good measure.
"It's different," Flagg chuckled again.
When the debates inevitably flare up next time, Flagg – a former three-star prospect who also considered scholarship offers from the likes of Boston College, Houston, Kansas State, Memphis, SMU, Virginia Tech and Texas Tech, among others – might be able to win his Florida teammates over by sharing another Texas specialty with them.
When he isn't on the football field, in the classroom, or in the weight room, it's not unusual to find Flagg near a grill, where he's become quite the barbecue expert, thanks to some lessons from his father, Corey Sr.
Not long after arriving in Coral Gables, Flagg grilled for some of his teammates, including fellow Houstonians D'Eriq King and Ryan Ragone. His specialty, Flagg says, are ribs and he's hopeful more team meals can happen, when it's possible again.
In the meantime, the linebacker is hoping his play continues driving home the point that Texas can more than hold its own on and off the field with Florida.
There's no doubt Flagg will have an opportunity to show teammates and coaches what he can do, especially with veteran linebackers Shaquille Quarterman and Michael Pinckney now looking forward to their professional careers.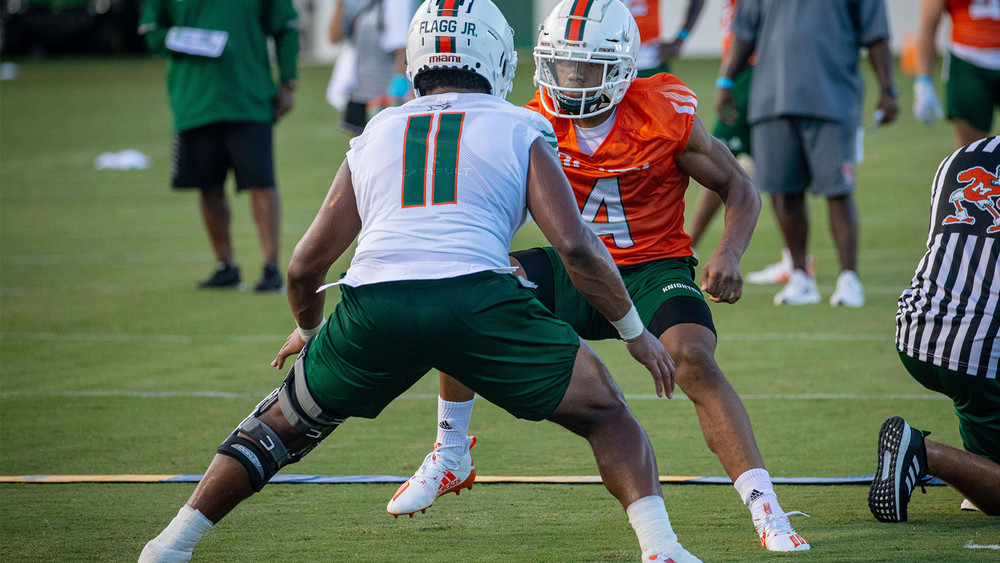 One thing Hurricanes coach Manny Diaz knows Flagg can bring to Greentree and beyond? A championship pedigree.
The 5-foot-11, 228-pound Flagg helped lead Houston's North Shore High School to a state championship in December, earning Defensive Player of the Game honors, thanks in part to a big 4th-and-1 stop he helped his team make in the championship's third quarter.
"With Corey, it's about instincts. He's a guy that really sees his way around the box very well and was a great leader in a great high school program in the state of Texas," Diaz said. "And he's a winner. He's a guy that's won state championships. He understands what it means to be on a winning team, understands the sacrifices you have to make to be great."
Now, Flagg is ready to make those kinds of plays, those kinds of sacrifices for the Hurricanes.
He may not have grown up in South Florida like many of his new teammates, but he knows the expectations that come with playing linebacker at Miami, a program that has produced the likes of Ray Lewis, Jonathan Vilma, Jon Beason, Dan Morgan, Micheal Barrow, D.J. Williams, Jessie Armstead and others.
"It's just a huge honor to even be offered [a scholarship] by the University of Miami. It's a huge blessing," Flagg said. "When [Assistant Director of Recruiting DeMarcus Van Dyke] told me that Ray Lewis and all those guys stayed in the Mahoney [Residential College], I was just like, 'Wow.' You look at all the great guys that have played here, Shaq, and Jonathan Vilma and Jon Beason. It's just a great honor to be able to say you have an offer from the University of Miami. Now I can say that I play for the University of Miami and that's crazy. It's amazing."
Though his budding Hurricanes career is just getting started, Flagg has already had the opportunity to get feedback from one of those Hurricanes linebacking greats after a recent chat with Jonathan Vilma.
It's a conversation Flagg says he'll carry with him this season and beyond.
"I actually talked to Jonathan Vilma two days ago and he was telling us to hold each other accountable, to hold our teammates accountable," Flagg said. "We can't always be buddy-buddy all the time. We have to hold each other accountable and get on each other sometimes. That was the biggest thing. And then he gave me pointers about being on the field, and pointers off the field. … going to class on time, studying, spending time with the playbook, things like that. He gave me some good pointers. It was huge for me because, that's not just Jon Vilma. It's Jon Vilma who played my position. … it was very big for me."
Now, with the Hurricanes making their way through training camp and a few practices under his belt, Flagg says it's time for him to show his teammates what he can do and time to make his parents and siblings proud.
He acknowledges it's been tough being away from his tight-knit family in recent weeks, but he says he his parents – Corey Sr. and Shaketha – along with his older sister, Kyaira and his younger brother Caleb are all in his corner, even from nearly 2,000 miles away back home.
"It's a big deal. I always think about them when I'm doing anything," Flagg said. "I picture them lined up right next to me, my mom, my dad, my brother, my sister. That's how I carry myself around, everywhere I go and it's brought me this far. I'm excited to see where it takes me next."