Improved O-Line Hungry to Show Growth
The Miami Hurricanes know they weren't good enough on the offensive line a year ago.
The Canes flashed talent at times and showed improvement over the course of the season, but Miami's line allowed 46 sacks and was consistently inconsistent while trying to protect their quarterback in 2019.
But there is growing optimism that the Hurricanes will be much improved up front, as Miami brought back six linemen with starting experience and added several talented newcomers for new offensive line coach Garin Justice to mentor.
"No offensive lineman left, so it's just all about spending time together and just fighting for your brother, I would say," center Corey Gaynor said. "We're together all the time, we're working hard together and we're all maturing. Like last year was my first year as a starting center and I know Zion [Nelson]'s first year in college football, so we were young and we're just going to continue to work hard to be the best offensive line we could be."
Justice, who came to Miami after serving as UNLV's offensive coordinator and OL coach, is impressed with what he's seen from his linemen since he arrived in Coral Gables in January.
"As far as the offensive line is concerned, I'm really, really impressed with our athleticism," Justice said. "I mean the difference from even when I played at West Virginia and some of the bigger schools I was associated with, these guys can run. We can run really well.
"Now, we're still learning how to play in a lot of ways," Justice continued. "We're still growing up and they're growing up in front of everyone's eyes, in a good way. But, as far as the talent, the ability, the athleticism, it's all there. And the thing that helps is all these guys have played ball, a high majority of those guys have played and, just for the fact that they have snaps, hopefully we can be a lot better on the field and produce a better product."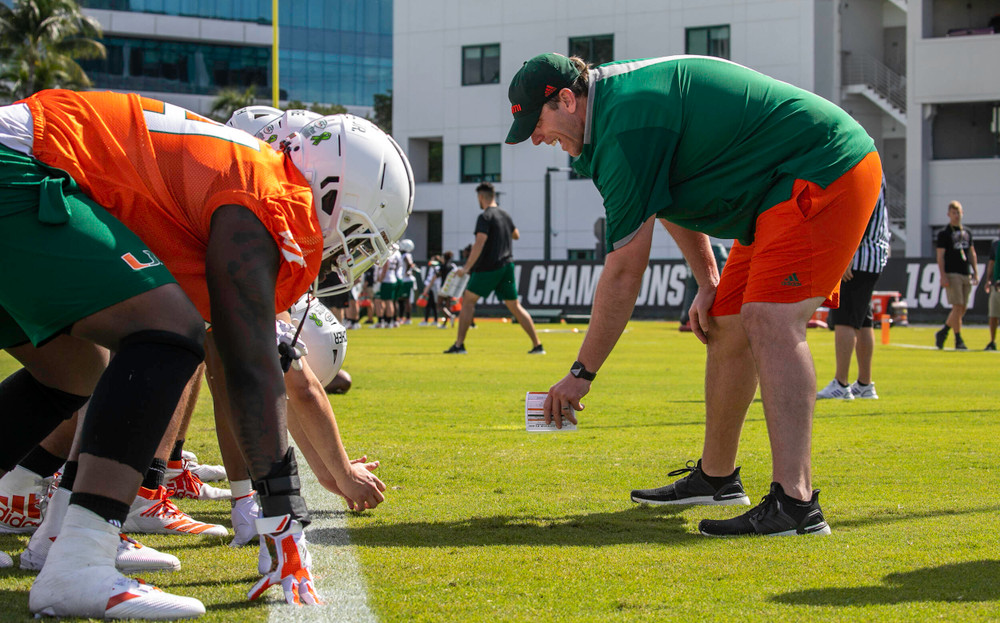 Miami's line is led by Gaynor, a redshirt junior, and junior DJ Scaife, Jr. Justice believes the pair will be is Miami's starting lineup, but the other three spots on the first team are up for grabs and he is eager to see who earns those roles.
"There's so many different body types, so many different skill sets and it's up to me and our coaching staff to figure out ways to put the right pieces in play," Justice said. "That's kind of what we're doing right now. You're looking at projections. It's hard to root against or to say that Gaynor or Scaife won't be in the mix. But, other than that, we've got a lot of guys trying to play different spots and trying to figure out what our best combination is."
Gaynor, Scaife, John Campbell, Jr., Zion Nelson, Kai-Leon Herbert, Jarrid Williams and Ousman Traore have all taken first team reps on the offensive line over the first two days of camp. Jakai Clark, who made 12 starts as a true freshman in 2019, is slated to take first team reps at guard on Sunday.
"We're kind of having some tryouts in different spots, so tomorrow will be Jakai's day at left guard and we're letting him have a crack at it," Justice said. "The last two practices, he's been playing our backup center just for the fact of we've got to get someone that's steady and reliable behind Corey in case something were to happen to Corey. So if Jakai is not the starting left guard, he will definitely be the guy that comes in for Gaynor if something happens to him."
Scaife, who has been a key cog on Miami's line, is a player that has elite competitiveness. But Justice believes he can be an even better player in his third season of college football.
"There's a reason he was team MVP. He's a guy that really flashes, shows up," Justice said. "And the thing about Scaife is, for lack of better terms, he's got that dog about him; he's got that in the fact that he's a competitor. He loves to play football. Fundamentally there's some things that we, of course, we've got to fix on him, but when it comes to ball, he loves ball. He's a competitor of ball and he's one of our more talented guys."
As a player who has excelled at both tackle and guard in his time as a Cane, Scaife is a valuable piece of Miami's offensive line puzzle. But Justice believes he can make the biggest impact for the Canes while playing as an interior lineman.
"I think he fits best to guard for us. I think he's probably a little more suited for guard, but also I think we're a little deeper at tackle," Justice said. "I think with the addition of Jarrid Williams, Kai Herbert's now a junior, Zion Nelson, even though we're playing him both back and forth, was starting left tackle last year, John Campbell started the season opener last year at tackle, Zalon'tae Hillery has played some tackle, so you have like four or five guys who have actually played a college football game at tackle, that's not including Scaife. I don't think that's as deep, when you start talking to interior guys."
Nelson, who started 13 games at left tackle as a true freshman a year ago, has been getting reps inside at guard early in camp. An athletic lineman, he continues to bulk up and his work ethic is helping him learn a new position on the inside of the line.
"Zion works extremely hard on his nutrition. He's got a great frame, that's exactly why he's able to put on such good weight, and he's been working hard in the weight room," Gaynor said. "What I've seen from Zion as a player, his maturity. Zion is becoming a student of the game, I would say, so he's just going to keep working hard, we're going to keep our heads down and we're just going to keep going on.
"He's getting adjusted the guard," Gaynor added. "He's right next to me so if he has any questions, I'm able to help him on the fly, so it's a good spot for Zion."
The offensive tackles have impressed over the opening two camp practices, with Gaynor eager to see who emerges as the starters by the time Miami's preseason camp concludes.
"I think the tackles are competing really, really hard. I think they're all fighting for a job and they all care and it's going to be awesome to watch down the stretch how this unfolds," Gaynor said. "I think Jarrid is gifted would be the word I'd say. He's massive. I think he's a legit six-seven. He's big. When he gets his hands on people, he moves them. And then John Campbell's having a great first two days of practice. He's smart and he's playing with great technique."
Williams, who came to Miami as a graduate transfer after spending four years at the University of Houston, has opened a lot of eyes since his arrival on campus.
"Certainly, he stands out just through his size and he's just got tremendous length, so he's hard to miss," head coach Manny Diaz said. "Today was our first time and we were just in helmets, so we'll learn more when the pads come on Sunday, I suppose. But there's length; you've got to take an extra step to get around him because he's got such great reach, so I think that that definitely provides value."
Miami's starting quarterback is very familiar with Williams, as D'Eriq King started for three years at Houston behind a line that featured the talented tackle. Now the duo hopes to pay a fourth season with Williams protecting King, and that is something the veteran signal caller is very comfortable with.
"First of all, with Jarrid, it's just great having him on my team," King said. "I've been playing with him for four years, me and him started for three years, so I feel like we have a pretty good connection. I trust him."
If his track record of success as a tackle isn't enough to convince you of his ability, one of Miami's premier pass rushers has first-hand experience facing Williams and he can vouch for the transfer's ability.
"Definitely just a consistent player, real technically sound, so he's somebody that's going to bring maturity, hopefully leadership to the locker room and to the O-line," defensive end Quincy Roche said. "He's another piece of the puzzle, so if we can put it all together, all be on the same page, I'm excited about this season."
While Williams is a veteran tackle with plenty of college football experience, Miami added a pair of freshmen tackles in Issiah Walker and Jalen Rivers that many believe could have a chance to contribute early in their Hurricane careers.
"Issiah's a guy with a big, big upside. … Issiah's a guy that we see that potential, we see that ability," Justice said. "There's no doubt that we believe he's going to be a really good player for us, but there's a lot of coaching that goes into a guy to get him ready to play. As far as his future, his career, we foresee him being a tackle — more than likely a left tackle — just because he does have a good, athletic skill set, he does have good length and brings all of those things to the table. All those things are all those reasons why he was so highly recruited coming out of high school."
With Walker considered an athletic tackle, Rivers is more a bruising mauler on the offensive line. Justice has given Rivers opportunities at guard early on to take advantage of his strength and he expects the talented freshman to excel regardless of where he lines up on the line.
"He is continuing to progress," Justice said. "He's very conscientious guy who tries to do everything right, which being such a perfectionist, it sometimes can hinder his growth. But he's also the same type of guy that if you coach it, he's going to do everything in his ability to make sure he does it exactly the way you're coaching it. He's going to be a really, really good football player here and we're excited about his future."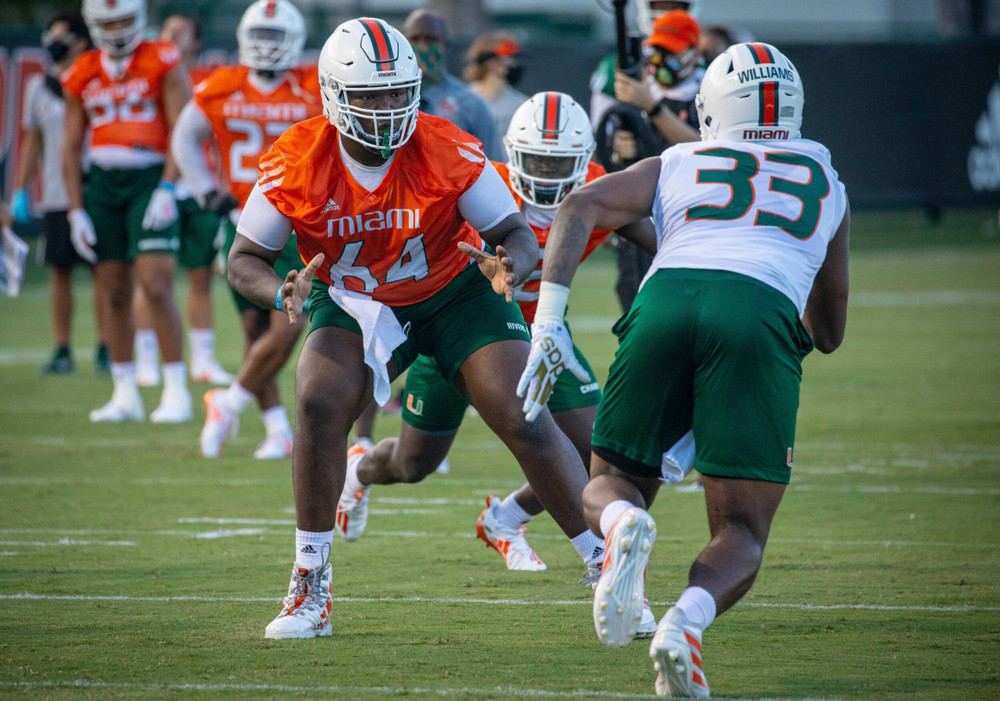 Miami's linemen might have made the biggest adjustment to their practice routine, as Justice has tweaked practices to limit close contact as a response to the ongoing COVID-19 pandemic.
"The smart thing I have to do, as far as in my drills, I've got to be really conscious of keeping as much spacing as I can," Justice said. "Other things, you've got to use props instead of, maybe this would be a day where you block bodies; well let's use bags. And, again, a bag may give you two more feet of separation instead of face-to-face contact, so things like that we're really conscious as far as when guys are not in the drills we have lines is keeping them away from the rest of the guys.
"It seems like our GAs and our equipment managers are spending more time telling them not to congregate and just be spread out and do those things," Justice added. "And also whenever it's a walkthrough tempo, masks are up; those type of mentality. We're trying to be as safe as we can, but football is football in the fact of various contacts you're going to have and there's going to be some close contact. But when you really add it up, it's not going to be the 15 minutes that the CDC says. We're probably, as far as close contacts, you're probably going to get a lot of two to three-minute contacts with people throughout practice."
While drills have been adjusted, Gaynor is confident the Canes will be ready to block when they face an opposing defensive line in September.
"I feel like there's going to be no dump off because we're hitting people every day, we're going to be blocking people every day," Gaynor said. "The bags are a good way to be social distancing and not being on each other. So I think it's great that we using the bags and keeping our distance, being safe."
Miami's coaches and players feel good about the line's prospects in 2020, but King's confidence in the group might be the most important sign that they have improved significantly from a season ago.
"The O-line has done great," King said. "Ever since I got here in the spring, I noticed that it was a lot of concerns in the media and this and that, but those guys were really, really young. And if you're around any good O-line, they're always third year in the program, fourth year in the program, so now these guys are older. What I've seen since I've been here in the spring and fall camp the first two days, those guys are pretty good. I have no complaints about them. Everybody works their butt off and I'm excited for them this year."
Garin Justice met with the media after Miami's second practice of fall camp.