Finally, Canes Return to Greentree
CORAL GABLES, Fla. – In the minutes after the Hurricanes wrapped up their first practice of the new season, coach Manny Diaz looked at his players and tried to gauge how they were feeling.
His initial impression? After months of uncertainty, of being away from campus, of not knowing when they'd be back on the Greentree Practice Fields or in the Carol Soffer Indoor Practice Facility, Miami's players seemed extraordinarily grateful for what they'd just been able to do.
For the first time since March, they'd played football. Together. And no one took it for granted.
"Just talking to the team right now as we broke it down, you could see, especially at the end, guys had great energy," Diaz said. "But that moment happened where you realized you're present and the thing I think we missed for so long is where you just get lost playing the game.
"I think there was a real sense that today was not promised to us and it was just a real appreciation for all of us to be out there and have the opportunity to sort of immerse ourselves in this game."
As one might expect with the Hurricanes adopting a number of new safety protocols because of the COVID-19 pandemic, Friday night's practice was different from workouts past.
Diaz noted players stood farther apart when not participating in drills. Coaches wore masks and face coverings, as did the limited number of essential staffers that helped run the practice. And ahead of Friday's practice, there were extensive heart-to-heart conversations with players about how they feel about playing an intensely physical contact sport during a pandemic. One player, defensive end Greg Rousseau – the 2019 ACC Defensive Rookie of the Year – has opted not to play this season, instead choosing to begin preparing for the NFL Draft.
Highlights from the Hurricanes' first fall camp practice of 2020.
The changes were extensive from the last time Miami was on Greentree in March, but for a little more than two hours Friday, the focus was on football and on preparing for a newly revised schedule that has the Hurricanes opening the year Sept. 10 at home against UAB.
"It's definitely different. I think it's going to be different for everybody across the country, but I was just excited to be out there playing football," said defensive end Quincy Roche, a graduate transfer who earned All-American recognition last season at Temple. "With everything going on, I was just excited to be out there and have something to look forward to and look toward."
Added linebacker Zach McCloud, "This is a season I redshirted to come back and play. … I control what I can control and all I can do is keep coming out here and working like I'm going to play every single game and that's what I'm going to do. I'm very thankful and blessed to be in this position right now."
To prepare for Friday's practice, the Hurricanes have been working out together several weeks. Before that, though, while Miami's campus was closed and many players rejoined their families during shelter-in-place orders, the Hurricanes had to get creative to find motivation and stay in shape.
For McCloud, that meant running. Lots and lots of running.
"I love the game. I love what I do, to a point where it's really hard to stop me from doing it. … I would have figured out something," McCloud said. "How it got done? The same way I used to do it back in high school. If I was allowed outside, I'd run around the neighborhood. I found myself a little route and tracked my miles. … I just kept pushing. Push-ups … I had some weights at the crib I could use. I just did whatever was available to me and when I came back, I kept chipping away at it and trying not to lose any progress, keep gaining."
He and the rest of the Hurricanes are scheduled to return to Greentree on Saturday evening.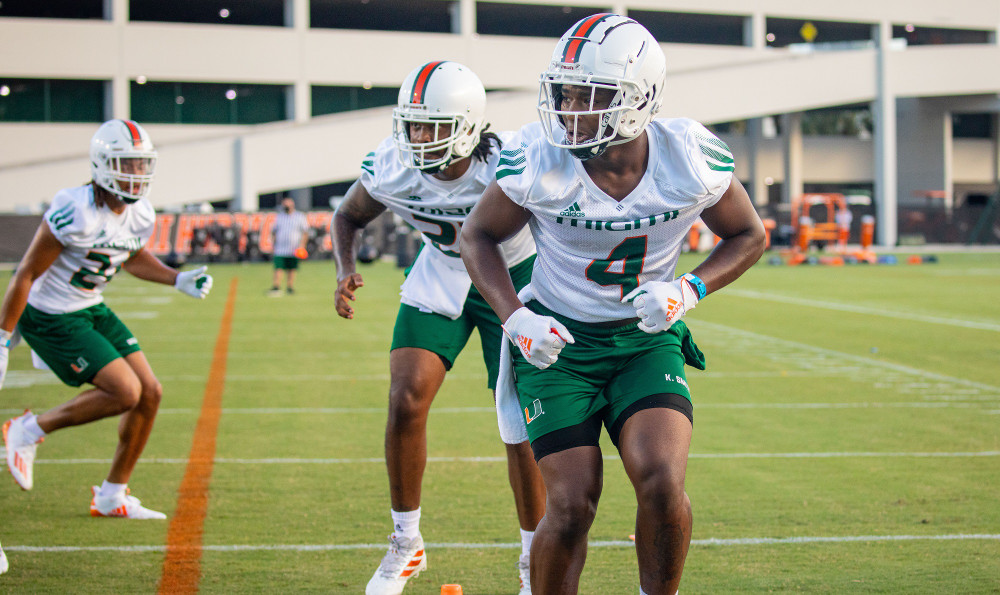 ♦ Among the players to earn praise from Diaz for his performance in Miami's first practice was graduate transfer Jarrid Williams, an offensive lineman who played with quarterback D'Eriq King at Houston last season.
"Certainly he stands out, just through his size," Diaz said of the 6-foot-6, 308-pound Williams, who lined up at right tackle Friday. "He's got tremendous length, so, he's hard to miss. Today was our first time and we were just in helmets. We'll learn more when the pads come on, but, length, you've got to take an extra step to get around him because he's got such great reach. That definitely provides value."
♦ Friday's practiced marked the first time since 2016 that the Hurricanes opened fall camp without two of players that became defensive stalwarts for them: Shaquille Quarterman and Michael Pinckney, who, with McCloud, became the first trio of linebackers to start together for the Hurricanes four years ago.
It was, both Diaz and McCloud said, a bit surreal to take the field without the veterans.
"It was definitely a little bit peculiar, but I know Zach provides great value, for not just our defense, but our football team," Diaz said. "It helps when your best players are also your best people. And I think Zach's a guy that's got the respect of everybody in our locker room, so, he's one that you want the young ones to emulate. How do I work? What do I do in the weight room? How do I practice? What should my habits be? He's a great one for the young ones to learn from."
Said McCloud, "It's always going to be different being on the field without them. They left such an impression on me. But that's part of the thing, the feeling of not having them with me, I keep them with me right here, the same way."
♦ While Miami coaches haven't been able to do any recruiting in person in recent months because of the COVID-19 pandemic, they have been able to connect with prospects over the phone and one Hurricanes staffer who has proven quite the asset, Diaz said, is Chief of Staff – and Hurricanes legend – Ed Reed.
"Where he's been invaluable has been in recruiting," Diaz said. "When we hired him, I don't think we were aware we'd go into a shelter-in-place for as long as we did. But because we all became recruiters on the phone … it's not even just the name Ed Reed when he talks to these young men. It's who he is and his personality. It's a great resource for them. And it would be hard to mention our progress in recruiting without giving Ed some credit as well."