Canes Release 2020 Football Schedule
The ACC released the revised 2020 football schedule Thursday morning. Christy Cabrera Chirinos breaks down Miami's 11-game slate.
CORAL GABLES, Fla. – It has been an offseason unlike any other.
In March, after just four workouts with their new offensive coordinator, a new quarterback and more than a few new faces, the Hurricanes saw spring practice come to an end because of the COVID-19 pandemic.
Players went home when Miami's campus closed. They took classes remotely. Met with teammates and coaches virtually. And they tried, on their own, to stay in shape as best they could, hoping that soon enough, they'd be reunited again to start preparing for a new season.
After four months of uncertainty, the Hurricanes are set to return to the Greentree Practice Fields on Friday evening to begin preparing for a season that will look markedly different than the one they'd expected they'd play earlier this year.
There is but one non-conference game on Miami's newly-revised schedule, which was announced Thursday morning by the Atlantic Coast Conference. The Hurricanes won't face all of their traditional Coastal Division rivals. They'll get some unexpected conference matchups against Atlantic Division teams they don't see very often, including an opponent that has made five straight College Football Playoff appearances and has won two CFP titles since 2016. And they'll face three teams ranked in the preseason USA Today/Amway Coaches Poll.
"I think it's very exciting. We announced it to our players today right before it went out through the league and they were obviously very excited," Hurricanes coach Manny Diaz said of the revised schedule. "I think it's going to be a unique deal for everybody, playing 10 straight in the league. But, it makes every week a big deal. You know you're going to be challenged, week in and week out."
Here, a look at the matchups on Miami's new 2020 schedule.
Sept. 10, vs. UAB
Hard Rock Stadium
The Hurricanes will have the chance to start the year at home, where they'll face their lone non-conference opponent – and a team they've never played before.
Miami's opener has the Hurricanes hosting a reborn UAB team that was reinstated a mere six months after school officials decided to disband the program in 2014.
Since returning from a two-year hiatus that spanned the 2015 and 2016 seasons, the Blazers have been one of Conference USA's more consistent teams, winning the conference title in 2018 and earning three straight bowl berths under coach Bill Clark.
Last fall, UAB posted a 9-5 mark and went 6-2 in conference play. But the Blazers struggled in road games, going 3-4 away from Legion Field in Birmingham. Redshirt junior quarterback Tyler Johnston III, who passed for 2,250 yards and 17 touchdowns last season will return for the Blazers this fall, as will senior linebacker Kristopher Moll, who had a team-high 104 tackles and played high school football not far from UM's campus at Coral Gables High.
Sept. 19, at Louisville
Cardinal Stadium, Louisville, Kentucky
One of the new opponents on Miami's revised schedule? Louisville, which posted an 8-5 record and finished behind Clemson last fall in the Atlantic Division standings.
The Hurricanes will make their first trip to Louisville since 2014. There, the Hurricanes will look to snap a two-game losing streak at Cardinal Stadium.
Among the challenges the Hurricanes will face on that front is a Cardinals offense that returns 10 starters, including quarterback Micale Cunningham. The redshirt junior passed for a career-high 2,065 yards and 22 touchdowns and set the school record for passing efficiency with a mark of 194.45. Defensively, the Cardinals return nine starters from a unit that allowed an average of 439.9 yards per game.
Sept. 26, vs. Florida State
Hard Rock Stadium
After a maddening stretch that saw the Hurricanes drop seven straight to the Seminoles from 2010-2016, it's Miami that now has the winning streak in one of college football's most storied rivalries.
The Hurricanes have won three straight against FSU, with last year's 27-10 win marking the largest margin of victory in the series over the course of the last six matchups.
After a stretch of close games, there was no need for any last-second heroics last November with the Hurricanes jumping to a 17-3 halftime lead and then scoring 10 points in the fourth quarter.
Receiver Dee Wiggins had a breakout game, catching four passes for 74 yards and a touchdown, while former Canes defensive end Greg Rousseau gave the Seminoles offense fits, notching eight tackles and four sacks in the win.
While their recent matchups haven't had the championship implications of years past, no matter the standings, records or circumstances, expect lots of big hits and plenty of emotion when Miami and Florida State.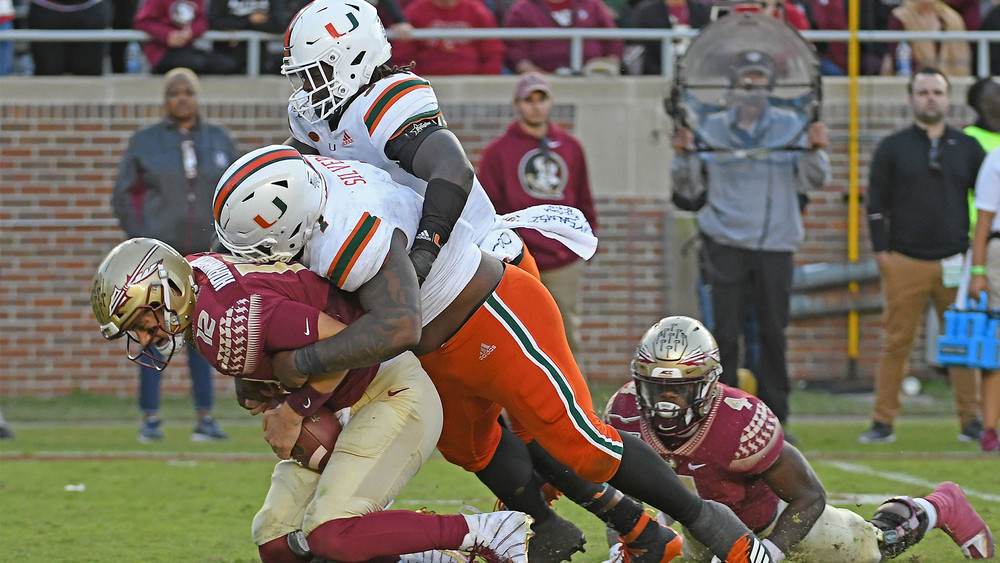 Oct. 10, at Clemson
Clemson Memorial Stadium, Clemson, South Carolina
This year's revised schedule came with a surprise for the Hurricanes – after their first bye week of 2020 they will make their first trip to Death Valley since a 30-21 win over the then-unranked Tigers there in 2010.
Plenty has changed in the decade since, with Clemson becoming one of college football's most successful programs in recent years. The Tigers have made the College Football Playoff in each of the last five seasons, winning titles in 2016 and 2018, and are expected to be a national title contender once again after grabbing the top spot in the preseason USA Today/Amway Coaches Poll.
Miami's defense will face a test against the Clemson offense, led by quarterback Trevor Lawrence and running back Travis Etienne. Lawrence, who is already generating plenty of NFL buzz, enters the season having completed 527-of-804 career passes for 6,945 yards and 66 touchdowns with just 12 interceptions. Etienne, meanwhile, is a two-time ACC Player of the Year. Last fall, he rushed for 1,614 yards and 19 touchdowns, while totaling 432 receiving yards and four touchdowns.
Clemson's defense, meanwhile, was third in the nation last fall, allowing an average of just 4.46 yards per play.
Oct. 17, vs. Pittsburgh
Hard Rock Stadium
After their trip to Death Valley, the Hurricanes will come home for a pair of games against opponents who will likely come to Hard Rock Stadium with chips on their shoulders.
Pitt will be the first.
Last fall, the Hurricanes put together one of their most memorable finishes of the season against the Panthers when former receiver K.J. Osborn caught a 32-yard touchdown pass with 58 seconds left that helped lift Miami to an 16-12 win.
While the Panthers will come in looking to avenge two straight losses to Miami, the Hurricanes' defense will look to keep up a remarkable streak against Pittsburgh, which went 8-5 last season. In each of their last two meetings, Miami has kept Pittsburgh out of the end zone, holding the Panthers to just four field goals in 2019 and one field goal in 2018.
Oct. 24, vs Virginia
Hard Rock Stadium
A week after hosting one Coastal Division rival they beat, the Hurricanes will host another when Virginia comes calling.
The Hurricanes have won four of their last five against the Cavaliers, including last year's 17-9 upset of then-19th-ranked Virginia at Hard Rock Stadium.
But after that game, Virginia rebounded to close out the regular season with wins over Duke, North Carolina, Georgia Tech, Liberty and Virginia Tech to win the division and earn berths in both the ACC Championship Game and the Orange Bowl.
As successful as last year's 9-5 campaign was for the Cavaliers, though, they'll have to deal with the loss of quarterback Bryce Perkins and receiver Joe Reed. The Hurricanes, meanwhile, will be looking to notch their second straight win over Virginia and add to their 10-7 lead in the all-time series.
Nov. 6, at N.C. State
Carter-Finley Stadium, Raleigh, North Carolina
After their second off week of the season, the Hurricanes will face another one of the new additions to their schedule: a North Carolina State squad looking to bounce back after a tough 2019 campaign.
The Wolfpack, who opened training camp earlier this week, are looking to bounce back after closing the year with six straight losses and finishing with a 4-8 record.
N.C. State returns 10 starters on defense, including sophomore running back Zonovan Knight, who finished with a team-high 745 yards and five touchdowns. Redshirt sophomore Devin Leary, who threw for a team-high 1,219 yards and eight touchdowns, has been named the starting quarterback by Wolfpack coach Dave Doeren and is expected to benefit from his experience last fall.
Miami holds a 9-5-1 lead in the all-time series and has won two straight against the Wolfpack, including a 27-13 win in Raleigh in 2016. In that game, then-defensive coordinator Manny Diaz saw his group force two N.C. State turnovers and hold the Wolfpack to 5-of-17 on third-down conversions.
Nov. 14, at Virginia Tech
Lane Stadium, Blacksburg, Virginia
The Hurricanes will play back-to-back road games just once this season and it will come here, in early November. After traveling to Raleigh, Miami will head north to Blacksburg for a showdown against one of their longtime rivals.
When Miami and Virginia Tech met last fall, the Hurricanes scored 21 fourth-quarter points – but it wasn't enough to help them overcome an early four-touchdown deficit.
Ultimately, the Hokies escaped Hard Rock Stadium with a 42-35 win that left Miami's coaches and players frustrated, particularly on the defensive side of the ball.
Expect coach Manny Diaz, defensive coordinator Blake Baker and their players to try and prove that showing against Tech was an anomaly when Miami visits Virginia Tech this year.
Quarterback Herndon Hooker, who accounted for 273 yards of total offense and four touchdowns in last year's game against Miami, returns, as does a veteran offensive line. But a solid Hurricanes defensive front will be looking for redemption and Miami has proven it can win at Lane Stadium, notching victories there in both 2014 and 2018.
Virginia Tech enters the year ranked No. 24 in the USA Today/Amway Coaches Poll.
Nov. 21, vs. Georgia Tech
Hard Rock Stadium
In much the same way the Hurricanes will be looking for redemption against the Hokies, they'll want more of the same against the Yellow Jackets, who struggled to a 3-9 record in 2019, but stunned the Hurricanes at Hard Rock Stadium last October.
Georgia Tech nabbed an overtime win after redshirt junior Jordan Mason was able to gash the Hurricanes defense on three straight carries in overtime to put the Yellow Jackets ahead. He finished with a game-high 141 yards and will, more than likely, be a focus for the Miami defense. Hurricanes running back Cam'Ron Harris countered with 136 yards of his own, but it wasn't enough to get Miami the win.
While Georgia Tech has proven a tough opponent for Miami in Atlanta of late, before last year, the Yellow Jackets hadn't necessarily fared well at Hard Rock Stadium. The Hurricanes have won five of their last six meetings against Tech in Miami Gardens and they'll look to get a new home win streak going with this year's revised schedule.
Nov. 28, at Wake Forest
BB&T Field, Winston-Salem, North Carolina
Wake Forest was one of the ACC's surprise teams last season, winning seven of their first eight games and climbing as high as No. 19 in the AP Top 25. But any hopes of earning a potential Orange Bowl berth ended when the Demon Deacons dropped three of their last four and fell out of the rankings. Wake Forest closed the year with a 27-21 loss to Michigan State in the Pinstripe Bowl and finished 8-5.
Expectations in Winston-Salem are that Wake Forest will have to make adjustments after the transfer of quarterback Jamie Newman, but a strong defense could help the Demon Deacons earn their fifth straight bowl berth.
Though they have played just 11 times in program history, the Hurricanes hold an 8-3 all-time series against Wake Forest and have won seven straight against the Demon Deacons, including most recently a 24-21 win at Hard Rock Stadium in 2013.
Dec. 5, vs. North Carolina
Hard Rock Stadium
In Mack Brown's first year back at North Carolina, the Tar Heels improved from being a two-win team in 2018 to posting a 7-6 mark last fall and closed the year with a dominant 55-13 win over Temple in the Military Bowl.
The Hurricanes, who have won two of their last three against North Carolina at Hard Rock Stadium, will look to avenge last year's heartbreaking 28-25 loss to the Tar Heels in Chapel Hill.
To do that, though, the defense will have to find a way to contain one of the nation's top young quarterbacks, sophomore Sam Howell, who completed 61 percent of his passes, threw for 3,641 yards and 38 touchdowns last season and is already generating buzz as a potential Heisman Trophy candidate if he can duplicate last season's success.
The Tar Heels enter the season ranked No. 19 in the USA Today/Amway Coaches Poll.