Stephen McGuire: "It Was My Dream to Play for Miami"
by: John Sudsbury (Allstate Sugar Bowl)
The University of Miami was on the hunt for its third national championship in eight years when it came to New Orleans for the 1990 Sugar Bowl.
The Hurricanes were stocked with NFL talent, including Pro Football Hall-of-Famer Warren Sapp, Jesse Armstead (11 years in the NFL), Leon Searcy (11 years), Russell Maryland (10 years) and Randal Hill (7 years).
But with just under five minutes to go in the first quarter of a scoreless tie, head coach Dennis Erickson called on hard-running freshman fullback Stephen McGuire. The 5-11, 215-pounder went over left guard to put the 'Canes on track for that title.
I'm in the huddle with Craig Erickson, Randal Hill, Mike Sullivan, big time guys, and I'm just sitting there pinching myself. And I end up with a touchdown. It was my dream to play for Miami and I scored a touchdown in the Sugar Bowl."

Stephen McGuire
"All year he had proved that he was a great back," said Dennis Erickson, the Hall-of-Fame head coach at Miami from 1989-94. "He really made a lot of plays in that game – and it was a heckuva football game. Alabama had some great players and it came down to the fourth quarter. Stephen was a big part of our win."
The Hurricanes held off Alabama for a 33-25 victory to cap an 11-1 season. They had entered the game with the No. 2 ranking in the nation. Their win along with Notre Dame battering No. 1 Colorado, 21-6, in the Orange Bowl and USC beating No. 3 Michigan, 17-10, in the Rose Bowl put "The U" back on top of the college football world.
McGuire was Miami's leading rusher in the Sugar Bowl to close his redshirt freshman season as the team's leading rusher (including bowl stats). He also found the end zone 11 times during the year. He was named the national Freshman of the Year and was on the cover of Sports Illustrated after Miami's 27-10 victory over Notre Dame during the regular season. During his career, the 'Canes posted a 44-4 record with two national championships; he still holds the school record for career rushing touchdowns with 35 and was inducted into the school's athletic Hall of Fame in 2019.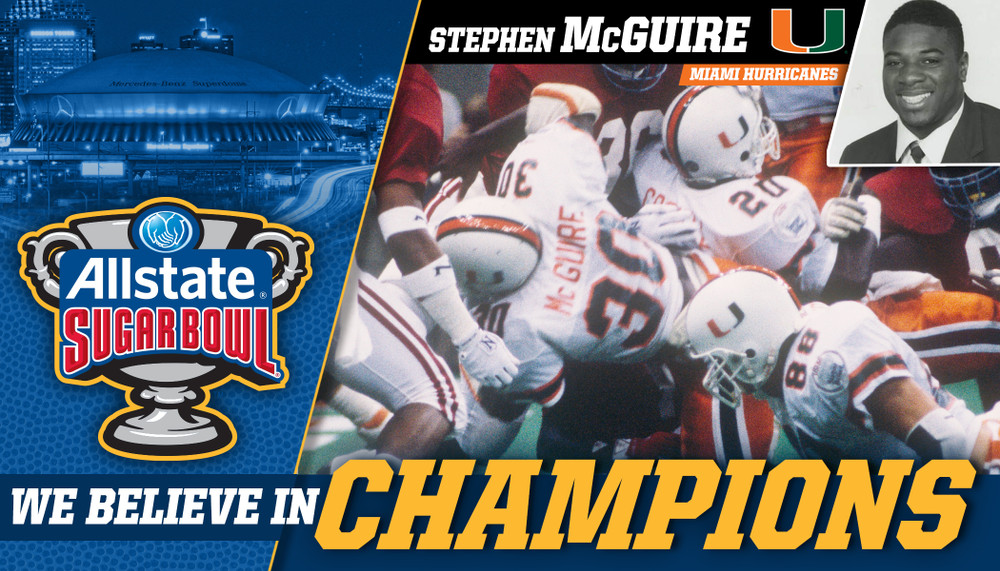 While many of his teammates would go on to the NFL, McGuire found his way to post-college success through a different path.
After earning his degree in criminal justice and completing his football career, McGuire became a coach and teacher in Broward County. Though he enjoyed teaching, the New York City native was ready for a change around the turn of the century.
"My mother said, 'Come on back home and take the [police academy] test.' It was winter-time and I didn't really want to leave South Florida for New York City, but I went up and took the test," McGuire said. "Lo and behold, I got into the Academy in July 2001."
When McGuire left New York for south Florida in 1989, he was metaphorically thrown into the fire with the national power Hurricanes. Upon his return to New York, he was thrown into a much more serious fire – two months after entering the police academy, the world experienced the horrors of 9/11.
"They took us out of the academy and had us posted around the city for the next three to four months.
"It was hectic, but I got through it," he told Sports Illustrated. "When people come up to you and say, 'Thank you and God bless you,' it makes it all worth it."
Despite the challenging start to his law enforcement career, McGuire is pleased with the way the career has worked out.
"Overall, I think I made the right choice; I've had a good safe career," he said. "The job itself can be tough at times, but I enjoy going out and helping people when they need it. And a lot of the lessons from sports apply to being a police officer – especially the mental toughness we had to have at Miami."
"Stephen was everything you wanted in a back – he was a leader and he was tough," Erickson said. "And he's doing after football what he did in football. He's a good guy that believes in doing the right thing. I'm real proud of him and I know everybody at the University of Miami is as well."
Thirty years after his memorable Sugar Bowl performance, McGuire and his Hurricane teammates remain a very tight-knit group. McGuire rattles off the names of many of his legendary teammates with whom he remains in regular contact, including Sapp, Alonzo Highsmith, Lamar Thomas, Ryan Collins, Coleman Bell and more. That contact became more regular in recent months as McGuire and his wife Ramona battled the coronavirus.
"We all call each other regularly," he said. "Ever since Covid-19 hit New York City, the guys have been calling and checking up on me since I had it. They kept telling me to hang in there. Sapp was calling every other day and telling me to eat my soup."
"(I was) dealing with backaches, headaches, feeling fatigued," McGuire told CaneSport.com. "Probably 15 hours of the day, real tired. I was lucky my breathing was real good, when I called my doctor the first thing he asked was my breathing situation – no tightness in my chest. So he told me to treat it (the way I was). Now I'm pretty much healthy. I was lucky. But I've seen healthy people get real sick."
McGuire is back on the job on the streets of New York, showing the champion mentality that started in the Sugar Bowl all those years ago.
And he still has fond memories of New Orleans.
"That was my first time in New Orleans; it was a fun place. There's a lot of stuff to do. The events they had, everything they had set up for us, it was fun, all the guys had a great time. And we won the championship. I'd love to get back to New Orleans; my wife hasn't been there, so maybe we'll make it down."