Big Bats are Back at The Light
Every great athlete sets goals to work towards.
Whether it is team success or individual accomplishments, athletes are always chasing dreams and aspirations as part of their desire to excel at their sport.
For slugging infielders Alex Toral and Raymond Gil, there are still goals to meet at the University of Miami.
"We definitely have some unfinished business," Toral said.
A year ago, the thought of Toral and Gil suiting up for the Hurricanes in 2021 seemed nearly impossible.
Both players were preseason All-Americans and among the top prospects in the ACC. After another productive season at Miami, Toral and Gil were expected to be selected in the MLB Draft and go on to begin their professional careers.
But the COVID-19 pandemic brought an abrupt end to the 2020 college baseball season and slashed the 40-round MLB Draft to just five.
Toral and Gil, along with hundreds of amateur baseball players across the country, knew their professional dreams might be on hold for another year. The pair also knew they were not going to sign just any professional contract. They would not give up their Hurricane careers for just any offer.
"My mentality didn't really change. The goal is to obviously get drafted and eventually try to make the big leagues, so the fact that they cut the rounds short didn't really matter to me," Gil said. "Either way, I was in a position that if I got taken pretty late, I was going to return to UM. I love UM. It's the best decision I've ever made to go there."
Though there was interest in both Toral and Gil during the draft, they both let teams know of their expectations if they were going to forego the remainder of their collegiate eligibility. When the offers did not meet their expectations, the duo knew they were destined to return to Coral Gables for another year.
"It's super exciting to know I have another chance to go to the College World Series and win a championship," Gil said. "I wasn't really too disappointed in not getting drafted. We're all in a pretty good position after the season got canceled because we got that extra year back. Knowing that we had unfinished business and I didn't really want to leave knowing that we had a shot to go to Omaha taken away from us. I'm super excited that we got most of the hitters back and I'm looking forward to this upcoming year."
For Toral, the opportunity to play another season with the Canes is a great one. He knows he will finish his degree and get another chance to win a College World Series. But add in the fact that he gets to do all of that with one of his oldest friends in baseball and it gets that much better.
"It's something that we enjoy doing and we are really good friends," Toral said. "We talk almost every day. It's pretty cool that we continue to have the opportunity to play baseball together since we've known each other since we were like 10 years old.
"College baseball is fun and this is something that you get to talk about for the rest of your life," Toral added. "I'm excited to be back and I'm glad I get to play another year with my brothers. We could make a good run at it this year and have some special memories and then just add to the memory book."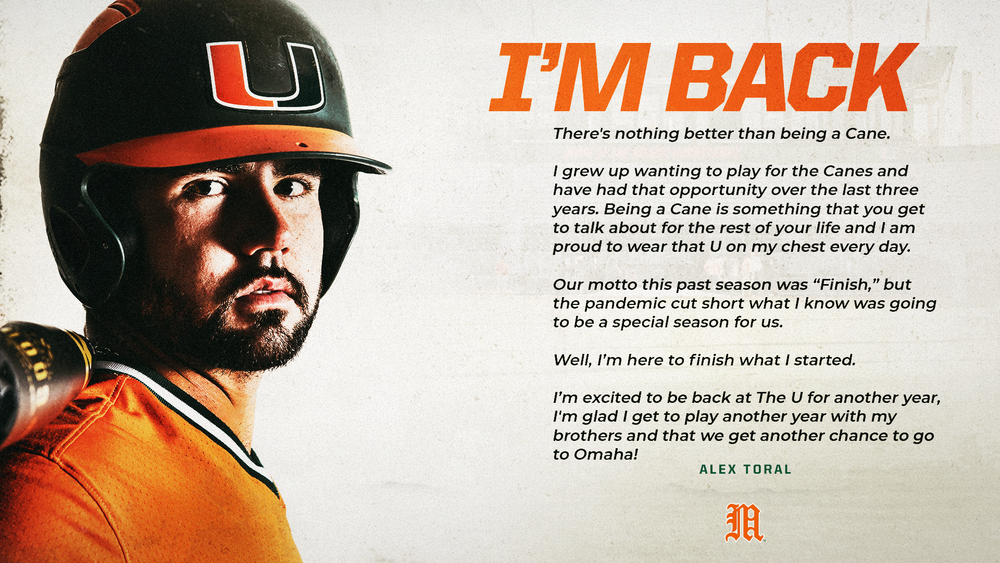 Gil and Toral will be joined by many of their 2020 teammates, as draft-eligible players such as Anthony Vilar, Jordan Lala, Gabe Rivera and Tony Jenkins are also returning to Miami for another season with the Canes. That means bad news for opposing pitching staffs.
"It just gives us opportunity to set big goals for ourselves as a team," Toral said. "We could say that we want to lead ACC in hitting and we could say that we want to be one of the top offenses in the country because we've proven to have the ability to do that. As long as everyone plays their part – and I know everyone's been working hard – it gives us the opportunity to go out there and present ourselves as one of the best teams in the country."
That talented and deep lineup is one of the reasons why the Hurricanes were a consensus preseason top 10-ranked team in 2020. Coming off a 2019 season in which Miami's offense mashed an ACC-leading 85 homers to help propel the Canes into the national conversation, everyone expected more offensive firepower this past season.
But several Canes scuffled offensively early on in 2020, including Gil, who hit .318 with 14 doubles, 13 homers and 44 RBI as a sophomore in 2019.
A proven hitter who delivered many big hits in his breakout sophomore campaign, Gil had a walk-off homer in a win over USF and registered a two-run shot at No. 12 UCF, but struggled to find consistent success for most of the abbreviated 2020 season.
"When I was going through it, it was pretty tough, especially coming off the year I had my sophomore year," Gil said. "But looking back at it now, I was having good at-bats. I was hitting balls hard and it just wasn't finding holes. I started to kind of catch my stride and then the season obviously got canceled, so that was a little disappointing.
"Looking back at it right now, it's baseball. People go through a week or two-week stretches where either the ball doesn't find a hole or you're in a slump and I happened to catch it in the beginning of the season. I don't really try to think about it too much. I'm over it now and I've turned the page and am focused on the now."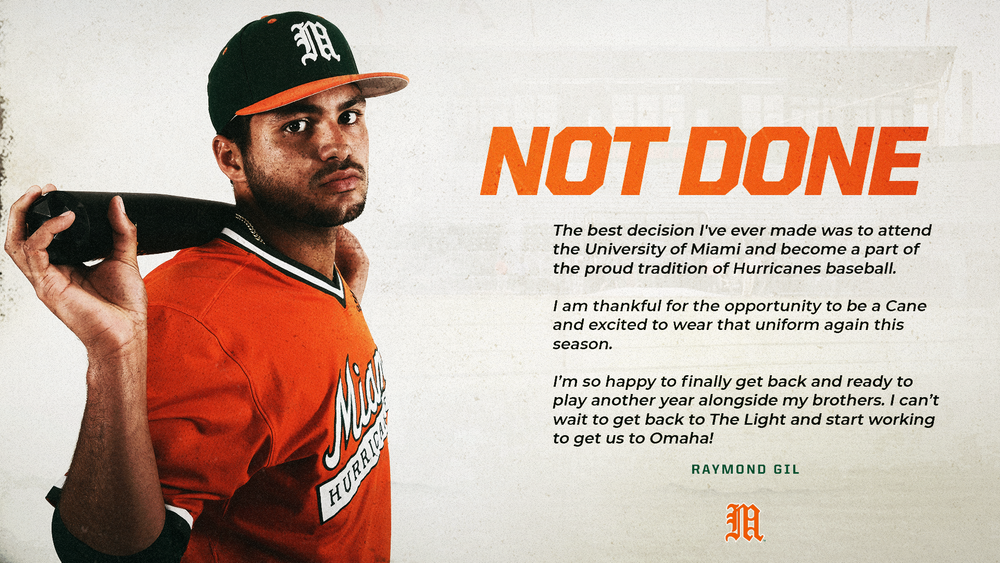 The present situation for Toral and Gil is preparing for another season providing the thump in the middle of Miami's lineup. The pair usually follows standout Adrian Del Castillo to form a dangerous 3-4-5 sequence that is sure to drive in a lot of runs.
"You can't just pick one you've got to get past. You've got to go through all three of us and, really, there are no breaks in our lineup," Toral said. "We've got Lala, who could definitely impact the game at the top of the order, and then Vilar. Then you have guys like JP Gates and Tony, who proved a lot this last year, and Gabe is probably the strongest guy in the ACC. You've got to pick your poison somewhere in the lineup and you really have no break when you face us. I think the whole lineup benefits from everyone else in it.
"It's going to be a taxing lineup they got to go through," Toral continued. "And with Del and Gil and me, I feel like every time that we're coming up in the same inning or that we're coming up on crucial situations, it's got to be running through that pitcher's mind to make sure he's extra sharp. That extra little pressure causes them to miss a pitch or leave one up in the zone and that's a good thing. I'm definitely excited to be back in our lineup and hopefully we continue to be that powerful group in the middle of the lineup."
In addition to what they bring on the field, Toral and Gil play a huge role in providing veteran leadership for the Canes. Both players have appeared in over 100 games in their careers and they can set the tone for the club verbally and with their actions.
"We're excited to have them back," Lala said. "They're obviously great players and are definitely two of the older guys on the team and they're leaders, so a lot of guys are going to look up to them."
Head coach Gino DiMare has already witnessed Toral's leadership immediately after the draft and knows the type of impact he can make on the 2021 Hurricanes.
"The leadership is huge and he's going to be a big part of that," DiMare said. "He's already started reaching out to some of the new guys. Basically, the only thing we've done as a team has been on Zoom calls. But he's already started reaching out to guys and letting them know the importance of what we're trying to do and making sure they're working hard and getting after it and getting ready for this next year. Alex, along with some other guys that are coming back, is going to be a huge factor in that. He's a great leader on and off the field and we're very, very fortunate that he's coming back to us."
That leadership is going to go into overdrive once the Hurricanes return to campus to begin the school year and team workouts.
"We have a lot of guys coming in that are really talented," Toral said. "As soon as you get them on board and you can get them doing things the right way and working hard and just kind of showing them the ropes, it just makes the team better. And, beyond baseball, the sooner we're able to get together as a team and start hanging out to build that chemistry, it really helps a team get better because it creates those bonds where you are closer and you don't want to let anyone down. It creates accountability because you are so close with everyone on your team and you want to do your best for your brothers on the team."
Toral and Gil are among the many Hurricanes committed to excellence this season, but they know the team's success will hinge on the collective efforts of the entire roster. As veterans, they know they can make a big difference just by showing the newest additions to the Miami baseball family how to be Hurricanes.
"It's super important to show the new guys how we work," Gil said. "It's the blueprint of our program. Without the hard work, we're not the University of Miami. Obviously, showing them how it is doesn't just affect us this year. They're going to be here next year and if we plan on being good this year and every other year following, we need to keep passing that along to the incoming guys to maintain that standard."
The standard at Miami is going to the College World Series. That was established decades ago under legendary head coach Ron Fraser, who led the Canes to their first two national titles, and maintained by two-time national champion head coach Jim Morris.
"We're a part of a bigger picture, which is the University of Miami program," Gil added. "The expectation here is to always try to make Omaha, regardless of if we have everybody coming back or if it's a bunch of new guys. That's the end goal for us, to try to get to Omaha. One thing that we preach and one thing our hitting coach keeps preaching is get one percent better every day. I believe if we if we take that approach we're eventually going to end up where we're supposed to be."
In 2020, the Hurricanes were picked by experts as a favorite to reach the College World Series, but never got to fulfill that promise due to the shortened season. Those same experts are counting the Canes out in 2021, but Gil believes his team could benefit from being underdogs.
"Two years ago, no one noticed us. We went under the radar at the beginning until finally we made our name for ourselves and we got ranked and finished the year in a place where people ranked us really high before this season," Gil said. "Going into this coming season, we're kind of in the position we want to be right now. We're underdogs and people don't expect much of us, which means we're going to have to prove them wrong and we will."