Roche, Rousseau Ready to Wreak Havoc
The wave of offseason momentum for Manny Diaz and the Miami Hurricanes football program started in early January. With Rhett Lashlee on board as offensive coordinator and quarterback D'Eriq King transferring to Miami, the Hurricanes had begun to address some areas of concern.
And then, in a social media post that feels much more like six years ago than six months, Quincy Roche declared he'd be spending his final year of collegiate eligibility at The U.
The 2019 American Athletic Conference Defensive Player of the Year had racked up 39.5 tackles for loss and 26 sacks in three seasons at Temple, and was prepared for his next challenge.
"I am ready to bring leadership, toughness and hard work to the University of Miami football program as we push to win the ACC championship," Roche wrote in that January 20 announcement.
More than Diaz or even defensive line coach Todd Stroud, no one was more excited about the post than Hurricanes defensive end Gregory Rousseau. Two of the top-five sack artists in FBS from 2019 would be joining forces for Roche's final year.
And though they spent just four practices together before the remainder of spring ball was cancelled, Rousseau said he gleaned some valuable insight into the veteran pass-rusher in a very short period of time.
His hand placement, his steps…he's really a technician. Watching him, in the first four days, he taught me drills to work on my hands and coordination. He's really detailed about his work and you can tell he's been doing it for a long time. He adds maturity to the room. He's an older presence who has been through a lot more than most of us. He is really a great addition to our team, and he's a really good person, too.

Greg Rousseau on Quincy Roche
Roche and Rousseau, the 2019 ACC Defensive Rookie of the Year, figure to pair up as perhaps the nation's top defensive end duo this season.
And while both have been selected to the watch lists for the Bronko Nagurski Trophy and the Chuck Bednarik Award, the top national college awards for defensive players, Stroud is looking to see something more from the talented twosome.
"We have two guys there that are very capable and they're both going to, obviously, be draftable guys," Stroud said. "I think the biggest thing is that as we go into the season, the thing we have to define as a program and our defense and everything else is leadership and more important than anything else is leading by example.
"I think it's critical these guys start fast and become leaders, which I don't have any doubt in my mind they can't accomplish that. Lead by example and be devastating. They're both very capable of doing that, for sure."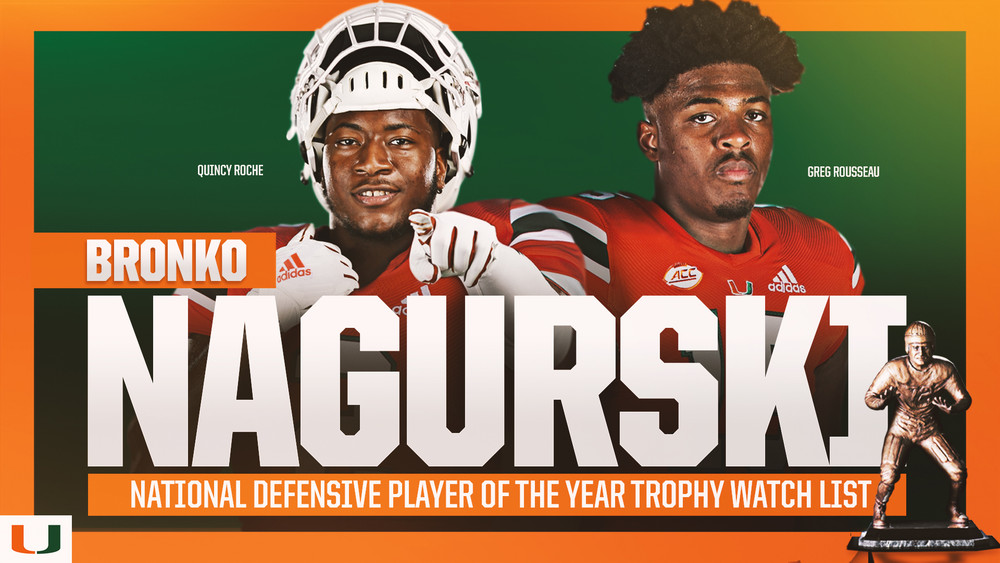 For Roche, leadership was something he learned during his early days with the Owls and he's has carried into his final year in Coral Gables.
"I take it personally. Every day I try to be the good example," he said. "I look at it like, the older guys when I was at Temple – they did it for me. The reason I was able to have such success over my career was I had those older guys to lean on when I was younger, guys that taught me the right way."
Stroud called Roche a "pleasure" to coach as one of the most "grounded" players in the room, despite the plethora of accolades.
"He has come in here and he has become a teammate first and he's not a selfish young man," Stroud said. "He's not just here to use this program to improve his draft status. That's going to be a byproduct of what he's capable of accomplishing, but he's been a great teammate, so far as well, mentoring the young kids, helping even Greg, helping Greg with pass rush and different aspects of the game. He's been wonderful."
For Rousseau, the transition from unproven redshirt freshman to breakout star was swift. But even after tying the second-best mark in Miami history for single-season sacks a year ago (15.5), Rousseau said he is still eager to improve as a leader in his position room.
"There are so many things I could still accomplish and so many ways I can get better," he said. "I want the young people in our room to see that I'm still a hard worker, and no matter what, you can always improve your game and get better."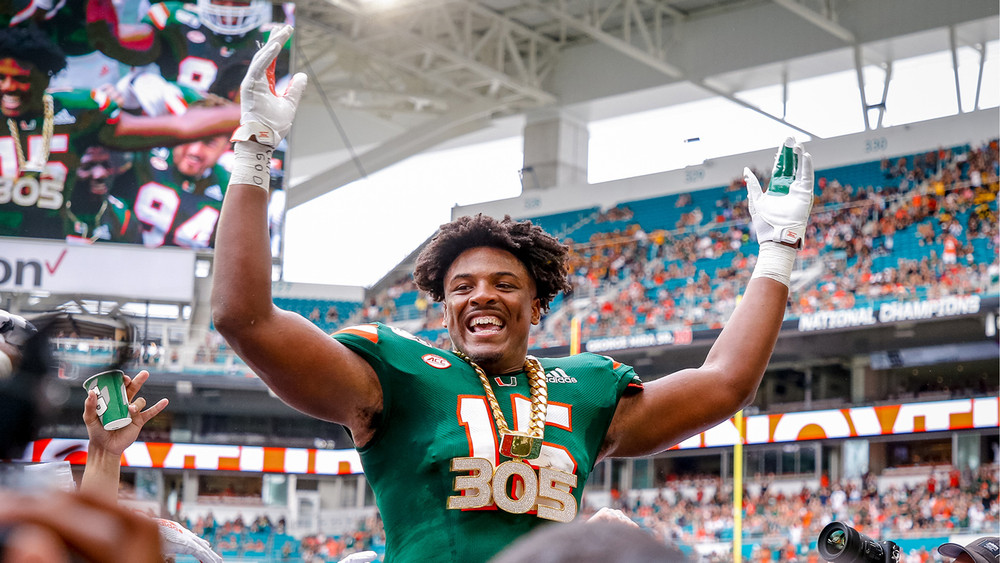 Rousseau said that he hopes to serve the younger defensive linemen the same way that Jonathan Garvin, selected in the 2020 NFL Draft by the Green Bay Packers, embraced him as a true freshman in 2018.
"I really appreciated it from [Garvin]," Rousseau said. "He showed me the playbook, taught me the ins and outs on how to play defensive end. He showed me everything. He taught me moves, all that. Just for me to be able to give back to the program and teach the younger guys what I know, it means everything, honestly."
Roche said Rousseau's presence was one of the "deciding factors" in ultimately choosing Miami over other programs vying for his services.
But his eyes were opened to the depth at the position during his first spring practice at The U.
Looking around his new meeting room, Roche saw a healthy Jaelan Phillips – the nation's No. 3 overall recruit in the Class of 2017 and a physical specimen at 6-foot-5, 260 pounds. There was Jahfari Harvey, a 6-foot-4 redshirt freshman with all the tools to be a successful defensive end. True freshman early enrollee Chantz Williams was another emerging force during his first few practices, among others.
And that was just at defensive end.
"When I got here, I saw how much depth we have in the room as a whole," Roche said. "Not just at defensive end, but at defensive tackle. I think we're two or three deep at every position on the line. I've never seen anything like that, as far as the whole line is concerned. I'm really excited."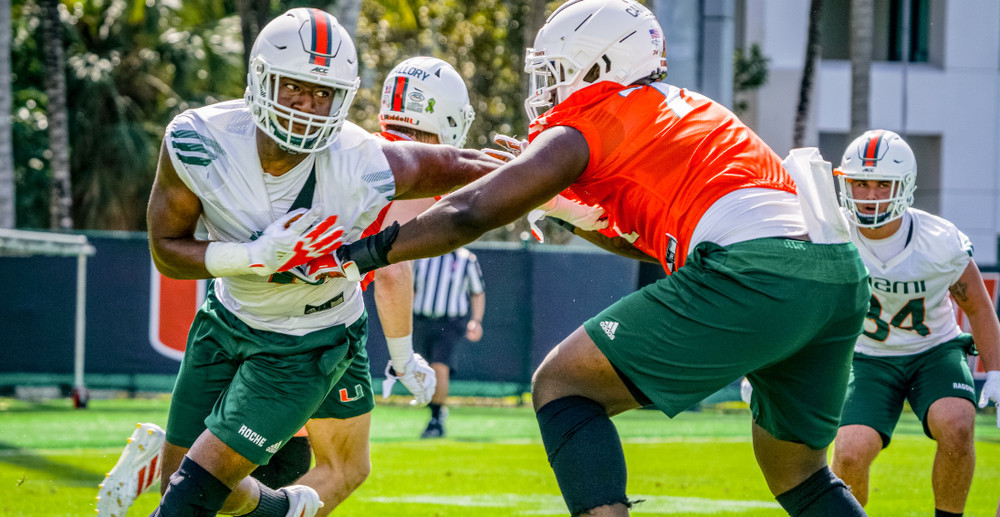 Stroud said the defensive line room reminds him of a talented 2005 group at NC State, when the Wolfpack produced three first-round draft picks.
"What we ask these guys to do, it's critical that we have 8 to 10 guys we can throw in there at any time and we don't have any drop-off," Stroud said. "This will be one of the very first times we can honestly say we've been able to do that and accomplish that."
Whatever the fall may bring, Roche is ready.
"It's a tremendous honor. It's a huge responsibility. I remember watching The U when I was younger, when I first started watching football," Roche said. "I wear the 'U' with pride. I can't wait to go out there and represent The U the best way possible this season."
Rousseau said Miami's defense will enter the year with a chip on its collective shoulder after last season's finish.
A lot of guys who are going to play for us are all proven guys. By that, I mean they've been in the fire. Some young guys will step in, too. We have a defense full of hungry dudes who are ready to prove what we're about this fall.

Gregory Rousseau