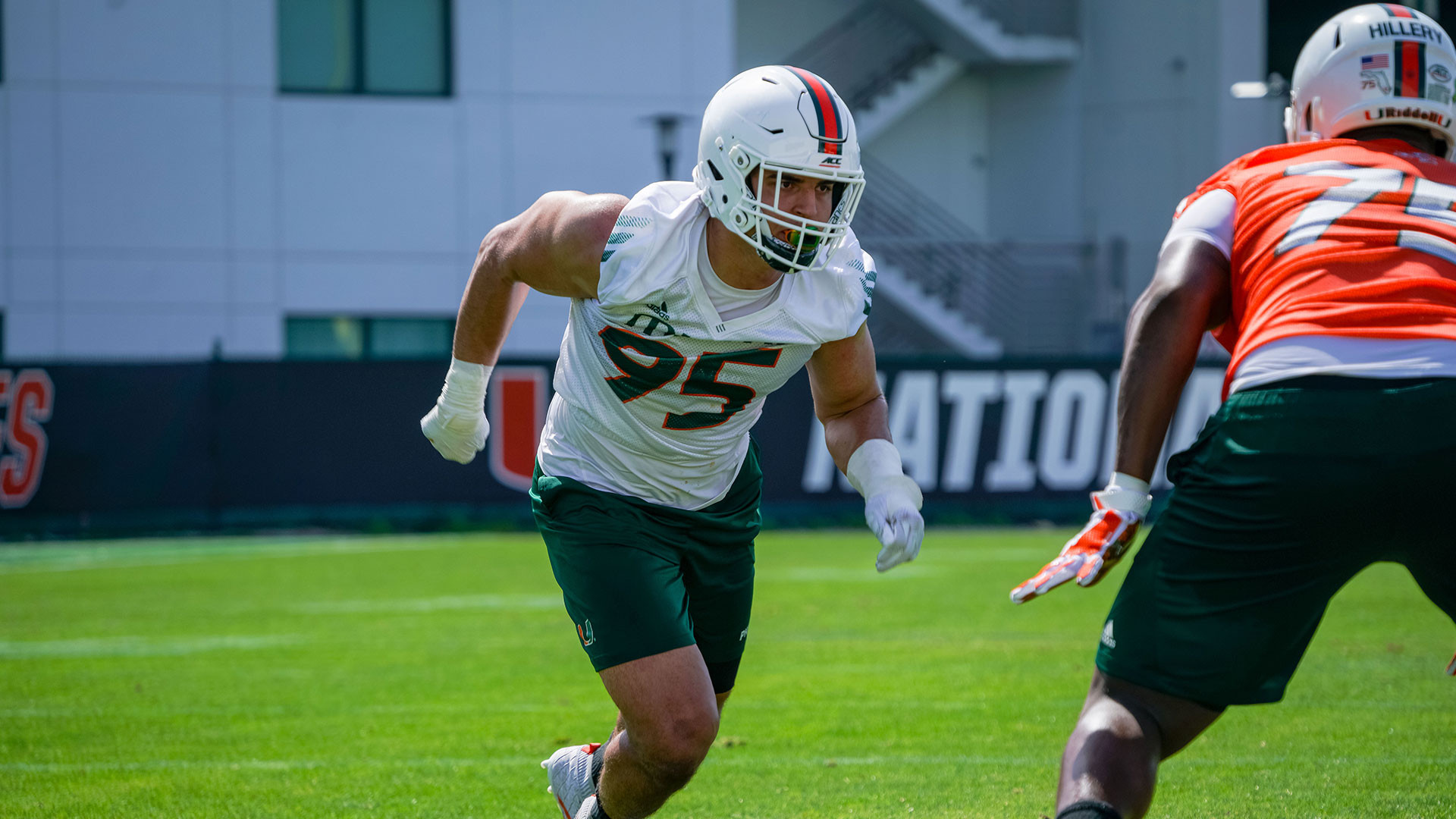 CORAL GABLES, Fla. – As her son endured challenge after challenge, his body seemingly trying to push him from the game he loved, Sabine Robertson-Phillips wondered what her boy might do next.
After recovering from multiple ankle injuries and concussions he'd sustained on the field, Jaelan Phillips was dealing with the fallout from a harrowing car accident that had sent him flying from his scooter and now required yet another surgery to fix an injured wrist.
Moving on from football seemed like a natural option, especially since Phillips had used his time away from the game to not only heal, but to rekindle his life-long love of music.
Then, her son – the one who'd always approached every challenge he'd ever encountered with a calm, laser-like focus – surprised her.
He wasn't finished with the game. Not yet.
"I think he had really started thinking about life after football and that time off really did give him some clarity. The funny thing was, I was shocked when his clarity was 'I'm not done. I think I can give more. I think my body can heal. And I think I'm not done with football,'" Robertson-Phillips said. "I was floored. I really thought with everything that had happened, that it was time for him to go in a different direction. He'd kind of reprised his music and when that blossomed, I thought, 'Oh, this is what he's going to do.' Then all of a sudden, it was like, 'Mama, I'm not done. … I'm not done with football.'"
And with that decision made, the entire Phillips family rallied around Jaelan. Again.
Robertson-Phillips and her husband, Jon Phillips, dove into researching what classes Jaelan would have to complete in order to transfer to a school that would allow him to pursue both his dreams of playing big-time college football and advance his music career. They worked to find him trainers that could help Jaelan get back into football shape. And they continued to ensure he was getting the best possible treatment for his injuries, even if certain procedures or doctors weren't covered by their health insurance.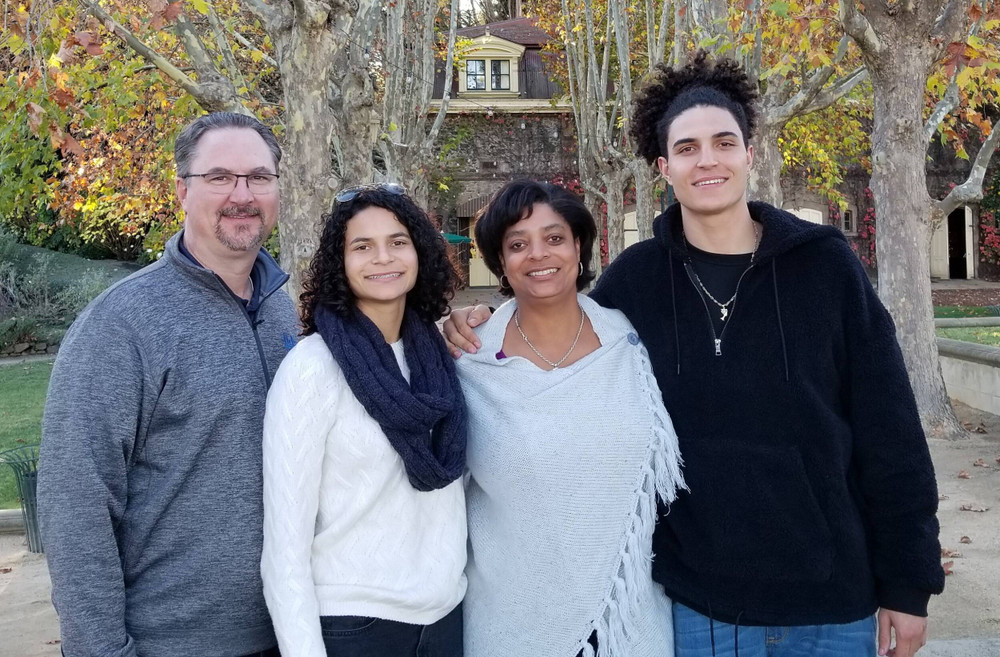 "They did everything they could and went above and beyond to make sure I had all the resources I needed, whether it was talking to somebody or whether it was seeing the right people for both my wrist and my mental health," Phillips said. "They supported me the whole entire way and I think that was definitely key for me."
The biggest bit of support perhaps? Not flinching when Jaelan – the nation's top prospect coming out of Redlands East Valley High School in 2017 – told his close-knit family he wanted to move across the country to reboot his career at the University of Miami.
"The U is this huge thing, whether you're in California or Miami or wherever," Phillips said. "I had never really seen it as a possibility because I'm a West Coast guy, but when I came out here to visit, that's when I got locked in and was like, 'Man, this is the place for me.' And the wave of love that I got from the fans and the players alike was unmatched. It was unlike anything I'd ever seen before. It felt like I was back in high school, getting recruited and I think that was really important for me after my injuries because I didn't feel highly touted anymore. I didn't feel like I was the one everybody wanted."
Miami made it abundantly clear – Phillips was wanted.
In Phillips, they saw not just a player with an unwavering passion for the game, but a defensive end with the skillset and athleticism to challenge an already deep, already talented group of pass rushers.
And so, the Hurricanes welcomed Phillips with open arms, even though they knew it'd be at least a year before they saw him on the field.
Phillips used that year to reshape his body, adding about 40 pounds to his 6-foot-5, now 258-pound frame.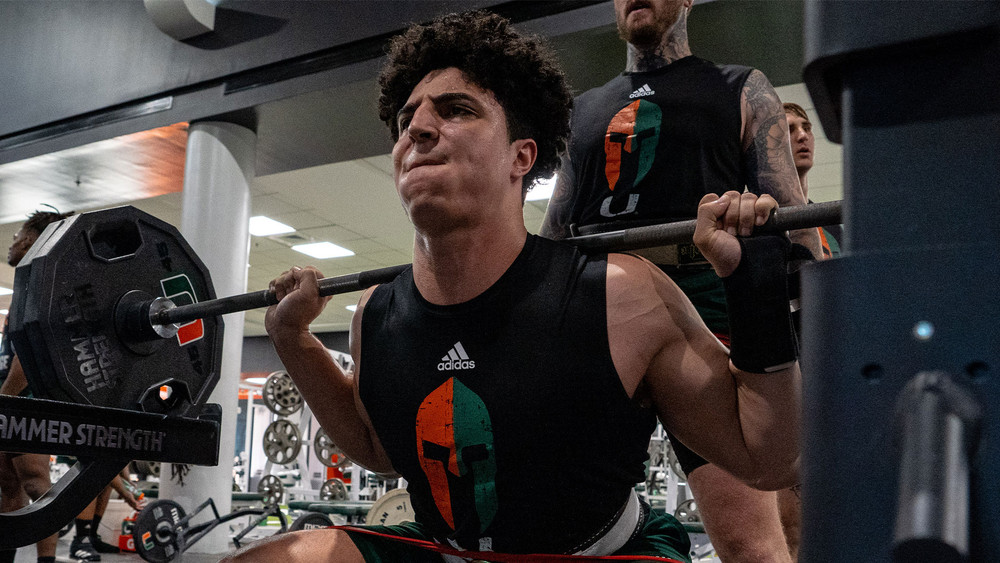 His coaches took notice.
"From my vantage point, it seems Jaelan really rediscovered how important this game was to him and you also learn a lot when someone is in the program and can't play for a year. You see how they work and how they go about their business," Hurricanes head coach Manny Diaz said. "Jaelan, who was not even cleared to practice, came to work every day and did a great job in the weight room. He completely transformed his body, did everything the trainers asked and did a great job in school. You could see that even though he wasn't able to be on the field, he was still doing everything at a very high level, which is really encouraging."
Things only got better once Phillips was cleared to return to action, something he did during the Hurricanes' four spring workouts earlier this year.
"We only got a small taste, but you could really see some skills and some things to get you excited," Diaz continued. "We need him. That's what we want. We want to create competition. Everybody wants to talk about our defensive line and some of the ends we have and he's right in the mix in that conversation. We want everyone, every day, to feel that competition. And the way you do that is you add players who are talented and have the drive like Jaelan does."
For his part, Phillips has embraced the opportunity to work with two of the nation's top returning pass rushers, redshirt sophomore Greg Rousseau and redshirt senior Quincy Roche, who transferred to Miami earlier this year after starring at Temple.
Between them, Rousseau and Roche combined for 28.5 sacks last fall, both finishing the year ranked among the nation's top seven players in that statistical category.
Phillips says he's ready to add his name into the mix.
"I feel like a lot of the focus is on Q and Greg, so I have the opportunity to come in and almost just prove to myself and prove to everybody that I'm even stronger than I was before," Phillips said. "I'm just hungry. There's a chip on my shoulder. This season, I know I need to come in and make an impact. We have so much talent on the d-line … we're all going to have the opportunity to shine in our own ways."
The field isn't the only place where Phillips wants to continue growing while at Miami.
The defensive end grew up in a musical family, with his mother playing the cello, his father playing the trumpet and his grandfather, Jon Robertson, training at The Juilliard School in New York before conducting national and international orchestras and being named dean at the Lynn University Conservatory of Music in Boca Raton.
His family nurtured his love of music throughout his childhood and, during his recent time away from the game, Phillips embraced the technical side of the art, delving into music production and audio engineering.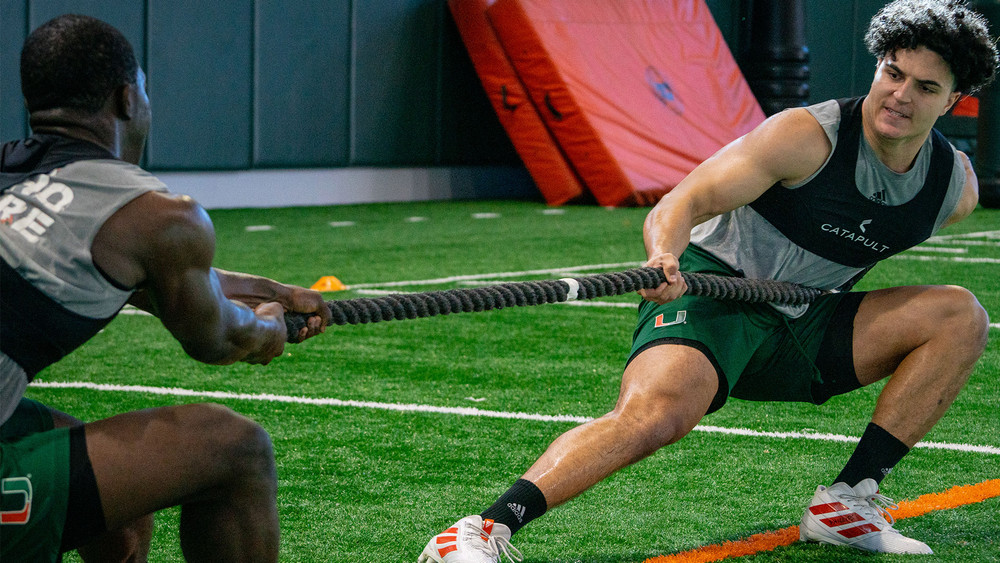 In South Florida, Phillips knows he can develop both of his passions – all while staying connected to his family, including his grandfather, who lives an hour from Coral Gables.
"I'm not a rapper or a singer, really. I don't like being an artist. I'm just huge into the technical part of it," said Phillips, who last month produced the song and video "Blackout Day" as Black Lives Matter demonstrations were held across the country. "When I got out here, I've just been able to be around a bunch of great artists. I've been able to work with a couple local guys, a couple of local DJs around here, too and it's been great."
With his body now ready to compete at a high level and his music education on track, Phillips – like all of his teammates – is waiting for his chance to really get back on the field.
The four practices Miami was able to hold before the COVID-19 pandemic closed campus this spring gave him a taste of what it was like to play again, a reminder of how much he missed the game.
Now, Phillips can't wait to get back out there, especially after all that he and his family have endured to get him to this point.
"I think I have a way different type of motivation now then when I came out of high school," Phillips said. "I think I was a little naïve and maybe a little privileged then. I think I had to go through a lot of challenges, a lot of trials and tribulations to come out the other side stronger than I ever was, physically and mentally.
"I think I have a little bit of a chip on my shoulder because a lot of people said I fell off from being a five-star [prospect] and being No. 1 in the nation. I'm here to prove to myself and to everybody else that I'm even better than I was before and all this work I've put in wasn't for naught."