Hurricanes Elated for MLB Return
Break out the red, white and blue bunting. It's MLB Opening Day!
After a three-month hiatus, baseball is officially back this week with all 30 teams kicking off an abbreviated 60-game regular season.
While a lot in baseball has changed due to the coronavirus pandemic — including the shortened schedule, universal designated hitter and a schedule with an increased emphasis on geographical proximity — one thing that remains a constant is the ability to follow your favorite Hurricanes as they compete in this unique 2020 season.
Nine former Miami standouts are currently available to participate in the 2020 season, including former All-Stars Ryan Braun, Yasmani Grandal and Yonder Alonso. Former World Series champion Jon Jay is back for an 11th year in the Majors, while upcoming stars Zack Collins, Bryan Garcia and Andrew Suarez will look to establish themselves as leaders of the next wave of great big league talent from The U. Add in veterans Chris Herrmann and Peter O'Brien and you have plenty of Canes to watch over the coming months.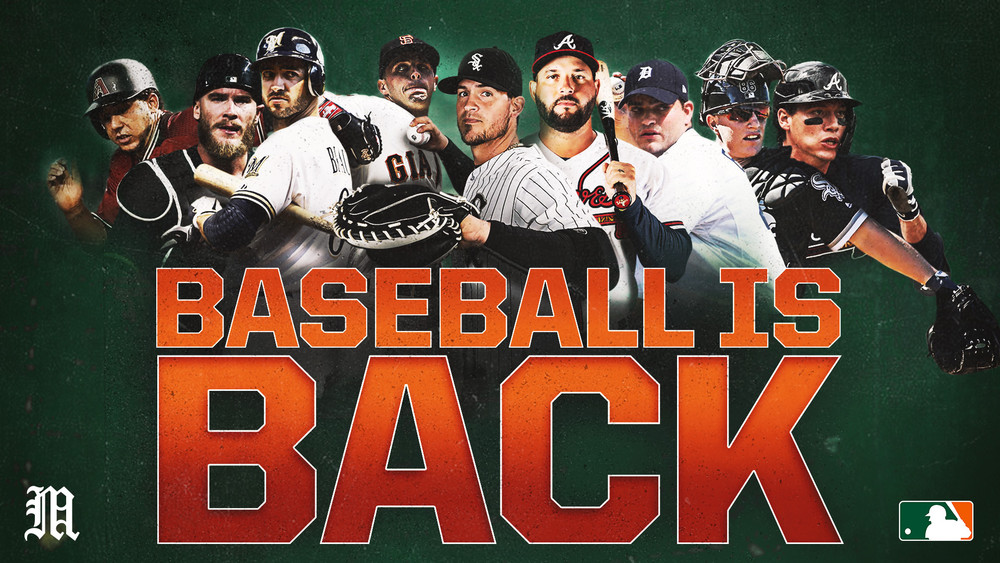 But the path to Opening Day has been an unorthodox one.
On March 12, Major League Baseball canceled the remainder of Spring Training and delayed the start of the regular season that was a little over two weeks away.
After an initial postponement of two weeks, MLB's pause evolved into a three-month break from action. But a glimmer of hope came on June 23, with MLB and the MLB Players Association agreeing to begin Summer Camp in early July with Opening Day set for July 23.
The wait was over. Baseball was coming back and that was a relief for players who had spent months trying to maintain their preparedness for a season they were not sure would even happen.
"This has been the year of the unknown," Jay said. "Just staying ready the whole time was important. At times, you didn't know like if we were going to have a season or we're not having a season. So really just keeping your mind sharp and staying ready was huge. For me personally, I got all of my workouts in and did everything I needed to do. But it was nice to spend some quality time with my family and kids, which we never get to do. I was lucky to be in a good position here in Arizona where I was able to get all my work done, stay safe and really enjoy time with the girls, which was amazing."
"It's great to be back and just being around the guys again," Garcia said. "You miss the camaraderie of being part of a team. I think we're running it pretty well right now. We all have different time slots and you're not around too many people at once, so it's been really good. We're all super excited."
Observing social distancing guidelines is the norm at ballparks across the Major Leagues, but the baseball remains the same.
"The work that we are doing is not any different from what we usually do in spring training," Garcia added. "The coaches have their masks on and it's a little bit more structured, time-wise. We're not all out there at the same time, but the stuff we're doing is the same that it's always been."
A veteran with 10 big league seasons of experience, Jay has noticed some differences around team dynamics. But he knows they are minor adjustments for the greater good of keeping everyone healthy and safe.
"The biggest difference is building camaraderie and that starts in the clubhouse," Jay said. "It's been a little bit different where we are all wearing masks inside the clubhouse and trying to be extra careful and staying distant from each other. That's been one of the differences where we used to just be able to hang around with a bunch of the guys and talk shop. The one thing I do miss is just being able to hang out with your teammates or after someone makes a great play in the field, I want to go give them a huge high five and fire them up. But those are little things that we're going to adjust to."
Baseball is a game of adjustments and every player had to adapt once spring training was stopped. With team facilities closed, players had to scramble to find places to exercise and train. Despite the challenges, Garcia believes most players arrived ready to go when Summer Camp began.
"The majority of guys were ready to go when we got back," Garcia said. "Some guys may have had a little trouble finding a catcher or a facility to hit at, but for the most part, everyone's ready to go. We were all anxious to get going again. We're happy to be back and we can't wait to start playing again."
A Miami native, Jay has been in Arizona since he left for spring training. The outfielder, who is in his second stint with the Diamondbacks, chose to stay in Arizona with his family when spring training stopped due to the COVID-19 pandemic rather than move everyone back to Miami until the season restarted.
Jay is happy to be back with his teammates preparing for yet another MLB season, but he knows the decision to delay the start of the 2020 season was a necessary one.
"I think what kept everything in perspective is that there are people dying out there and people are putting their lives on the line to help others," Jay said. "It was easier to understand when things had to stop because of what's going on. Obviously, we want to play baseball, but it was a much bigger issue than baseball and sports. It was good to keep things in perspective for myself and my family and then going from there and just dealing with it."
As a veteran, Jay let his teammates know that the pandemic was indeed bigger than baseball, but he ensured that every Diamondbacks player maintained their form during the hiatus.
"When we stopped playing, the message was, 'Hey, stay ready because we don't know what's going to happen.' My teammates did a really good job of that and it has shown so far in summer camp," Jay said. "I'm looking forward to getting out there and playing games and even scrimmaging and just staying sharp. The guys really did a good job of preparing themselves and taking advantage of the time off to really get to work."
Players across baseball — including Jay's teammate, Mike Leake — have chosen to opt out of playing this season due to concerns surrounding the COVID-19 pandemic. Jay understands why players would choose to remain home due to potential health concerns, but he also recognizes that many players are eager to play this season for a variety of reasons.
"I had this conversation earlier during the pandemic with some of the younger guys and I was honest with them," Jay said. "I told them, 'I don't know what my attitude would be like if I was you guys, where you're trying to make a name for yourself and trying to go out there and make the playoffs and go win a World Series ring and do a lot of things that you aspire to do as an athlete.' For me, having been able to do a lot of those things and having been around for a little bit, it was kind of one of those things where I could see the bigger picture where the younger guys were like, 'Man, I want to be playing.' I told them, 'Just stay prepared and stay ready.'
"Having a family of my own and having kids and being a father, I think is different," Jay continued. "I can't imagine if I'm 24 or 25 years old and this is going on. There's a whole different perspective. For me personally, where I'm at in my life, the transition wasn't as bad as if I was 25 or 26 or 27."
Known as a great clubhouse leader and example for young players, Jay imparted his wisdom on his younger teammates as they embarked on several months without a plan in place to play the 2020 season.
"One message is to play for what you want to do," Jay said. "There are guys who wanted to play because it's their first year of arbitration or they want to get their first year in the big leagues. We all have different things that we're trying to attain. But whatever it is that you know that you need to do that is motivating you to play baseball, you've got to keep that in your mind because that's what's going to help push you to get your work done every day. Guys that are in the minor leagues that I talked to, my message was simple. I told them, 'Hey, you're trying to get better every single day because you still have a lot less in front of you, so just hone in on those things.' I think for me it was a lot different just because of my perspective."
As a player participating in his first big league spring training, Garcia was focused on earning a spot on the Tigers' Opening Day roster when he arrived in Lakeland, Fla., earlier this year. The hard-throwing reliever posted strong numbers in spring training, allowing just two runs over seven appearances, but had to regroup when everything stopped. Now that the 2020 MLB season has arrived, Garcia and his Detroit teammates are thrilled to get back to playing the game they love.
"The excitement here is through the roof," Garcia said. "We're all obviously competing for a spot on the team right now, but we're all rooting for each other. We can't wait. I can't stop saying it, but it's true. We can't wait to get going and play real games. It's going to be great to compete against other guys. That's what we live for. We're very excited."
While there are nine Canes preparing for the 2020 MLB season, Miami alumni in the minor leagues are left without a season as a result of the COVID-19 pandemic.
"We all kind of had a feeling that was coming," right-handed pitcher Greg Veliz said. "Obviously, I'm bummed because you know you want to play. You're a baseball player and you want to play baseball. It is your job, but it's the thing I love to do so I was really, really bummed. I'm jealous that the big league guys get to go play, but that's just part of the game. You've got to work your way up. I just really wanted to go play this year because it would have been my first full season and my first spring training."
Veliz, who was drafted in the 15th round of the 2019 MLB Draft by the Los Angeles Angels of Anaheim, impressed in his first taste of professional baseball. The hard-throwing Veliz shined in Rookie ball with Orem and earned a promotion to the Angels' Class A affiliate in Burlington. He hoped to continue opening eyes in the organization in his first full season this year.
"I had success last year and got promoted. I went in with a chip on my shoulder for being drafted so low," Veliz said. "I feel like I made a little bit of a name for myself in a little bit of opportunity I had to show with a short half of the season. Before spring training, I got called out there a little bit earlier to do a program. I got selected and I went out there and I was out there from January 12 until whatever day we got told to go home. I was extremely bummed because I was supposed to start the year off at High A and that would have been another level jump. It kind of stinks because it kind of takes a year away from your development as far as games played. I'm still working out and still developing, just not in games, but I am making the best of it."
Much like the big leaguers experienced during the halted portion of spring training, Veliz is trying to stay in shape and stick to his routine. He throws four days a week and tosses a bullpen once a week, in addition to strength training to improve his body. He also has reconnected with many of his former Miami teammates to workout and train together.
"It's good to have those guys to work with and push each other," Veliz said. "Being from Key West, a lot of the guys I played with don't play baseball anymore. So coming up here and being able to work out with guys I went to college with and have relationships with and pushed me in college and now we're pushing each other at the pro level. We're all fighting to get to the big leagues with our individual organizations."
The Canes baseball family is a bond every former UM player in professional baseball shares and that commonality helped bring them together and built a network filled with support and motivation during a very lonely time without baseball.
"We had conversations with each other and just texting guys seeing how they were doing," Jay said. "I spoke to some of the guys that got drafted from the team and just kind of gave them a little heads up on what's going to happen and told them to stay focused and told them, 'Congratulations.' We just had conversations like we normally would and we all were making sure guys were staying motivated."
Familiarity and support are important for success and the Canes made sure to look out for each other. But Jay has the added benefit of returning to an organization he knows well after spending part of the 2018 season in Arizona.
"It really is a great group of guys and I'm super, super excited for the team and just in general the staff," Jay said. "Torey Lovullo, he's a great manager and I have a lot of respect for him. I really enjoyed my time playing for him in 2018 and just all the time I get to be around him now. This guy is awesome. I really enjoy learning from my coaches and then with the players just trying to be there for them with whatever they've got going on."
"For me, this was the first year in a long time where I didn't have to learn trainers' names and strength coaches, " Jay continued. "And with the guys, they could hear about something about you and your reputation but until they see it, it's different. I feel like when you're on a new team, you've got to really show guys this is my work ethic and this is what I do. Here it was easier because these guys know what I'm about. They know what I bring to the table every day. It's easier for guys to ask me questions or for me to get on top of guys if I see something. Being familiar with the staff was something that was very, very appealing, especially when I signed with the Diamondbacks. I've been very fortunate to have that feeling again where at the start of spring training you kind of know those familiar faces."
A very popular teammate, Jay has enjoyed his return to the Diamondbacks. He has especially appreciated the growth so many young players have made since he was last with the team two seasons ago.
"The cool thing for me is that I got to see a lot of these guys in 2018," Jay said. "Just to see the maturity that they have now, just a year-and-a-half later, it has been incredible for me. To see these guys mature the way they have has made me super proud of them. Guys like Archie Bradley and Ketel Marte and Nick Ahmed and Jake Lamb, just to see how they've grown mentally. We're having different conversations than we were having two years ago, which is cool to see, and these guys are studs and they're having success for a reason."
That preexisting bond Jay shares with many of his Diamondbacks teammates has made Summer Camp especially enjoyable, as well as productive. It also has reminded the veteran outfielder of his days in Coral Gables.
"It's been fun and different competing in scrimmages," Jay said. "It takes me back to the college at UM. We always talk about and joke around that those were our hardest games, those scrimmages where we played against each other. It's been cool to be on the other side of a scrimmage and be able an offer advice. It goes both ways where a pitcher might strike me out and I'll come and say, 'Hey, that was a great pitch because of this or that.' And then he'll tell me why he threw this pitch or that pitch. It's been cool to see to the communication that's been going on within our team."
Now, with the condensed 60-game regular season set to begin, Jay expects a lot of excitement and intensity with every game played.
"I think guys did a good job of preparing themselves and I think it's going to be a fun brand of baseball," Jay said. "In a normal season, August 1 is really when the pennant races start coming out. I think it's going to be a lot more important each and every game and each pitch. Each game is going to mean that much more, so I'm looking forward to having this playoff-type atmosphere every single day as far as in-game situations and just the focus level. I'm looking forward to playing that brand of baseball."