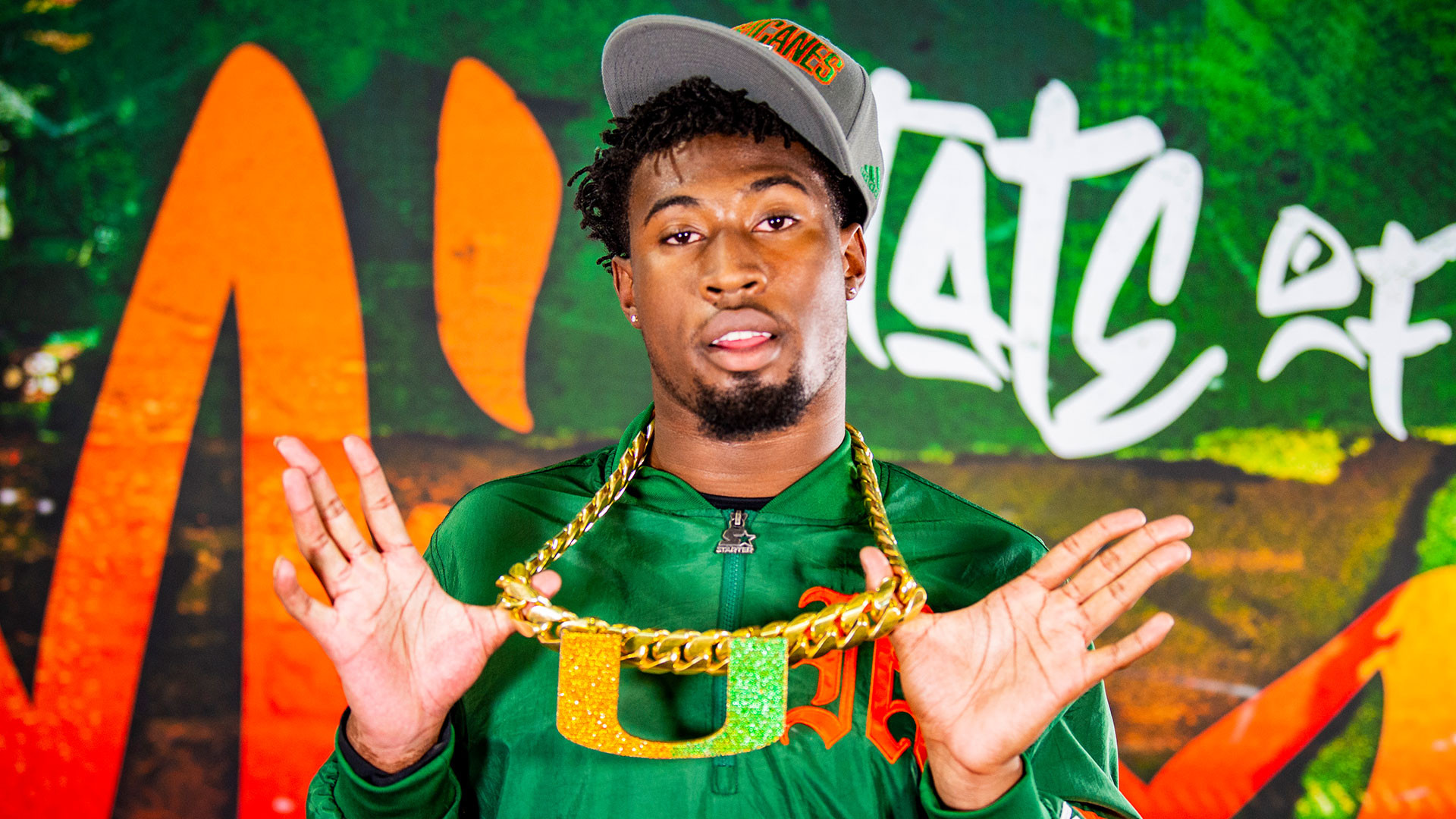 CORAL GABLES, Fla. – It was a decision he didn't take lightly, an option he weighed carefully.
So when Chantz Williams debated whether he should get a jump on his college career by heading to Miami as an early enrollee, he sought advice from someone who'd been there.
"There was a point in time where me and [fellow 2020 signee Jalen Rivers] didn't know if we wanted to come in early or not, and we asked Shaq [Quarterman] what he did and why he did it," Williams said. "He told us coming in early helped him get bigger, faster, stronger and learn the playbook. Shaq is one of the main reasons we came early. It was thanks to him."
Quarterman – who, like Williams starred at Oakleaf High School near Jacksonville – enrolled at Miami in the spring of 2016. He went on to become a four-year starter for the Hurricanes, the leader of the Miami defense and a fourth-round draft pick of his hometown Jaguars.
Now, with one semester of college already in the books, Williams is hoping to follow a similar path in Coral Gables. And though his first few months as a Hurricane were disrupted when the COVID-19 pandemic closed Miami's campus and paused spring practice, Williams is still grateful he heeded Quarterman's advice to join the Hurricanes sooner rather than later.
The defensive end has gotten used to the demands of early-morning workouts with David Feeley, Miami's director of strength and conditioning. He's adapted to the rigors of college-level academics and aced a public speaking class that has him now considering a post-football career in broadcast journalism. And after spending time learning from the veterans on the Hurricanes' defensive line, Williams has a better grasp of what's expected of him moving forward.
"We're all cool in the defensive line room, comfortable with each other, laughing and joking," Williams said. "But on the field, we're always helping each other out. We're giving each other tips. We're always listening and always trying to learn from them. Quincy [Roche] is always giving us tips. Greg [Rousseau] is always explaining the playbook. … It's meant a lot to me to know I wasn't going to be left hanging in the dust. They were going to help me because they know how it felt to be the young guy once, too."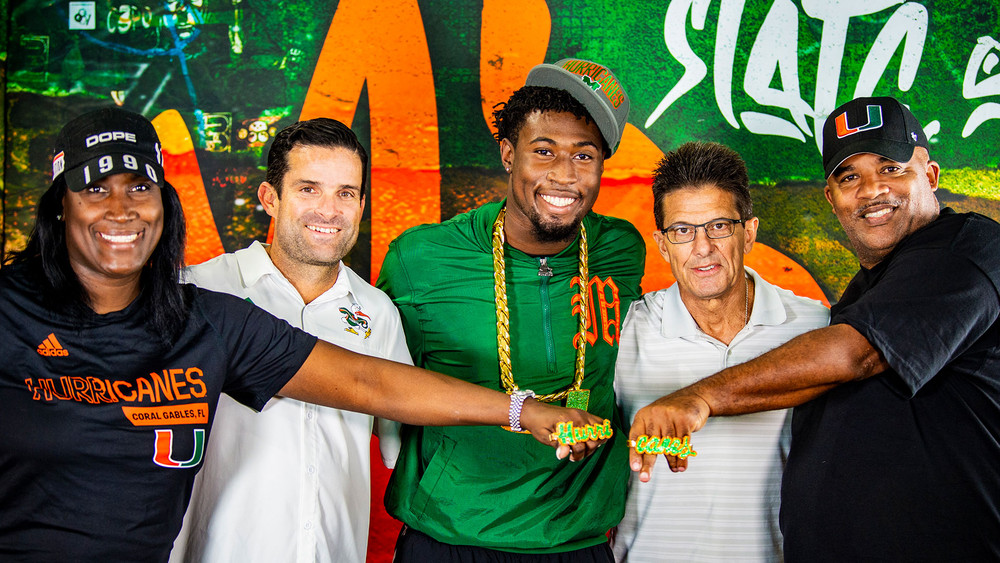 And in his short time on campus, Williams has already made an impression, both on head coach Manny Diaz, who first noticed the now 6-foot-4, 245-pound defensive end when he was a freshman at Oakleaf, and on defensive line coach Todd Stroud, who has forged a relationship with Williams and his family in recent years.
Both coaches say they've noticed Williams' willingness to be coached and both believe he has the potential to add his name to a growing list of disruptive Hurricanes' pass rushers including his current teammates Roche and Rousseau, along with other recent standouts like Joe Jackson, Jonathan Garvin, Chad Thomas and Trent Harris.
"He was wonderful during recruiting and has a huge upside with his measurables," Stroud said. "He's gotten bigger, he runs real well and he's very intelligent and a quick learner. Schematically, he won't have an issue and he's just a delightful kid."
Said Diaz, "We had a great relationship with him and his family going back through his entire high school career, so we really had a chance to watch him develop. … He's really disruptive and I think we've seen in all four years we've been here, we've had really disruptive defensive end play, guys that could really get out to the quarterback. Chantz has a lot of the same skills of the guys that have come through here and has a chance to be right up in that class."
That's pretty impressive given that, five years ago, Williams somewhat stumbled into football.
While most of his Hurricanes teammates have been playing the game since their elementary school days, Williams decided to give football a try as a high school freshman in hopes of getting stronger for what was once his primary sport – basketball.
It didn't take long for coaches at Oakleaf, though, to see he had the ability to be a solid pass rusher. Despite coming off the bench as a reserve, Williams led his team in tackles-for-losses as a freshman. And after delivering a bone-crushing hit in one of his first games, Williams himself couldn't help but wonder if football, not basketball, was where he could excel.
"I don't want to say it was easy, but I was doing basketball and football, so I was already in shape year-round. I just knew I had to crunch down on the technique to take myself to that next level," Williams said. "That's really where I put my focus for football. I was going to trainers, trying to figure out how I could be the best defensive lineman I could be and what I needed to work on. … I don't know if I can remember my first sack, but my first big hit, I hit a kid really hard and I actually felt really bad about it. Everybody was hyped all around me, but I was like, 'I did not mean to him hit that hard.' They told us the next day he broke his arm and I realized I didn't realize my own strength."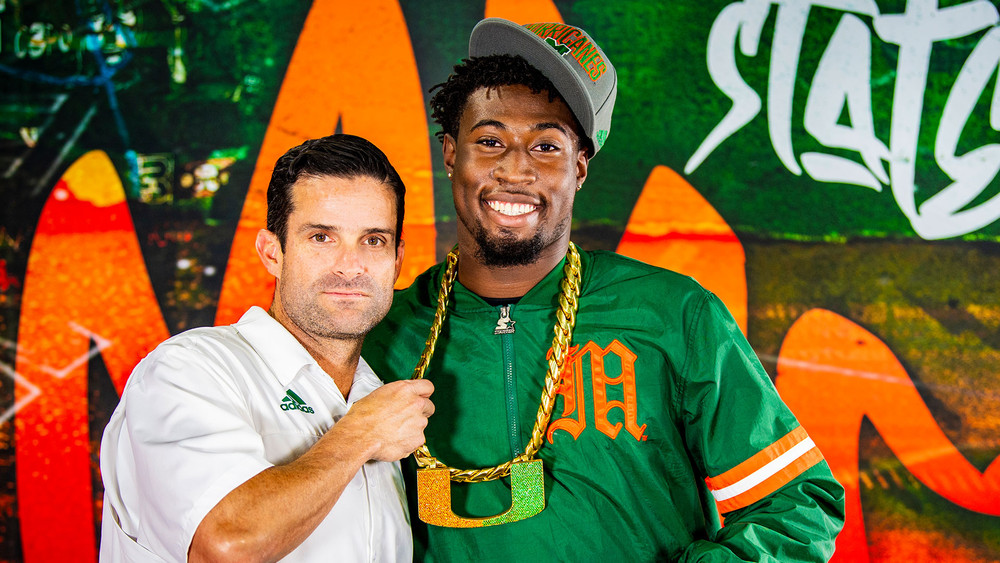 After that initial introduction to the game, Williams set out to learn as much about playing defensive line as he could. While there isn't one particular player he likes to model his game on, he has studied Von Miller's technique, among others.
He wound up finishing his high school career as an Under Armour All-American, notching 129 tackles, 22 sacks, 25 tackles for loss, five forced fumbles and eight pass breakups. He earned all-state, all-district and all-county honors in the process.
Now at Miami, he is driven to uphold the legacy of the players who have come before him, including the linebacker and friend who urged him to start his college career as quickly as possible.
"Honestly, I had butterflies the first time I stepped on Greentree. I'm going to be honest," Williams said. "I was on the same field as so many greats that had played at Miami and it all just reminded me I had big shoes to fill. I want to do that the right way. … I'm hoping the talent that is around me, I can absorb some of that and pick up what guys are doing so I can bring it to the table when my number is called."