Canes Back Around Familiar Faces
The days turned into weeks, the weeks into months and all David Feeley could do was wait.
With Miami's football players scattered across the country because of the coronavirus pandemic and his weight room off limits because campus was closed, the Hurricanes director of strength and conditioning could do little more than offer up suggested workout plans and answer questions from afar.
For Feeley, who prides himself on his hands-on work with athletes, it was a frustrating stretch.
"It's not what I got into college athletics for, to coach from a distance. But given the circumstances, that's what we had and we had to accept it and not pout about it," Feeley said. "I'll say this, though: that experience, I think made it even more sweet to get everybody back in here and see them."
These days, Miami's weight room is again buzzing with activity. After a few local Hurricanes players were able to get into the football facility last month for voluntary workouts, the entire team has reconvened and is starting the work of preparing to play football again.
Now with an unprecedented layover behind them, Feeley and his staff, along with Miami's athletic training staff and the Hurricanes' nutrition staff are doing their best to make sure that work is being done as safely as possible.
Ahead of the resumption of team workouts this week, socially-distanced return-to-play physicals were held in the Carol Soffer Indoor Practice Facility to screen players and check on any potential health issues. Strength and conditioning tests were carried out to minimize the risk of injury once players got back into the weight room. And in that weight room, an athletic trainer is always on hand, ready to assist if needed.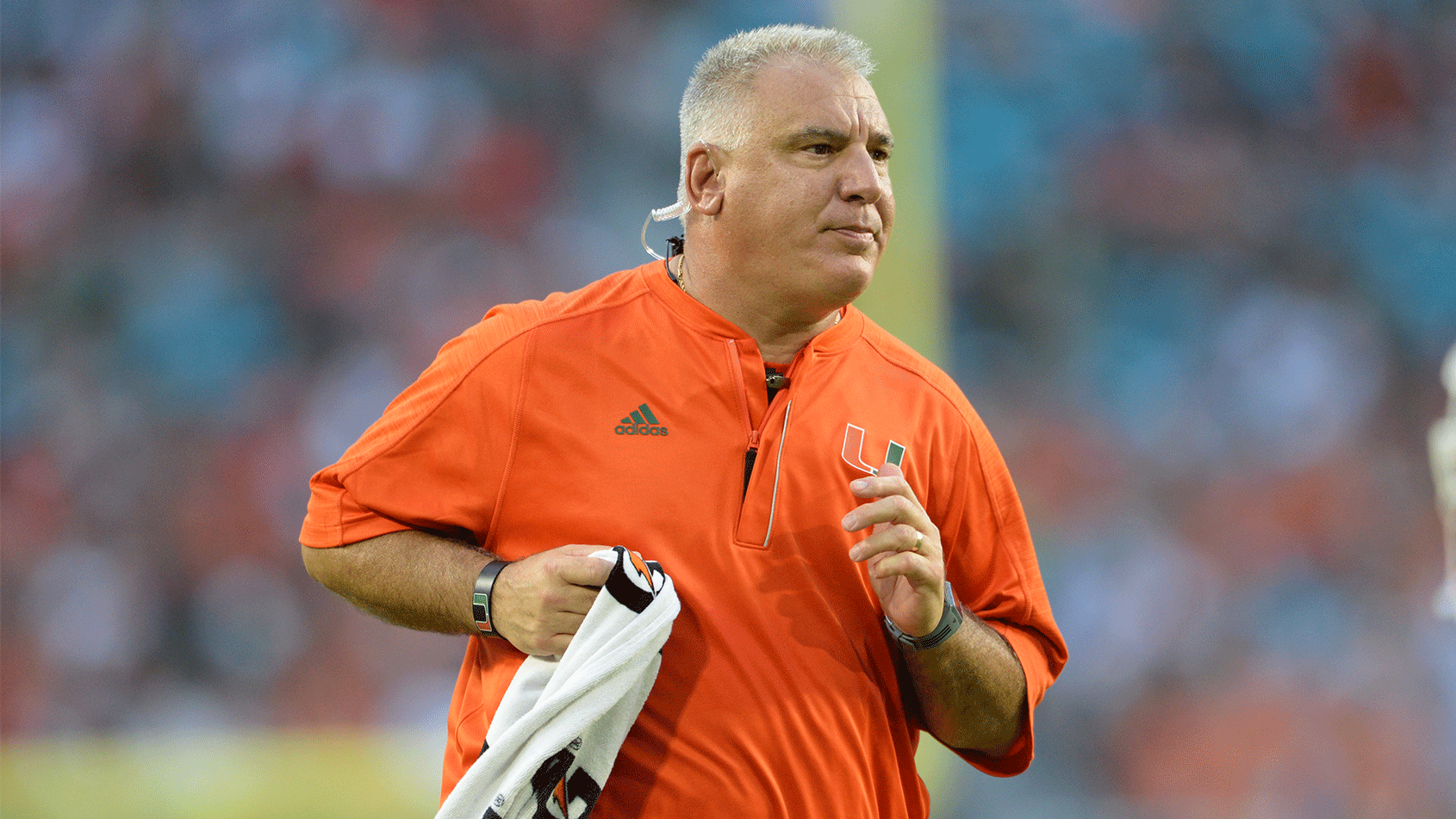 And as they have been for the last four months, Feeley, Associate Athletic Director for Athletic Training Vinny Scavo and Director of Football Nutrition & Performance Kyle Bellamy remain in constant communication to address any issues that may arise as Miami's players start easing back into their usual offseason routine.
"Because of the respect we all have for each other and because we know what coach [Manny] Diaz wants in our program, everyone wants to work together," Scavo said. "We have all communicated consistently and that communication has been awesome."
Added Feeley, "Endless communication. I don't even know if you'd call it speed dial. I feel like we're always on speaker phone with each other. It's just an open line. … At the end of the day, for the three of us and everybody up through Coach Diaz and [Director of Athletics] Blake James, the No. 1 priority is the players' safety. These are times nobody has ever seen before, but everybody's on the same page. If you've got a question, let's hash it out, right then and there. All of us have so much information coming at us all day. If you don't attack that question when it comes to you, you'll have 95 others on your plate 10 minutes later."
The communication extends beyond coaches, staff and administration.
While away from the Hurricanes, Feeley, Scavo and Bellamy did their best to be as accessible as possible to players, within the parameters and guidelines set by the NCAA.
Feeley sent players workouts they could follow and modify with whatever resources they had available to them at home. Zoom became an essential tool for both Scavo and Bellamy, who used the video conferencing platform to communicate with athletes on everything from physical therapy appointments to how to maneuver through a grocery store during a pandemic.
Bellamy stressed to athletes they could call or text him at any time, while Scavo and physical rehabilitation coordinator Jeff Ruiz guided players recovering from surgery through rehabilitative workouts designed to strengthen even from afar.
The conversations helped give the coaches and staffers, along with the players, some semblance of normalcy during an unsettled time.
"Being able to see their faces to see they were understanding was huge," Bellamy said. "I was able to see they were paying attention, they were writing things down and that just helped streamline the communication. It also felt a little bit more personal. It was good to be able to see the guys during that time."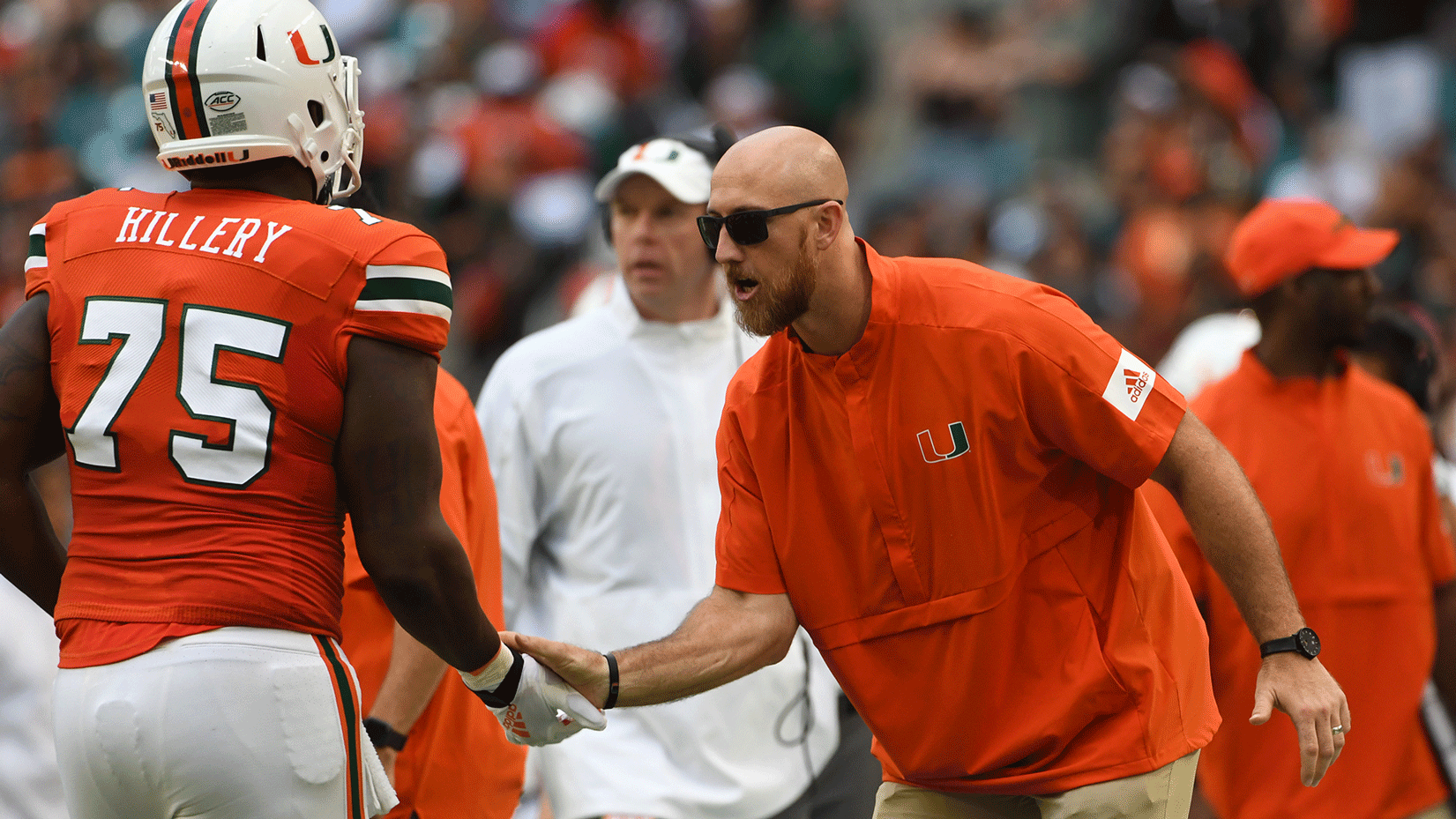 Now, with players back on campus, how Feeley, Scavo and Bellamy work with players has changed. The goal of staying safe, though, has not.
Given that some Hurricanes spent months away from South Florida's humid, muggy conditions, Bellamy has made hydration a top priority, along with helping some players either gain or lose weight as needed after quarantine. And Feeley and his staff have erred on the side of caution when directing strength workouts, making sure players hit certain benchmarks before allowing them to progress to heavier weights and bigger numbers.
The workouts themselves have changed, too, with smaller groups in the facility at a given time to maintain physical distancing protocols. And the celebrations when goals are met are a bit more muted than they have been in the past.
"You can't give your players a hug and they can't give each other hugs," Feeley noted.
But there have still been laughs and smiles behind masks. Progress continues to be made and players, coaches and staff are together again.
For now, all of that is a help as the Hurricanes continue looking forward.
"Anytime that you get to feel like you're part of something bigger than just you, that's a big reason why we play sports or want to be part of a team," Diaz said. "I think getting back, going through the workouts and accomplishing difficult tasks together, that's helped our players with the idea that if things go well, they are working toward a goal and working toward something. … Just being backs helps with the focus and helps make it real."
Said Bellamy, "Overall, the guys came back and you can tell they did a very good job over the break. That's really all you could have asked for and one thing I think we saw as well was that they were extremely hungry and ready to be back."