Van Belle Continues Overcoming the Odds
When Miami slugger Alex Toral first met Hurricanes' ace Brian Van Belle, he was anything but the standout pitcher Canes fans were used to seeing take the mound at Mark Light Field.
"When I first met him, he was a little, skinny shortstop," Toral recalled. "He was probably about 140 pounds soaking wet."
The duo met as Toral was set to join Van Belle at local powerhouse Archbishop McCarthy High School, a program that won seven state championships over an eight-year period beginning in 2010 and produced multiple MLB players including Nick Castellanos, Alex Avila and Danny Farquhar.
"He's definitely changed over the years. He was quieter when I first met him," Toral added. "I think I was in eighth grade and he was a sophomore in high school. He was definitely more quiet back then and he was actually a shortstop, so he definitely has changed a lot in that sense, too."
When Toral arrived at McCarthy as a freshman, Van Belle had switched from infielder to pitcher and began opening some eyes with his ability.
"His junior year, he stepped on the mound and started pitching and he had the stuff and he had the body type, being a tall, lanky guy," Toral said. "But you could tell that his body still wasn't where he wanted to be and his velocity wasn't where he wanted to be. His senior year, it really all started shaping up. He started throwing harder and started mixing his pitched in really well."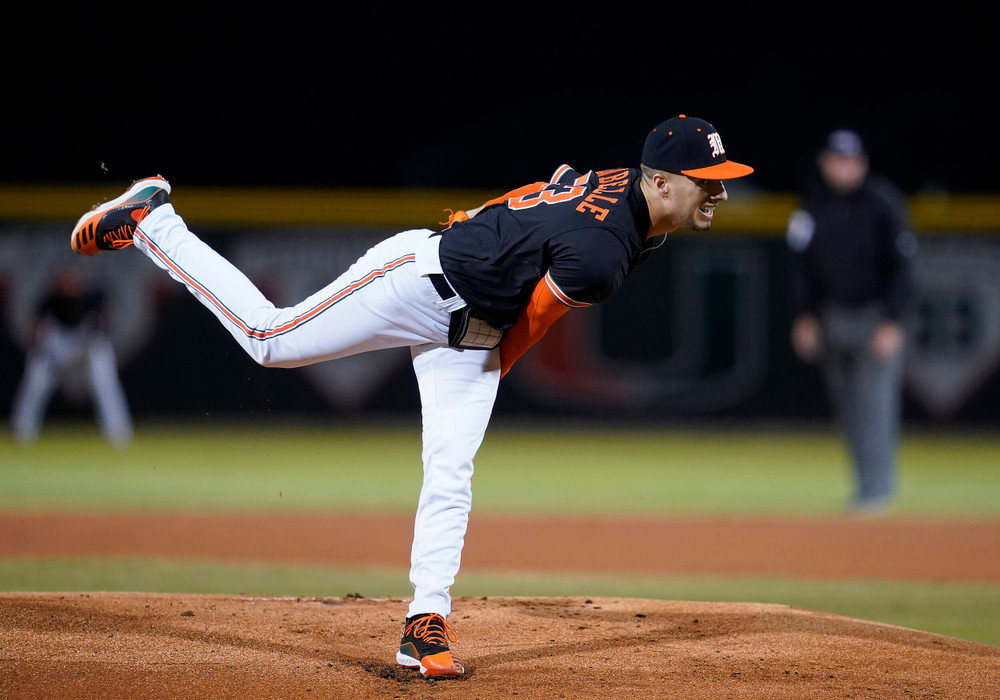 Despite his burgeoning talent, Van Belle received zero scholarship offers from Division I programs and enrolled at Broward College — a junior college program less than 20 minutes away from McCarthy's campus. Van Belle continued to improve rapidly and Toral saw it firsthand.
"He went to Broward and the next year came back to McCarthy and I took some ABs off of him," Toral recalled. "I told him, 'Hey, your stuff looks really good. You've definitely taken a huge step forward.' His changeup that whole year, it was unbelievable the way it changed."
Injuries crept up while at Broward and Van Belle underwent Tommy John surgery to repair ligament damage in his right arm, but that did not stop Van Belle from chasing his dreams.
"When I heard Miami was recruiting him I was like, 'This kid literally turned his baseball career around from when we were in high school,'" Toral remembered. "He went from no offers to a Division I school and going to Broward as a junior college kid and then getting Tommy John to earning a scholarship to Miami. Going through all that adversity he went through, he was definitely somebody who could say that he has a great story and battled through all that and went through all this adversity and made it out on top."
Van Belle arrived at Miami with a chip on his shoulder and a desire to prove his doubters wrong. While many figured he would begin his UM career as a reliever, Van Belle shined in fall ball and continued to impress leading up to the start of the 2019 season. When Gino DiMare named his first starting rotation as head coach of the Hurricanes, the former skinny shortstop had earned a place in the weekend trio.
"He forced our hand," DiMare said prior to the start of the 2020 season. "We had to put him in the No. 3 spot to start out the year last year … He ended up being the MVP of our team, pitching-wise. It's a great story from that standpoint. … Injuries are hard and he was [out] twice. As a pitcher, that's very difficult. But he came back to be our guy and that says a lot about him."
The 6-foot-2 right-hander proved to be one of the top pitchers in the ACC in 2019, earning second team All-ACC honors in his debut season at Miami. Van Belle led all Miami starters with a 3.30 ERA and posted a team-high 10 wins — becoming the first Hurricane since Michael Mediavilla in 2016 to earn double-digit victories in a season. Despite his strong showing, Van Belle was not selected in the 2019 MLB Draft.
Instead of sulking after not being picked by an MLB team, Van Belle worked even harder in the offseason and earned Miami's Friday night starter role. When he returned to action, he continued to prove himself as one of the best pitchers in college baseball.
Van Belle started 20 games for the Hurricanes, going 12-2 with a 2.74 ERA. He struck out 122 batters and walked just 28 over 121.2 innings pitched at Miami.
His numbers speak for themselves, as did his track record of success at a premier college baseball powerhouse.
But the 2020 MLB Draft came and went without Van Belle's name being called.
The 23-year-old had done everything he could to prove he was worthy of an opportunity to play professional baseball and was admittedly disappointed when he did not get selected in the shortened five round MLB Draft.
"My situation was kind of unique," Van Belle said. "In a five-round draft, there were a couple people showing interest. It just didn't work out that way with getting drafted. I felt like initially I was probably a top 10 round guy given that I'm a senior and I had a pretty good season with the shortened season."
A second team All-American in 2020, Van Belle went 2-0 with a team-leading 0.68 ERA and tied with Colorado Rockies second round pick Chris McMahon with a team-best 38 strikeouts while walking just four batters over team-high 26.1 innings pitched.
"Obviously he wanted to get drafted," Toral said. "I believe that he was good enough to be selected, but things don't always work out the way we want them to and he's going to use it as motivation. Just talking to him, he knows this is the path he wants to take and I'm rooting for him the whole way. He definitely more motivated than ever, interestingly enough considering the things he's gone through, but I feel like this is the most motivated he's been."
The disappointment of going undrafted would not last long, as Van Belle was one of the most sought after free agents following the 2020 MLB Draft.
"It was a weird, but really cool experience," Van Belle said. "To be drafted, it's definitely prestigious and it's a great moment for you. It was probably one of the best moments in people's lives other than obviously making it to the big leagues. When you get drafted, you're ultimately just getting an opportunity and you just have to make the most out of the opportunity."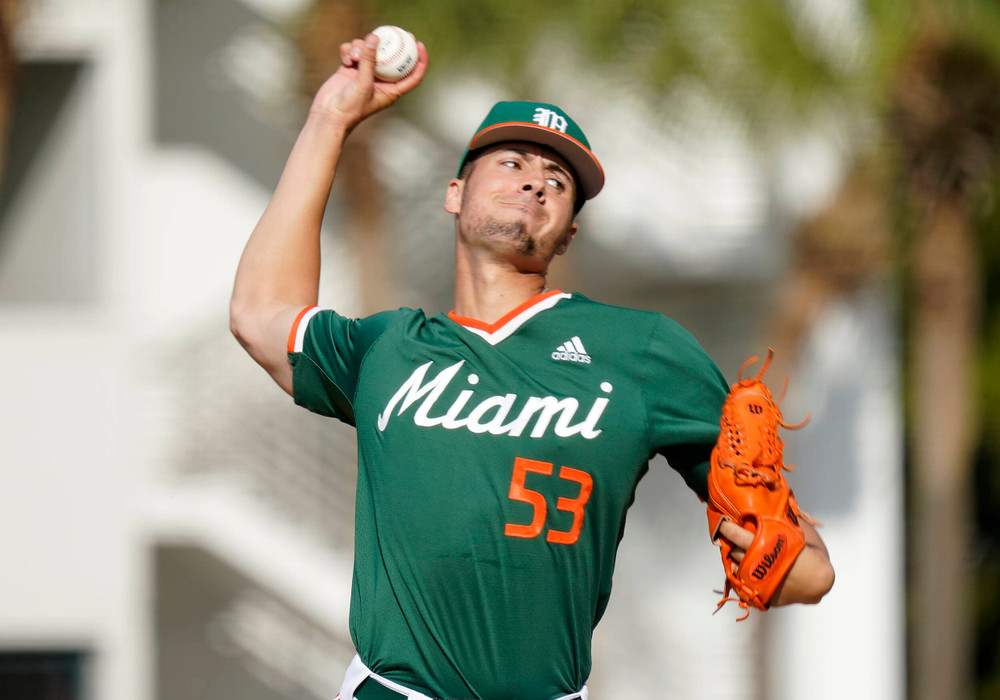 That opportunity came roaring on Sunday, June 14 — a day that Van Belle will never forget.
"It all started off at 9 a.m., and teams were calling left and right," he said. "The phone is ringing off the hook and it was definitely a lot to handle. It was my girlfriend's birthday, as well, so it was a lot that day to deal with. I had a multitude of opportunities and then, ultimately, it was my choice at the end of the day where I wanted to go and I felt like the Red Sox were the best fit for me."
After hearing pitches from all 30 MLB clubs, a process that included conversations with high-profile individuals from across baseball, Van Belle decided to take the next step in his baseball career and sign with the Boston Red Sox organization.
"They were very personable with me," Van Belle said. "I ended up talking to Chaim Bloom on the phone for about an hour, which is pretty cool to talk to him knowing that he's the chief baseball officer of the Red Sox. Just hearing everything from his perspective was huge for me and helped make my decision easier. Overall, I have respect for all the organizations. They all reached out respectfully and tried to give me the best opportunities they can, but I just feel like the Red Sox kind of separated themselves from everybody else."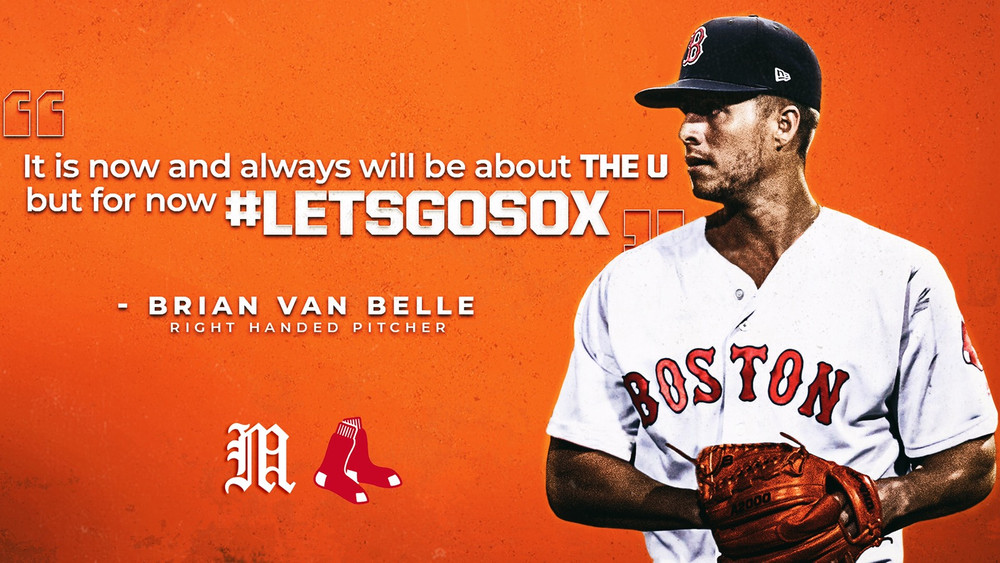 It was a meticulous decision-making process, with Van Belle considering each organization's draft picks, pitching depth, pitching and player development philosophies and other factors.
"Obviously you're going to compare the teams," Van Belle said. "Like if you look at the Marlins, they drafted five pitchers and they were all righties. If you want to compare the Marlins to the Red Sox, that's definitely where my head was at with everything. I was trying to find the best opportunity for me and it's pretty cool. It was a cool experience."
The Pembroke Pines, Fla., native liked what he learned about the Red Sox's organizational philosophies and it was attractive to potentially join an organization that drafted just two pitchers, both lefties. While he was already leaning towards signing with Boston, a surprise call from a pitching icon further cemented his decision to join the Red Sox.
"Later on in the afternoon, I got a phone call from a random Lakeland phone number and I answered the phone and it was Chris Sale," Van Belle recalled. "I talked to him for like 30 minutes and it was unreal to hear everything from his perspective. He wasn't really trying to be that guy that was trying to make me commit to the Red Sox and sign with them. He was just trying to give me general insight from his perspective and experience in the big leagues."
The decision was made official on Monday, June 15, as Van Belle signed a free agent contract with the Red Sox and officially began his professional career.
"It was overall a cool experience and I wouldn't change it for anything, honestly," Van Belle said. "Looking back at it, in 2019, going undrafted was definitely frustrating. But getting to experience what I did this year in Miami with my teammates and coaches and developing and having that extra year definitely was beneficial for me. And then going off this year, obviously not getting drafted in the top five rounds was frustrating, as well.
"Everything happens for a reason," Van Belle continued. "If I would have gotten drafted in 2019, I wouldn't even have a degree right now from Miami and I feel like I was meant to have one right now as I'm going into pro ball. But come Sunday, with the experience that I had and the people that I was able to connect with, it was life changing."
Under normal circumstances, Van Belle would have been assigned to a minor league affiliate and began pitching in professional games.
But 2020 has been anything but normal.
Just 15 days after he signed his contract, the 2020 Minor League Baseball season was canceled as a result of the COVID-19 pandemic.
Van Belle and hundreds of other minor leaguers will not play professional baseball this season, but that did not deter the resilient right-hander from continuing to work on his craft.
"Right now, I'm pretty much working out four times a week and throwing five to six times a week," Van Belle said. "I haven't done any bullpens yet. I'm just pretty much on a long toss program and just trying to stay in shape and stay ready for whatever is to come. Even though the future is pretty much uncertain, I'm just trying to do as much as I can now to stay active and stay in shape and be ready."
In addition to staying ready, the former Miami team captain has started to pass along his knowledge to younger generations of pitchers just like Hurricanes pitching coach J.D. Arteaga and UM alums like Bryan Garcia and Andy Suarez did with him.
"I've been giving pitching lessons for people — both private lessons and in groups and it's pretty it's been working out pretty well," Van Belle said. "I'm just trying to give the younger guys and even some of the older guys, like I have some guys that are in high school, I'm just trying to give them some insight and information that I've learned over the years.
"Back when I was 12 years old, I had a couple pitching coaches but back then, it was a totally different world," Van Belle added. "I'm just really trying to preach the importance of taking care of your arm and stuff like that. Just things that I've kind of had to deal with throughout my career, obviously having Tommy John and all that in the past, and learning my way. I'm just trying to instill that determination. I'm pretty much running my lessons how J.D. runs the Miami baseball program for pitching: leadership and paying attention to detail and pretty much having a routine and not looking back wishing you would have done more. Right now I'm just trying to pretty much stay active and ready."
There is no doubt that whenever the call comes to report to the Red Sox, Van Belle will be ready. As he's done countless times in his career, he'll show up when the opportunity presents itself.
"He definitely has the right mindset when he attacks adversity or certain situations that come his way," Toral said. "And he makes the most out of every single opportunity he gets. A little, small one was basically when he came in to Miami. Everyone thought he was going to be a reliever and that he didn't have a chance to start. And in the fall, he impressed more than I think almost every pitcher on our staff and broke into the starting rotation and even ended up closing the season as the Saturday night guy, which just goes to show you that you know he was sort of a late bloomer, but he definitely makes the most out of his opportunities."
Van Belle's baseball journey has been filled with bumps and potholes, but his unrelenting desire to succeed has helped him overcome the odds every step of the way.
"That's going to help him in life, period," Arteaga said. "The moment you start playing professional baseball unless you're a top round draft that got a lot of money, the cards are stacked against you. The chances of you making it are slim to none and I don't think he's going to care about that. He doesn't care what his odds are. He knows when his ultimate goal is and he's going to push forward until he doesn't have the opportunity to play anymore. Until someone tells him he can't, he's not going to stop until he wants to get into something else."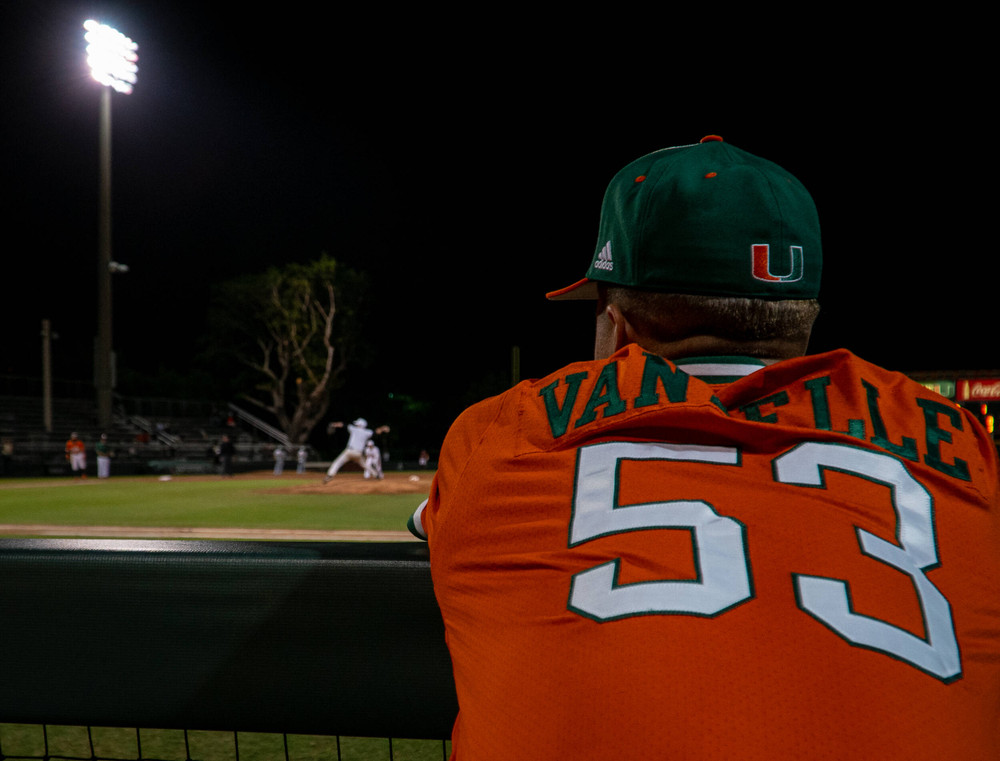 One of the greatest Hurricanes of all-time, Arteaga was an elite college pitcher who helped UM reach the College World Series four straight seasons from 1994-97. He left Miami as the program's all-time wins leader with 43 and the all-time starts leader with 72. Arteaga ranks second for innings pitched in a career with 458.1. He is also fifth on the all-time strikeouts chart with 343 career Ks.
Much like Van Belle, Arteaga was dominant in college but did not get as much attention from professional scouts as his production warranted because he was not the prototypical hard-throwing pitcher with electric stuff. But Arteaga believes it takes a lot more than electric stuff to be a successful pitcher and he thinks Van Belle has plenty of intangibles in addition to his physical ability.
"He's so much better than I was, as far as pure stuff is concerned," Arteaga said. "He's a better athlete, he probably throws more strikes and he throws harder and has a better changeup. I think that his competitiveness, absolutely is similar to me. That's something that I actually loved about him and always respect about him is his ability to compete.
"That's the way I was. I should have never gotten to Triple-A on physical ability alone," Arteaga added. "But I continued to push forward until someone told me I couldn't anymore. I see him in pro ball not being overwhelmed with the number of pitchers you're going to be surrounded by and how big and strong and hard everybody throws around him. That's not going to affect him in any way. He's going to continue being who he is and continue to do the things that always made him successful and we'll see where he ends up. Whether he makes it or not, it will not be from lack of effort or determination or anything like that."
Detroit Tigers reliever Bryan Garcia keeps up with his alma mater's program, watching as many games as he can. As a pitcher, Garcia loves to watch quality pitching and the 2020 Canes had plenty of it, but Van Belle's starts became must-see TV.
"The energy he has out there, you can tell he loves competing out there," Garcia said. "I love watching him pitch. He has quick tempo and the games move very fast. You could tell that he takes it personally out there. He wanted to make sure he was better than the opponent.
"I think he's going to do great in pro ball," Garcia continued. "I think he's a guy that they shouldn't hold back by any means. I think he should be on a fast track. If things are going well at that level he starts at, he should be out of there quick because I don't think his mentality or his drive to win and compete will be affected in pro ball. He's already been through the toughest things he's going to go through in his career, so he's going to be ready to go and I wouldn't be surprised if he moves up quickly."