Chaney Ready to Put in the Work
It was a simple message, but it has resonated.
And Donald Chaney Jr. expects it will shape not only his career as a Miami Hurricane, but everything he does on the football field and beyond.
During one of his first workouts in Coral Gables, Chaney found himself in an impassioned conversation with David Feeley, the Hurricanes' director of strength and conditioning and one of the first people new football players spend extensive time with after arriving on campus.
"Feeley and I had a talk and I'll never forget the words he told me: 'There's nothing more frightening than a man that never gets tired,'" Chaney recalled. "That has stuck with me ever since. Feeley doesn't get on you for just any reason. He gets on you because he knows you can be better than what you are and what he said that day will forever stick with me. I'm not going to forget it. 'There's nothing more frightening than a man that never gets tired.'"
As he's navigated a most unusual first semester, Chaney has thought back on that chat often.
When he went through the process of rehabilitating an injured shoulder. When he powered through his first college classes. When he and his teammates had to adjust after the coronavirus pandemic closed their campus, halting in-person classes and team meetings, as well as weight room workouts and on-field practices.
It wasn't quite the introduction to college life and college football Chaney expected.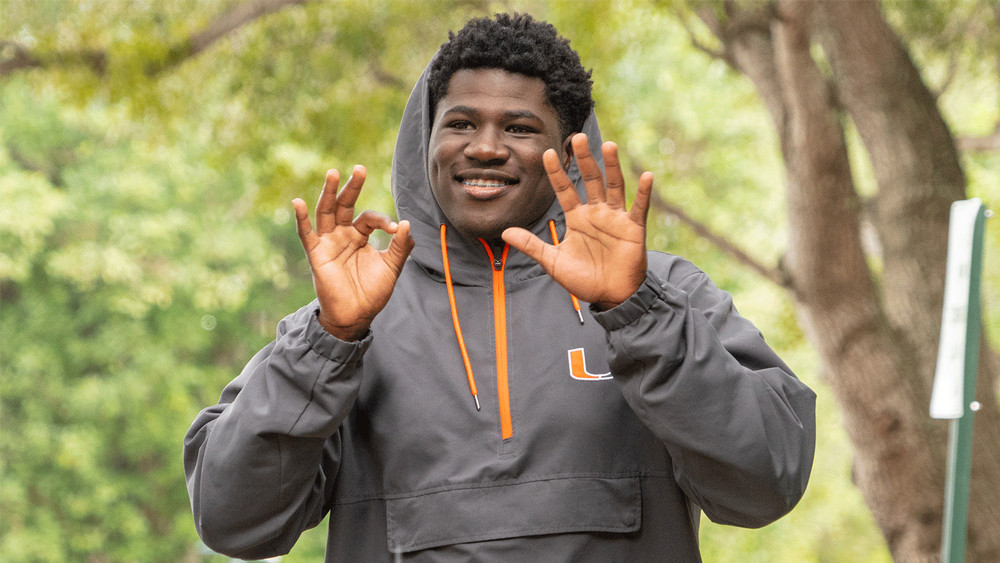 Still, as he now focuses on his return to the field, the former four-star prospect who was rated the nation's sixth-best running back by Rivals.com is feeling as healthy as he can remember in a long while. And he's determined to do the work needed to show teammates and coaches he can make an impact in Rhett Lashlee's offense.
"Everything in college is a competition. You've got to outwork the man that's in front of you. If you don't compete, you don't play," said Chaney, who rushed for 4,511 yards and 60 touchdowns during a five-year career at Miami's Belen Jesuit. "It's basically all a mindset. If your mindset's right, then you're right. If your mindset is even .2 percent off, it's not going to work. Here, no one is going to stop until you're in tip-top shape and playing in tip-top shape. I really appreciate it because I've had to be in tip-top shape before, but this is another level."
Chaney's dedication to the Hurricanes was evident long before he enrolled at Miami.
The running back was one of the first high-profile names to join the 2020 recruiting class, with Chaney stating his intentions to become a Hurricane during his junior year of high school.
While some of the biggest names in college football – including Florida, Florida State, Georgia, LSU, Notre Dame and Oklahoma – tried to change his mind, Chaney not only held firm, but emerged as an ambassador of sorts, encouraging other top prospects to join him in Coral Gables.
"He had the chance to go anywhere in the country ... He picked the University of Miami."

Manny Diaz, Hurricanes Football Coach
His future coach couldn't help but be impressed, on multiple fronts.
"I think his recruiting story tells you two things about him. Number one, he is a special talent. He's got great size, but if you watch his high school tape, he's got the speed to go all the way, so it's a great combination for a running back," Hurricanes coach Manny Diaz said. "But then the other side of it, from the recruiting side, is his character. He had the chance to go anywhere in the country and he knew what he wanted. He picked the University of Miami and then he was a leader in that class, not wavering and helping to recruit others. He's a big part of why that class held so firm. To be honest, they didn't really care what 2019 looked like because they were focused on what 2020 and beyond was going to look like."
What this season will look like, in many ways, is still unknown.
Before arriving at Miami, Chaney expressed hope he'd have that opportunity to one day, play beside former Hurricanes running back DeeJay Dallas, who opted to enter the NFL Draft after rushing for a team-high 693 yards and eight touchdowns last fall.
Now, Dallas will be competing for playing time in Seattle after he was selected by the Seahawks in the fourth round and Cam'ron Harris and Robert Burns are the veterans in a room that includes Chaney, fellow freshman Jaylan Knighton and redshirt sophomore Isaiah Caldwell.
Chaney expects making a name for himself in that group could be a challenge.
He's embracing that, too, especially given what he believes Miami's running backs can do in Lashlee's system.
"I think of all the positions out there, we're the most competitive. We all like to compete. It's basically us getting better every time we're with each other," Chaney said. "All I can say about that is you have to watch to believe it. In due time, things will come into play for everybody."
The opportunity to compete for his hometown college football program wasn't the only reason Chaney – a South Florida native – wanted to be a Hurricane.
He aspires to become a neurologist when his football career is over and the opportunity to earn his degree at Miami isn't something he takes for granted. Neither is the chance to play in front of his incredibly tight-knit family, including his father Donald Sr., his mother Williesha and his grandmother, Gladys Lafrance.
"I was born for this. This is what I'm here to do."

Donald Chaney, Jr., Hurricanes running back
"I want them to see what they instilled in me. I want them to see how it all worked, all that effort they put in me," Chaney shared. "I wanted them to see how I'm going to use everything they taught me on the field and out in the real world. I want them to know the work they put in was amazing. Everything they've taught me, it's all come into play."
As to what it will like to finally wear that helmet Chaney has long waited to wear?
The excitement in his voice is unmistakable.
"I know it's going to give me chills to wear that U. … I was born for this. This is what I'm here to do. This is what I do best. I can't wait to get out there."