A Year of Change for Langlois
A lot can happen in one year.
Emma Langlois of the women's cross country and track and field program reaped the benefits of Miami's newest addition to the coaching staff, Cody Halsey.
The junior from Spring Grove, Ill., made her way to UM with a little push from her dad and interesting timing. A day after Langlois verbally committed to another university, her acceptance into Miami's honors program with an academic scholarship convinced her to switch schools.
"I applied late, but I'm so glad my dad convinced me to do it," Langlois said. "I was always looking around, but Miami was always in the back of my head."
The Miami weather and ideal training weather year-round appealed to Langlois. There was a sense of wonder on what she could accomplish if she had the perfect training conditions compared to the frigid weather in Illinois.
But the transition wasn't as easy as planned.
"I was nervous and a little over my head in my first year, but I did my best every day," Langlois said. "Adjusting to training in Miami's heat compared to racing in the Midwest was completely different. We even had a hurricane my first season, so adjustment to that and racing at a different level was something to get used to."
Langlois overcame an injury, which kept her in a boot for six weeks prior to the start of her second season, and iron deficiency level after becoming a vegan. Her times were not where she thought she should be and instead compared to those during her sophomore year in high school.
"I wanted to contribute to my team as best as I could, but it was discouraging not seeing the results I thought I could do," Langlois said.
Fast forward one season and it's a different story.
Confidence levels were up. Times were down. Results were coming.
"She was doing things in practice that made sense to her, she was doing better and I think our connection together allowed her to trust me from the get go," Halsey said. "I think that's a really big part of an athlete's success. They have to trust and know that their coach is willing to go out of their way and do whatever it takes for their athlete to succeed. She was seeing results that were making sense for what we were doing and she wasn't afraid of the change."
It was the breakthrough she had been hoping for and her relationship with coach Halsey was a huge factor.
"Getting all my injuries sorted out and being under a coach who wasn't going to take not [setting a personal best]as acceptable was awesome," Langlois said. "It was like, you had to either get better or get left, but in the best way possible."
It wasn't a change in dynamics just for Langlois, but as a team as well. The energy was different. The warmups were done an hour before practice, the rehab was done differently, including hot tub time after workouts. The little things were changed for the better and were not questioned.
"I used to show up to practice a little anxious for how hard everything was going to be and how much work we had to do. Now, under Cody, it's been more – we take everything one step at a time and we do way more and get way further," Langlois said.
Langlois was the lone Cane to compete in all five meets during the 2019 cross country season. She opened up the campaign with a top-20 finish and a sub-20 minute 5k time. She followed up with a 17-second personal-best time from her sophomore season in the 6k. Langlois also knocked one minute off her season-opening time in the 5K in Tallahassee, Fla.
Success was still ramping up for the junior, as she was the first to finish for Miami at the ACC Championships with a season-best time of 23:33.1 in the 6K, which ranked as the best time posted by a Cane in two years.
Langlois, the lone Miami female competitor, shed nearly 90 seconds off her PR (22:46.6) in the final race of the season at the NCAA South Regionals.
"Getting to go to regionals and have that extra opportunity to finish on a high note was really motivating for winter training and going into indoor. That feeling of finally getting somewhere with all that work is kind of what's been motivating me through quarantine and through all this time on our own. It does make me really excited – like really really, really excited – to train with Cody for another year and just see how much further we can get."
The success did not slow down after cross country; it only led to more.
Langlois broke into Miami's top five indoor times in both the 3000m and the 5000m. Her time of 10:09.98 ranks as the fifth-fastest in the 3000m, while her time of 18:04.51 is the fourth-fastest in the latter.
"I think her success in cross country led to her success in indoor, which is also going to lead to success this year. She's dreaming bigger and visualizing things that she was never able to visualize before and that comes with the results she had this season," Halsey said.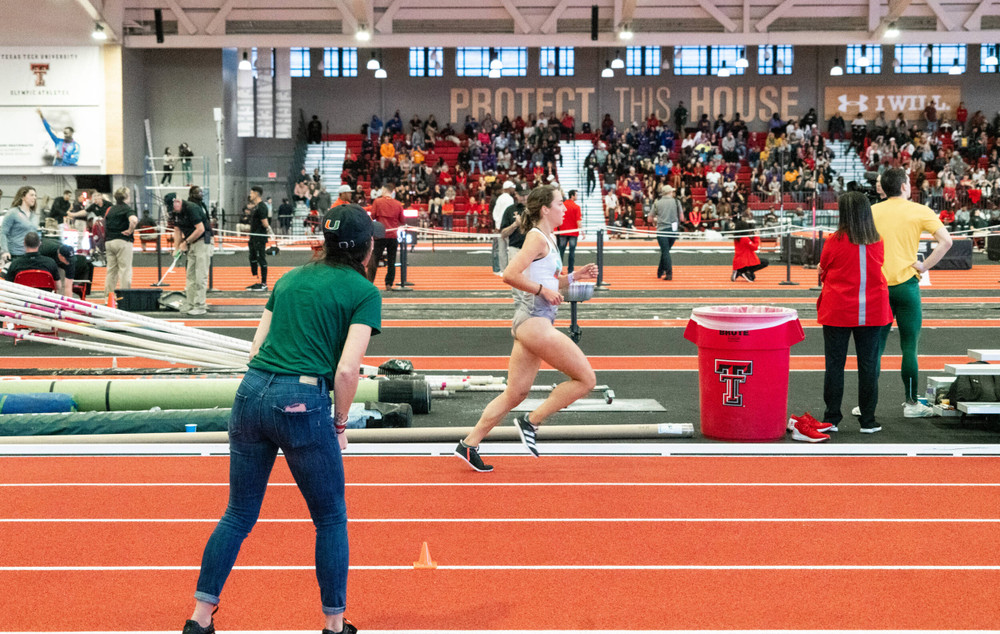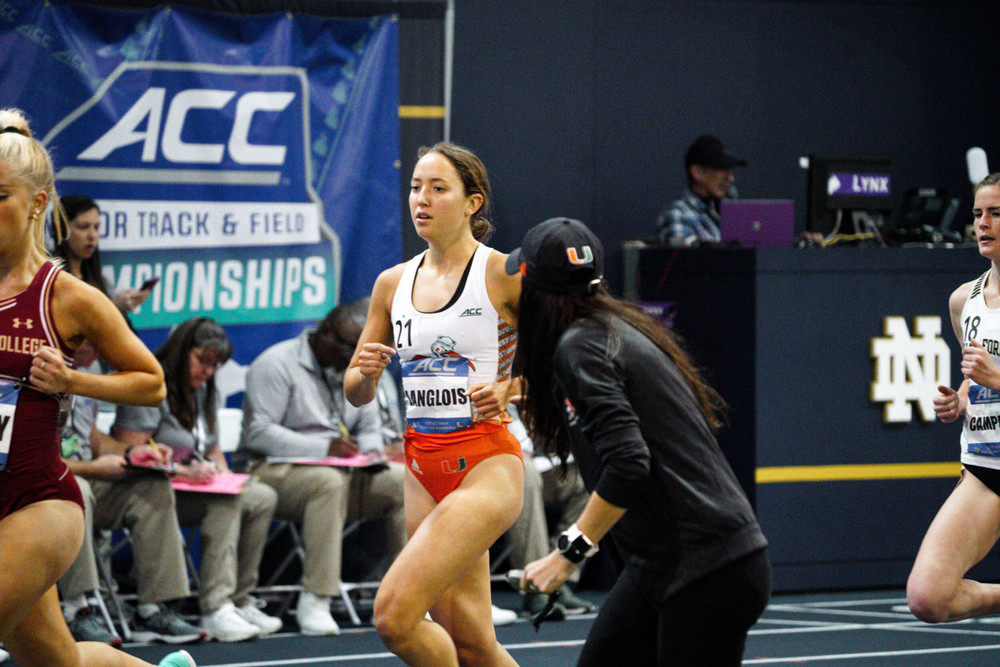 Her next goal is to break into Miami's top 10 in the cross country times and make it to the top time in her track events. Halsey, on the other hand, wants to take the training and success to higher levels. Halsey's goals are set on conference.
"You always want to dream big," Halsey said. "I think Emma has been working really hard and it's a goal for us to be in the top half at conference. That would be my goal for her and to set our standards really high and not be afraid. [Emma] works just as hard as anyone else and I want her to see herself in that role… as a person who can run in that top half at ACC Championships."
The work has proven successful under Halsey. Next season, the volume and intensity will go up after a season of training together. Langlois is set for another competitive season with the Canes, but it is not just her training that Halsey sees growing.
"She already possesses what it takes to be a leader and I don't just see her as a leader for the women's team, but the men's team as well," Halsey said. "She's an advocate for what we're doing differently with our group because she trusts what I'm doing and has seen the results firsthand. She's a really hard worker and I'm excited to see her work with our kids coming in."
Langlois has already taken on the "mom role" of the team and will be one of the only seniors on next season's team. She is prepared to set the precedent and expectations for the incoming class. The responsibility is something she looks forward to.
"It's a different ballgame than high school, so I know I have the responsibility to be that leader," Langlois said. "I don't mind at all. I love being that person for someone, even if it's just one person on the team."
Those leadership role models aren't hard to find for Langlois. When deciding to come to Miami, Director of Track and Field/Cross Country Amy Deem was instantly a factor in her decision. There was something about being around someone "so impressive" that struck Langlois.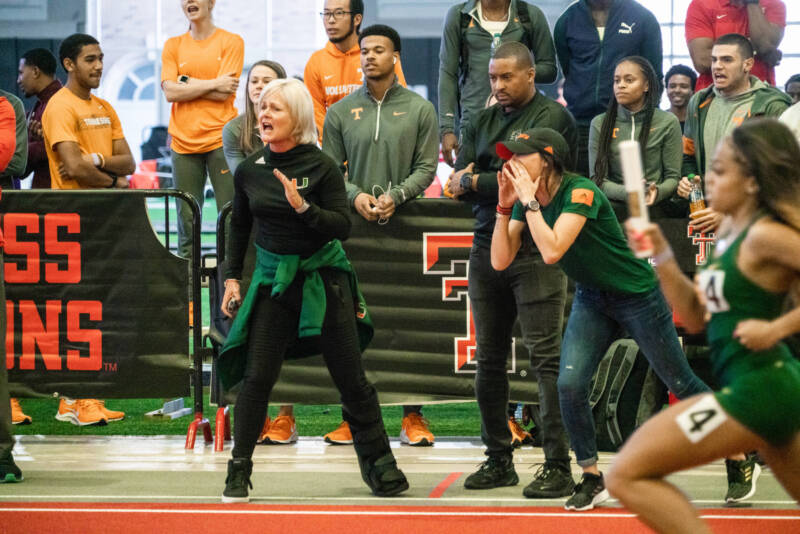 Now, Halsey's addition to the staff has really inspired Langlois to help change the culture of Miami's cross country program.
"I have never had a female coach for cross country," Langlois said. "Obviously, we have coach Deem, who is a great example of strong female coaches being only one of five female head coaches [in charge of both men's and women's Division I track and field programs], but I always think it's amazing to get to work with Cody. She's really opened my eyes to the lack of women in coaching. I look up to her not only as a coach, but as a person."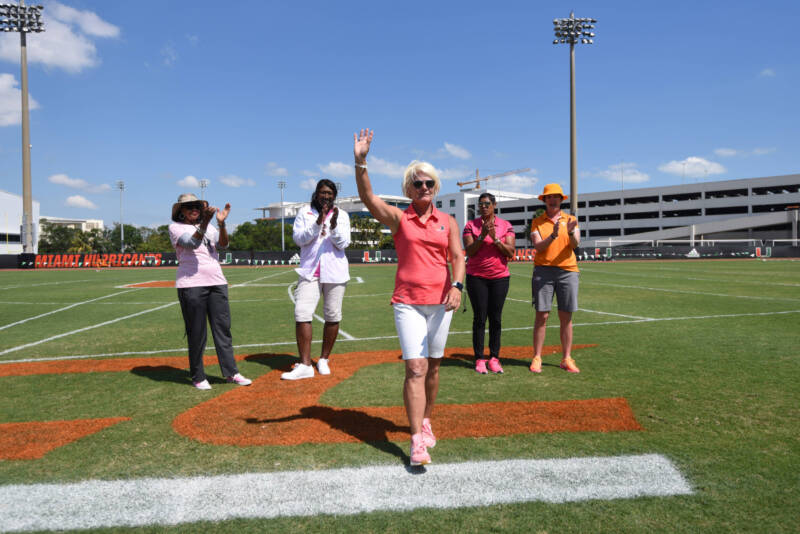 The cross country program is in good hands with the likes of Deem, Halsey and Langlois.