Dorsey: "Surreal" to be on College Football Hall Ballot
The odds are long.
.02 percent.
Of the 5.4 million individuals who have played the sport of college football since the first-ever game between Rutgers and Princeton back in 1869, the number of players inducted into the College Football Hall of Fame is a mere 1,027.
Eight Miami Hurricanes players (and four coaches) include themselves in that distinctive group, including, most recently, Ed Reed, who was inducted in 2018.
So when Ken Dorsey saw his own name on the ballot for the very first time in mid-June, the magnitude of the moment was not lost on him.
"Obviously it's a huge honor. I'm very, very proud and feel very blessed to have my name with some of the greats on there – not only from Miami, but all over college football," Dorsey said. "It's an honor to be nominated and go through that process. I'm very excited about it. It means a lot to me, personally."
For Dorsey, the selection to the newest ballot – which includes 78 FBS players and seven coaches from across the FBS – validates a career overflowing with records and accolades. Fellow Hurricanes greats Ray Lewis and Dan Morgan are also on this year's ballot.
There may not be a school with more history at the position, but to long-time play-by-play voice Joe Zagacki, who called every single one of the quarterback's games from the radio booth, Dorsey is a combination of them all.
"If you were to build a Miami quarterback out of all the great ones who have played here – Bernie Kosar, Steve Walsh, Gino Torretta, Vinny Testaverde, Jim Kelly, George Mira – Ken Dorsey is probably a little bit of all of them."

Joe Zagacki
Dorsey set BIG EAST and school records for touchdown passes (86) and passing yards (9,565). He was honored as the most outstanding offensive player in college football when he was named the Maxwell Award winner in 2001 after Miami's national championship season.
"He was smart…smarter than the opponent," Zagacki said. "He understood the game so well and had a great command of the game. His competitiveness was off the charts. When it came to the moment of truth, he was as good as anybody as making plays when it mattered the most."
Entering his first season as quarterbacks coach for the Buffalo Bills, Dorsey cannot help feeling vindicated.
"Even with all the success that we were able to have at Miami during my time there, at times, people think that you can just plug anyone in at quarterback and no matter what, during that stretch of time, anyone could have gone 38-2 and won a national championship," Dorsey said. "It's fun for me to have that opportunity to be named with the possibility of being in the [CFB Hall of Fame], because that gives a little credence to the fact that I was able to do some good things at the school and bring a lot of pride and a lot of respect to a football school that, for a little while there, took its lumps. It means a lot."
Zagacki elaborated upon Dorsey's self-assessment.
"Being quarterback at the University of Miami is a responsibility every day – to your team, to your school, to your community," Zagacki said. "Dorsey understood it as well as any quarterback at Miami. He embraced it. He embraced the responsibility of being the quarterback at Miami and everything that came with it – all the pressure, all the criticism.
"Because even though he went 38-2, every single day, his name was in the news. There was some argument about Ken Dorsey. 'Was he good enough for Miami?' 'What about his arm strength?' 'Was he just surrounded by great players?' All Dorsey did was win…win and set records. He let his game speak for itself."
And yes, Dorsey knows all about the 17 first-round draft picks and 38 eventual NFL draftees on that historic 2001 team.
"It was a special team. It had a lot to do not only with talent, but with character. You had a lot of guys who were not only talented, but they worked. They put in time," Dorsey said. "The offseason was some of the hardest competition you'd see, just in workouts and seven-on-sevens that me and some other guys put together in the offseason, throwing one-on-one routes, all the stuff we did just as players. At that time, coaches wouldn't script it. Nothing was given to you. You just went out and did it. We had the leadership to do those types of things. That's the first thing."
Zagacki said Dorsey's competitiveness was among the most important factors in his success after arriving in Coral Gables as a "scrawny kid" from Miramonte High School in Orindo, Calif. Dorsey would go on to become a two-time Heisman Trophy finalist and shared BIG EAST Offensive Player of the Year honors with teammate Willis McGahee in 2001.
"He found a marvelous way to connect with his teammates, as a leader," Zagacki said. "He was not bashful. If he played pool, he wanted to win. If he played ping-pong, he wanted to win. If he ran gassers, he wanted to him. You could see it out on the practice field – every down, he wanted to win."
Dorsey's voice fills with emotion when he talks about the number of green and orange jerseys with the number 11 on Saturdays – a tribute to one of the program's greatest quarterbacks in history.
"It's hard to put into words, the emotion when you see something like that," Dorsey said after a pause. "I really love the school. I love the University of Miami. I love the guys I played with. I love the coaches I had. Being there and being a part of Miami really means the world to me."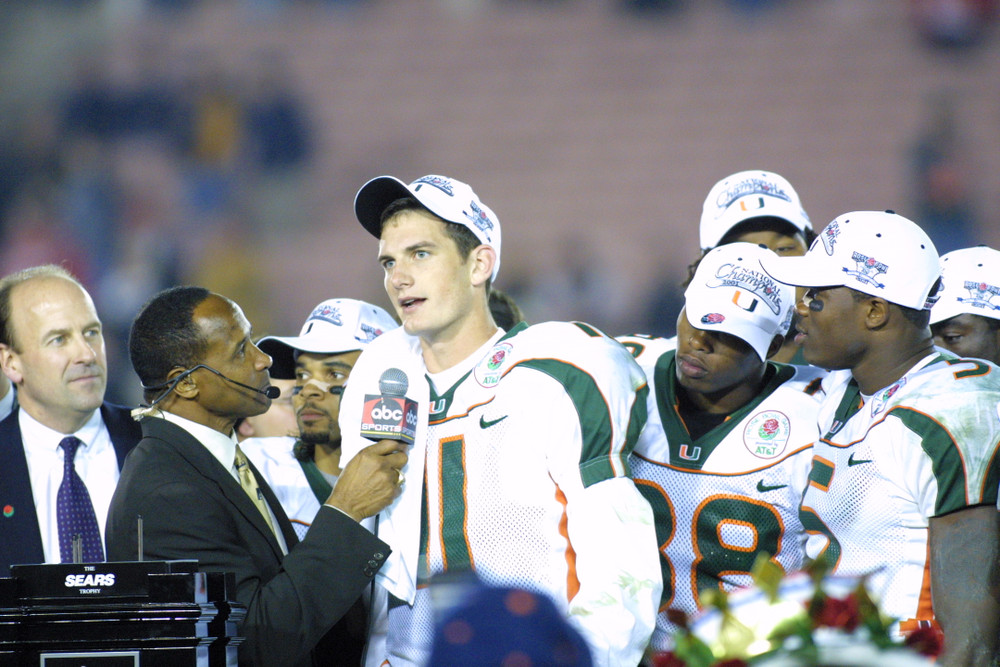 Should Dorsey be enshrined in the College Football Hall of Fame? The question is not yet finished before Zagacki starts upon a fiery response.
"Without question, not even close. He absolutely belongs in the College Football Hall of Fame," Zagacki said. "38-2. He's got a 34-game winning streak. He won a national championship and lost another one in overtime. He was the MVP of the Sugar Bowl, Co-MVP of the Rose Bowl and won a national championship…that's like the grand slam of college football. He left with every BIG EAST and University of Miami passing record known to mankind. What else could he have done?"
For Dorsey, the chance of selection into the sport's pantheon is both tough to comprehend but the ultimate recognition.
"It would be surreal. It's a huge honor to be nominated and even thought of in that light," Dorsey said. "If it does happen, to where you get voted in and become a part of that tradition and fraternity, that would be beyond any dreams I had as a kid or anything like that. It's hard to put the words together to paint a picture of how I feel about being nominated and the potential of getting in. I think part of the fun for me is all the people who think I had nothing to do with our run. It's a lot of fun for me to really have this honor because it goes to show that I think people do respect what you've done and what you were able to accomplish at the University of Miami, where everyone is gunning for you anyways. There's no easy games when you play at Miami, because everyone is out to get you.
"It's a huge honor and words can't paint a picture clear enough to describe what you feel."