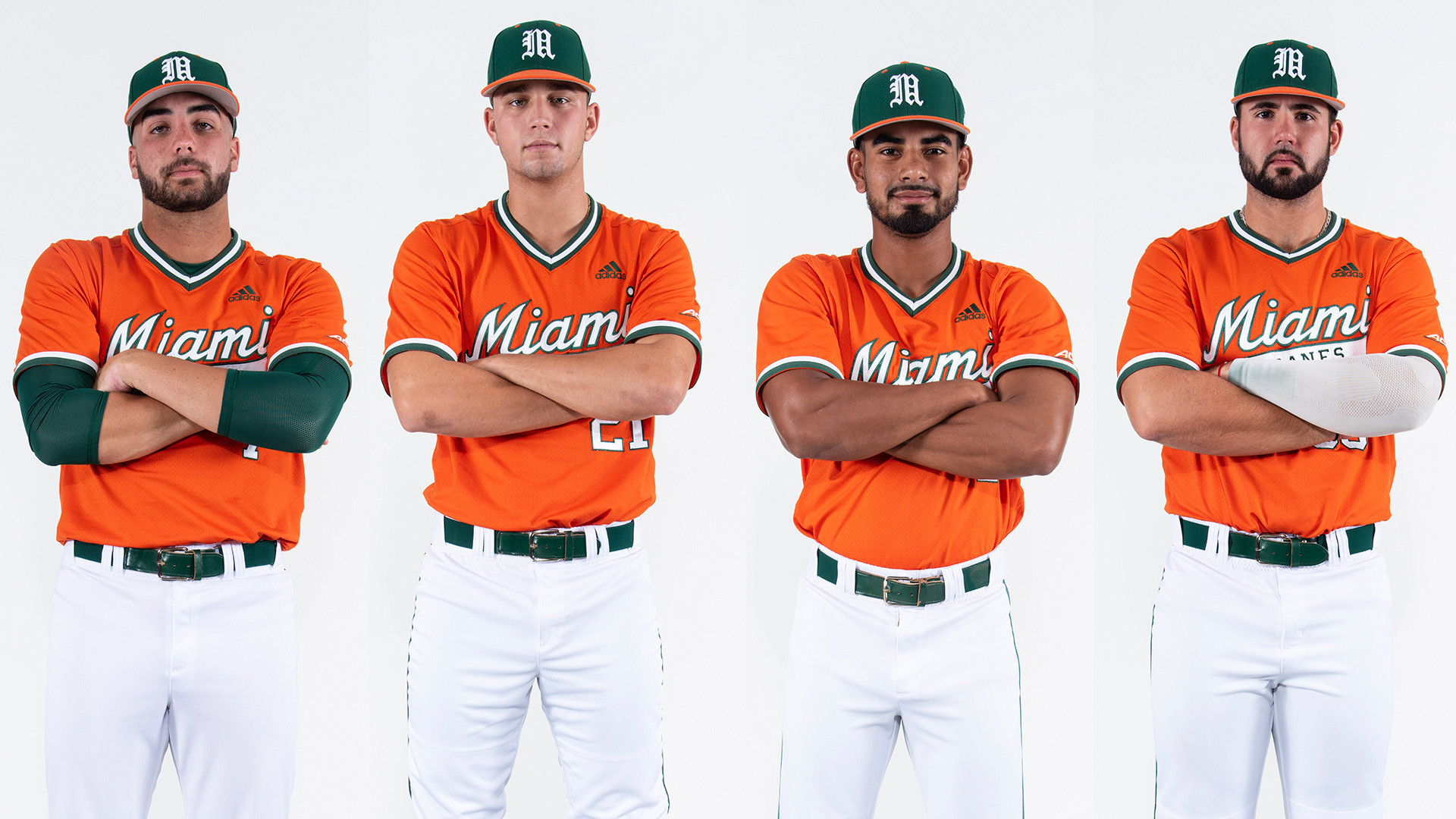 We all know what happened.
The impact of the COVID-19 pandemic put the Major League Baseball season on hold and shortened the 2020 MLB Draft from 40 rounds to just five. Uncertainty loomed for draft-eligible players across the country, including a large group of Hurricanes who were eligible to be picked in the 2020 edition of the annual First-Year Player Draft.
Four Hurricanes were considered top prospects among the thousands of players in the 2020 draft pool, as RHP Chris McMahon, RHP Slade Cecconi, SS Freddy Zamora and 1B Alex Toral were all among MLB Pipeline's Top 200 prospects.
After a whirlwind few months, this year's shortened MLB Draft was held on June 10-11, 2020. Three of Miami's top prospects were taken in the first two rounds, making the Canes one of just three programs to tie for the most picks in the top 60 of the 2020 Draft.
Cecconi was the first Cane off the board, going 33rd overall to the Arizona Diamondbacks. McMahon was the next Hurricane selected, as the Colorado Rockies called his name early in the second round and, seven picks later, Zamora was taken by the Milwaukee Brewers to give the Hurricanes their first draft class with three selections in the top 60 since the 2008 MLB Draft.
But this story is not about the 2020 MLB Draft results. We already know how that played out.
This story gets behind the scenes and gives an insider look at the wild ride four Hurricanes took to get to the 2020 Draft.
And it all begins with the first of many unexpected twists and turns, the beginning of the COVID-19 pandemic and the end of the 2020 college baseball season.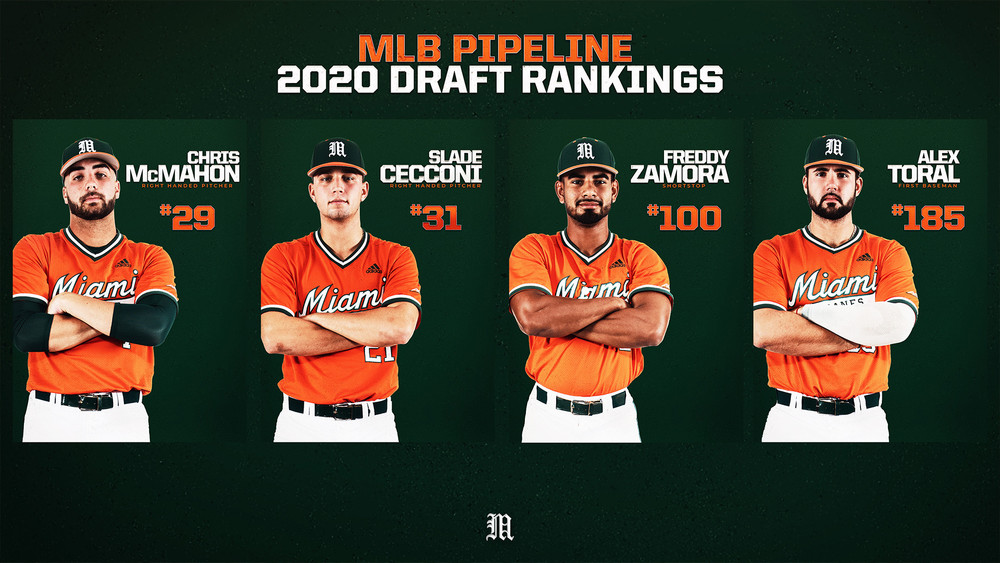 It was March 12, 2020, and the No. 7 Canes had just won a top-15 matchup at No. 12 UCF the night before. Miami was set to fly to Blacksburg, Va., that afternoon in advance of a weekend series against an ACC Coastal division foe.
Instead of heading to the airport, the Canes hopped on the bus and headed back south towards Coral Gables. That weekend's series was canceled and the rest of the season was in doubt.
A couple hours later, while getting off the bus at a rest stop, dream-shattering news broke.
The NCAA canceled all athletic-related activities — including NCAA championships such as the College World Series. The supremely talented Hurricanes would not get an opportunity to travel to Omaha, Neb., like they had hoped.
After arriving in Coral Gables later that night, the team met in Miami's clubhouse and head coach Gino DiMare gave the team guidance ahead of the weekend and told everyone they would reconvene on Tuesday to figure out how they would proceed with the remainder of the season.
That Tuesday meeting would usher in a new wave of unknown, as the Atlantic Coast Conference announced that it had canceled all athletics through the end of the 2019-20 academic year. It also was the first of many held via Zoom, a video communications platform that replaced team meetings, classes and so many other parts of the Canes' daily lives.
Miami's season was over and many questions loomed unanswered.
What would happen with the student-athletes? How would classes continue? What's happening with the Draft?
As time passed, all of those questions were answered.
In late March, the NCAA decided to give student-athletes in spring sports across the country another year of eligibility after the coronavirus outbreak cut short the 2020 season.
Miami's classes shifted entirely online, with students learning via Zoom for the remainder of the semester.
Cecconi, McMahon, Zamora, Toral and their teammates focused on finishing up the spring semester. They all returned home and took classes on Zoom and worked out however they could.
"We have like a home gym set up in my garage, where we were able to work out and stuff," Cecconi said. "I've been throwing with one of my buddies here, too. I've been able to get my work in. It's just been it's been very different."
Much like Cecconi, Toral and McMahon worked out in home gyms or at a friend's home gym. They formed a routine and stuck to it to help stay ready and prepare for the MLB Draft and any potential baseball that may be played.
But Zamora had a unique experience from his fellow teammates. The junior hurt his knee days before the start of the 2020 season and required surgery to repair the injury.
He was diligently rehabbing his knee with team physical therapist, Dr. Julian Rivera, following a successful surgery. But the shortstop's rehab process was severely affected early on by the COVID-19 pandemic.
"I had to start doing my rehab at my house, but I would call Julian on the phone through Zoom," Zamora said. "We would have Zoom meetings and he would like run me through the rehab that day and I would do it in my garage. He brought me equipment over also to help me out in this process, so I was able to do all the exercises and workouts.
"It's a little different," Zamora said in late May of Zoom rehab sessions. "I think the intensity is a little toned down just because he's not there and it wasn't like hands on. But I still feel like I got the most out of it and it still helped me and my leg you know it's still got me healthy and running again. We've been able to meet in person again for the past three weeks, so I've been going to see him in the Hecht."
While most of the unknown scenarios had been settled, one question remained unanswered.
What would the 2020 Draft look like?
In early May, Major League Baseball officially announced that it was cutting its amateur draft down from 40 rounds to just five. The news was not unexpected, as rumors of a reduced draft swirled ahead of the official announcement. But the official word was not any easier to accept once it finally was made public.
"I was kind of disappointed, honestly. I mean, obviously, I don't think it's going to affect me too much personally, but, at the end of the day, I'm not the only one that was working hard for the draft this year," McMahon said. "A lot of my teammates were working hard for the draft, so for them to cut it from 40 rounds to five is a lot. I was hoping for 10 just so I could see more my teammates' names get called after all the work they put in and have it get paid off."
While McMahon and Cecconi were considered consensus top 40 prospects, Zamora was ranked No. 100 and Toral No. 185 by MLB Pipeline and the shortened draft put their draft dreams in doubt and affected so many of their teammates, too.
"My initial first reaction was that it's not good, especially for many people on our team that I think have the ability to play professional baseball but might have that pushed back a year or so just because of their current situations," Toral said. "Personally, I was like I'm definitely in the bubble range where I could be drafted. I know I'm not a for sure guy like McMahon would be or Slade, but I have no regrets. I think I've shown to this point what I can do."
With no games left to be played and a shortened draft set to take place in a month, MLB organizations and prospective draft picks had to adjust on the fly to create a virtual and remote pre-draft process. Fortunately for Miami's draft-eligible players, Zoom meetings had become the norm and they adjusted quickly to the new way to connect with MLB personnel.
"Obviously, I'd rather do my talking on the mound," McMahon said. "I'm not a big guy that likes to talk about myself, or all the questions are on me. I typically don't like that, but that's kind of how the process is going right now and I kind of have to face it. I just wish I could be playing with my guys right now, playing like teammates. I miss them a lot. I love going to the mound with "Hurricanes" across my chest. I was looking forward to being at the ACC tournament right now, and hopefully be gearing up to host the regional in front of our fans at The Light, but it is what it is."
Zoom meetings brought about a totally new experience for Miami's top draft prospects, as they were able to meet with many more teams and personnel than they would have under normal circumstances.
"It has been different just because in high school I was able to have some of the in-home meetings and at Miami we have the in-house meetings at The Light before the season," Cecconi said. "Doing all of that over Zoom has definitely been different, but it's been nice because we've been able to have more people on some of the calls like some of the higher level guys that may not be able to fly in for certain meetings. Being able to talk to them, get to know them and let them get to know me is great so, in a way, it's been kind of nice to do the Zoom calls and have the opportunity to get to know more people in organizations and stuff like that."
It also exposed them to lots of off the wall questions from teams are looking to get to know as much about these gifted baseball players before they select them and make a large financial investment in their future.
"I think some of the teams have team psychologists and want to look into the mental part of the game, so all those types of people have kind of some weird questions that you've never heard and sometimes they don't really pertain to baseball," McMahon said. "So there have been a few questions that kind of surprised me, but I do the best I can to answer it on the spot. I've gotten things like, 'tell us something funny or embarrassing about you.' I can't always think of something like that on the spot, but they ask you some things just to see how you'll react."
With all the pressure of pre-draft meetings and the unknown of what will happen with the draft, each of Miami's top draft prospects stuck to their routine to stay focused. But they also found a way to disconnect from the pre-draft process and stay sane.
"I was big into golf before this whole thing happened," McMahon said. "Typically when I went home in the summer before the fall semester started, I tried to get out with my dad as much as I could. Thank God they opened golf courses up here. If they didn't, I don't really know what I would do. I mean I shoot around in the driveway a little bit, but I've played a lot of golf. It has given me something to do. The weather is turning up here, which is nice. It was a beautiful day today, 70 degrees. Golf has always been something I've loved to do, especially with my dad. And now it's something that gets me out of the house and gets me doing something other than just baseball and working out."
Toral and Cecconi often spent their free time fishing and the duo would send each other photos of their catches, competing to see who could catch the most and the biggest fish on any given day.
"It gives me an opportunity to kind of get away from whatever's going on in life or in the world right now like the coronavirus and things like that," Toral said. "It gets me away and you get to be with whoever's on your boat at that time and obviously creates better relationships with who you have on the boat. It just gives you time to relax and take a deep breath and say, 'this is my time to enjoy.'"
Zamora, who in addition to his rehab was doing separate workouts for his upper body to maintain overall strength, turned to a favorite pastime to get his mind off of everything that surrounded the draft: Call of Duty.
"I play with my teammates," Zamora said. "We all play and we have fun with it. It brings back that joy we had when we were on the field. It helps us create that atmosphere that we had when we used to be there and having fun and talking. It just brings some of that back. It's a video game, but it helps in the situation we're in right now."
The excitement multiplied as the days and weeks passed and the 2020 Draft crept closer.
McMahon and Cecconi were projected to be top picks, while Zamora and Toral factored in as talented options for Day 2. Regardless of where mock drafts had them going, all four players had no idea what would happen once the draft began.
"I'm feeling a lot of things. Definitely some nerves. A little anxious, obviously," McMahon said the day before the draft. "We've been waiting for a while now, but it seems like ever since we got to the 72-hour mark it's been like, 'alright, it's here.' I'm trying to think about it too much. It's one of those things where I don't have too much control over it, so I can't get myself worked up about it. But it's exciting. I'm nervous, definitely a little anxious. But at the end of the day, I know that by the end of the day Thursday, I'm going to be happy. The next step in my baseball career is going to happen, which I can only be fortunate enough to keep playing the game. It is what it is, so I just take it hour-by-hour, day-by-day and we'll see what happens."
"To be honest with you, I'm going to be a last minute type of deal," Toral said. "I already talked to my advisor and told him I'm comfortable going back to school. It's the best of both worlds. I'm in a win-win situation and, no matter what happens, I feel like I am in a good position to succeed at life in general because of that. Obviously, I'm blessed to be in the position I am. To have my coaches wanting me back with open arms if the draft doesn't work out and, if it does work out, somebody gave me an opportunity to pursue my professional baseball career."
With their nervousness reaching an all-time high as the draft approached, the four Canes turned to each other to help navigate the uncertainty of the upcoming draft.
"There's a handful of us that are looking to get picked in the next few days and start that next chapter of our career," McMahon said. "We've been keeping in touch and making sure we're alright and we're doing alright and just being excited for each other. At the end of the day, we've worked so hard for this day, this moment for the last three years together. I think that's kind of the thing that people miss. The camaraderie in the whole group and doing everything together has been missed so much. We spent so much time together outside of the baseball game and what people usually see is just on the field. We spend so much time together off the field and we're just trying to do as much as we can right now by just keeping in touch and supporting each other."
All four Canes originally hoped to attend the draft in person this year, as Major League Baseball was set to host the annual event in Omaha around the College World Series and every Miami player anticipated being there with their team trying to make their dreams of winning a national championship and being chosen by an MLB team a reality.
"I think everyone kind of saw the team we had on both sides of the ball, offensively and defensively and, obviously, the rotation we had on the weekend and the arms we had coming at you," McMahon said. "It's tough to say how far we could have gone. It's definitely a national championship caliber team, in my opinion. But it's just at that point where you'll kind of never know, which kind of stinks a little bit, but I think the team we had was special."
"Right now, we'd be in Omaha, so it's tough to think about," Cecconi said the day before the draft. "But we got to make the best of the situation and everybody else is going through it. It's not just us."
At 7 p.m., ET on June 10, MLB commissioner Rob Manfred officially kicked off the MLB Draft and the four Hurricanes joined their teammates and amateur players across the country eagerly waiting to hear their name called.
Cecconi's wait ended 33 picks into Day 1, as the Arizona Diamondbacks made the draft-eligible sophomore the 29th Hurricane to be selected in the first round of an MLB Draft.
"It was awesome," Cecconi said. "It was definitely a roller coaster of emotions throughout but it was great. It was an unforgettable experience. There were calls throughout the night about different things from different teams, but the one that mattered most was the one with Arizona. I couldn't be happier with where I ended up."
McMahon, who was also projected to go on Day 1, surprisingly did not get selected on the opening night of the Draft and that did not sit will with the second team All-American.
"I was not happy Wednesday night," McMahon said. "It was hard to sleep, but you've got to just keep going, keep proving people wrong and show them that I didn't deserve to slide of that and I plan on doing that."
When the draft resumed on June 11, his wait would not last long. The Colorado Rockies selected the West Chester, Pa., native with the 46th overall pick in the 2020 Draft.
"It was a big sense of relief, honestly," McMahon said. "With all the waiting that was going on in the last couple of days, it was a big relief. That moment was awesome. To have my parents and my grandparents there and a lot of my buddies from high school that have stuck out with me for since seventh, eighth grade and even before that, all the way to first grade, it was a really cool moment. This is the day I've been waiting for for a long, long time and it seems like even longer with this whole pandemic going on. But the moment finally came and I'm ready to go."
Seven picks later, the Brewers chose Zamora and the Canes had three picks in the top 55.
"It was surreal," Zamora said. "Just all of the hard work and dedication that I've put in came down to that one moment and it was amazing."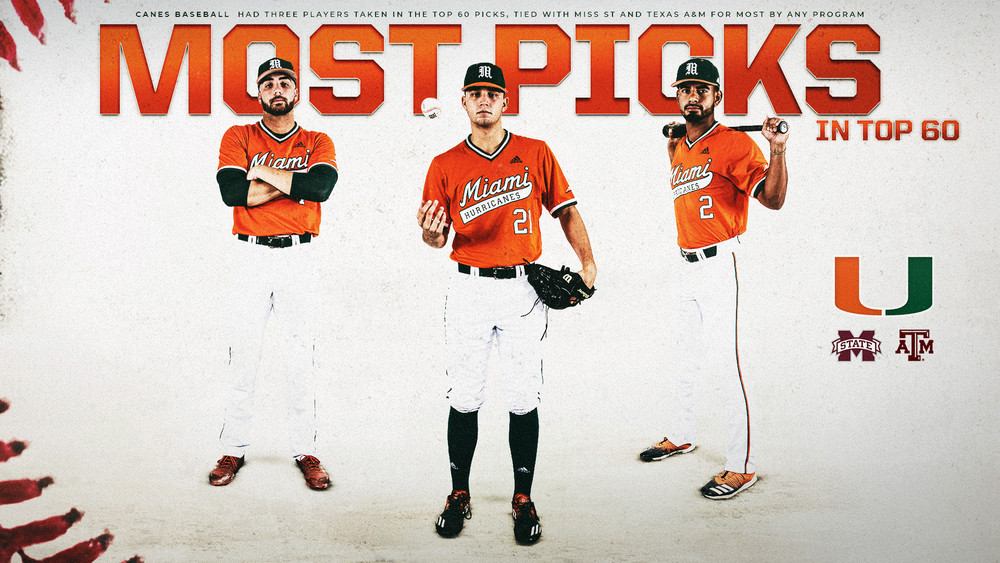 With three Canes gone, Toral was the next name many expected to hear. The herculean first baseman was third in the country as a sophomore with 24 home runs and was off to another strong start in 2020.
But the picks and rounds passed and Toral's name was never called. One of the most popular Hurricanes in recent history was headed back to Coral Gables for another year and he could not be happier about it.
"I was excited the whole time just watching a bunch of guys I know get picked," Toral said. "Obviously, we had three guys on our team get selected and just a bunch of other guys that I played summer ball with or may have been in events with in high school. It was great to see them get to live out their dreams. It was an exciting two days. At the same time, I was looking forward to hear my name called, but things don't always work out the way we want them to. I'm excited to be back at Miami."
While his professional dreams are on hold for another year, Toral is thankful for the opportunities Miami has given him on and off the baseball field and he is excited to help lead the Hurricanes back to Omaha.
"Coming into college, I felt like I kept my circle close and I hadn't really changed friends," Toral said. "And coming to college and meeting a bunch of guys that I would have never met if I hadn't showed up to campus and just being able to play for The U in my backyard, those are memories that I'm definitely going to hold tight to my heart and definitely keep in my brain for as long as I can. I think that being able to be a part of this program and associate with the guys I've played with has truly been something special. I definitely always argue for the rest of my life that there's nothing better than being a Cane."