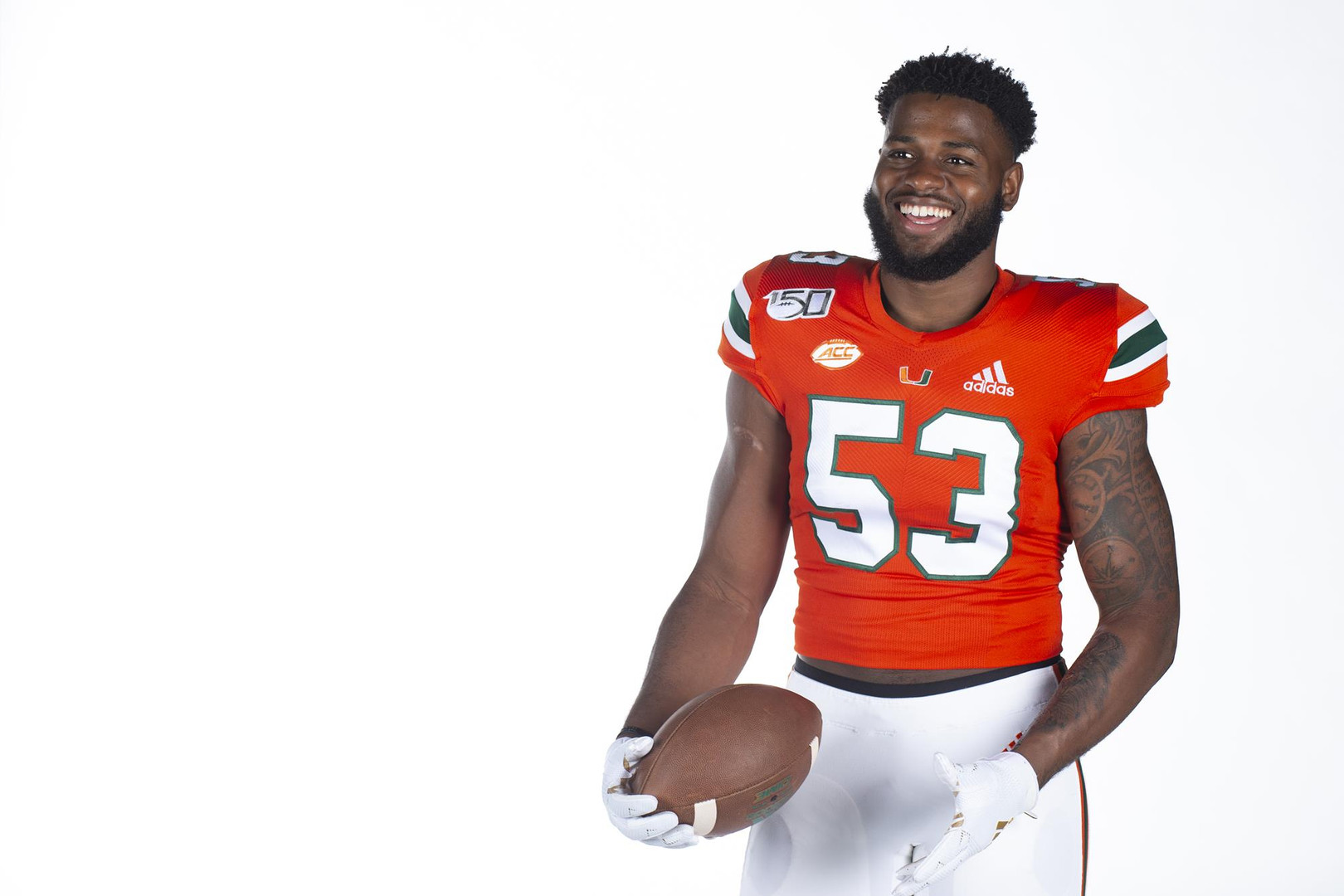 CORAL GABLES, Fla. – The story has become the stuff of family lore, a tale Thomas McCloud loves to share with anyone and everyone who will listen.
"When Zach started walking at 9-months old, it was so-called walking. To me, he never walked," Thomas McCloud laughed. "He ran. He always ran. And I was a little scared for him, because, you know, other kids were walking. But he showed me right away he was an athlete."
Two decades later, Zach McCloud is still an athlete, still running. And when he takes the field for his final season at Miami, he figures to be the heart-and-soul leader of a Hurricanes defense filled with talented playmakers.
To his parents, that reality is still somewhat awe-inspiring, especially given their initial reservations when McCloud – now a 22-year-old, 6-foot-2, 235-pound linebacker – first began playing the game as a middle schooler in Palm Beach County.
It didn't take long, though, for Thomas McCloud and his wife, Victoria, to see their son had not only the talent to be a force on the gridiron, but a leader off of it.
"I'd take him to the park, try to get him in shape and when he started playing, I saw I had nothing to fear. He was a football player," Thomas McCloud said. "He was just running over people. There wasn't anything to fear. If anything, the other parents might have been a little scared when they saw him."
Added Victoria McCloud, "We always carry that protectiveness of wanting to protect our kids, no matter what age they are. I was nervous, but it was something he really, really loved. He was passionate about it. He wanted to learn everything about it. There was no way to stop it."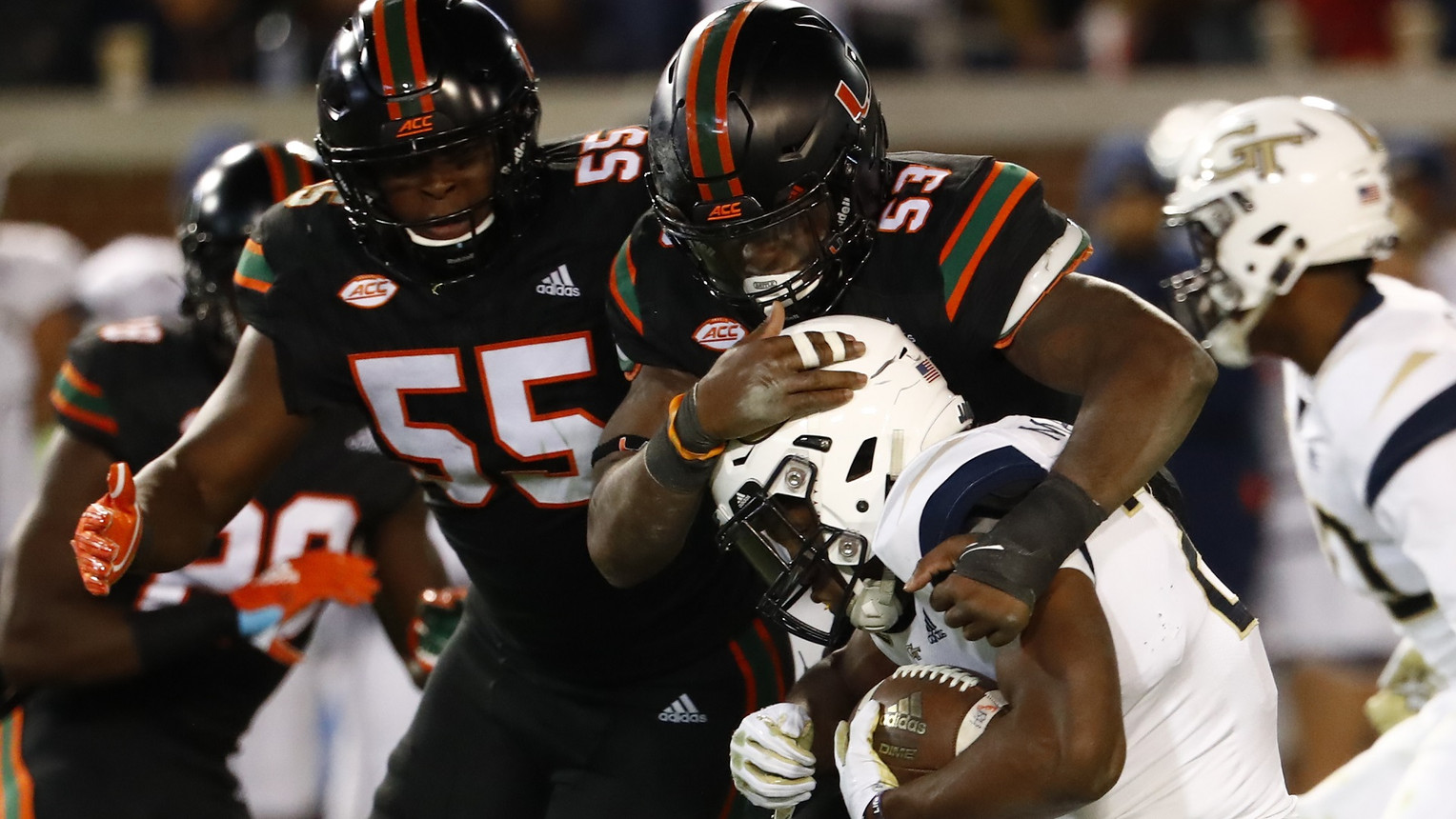 McCloud has played in 43 games for Miami, starting 32 of them.
Eventually, that eye-popping ability in the McCloud's neighborhood parks translated to an impressive career at Santaluces High, where Zach McCloud became a four-star prospect who quickly emerged as one of the nation's top outside linebackers.
Miami, of course, came calling. So, too, did Auburn, Alabama, Florida, Florida State and a host of other major college football programs. And though a coaching change in Coral Gables in 2015 prompted McCloud to wonder if Miami was really the best fit for him, heartfelt conversations with future teammates Shaquille Quarterman and Michael Pinckney helped him see it was.
The trio, and McCloud in particular, couldn't have imagined all that would come next.
That ensuing fall, McCloud, Quarterman and Pinckney made history when they became the first trio of freshmen to start at linebacker for the Hurricanes. For three years, together, they helped anchor a defense that emerged as one of the nation's best under then-defensive coordinator Manny Diaz.
But while Quarterman and Pinckney were able to stay relatively healthy during their college careers and put up impressive numbers during their time in orange and green, McCloud dealt with a series of injuries and position changes that kept him, he felt, from performing at the level he envisioned for himself.
Unable to find the consistency he wanted, as a senior, McCloud chose a rather unorthodox path. He opted to sideline himself, redshirt and focus on getting better.
"I took matters into my own hands in that sense. I saw things going a way that I didn't like and in that particular situation, I was able to do something to be able to change and give myself more time to develop mentally and get myself ready physically," McCloud said. "I wanted to give myself more time to become who I saw myself being. I feel like that was just out of my grasp, that I had the tools to do the job, but I wasn't all the way there yet."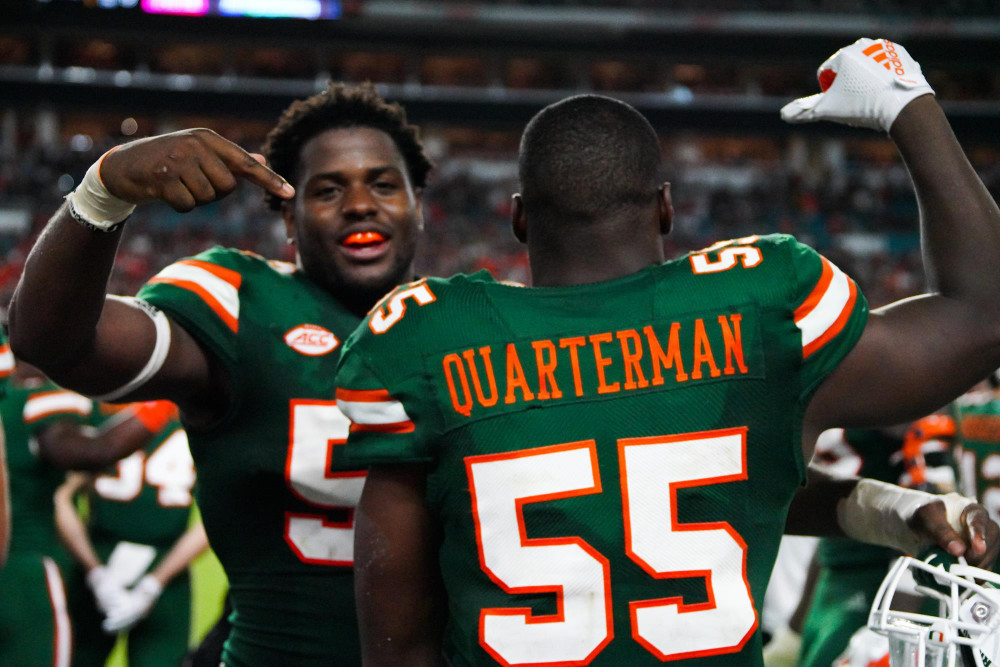 It was a decision Diaz – now his head coach – and defensive coordinator Blake Baker supported.
And when he approached his two best friends and former roommates to share the news, Quarterman and Pinckney, again, provided reassurance McCloud was doing the right thing.
No, the three linebackers wouldn't finish their Miami careers together, as they'd long imagined they would, but each saw the benefits for both McCloud himself and the Hurricanes as a whole.
"I think the chip on his shoulder is that much bigger now. Zach is a bad, bad man and I know he feels almost forgotten," said Quarterman, who after a record-breaking senior season was drafted in April by his hometown Jacksonville Jaguars. "But I told him, 'Zach, I haven't forgotten. I know who Zach McCloud is and bro, it's up to you now. It's your time. It's all you and with those young guys behind you, you're going to have everything you need."
Once McCloud made his decision public and the Hurricanes forged on last fall, the linebacker threw himself into early-morning developmental workouts with some of his younger teammates and Miami strength and conditioning director David Feeley.
He embraced his role as the veteran amongst the newest Hurricanes, often serving as a conduit between his teammates and the strength staff, another voice helping pass on what was expected both in the weight room and on the practice field.
And as the Hurricanes went through their ACC schedule, McCloud became a force on Miami's scout team, his three years of experience providing a challenge for the offense in practice.
On Saturdays, he'd watch – in uniform – from the sideline, providing support and encouragement whenever his teammates needed it, knowing always, he could be pressed into duty at any time.
His approach and his mindset impressed those around him, including his coach.
"Zach is someone who cares deeply about the people he's around and he wants to use his voice to have a positive impact on others. Whether it's on our team, on campus or in the community, he's someone that is going to use his influence to help others succeed."

Manny Diaz
"Zach is someone who cares deeply about the people he's around and he wants to use his voice to have a positive impact on others," Diaz said. "Whether it's on our team, on campus or in the community, he's someone that is going to use his influence to help others succeed."
Off the field, McCloud continued working toward his master's degree and doing his best to effect change in the South Florida community as a member of Miami's Student-Athlete Advisory Committee.
It wasn't always easy and it wasn't exactly the senior year he pictured, but with all of that now behind him, McCloud is ready to put together the kind of season he envisioned last fall.
"The linebacker is the quarterback of the defense. It's a different level of responsibility and getting to have that back on me is something I'm trying to get back to," McCloud said. "I want to feel like I'm back in my linebacker mode, if that makes sense. … I want to be comfortable and smooth and really show my development from game to game. I know it's not going to come all at once. It's not one camp that will make me a superstar. I'd be more than happy with showing that I was progressing every single game than if I just peaked at the start of the season."
Those who know him best expect nothing less.
Quarterman has already told McCloud he'll be keeping watch from Jacksonville. His parents plan to be there every step of the way, as they have been all along. And Diaz? Diaz is confident McCloud will continue leading and inspiring, much as he has throughout his Miami career.
"We haven't had a lot of fifth-year seniors and he's a guy that came in the same day most of our defensive staff came in. He's been here since the genesis of this defense and he's helped us establish our identity early on," Diaz said. "He fit right into that because Zach is a very tough, very aggressive, and very physical football player. I think as any defensive coach would say, every year you have to rebuild that identity, so to have a guy that's a leader like Zach, who prides himself on being one of the toughest guys on the team, is a huge benefit."
Added Victoria McCloud, succinctly, "I hope this season exceeds his wildest dreams."