For Arteaga, It's All About Family
Miami's clubhouse was filled with emotion.
The Hurricanes' triumphant return to the NCAA postseason was cut short by Mississippi State in the 2019 Starkville Regional.
Around him, J.D. Arteaga saw disappointed, hurting players — the same players who'd been at his side during some of his family's darkest hours in the days, weeks and months after his son, 16-year-old Ari, had been killed in a single-car accident months earlier.
Arteaga wanted to share a message with his baseball family.
"Being around the team and the guys, they'll never know how much they helped," Arteaga said. "I still remember the last time he was at the stadium."
Throughout the season, the Hurricanes had the younger Arteaga on their minds at all times.
Miami honored Ari with the initials "AA" on its hats and wristbands. Their helmets bore an emblem that represented the Ari Arteaga Foundation, which was created to shine Ari's light on people who are in need.
"I don't really remember what he said too much but I remember breaking down crying as soon as he started talking," said Chris McMahon, who was selected by the Colorado Rockies in the second-round of the 2020 MLB Draft earlier this month. "You saw a special bond between J.D. and Ari. They were always smiling together, cracking jokes. Whenever they were together, it was always joy and smiling."
Ari grew up at Mark Light Field.
After school, he would race to The Light. Ari watched practice and hung out with the Hurricanes in the dugout. During workouts, he'd be in the batting cages always with a smile on his face, joking around.
He was attached to his father's hip before practices and games. If he wasn't doing homework in the baseball office during games, he'd try sneaking into the dugout.
Even after long days, Ari couldn't get enough. He'd ask his father to throw him batting practice and J.D. always obliged, even if he had thrown thousands of pitches during practice.
"He ran around the stadium like he owned the place," Arteaga said. "He loved being there. He'd always sneak into the backdoor to get milkshakes when the line was down the left field line."
Their relationship was much deeper than baseball.
They'd do anything and everything together. The two were nearly inseparable.
Ari was a spitting image of J.D. He emulated his father.
"They had a beautiful relationship. Ari loved his father very much," J.D.'s wife, Ysha Arteaga, said. "He looked up to him. He admired how faithful J.D. is. He was like his shadow. Wherever he went, Ari was there."
Their relationship was a kind of family tradition, established long before Ari was born.
J.D. and his father, Juan Diego Arteaga, Sr., were just as close.
Arteaga, Sr., who was born in Cuba and possessed a lifelong love of baseball, coached and mentored his son and so many others on the diamond and in life.
On Saturdays, Arteaga and his father would leave the house for practice at 7:30 a.m. For more than two hours, they'd pick up kids all around Miami.
"My dad was a father figure to so many kids," Arteaga said. "He helped so many kids that didn't have a father or their fathers were working multiple jobs and needed help getting to practice, getting equipment or shoes, whatever they might need. It had a huge impact on me and my life."
He saw the way his father cared for people. It was something he tried to emulate.
During J.D.'s sophomore year at Westminster Christian, his father suffered a heart attack and died in the stands at a football game.
Arteaga turned to baseball as an escape. With his father always on his mind, he began to shine in between the lines.
Growing up in Miami, Arteaga idolized Hurricanes baseball. As a kid, he dreamt of what it would be like to be a Hurricane.
"A bunch of the kids, we'd jump the fence and sneak into the games," Arteaga recalled. "There was a gentleman who would chase us out of the stadium. After the sixth inning, he'd stop chasing us because it was free admission."
After a standout career at Westminster Christian, Arteaga enrolled at Miami as a walk-on first baseman.
However, an ACL injury during his senior year required surgery after graduation. As a freshman at UM, Arteaga wouldn't be able to run.
"I wanted to make sure I made the team," he said. "I didn't want to talk about redshirting. I told them let me pitch. I never swung the bat again, until I got to Double-A."
The rest is history.
Arteaga would go on to become one of the greatest pitchers in Hurricanes history.
As a freshman, he posted a 9-1 record with a 2.74 ERA, moving from the bullpen to the Friday night starter. His first start came against crosstown foe FIU on a Tuesday evening at Mark Light Field before becoming the ace against rival Florida State and future No. 1 overall pick Paul Wilson.
He continued to dazzle as a sophomore, tallying 11 wins and a 3.63 ERA, while tossing two complete games across his 20 appearances. One year later, he was selected in the 54th round of the 1995 MLB June Amateur Draft by the Pittsburgh Pirates but elected to return to Miami for his senior season.
After a career-best 12-1 mark as a junior, he put together another 11-win campaign, leading the Hurricanes in strikeouts and innings pitched as a senior. He helped Miami reach the College World Series for the fourth straight season. Arteaga was drafted by the New York Mets in the 26th round and began his professional career.
He left Miami as the program's all-time wins leader with 43 and the all-time starts leader with 72. His 458.1 innings pitched ranks second in a career while his 343 career strikeouts sit fifth.
"Something that drives me is proving people wrong," Arteaga said. "I wasn't on a scholarship. I remember one of my high school assistant coaches telling me, 'they're getting you for nothing, they're going to treat you like nothing.' I told him, 'they're getting me for nothing, but I'm going to make sure they treat me like gold.' That was my motivating factor."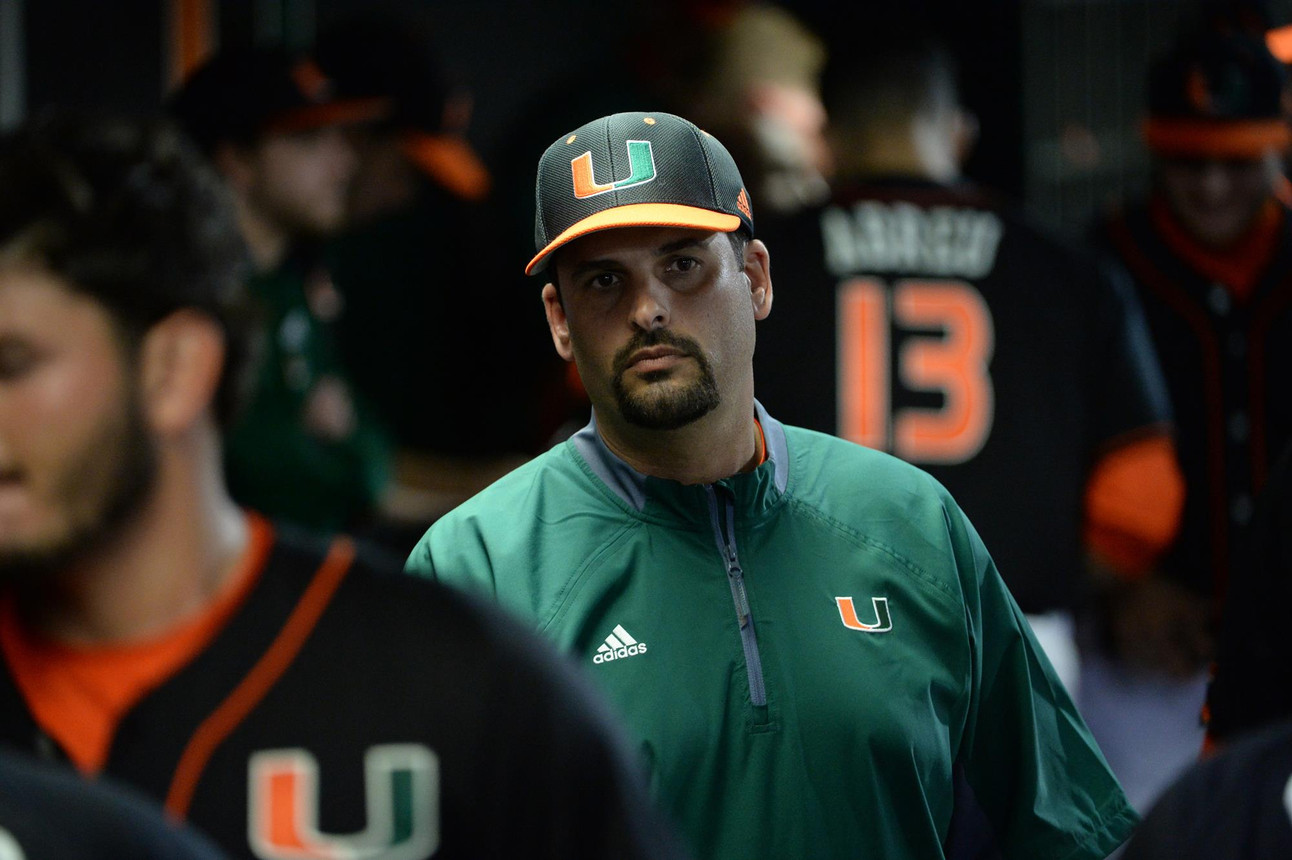 Arteaga spent four seasons in the Mets organization, reaching Triple-A, before playing two years for the Astros' Triple-A Franchise New Orleans Zephyrs.
Every offseason, he returned to Miami and worked out at Mark Light Field.
In 2003, after throwing a bullpen session, he spoke with two-time national champion head coach Jim Morris about his goals after his playing days.
Arteaga, who had signed with the Texas Rangers, told Morris he wanted to coach after his career was over.
Morris told him if there was anything he could do to help to reach out.
However, there was one caveat.
"I'm not leaving the city of Miami," he told Morris.
Arteaga went to Arizona to prepare for the upcoming season with the Rangers. A few weeks into spring training, Morris called him.
The Hurricanes decided to go a different direction with their pitching coach and Morris wanted Arteaga.
The next day, Ysha and Ari were scheduled to fly out to visit JD for Ari's birthday. Instead, Morris offered him the job and something even more special.
"I told him, 'instead of him flying across the country to see you on his birthday, you get on a plane and see him in Miami,'" Morris recalled. "Whatever time it is you call me. You call me whenever and let me know."
Arteaga called Morris in the middle of the night and accepted the position.
The next morning, he was on a plane back to Miami and was introduced as the Hurricanes' pitching coach on March 4, 2003, nine games deep into the season.
One day later, Arteaga was at practice and flew with the team later that week to Tennessee.
His impact was felt immediately.
"He was calling pitches and he didn't even know the signs," Morris recalled. "J.D. was telling [Greg] Lovelady what to signal to the pitchers to throw and we swept the series."
In his first full season as an assistant, Miami's pitchers produced the best team ERA (3.73) since 2000. That same year, J.D. Cockroft became the first Hurricanes' hurler under Arteaga's tutelage chosen in the MLB draft.
His pitchers continued to improve.
Four pitchers from Arteaga's 2005 staff signed pro contracts following the season, including Cesar Carrillo, the school's first pitcher chosen in the first round since the 1991 season.
He has tutored four first-round draft picks in the MLB Draft, including Carrillo, Chris Perez, Carlos Gutierrez and Slade Cecconi.
Overall, under Arteaga, Miami has had a pitcher selected in 17 consecutive MLB drafts.
"I try to emulate him, his humility, the way he treats others and the way he helps empower people. He empowered me to be me."

Javi Salas
His pitchers have earned countless accolades, including the Roger Clemens Award, given to college baseball's best pitcher, National Freshman Pitcher of the Year and ACC Pitcher of the Year, among others.
"He's one of the biggest competitors I've ever seen. He's so competitive you would think he is the starting pitcher, getting the win or loss coming out of the game," said Bryan Garcia, who made his MLB debut in 2019 after becoming Miami's all-time saves leader in just three seasons under Arteaga's watch. "He is really bought into our success. He really wants us to do well in games and in life."
However, Arteaga's influence goes much beyond numbers and awards.
His biggest joy at work is being a father-figure to his players, helping raise the Hurricanes into young men.
"Every single day, there was something beyond baseball for us to learn," said Javi Salas, who played at Miami from 2011-2014 before pitching three years in the minor leagues. "I try to emulate him, his humility, the way he treats others and the way he helps empower people. He empowered me to be me. He empowered me to be a better baseball player but more importantly a better man. I want to be like J.D. and have a relationship with my son the way J.D. had with Ari."
Before every Sunday home game, Arteaga and his pitching staff head out to shallow right field.
Each week, a new player shares a new story. The topic can vary from anything serious to something light hearted.
For Arteaga, he wants to form a family.
"The thing those meetings taught us was that J.D. was going to empower us on the baseball field but he was also going to empower us off the field. We had to have depth to our athletic ability. We had to have depth to our character, the way we think and the way we express ourselves," Salas said. "He made people show their emotional side, their intellectual side. Plenty of guys opened up and we learned about our teammates in a way we would've never learned on a baseball field."
Both on and off the diamond, Arteaga is all about family.
He learned from his father at a young age to help others in need. J.D. has tried to pass that mindset onto his kids and his players, hoping to inspire a better community.
After Ari's passing, The Ari Arteaga Foundation was created to honor and memorialize Ari.
The Foundation's mission is to spread Ari's spirit by helping children and families overcome obstacles they may face due to unforeseen hardships.
"I think as a parent who has their son or daughter pass, you want to keep them alive," Ysha Arteaga said. "Ari left great joy, great memories, laughter, inclusion. He made everybody feel special. He really had a gift for making everyone feel special."
In less than two years, they've awarded five Be The Light Scholarships, hosted numerous food drives, and recently, fed the homeless six days a week for a month and half during the ongoing COVID-19 pandemic.
For J.D. and Ysha, it was a calling.
"It's so easy when tragedy hits to ask why and question why things happen. You're never going to get that answer. Instead of asking that, we decided to answer it. Some good has to come out of it or it's hard to sleep at night. That I can live with. If we lost Ari for no reason, I can't accept it," J.D. said. "When people come into hardship and darkness, you want to be a light for them, give them hope and just help them get through it. Hard times are going to come and we're all going to get through it. We want to be there and be the light for people in times of need and times of darkness."
Arteaga continues to shine light with his family at home and at the ballpark.
He's always focused on being the best father and human to the family around him.
"It'd be a privilege to be a father like J.D. was to Ari. He was the best father he could be to Ari," said former Miami southpaw and student coach Chris Diaz, who is expecting a son of his own. "Ari lives through that foundation. J.D. is going to keep raising it almost like it's his son. Ari's legacy will live on because of J.D."