Canes Baseball's Historic MLB Draft Moments
The Miami Hurricanes are one of the most elite programs in college baseball history.
Since 1973, the Hurricanes have been at the pinnacle of the sport with 25 College World Series appearances, four national championships and 46 NCAA tournament bids –including a NCAA record 44 consecutive years advancing to an NCAA regional.
Miami's long-term success is no coincidence, as the program has produced hundreds of outstanding players over the years and many of those have gone on to success in professional baseball.
"At the end of the day, you have to have really good players if you're going to win. The most important part of this is recruiting," said legendary head coach Jim Morris, who won two national championships at Miami. "Our players got better. It wasn't an accident. They worked hard and they were committed to what we were doing. So many guys improved in the draft by coming to Miami."
295 Hurricanes have been drafted, the most in the Atlantic Coast Conference. Since 1991, UM has produced 190 draft picks, which sits 22 more ahead than the next-highest ACC total (168, Clemson). 85 Canes have been selected in the top five rounds, including an astonishing 28 players drafted in the first round.
With the 2020 MLB Draft set to begin on June 10 at 7 p.m., we took a look back at some major moments in Canes Baseball draft history.
Pat the Bat goes No. 1 overall
In 1998, Pat Burrell became the first Hurricane selected with the first overall pick in the Major League Baseball Draft. The Philadelphia Phillies selected the slugger and agreed to a major league deal that guaranteed him $8 million—then the largest amount ever given to a draft pick at the time.
After graduating from Bellarmine College Prep in 1995, Burrell was selected by the Boston Red Sox in the 43rd round of the 1995 MLB Draft and offered $1,000. Instead of signing, he chose to attend Miami and instantly developed into one of the most dominant players in the country.
During his rookie campaign, Burrell became the first freshman in NCAA history to lead the nation in hitting with a .484 batting average. He notched 23 home runs and 64 RBI as he guided the Hurricanes to the championship game of the College World Series. Burrell was named a first-team All-American and won the College World Series' MVP award.
"How do you hit nearly .500 as a freshman? How do you hit nearly .500 any year? How do you do that in T-Ball?" said current Miami head coach Gino DiMare, who was an assistant coach when Burrell played at Miami. "Even his outs were bullets. Every ball he hit was a laser."
He continued to shine as a sophomore, tallying a .409 batting average, 21 home runs and 76 RBI in 1997. For the second straight season, Burrell was selected as an All-American and helped the Hurricanes return to Omaha.
In his final year in the orange and green, he won the Gold Spikes Award as the top amateur baseball player in the country. Despite missing 38 games due to a back injury, Burrell totaled a .432 batting average, 17 homers, and 47 RBI, leading Miami to its third College World Series appearance in a row.
Burrell finished his collegiate career with a .442 batting average, which ranks eighth all-time in NCAA history, and a .886 slugging percentage, which stands third. His 61 home runs are the second most by a Hurricane and his 187 RBI is the fifth highest mark at UM.
"Pat Burrell was probably the best hitter I've ever seen in college baseball," Morris said. "He was always the first guy on the field every day. If I wasn't out on the field, he would knock on the coaches' door looking for me."
After less than two seasons in the minor leagues, Burrell would go onto play 12 years in the MLB. He won two World Series with the Phillies before playing for the Tampa Bay Rays and San Francisco Giants to wrap up his professional career.
Braun and Carrillo make Canes Baseball draft history
Seven years after Burrell's selection, Ryan Braun and Cesar Carrillo gave Miami multiple first-round picks in the same draft for the first time.
A native of California, Braun was one of the nation's top prep shortstops coming out of Granada Hills High School. He was listed among the top 100 overall prospects by Baseball America but went undrafted as he told teams that he intended to attend college.
Braun starred as a freshman, garnering National Freshman of the Year and All-America honors. He led the Hurricanes with a .364 batting average, 17 home runs and broke Burrell's freshman record with 76 RBI.
One season later, Braun registered 10 home runs, 45 RBI and team-best 21 stolen bases in 45 games, despite being limited by a rib cage injury.
As a junior, he was tabbed the 2005 ACC Player of the Year and an All-American after racking up a .396 average, 18 home runs, 76 RBI and 23 stolen bases.
"The ball flew off his bat. He had at unbelievable career at Miami," said DiMare said, who was the hitting coach and recruiting coordinator during Braun's collegiate career. "If you had to argue the top five hitters of all-time at Miami, Ryan Braun is on that hand, no question."
The Milwaukee Brewers drafted Braun fifth overall in the MLB Draft as a third baseman and he signed for $2.45 million.
He was named the 2007 National League Rookie of the Year in 2007, has won five Silver Slugger awards and won the NL Most Valuable Player Award in 2011. The 6-foot-2, 205-pound star is a six-time All-Star through 13 seasons with the Brewers.
Carrillo, who was a 33rd round pick out of Mount Carmel High School, was one of the most impressive pitchers in Hurricanes' history. The right-handed hurler started his Miami career with 24 consecutive victories, which is the longest streak in school history, and one shy of the all-time NCAA record.
In 2004, Carrillo went 12-0 with two saves and a 2.68 ERA in 113 innings pitched, earning All-America recognition. The Chicago, Ill., native tossed a complete game victory over rival Florida in the Super Regionals to clinch Miami's 21st trip to the College World Series.
Carrillo followed his dazzling first campaign on the mound with an even more standout season. He won his first 12 decisions to move to 24-0 in his career and tallied a 2.22 ERA in 125 innings. Carrillo was named the 2005 ACC Pitcher of the Year, a first-team All-American and a first-team All-ACC selection.
"His arm was so quick you could hear it whip. He had a sound like I never heard before," DiMare said.
"He dominated in his outings. It's unheard of to hear someone go almost undefeated in their career. He was one of the more dominant pitchers I've ever seen at Miami."
The San Diego Padres picked Carrillo 18th overall in the 2008 MLB Draft. He made his debut for the Padres in 2009 and has played 15 years of professional baseball.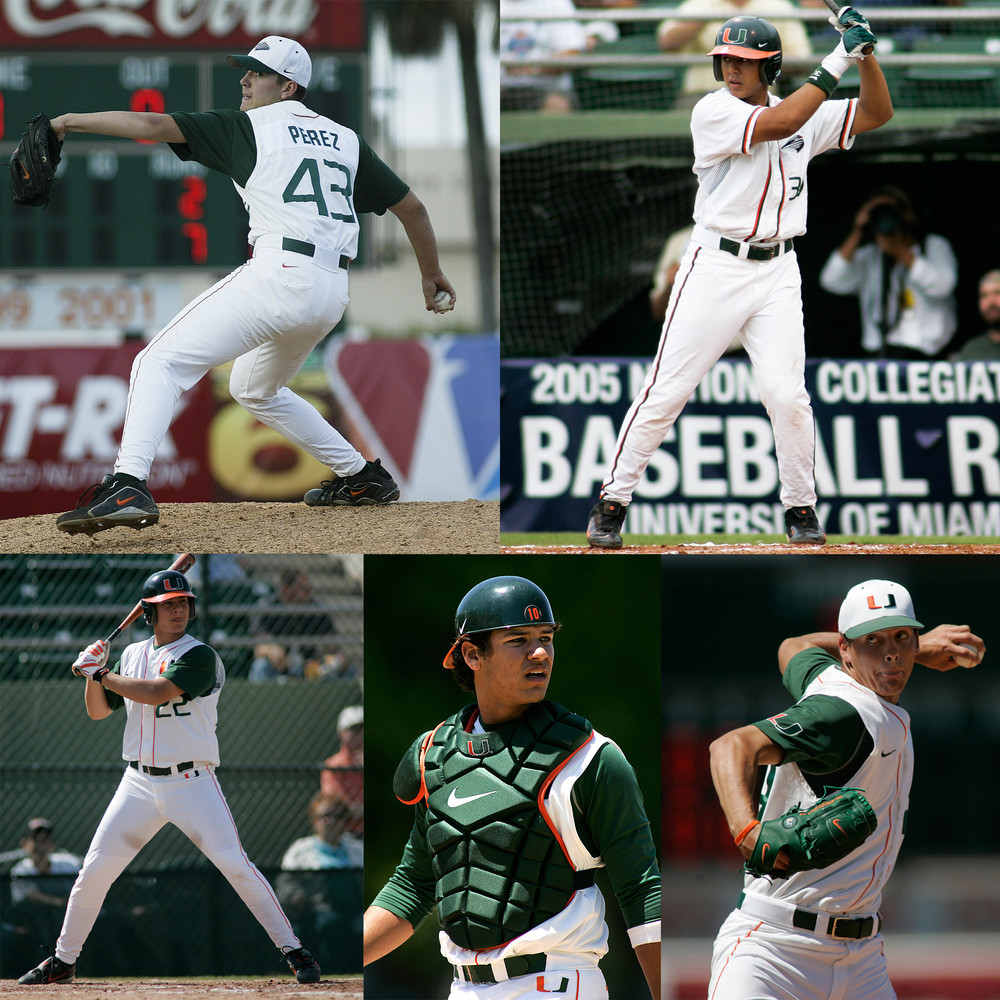 The 2006 Draft class produces five big leaguers
One of the Hurricanes' most illustrious draft classes was in 2006. Despite only featuring one first-round pick, five of the seven Hurricanes drafted that year would make the Majors.
Chris Perez was the lone Cane selected in the first-round after locking down games for Miami as its closer. However, Perez's rise to the first round was not ordinary.
After struggling as a starter and dealing with a shoulder injury, Miami pitching coach J.D. Arteaga shifted Perez to the bullpen, forever changing his baseball career.
"I remember the turnaround," Arteaga said of Perez. "It was always a struggle every time he would start, pitch count wise. We made him a closer and he absolutely took off with it. He had the perfect makeup and mindset to be a closer.
The right-hander went 4-1 with a 1.88 ERA and 12 saves in 35 games pitched. He struck out 62 hitters and only allowed one home run.
The St. Louis Cardinals picked Perez with the 42nd overall selection in the 2006 MLB Draft. He was twice named an All-Star with the Cleveland Indians and played seven years in the big leagues.
Fellow Canes superstar Jon Jay was also taken by the Cardinals one round later. Jay burst onto the scene instantly at Miami, earning Freshman All-America honors after hitting .368 with six home runs and 56 RBI. He also collected All-Tournament honors for his play in the 2004 College World Series.
In 2005, Jay put together one of the most notable seasons in school history. His .408 average ranked second in the ACC and seventh-best for a single-season at Miami. He was named a first team All-ACC selection and an All-American.
Jay followed his breakout year with a .361 average, six home runs, 46 RBI and 31 stolen bases as a junior. He would earn postseason recognition once again and was integral to the Hurricanes' run to Omaha in 2006.
The homegrown talent was drafted 74th overall by the St. Louis Cardinals and is still active. After making his debut with the Cardinals in 2010, Jay helped St. Louis win the World Series one season later. He has played for six teams throughout his decade long career.
Right-hander Ricky Orta, outfielder Tommy Giles, third baseman Danny Valencia, catcher Eddy Rodriguez and left-hander Scott Maine rounded out the draft class.
Orta and Giles made it as high as AA, but it was three Canes taken outside the top-15 rounds who climbed to the top of professional baseball as Valencia, Rodriguez and Maine all reached the MLB.
Most notably, Valencia spent nine years in the big leagues and finished third in the Rookie of the Year voting in 2010. He played for Team Israel at the 2019 European Baseball Championship and the Africa/Europe 2020 Olympics Qualification tournament, which Valencia guided Israel to qualify to play baseball at the 2020 Summer Olympics.
"Seeing the guys I played with the year before get drafted high, playing with them, competing with them made me feel ready for the next level," Valencia said. "I had a chip on my shoulder. I wanted to prove to them that they made a mistake. It made me hungry."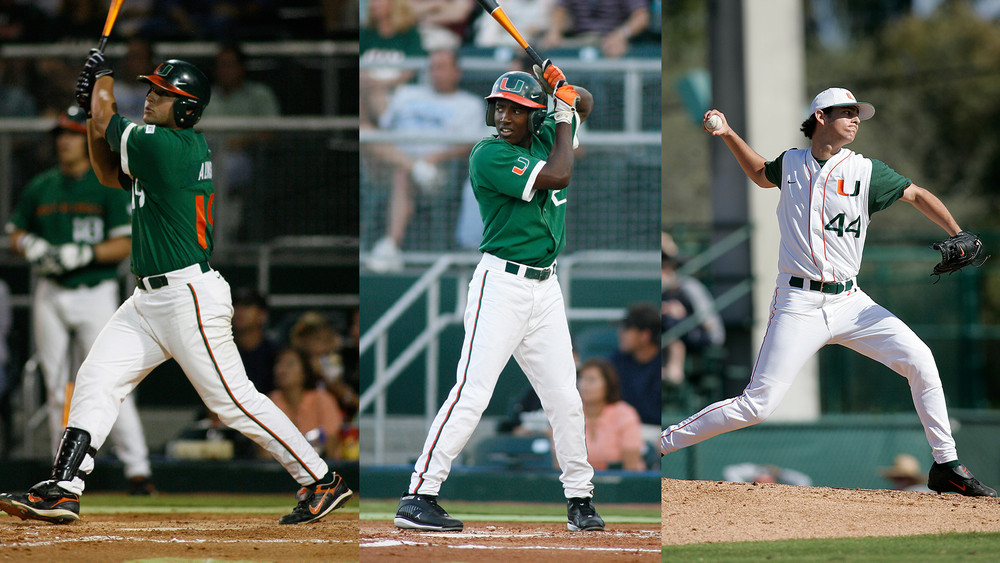 Three Canes go in Round 1 in 2008
A few years after Braun and Carrillo made history, Yonder Alonso, Jemile Weeks and Carlos Gutierrez became the first Canes trio to go in the first round of the same draft.
"That tells you how good we were and how much we pushed each other," Alonso said. "I remember practicing being harder than the games. Scouts, fans, people came to practices. We wanted to show people how good we were."
A Cuban immigrant, Alonso excelled at Coral Gables High School, gathering the attention of pro scouts. He was picked by the Minnesota Twins in the 16th round of the 2005 MLB Draft but elected not to sign and instead honored his commitment with UM.
"From day one, we just knew we had something very special," DiMare said. "Yonder is one of the best hitters in school history. He had an unbelievable career at Miami. He was just a great all-around player."
The power-hitting infielder began his Miami career on a strong note. He posted a team-leading 10 home runs and 69 RBI, becoming just the second freshman in program history to lead the Canes in home runs and RBI en route to a trip to Omaha.
In 2007, Alonso was selected as an All-American and an All-ACC second team selection. His 18 home runs led the conference while his .376 average and 74 RBI paced the Hurricanes.
During his curtain call season, the 6-foot-2, 215-pound slugger led the team in batting average (.370), RBI (72) and home runs (24), posting the second-most homers hit in a season by a Hurricane. Alonso was named an All-American and helped Miami claim its 23rd appearance in the College World Series.
He wrapped up his time in the orange and green with 52 home runs and 215 RBI, which both rank third at UM. Alonso also finished fourth in career walks with 172 and tied for fifth in slugging percentage at a .637 career clip.
The Cincinnati Reds selected Alonso seventh overall in the 2008 MLB Draft. He made his MLB debut on September 1, 2010 for the Reds, and 10 years later, he has carved out a remarkable career in the big leagues, playing for seven different organizations. In 2017, Alonso was named an All-Star, returning to Miami for the weekend festivities. Over his time in the MLB, he has hit 100 career home runs, including a season-best 28 homers in 2017.
"It was such an incredible feeling. All the sacrifice, all the stuff I put into it," Alonso said. "I couldn't thank Miami enough for the opportunity they game me. They gave me a chance to develop my craft and become the player and person [I wanted to grow into]."
Five spots after Alonso, Weeks was taken 12th overall by the Oakland Athletics. The talented infielder was previously selected by the Brewers in the eighth round of the 2005 MLB Draft, but he chose to attend UM instead.
The decision for Weeks paid off.
As a freshman, the Orlando, Fla., native garnered Freshman All-American and second-team All-ACC honors. He batted .352 with six home runs and 40 RBI. During the Hurricanes' run to Omaha, Weeks was tabbed the Most Outstanding Player of the Lincoln Regional after hitting .583 with four RBI.
The switch-hitting second baseman hit .298 as a sophomore and led the ACC with six triples before breaking out as a junior.
In 2008, Weeks earned All-America honors after notching a .363 batting average, 13 home runs, 62 RBI and 22 stolen bases. His 19 career triples are the most in Miami history and his 190 runs rank eighth all-time.
"Without a doubt, he's the best offensive second baseman we've ever had," DiMare said. "He had a little bit of pop for a little guy, he could run, he could do it all. He was just an exciting player to watch."
Weeks would go onto play six seasons in the MLB after making his debut for the Athletics in 2011.
Unlike many other first-round selections, Gutierrez wasn't on scouts' radars until late.
He tossed just 10 innings as a freshman and pitched much of his sophomore year through an elbow injury that required Tommy John surgery following the season. After being sidelined in 2007, Gutierrez transitioned into the Hurricanes' closer role.
The 6-foot-3, 205-pound right-hander saved 13 games for the Canes and recorded 72 strikeouts in 49.2 innings. His rare combination of velocity and movement caught teams' attention.
"He wasn't a highly recruited guy. He was a late bloomer," DiMare said. "Carlos ended up developing a lot. All the pro guys were impressed with his heavy, heavy sinker. He dominated with just one pitch. You don't see that with just one go-to pitch. He was so impressive."
Gutierrez was picked 27th overall by the Minnesota Twins and went onto play six seasons of professional baseball. He climbed as high as AAA in the Twins' organization.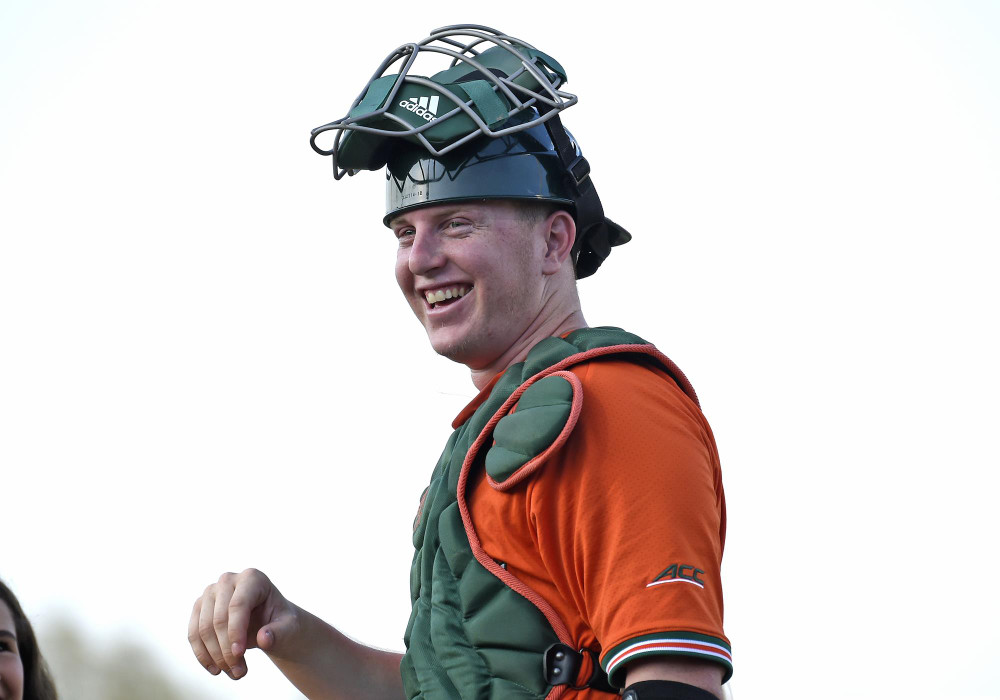 Collins becomes the latest Canes to go in the first round
The most recent of the Hurricanes' 28 first-round selections is Chicago White Sox prospect Zack Collins. The South Florida product grew up a diehard Canes fan, participating in UM's Baseball Buddies program and summer camps.
He was highly-touted coming out of Plantation American Heritage, ranking as the 31st best high school senior nationwide according to Perfect Game.
Collins was drafted in the 27th round of the 2013 MLB Draft by the Cincinnati Reds, but decided to follow another dream of becoming a Hurricane.
"I always had that goal to get drafted," he said. "I went to Miami to continue my education and work as hard as I could to better myself as a player and person."
Collins struggled at first, but quickly cemented himself as one of the premier sluggers in the country. The power-hitting catcher was tabbed the ACC Rookie of the Year and third-team All-ACC after registering a .298 average, 11 home runs and 54 RBI.
He received All-America honors and became the sixth player in UM history to earn the National Freshman of the Year Award.
As a sophomore, Collins elevated his game. He hit .302 with 15 home runs and 70 RBI, which were second-most in the conference. He racked up All-ACC first-team recognition and his first career All-America selection before guiding Miami to Omaha for the first time since 2008.
One year later, Collins became the first Johnny Bench Award winner in school history as the nation's top collegiate catcher. He was a consensus first-team All-American and garnered his second straight All-ACC first-team honor, helping the Hurricanes reach Omaha again.
He wrapped up his illustrious college career with 42 home runs, which is tied for sixth all-time at UM, while his 183 RBI are 10th-most in Miami history. He tallied a .319 average and drew 177, which rank fourth at UM.
"Zack is one of the best hitters who has ever been in our program. The ball explodes off his bat," Morris said. "If he takes a pitch, it's probably a ball. It's a nice thing you don't see power guys do. If anything, I wish he swung a little more."
Collins was picked 10th overall by the Chicago White Sox in the 2016 MLB Draft. After signing with the White Sox, Collins ascended through the organization, making his major league debut in less than three years.
On his way to the MLB, he was selected as an All-Star in both the Carolina League and Southern League and was the Southern League's Home Run Derby champion in 2018. He also earned a spot in the 2017 MLB Futures Game, played at Marlins Park.
Collins appeared in 27 games in his first taste of the big leagues and currently ranks as the White Sox's 10th best prospect, according to MLB.com.
"I'm really trying to work on everything," he said. "Once you get to pro ball, every step you take up becomes even harder. There are so many guys with incredible talent."
The 2019 Draft class gets its first taste of pro ball
While Collins was making his MLB debut in 2019, five Hurricanes were selected in the MLB Draft.
After starring on the bump for Miami, right-handed pitcher Evan McKendry was a ninth-round draft choice by the Tampa Bay Rays.
In his first year of professional baseball, McKendry pitched in nine games, including seven starts in the prestigious New York-Penn League. The Pembroke Pines, Fla., native went 4-1 with a 1.45 ERA in 43.1 innings. He struck out 45 batters and walked just four.
"The schedule we had at Miami was 10 times more strenuous than any day I've had in pro ball," McKendry said about how UM prepared him for the next level. "I was ready to compete on the field, in workouts and time management wise."
Greg Veliz followed McKendry in the draft, going in the 15th round by the Los Angeles Angels. Known for his wipeout stuff out of the bullpen at Miami, the hard-throwing reliever moved up in the Angels' organization after recording a 1.69 ERA, 15 strikeouts and zero walks in six appearances.
Six rounds later, catcher Michael Amditis was drafted by the Cleveland Indians in the 21st round before side-winder Mark Mixon was picked in the 26th round by the Los Angeles Dodgers. Current Canes pitcher Tyler Keysor heard his name called by the Milwaukee Brewers in the 40th round, but elected to return to Miami for the 2020 season.
The Hurricanes will look to add to their esteemed list with the 2020 MLB Draft this week. Due to the impact of the COVID-19 pandemic, the MLB shortened this year's draft from 40 rounds to just five. There will be 160 names called in this year's draft, with the first round scheduled for Wednesday evening and round 2-5 set for Thursday.
Four Hurricanes enter the draft ranked in MLB Pipeline's Top 200 prospects: RHP Chris McMahon, RHP Slade Cecconi, SS Freddy Zamora and 1B Alex Toral.
The 2020 MLB Draft begins Wednesday at 7 p.m. ET, with both MLB Network and ESPN providing coverage. Day 2 will be televised on MLB Network and ESPN 2 beginning at 5 p.m. ET.
"Live in the moment and enjoy yourself. The mission starts at that moment," Alonso said about the advice he'd shared with draft-eligible prospects. "It's the beginning of a long, long career. You have to do everything possible to become a better player and person."