CORAL GABLES, Fla. – Ken Dorsey lowered his head, unable to watch.
Nearby, Brett Romberg paced the sideline, struggling with the realization that a grueling three-hour slugfest between two of the nation's top college football programs would be decided by a 5-foot-10, 210-pound kicker.
Their coach – Larry Coker – nervously prayed, though he couldn't help but wonder if it was appropriate to ask for divine intervention on a last-second field goal attempt.
And on the field that afternoon in 2002, D.J. Williams and Jonathan Vilma vowed to do whatever they could to disrupt Florida State's Xavier Beitia as he attempted a 43-yard field kick that had the potential to not only give the rival Seminoles a win over the defending national champion Hurricanes, but end Miami's nation-leading 27-game win streak, too.
"There was never a thought we were going to lose," Vilma recalled. "In that moment, all I thought was he's either going to miss it or I'm going to block it. That's it. There was nothing else. There was no thought of him making it and us losing. It never even crossed my mind."
Added Williams, "Before that play, Jon Vilma was telling everybody, 'We can get this, we can block this,' but you could feel he thought he was going to block the kick. We still joke about it to this day because he gave all of his 23-inch vertical."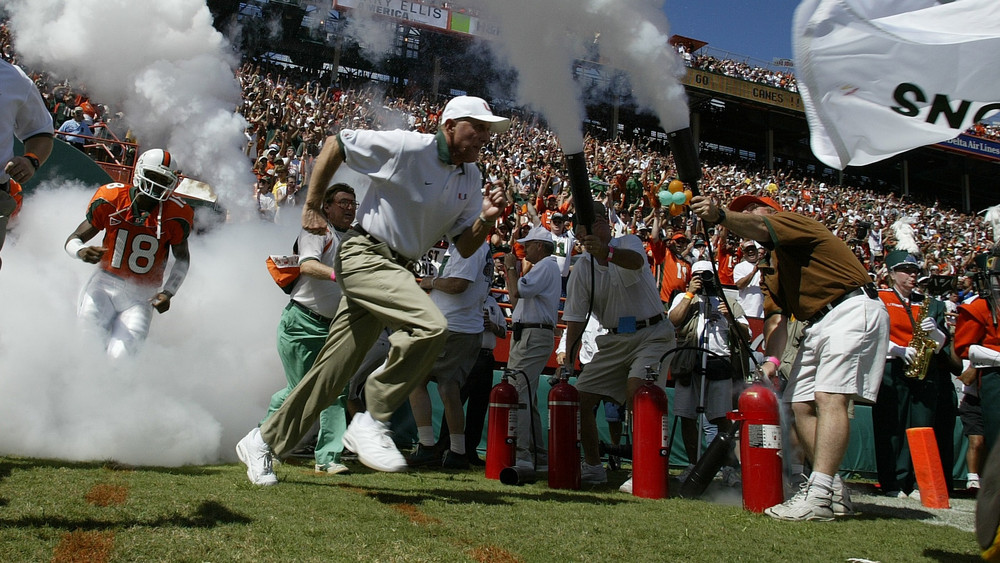 Whether it was pressure from Williams, Vilma and the rest of Hurricanes, the intensity of the prayers from the Miami sideline, Beitia striking the ball improperly, dumb luck or a combination of all four, the last-second field goal attempt ultimately sailed left of the uprights.
The top-ranked Hurricanes had escaped with a 28-27 win over the ninth-ranked Seminoles.
Now, nearly 20 years later, with sports paused because of a global pandemic, the matchup Coker that day described as "the best football game I've ever seen" is back in the spotlight.
On Thursday night, the game will be re-broadcast on ESPN with some of the players who were on the field that day sharing their memories of the classic showdown. The broadcast will cap a day-long celebration of the Miami-Florida State rivalry on ESPNU, which will re-air six more matchups from the 69-year series that has, more than once, shaped college football's national championship picture.
That the 2002 game will take center stage is no surprise to some of those who played in it.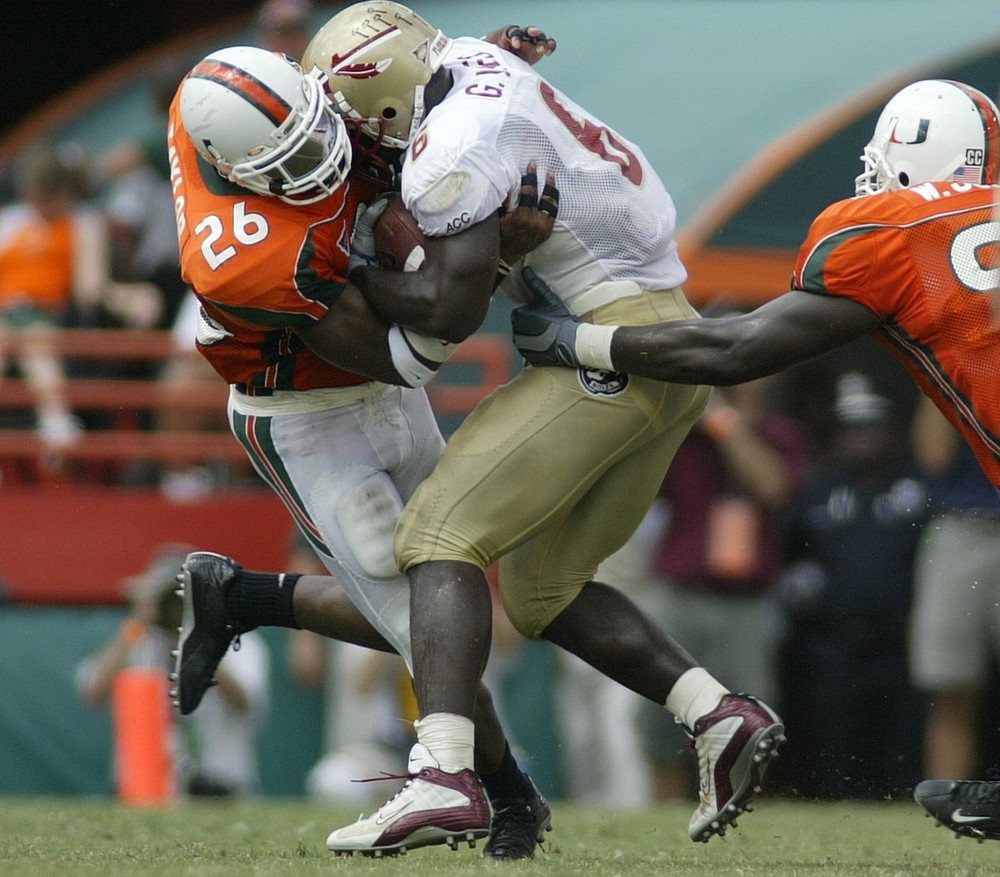 Eighteen years later, those Miami greats still vividly remember the bone-crushing hits their teammate Sean Taylor delivered on former Florida State star tailback Greg Jones. They can still feel the sweltering Miami sun beating on their skin. The noise from a raucous Orange Bowl crowd still rings in their ears. The pressure and what was at stake are hard to forget.
"Any time you play Florida State, it doesn't matter if you have a first-year quarterback or a senior quarterback or you have the best record in the country or the worst record in the country, it always seems to be a tight game and that game was no exception," said Dorsey, whose 3,369 passing yards that season still rank second in Hurricanes history. "We were on the fortunate end, but it could have gone either way. We were fortunate to have a very resilient team at the time and I think a lot of that was because of our coaches. …
"A lot of guys on that staff went to Miami, so, having that understanding of what it's like to be at Miami, the passion, the pressure, the tradition, that carried through to us as players."
While Dorsey's status as one of the greatest quarterbacks in Miami history has long been cemented, he acknowledges he didn't have his best performance that afternoon, even if he did pass for 362 yards and a pair of touchdowns.
He threw two interceptions. Lost a fumble. And with help from a 189-yard rushing performance by Jones, Florida State capitalized, building a 13-point lead before Dorsey and the Hurricanes offense mounted a fourth-quarter comeback.
With 8:10 left, a 2-yard touchdown pass from Dorsey to Kevin Beard capped a 70-yard drive and cut the deficit. Two drives later, a screen pass to Willis McGahee turned into a 68-yard gain that led to Miami's go-ahead touchdown, an 11-yard run up the middle from Jason Geathers.
Miami had clawed its way back, its players working together to do it.
It was a lot of brotherhood and wanting to win for each other and wanting to win for the school.

Brett Romberg
"When I look back on that game, I want to shake Jonathan Vilma's hand and the rest of our defense for keeping us in that game. I get friendly reminders every once in a while from D.J. Williams about how the offense kind of pooped the bed that day and it was our fault we started off so poorly," Romberg laughed. "But, to be honest, it was another example of what our school embodied in terms of our athletic programs. Baseball, football, you name it, we really did take pride in the symbol of the school on the side of our helmet. … It was a lot of brotherhood and wanting to win for each other and wanting to win for the school, as opposed to wanting individual accolades or individual recognition."
Said Vilma, "That camaraderie was vital to our success. We pushed each other so hard and picked each other up so much during the season because we were put through the grinder together in the offseason. We were ready for any situation and it didn't matter if we started slowly or the offense started slowly. Who cares? We were going to grind and figure it out. We're going to do what we need to do to win games. … It's rarely going to be a perfect day where the offense is clicking on all cylinders and we're clicking on all cylinders and we're routing teams left and right. It was a luxury we had at times, but that wasn't the reality, especially against a team as talented as Florida State."
Still, even with Miami's comeback, there was enough time left for Florida State to win.
And with Jones gashing the Hurricanes defense and having already scored earlier in the fourth quarter, that was, former Hurricanes cornerback Antrel Rolle recalled, very possible.
"That was a day that, for some reason, our defense wanted no part of Greg Jones," Rolle said. "He was running through our defense, he had probably close to 200 yards, and he couldn't be stopped. The only one who wanted any part of him was Sean Taylor. He made his presence known. Greg Jones was a beast of a running back, probably 250 pounds of solid muscle. … he gave our defense a very, very difficult time, but every time Sean Taylor made contact, you'd just hear Greg Jones just grunt, like those hits were taking some of his soul out of his body.
"I'd never seen anyone hit Greg Jones the way Sean Taylor did. Every time he made a collision on Jones, it was like a huge thunk and you'd hear a groan after every single hit. It was a battle."
Despite Jones' performance, which was then a career-high, the Seminoles weren't able to get in the end zone on their final drive. For the fourth time in 12 years, a Florida State kicker would have the opportunity to either tie or win a game against the Hurricanes.
But like Gerry Thomas, Dan Mowrey and Matt Munyon before him, Beitia missed.
The only difference? His kick sailed wide left. The others had gone wide right.
The biggest similarity? Another Miami victory.
"I could only imagine karma creeping back after what had happened two years prior and maybe repaying the favor of that extra little gust of wind two years before," Romberg said. "There was no way it was going to happen twice, but obviously, the ghosts of the Orange Bowl were smiling on us that day."
Said Coker, succinctly, "They were due. We're just glad it didn't work out for them."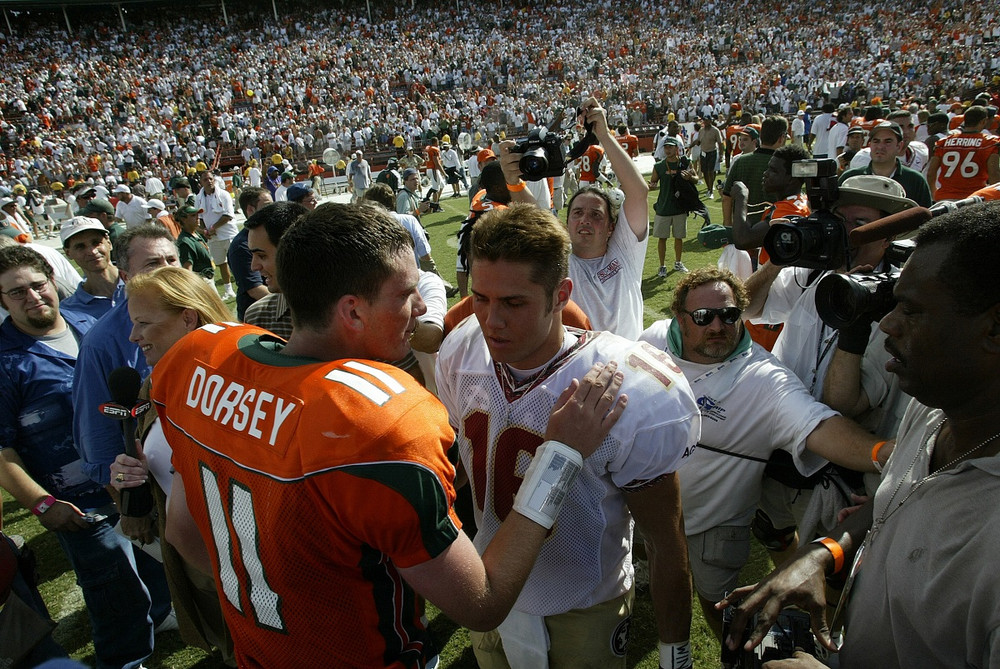 After that fateful afternoon, Florida State would go on to win the ACC Championship and finish the year 9-5. Miami would come up just short in its quest to win a second straight national title.
But the game, and the rivalry, still holds its place in college football lore.
That's something some of Miami's greatest players don't take for granted.
"You have to be honestly grateful for being a part of such a pivotal moment in football history. Both Florida State and UM, we were a statement," Rolle said. "To be a part of such a legendary tradition and games that the entire nation was watching was special. It didn't matter what game was on that day. Everyone was always watching Florida State and Miami.
"I think them showing that game during this crisis that we're going through now just shows how intense it really was. That was definitely one of the most intense and hard-fought games I was ever a part of."