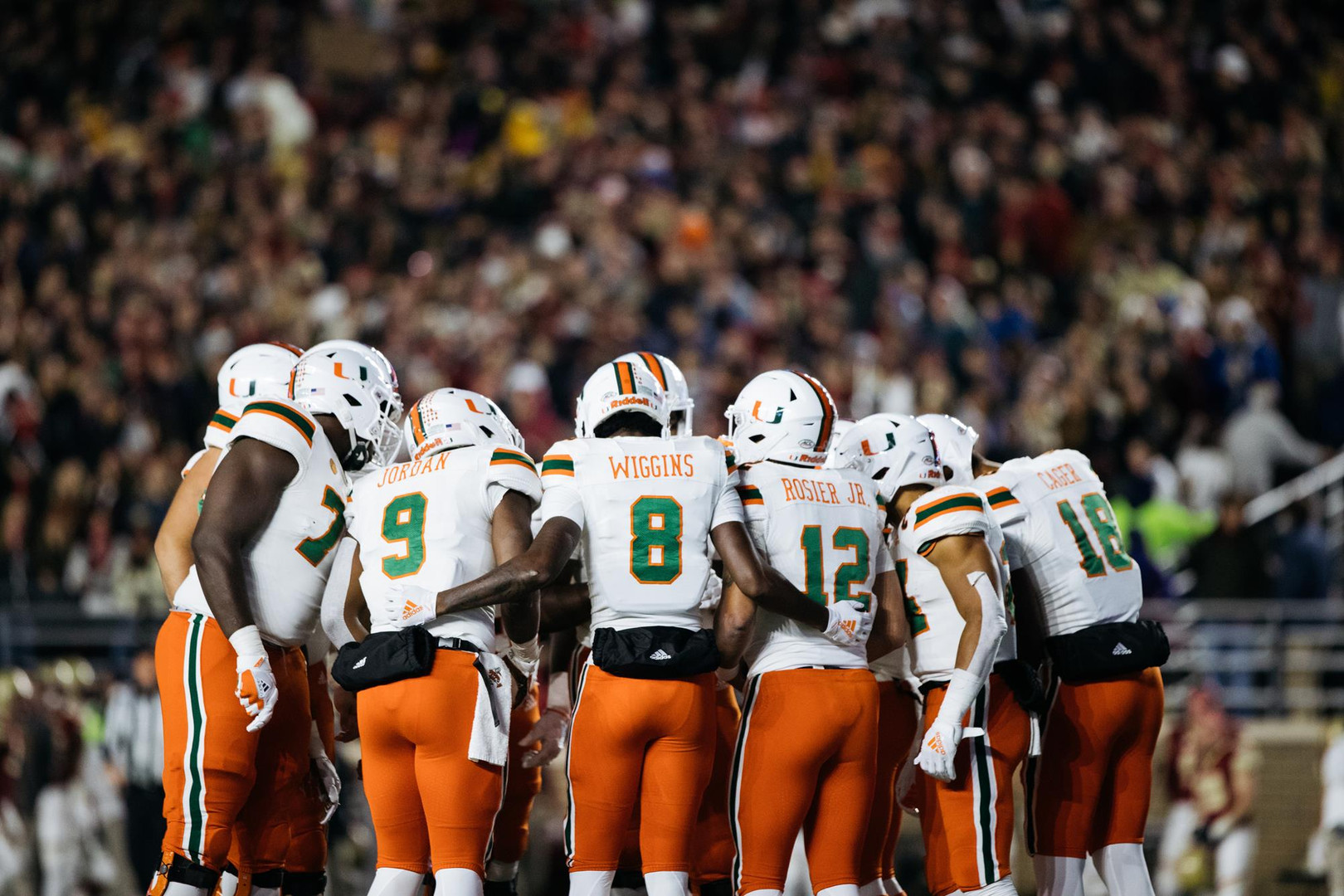 By David Villavicencio
HurricaneSports.com
 
CORAL GABLES, Fla. – A motivated Boston College team defended its home field and honored an Eagles' hero, defeating the University of Miami, 27-14.
 
Friday's game served as the annual Red Bandana Game in honor of Welles Crowther, a former BC lacrosse player who saved over a dozen lives in the South Tower of the World Trade Center during the terrorist attacks on Sept. 11, 2001.
 
The Eagles (6-2, 3-1 ACC) jumped out to an early lead and never looked back, totaling 426 yards of offense and forcing two turnovers on their way to victory over the Hurricanes (5-3, 2-2 ACC).
 
After missing the previous two games due to injury, BC star running back AJ Dillon announced his presence early with a 25-yard run on Boston's College's first play from scrimmage. The Eagles used a trick play to get deep into Miami territory as quarterback Anthony Brown threw a backwards pass to receiver Jeff Smith, who then tossed it back to Brown for a 27-yard gain to the Miami 12. Three plays later, Brown hit Smith for a nine-yard touchdown that gave Boston College a 7-0 lead with 8:57 left in the opening quarter.
 
Sophomore DeeJay Dallas swayed momentum back in Miami's direction on the following kickoff, sprinting to the BC 44 with an impressive 53-yard return to open Miami's possession. Six plays later, the Canes found the end zone when quarterback Malik Rosier connected with receiver Darrell Langham for a 13-yard touchdown pass and catch that evened the game at 7-7.
 
The Eagles used Smith's arm again for a big gain on their next possession, as the former quarterback turned receiver took a handoff from Brown and threw a dart for Travis Levy for a 31-yard gain to the Miami 19. Five plays later, Brown scrambled into the end zone for a five-yard touchdown that gave BC a 14-7 lead with 2:50 remaining in the quarter.
 
Boston College scored for its third straight possession, engineering a 20-play scoring drive that lasted seven minutes and four seconds before Colton Lichtenberg hit a 21-yard field goal to put BC up, 17-7, with 9:04 left in the half.
 
Miami's offense responded with a methodical 10-play scoring drive of its own, capped by a 10-yard touchdown run by Dallas out of the wildcat formation that brought the Canes within three with 4:34 left in the half.
 
Late in the opening half, the Hurricanes' defense stopped BC's offense for the first time. The Eagles punted from their own 43 and downed the ball at the Miami 9, but a block in the back penalty pushed the Hurricanes to the 3 to start their possession.
 
Boston College forced a punt four downs later, taking over possession at the Miami 45 with 2:01 remaining in the half. The Hurricanes' defense rose to the challenge and forced a three-and-out to get the ball back with 1:42 left in the half, but Miami could not turn the possession into points and went into the locker room trailing by three, 17-14.
 
A 10-yard sack by Jonathan Garvin and Pat Bethel on second-and-5 from the UM 49 stymied Boston College's opening drive of the second half. It also meant the Hurricanes' defense forced punts on three consecutive BC possessions after allowing 17 points over the Eagles first three drives.
 
Boston College's defense forced a turnover to take over possession deep in Miami territory, as linebacker Max Richardson blitzed and was unblocked on his way to hitting Rosier while he threw. The ball was batted around until it landed in the hands of BC's Hamp Cheevers and returned to the Miami 14.
 
Trajan Bandy broke up a pass intended for Kobay White on third-and-goal from the UM 5 and Miami's defense held firm following the sudden change. Lichtenberg converted a 23-yard field goal that increased the BC lead to six, 20-14.
 
The Eagles picked off Rosier again on Miami's next drive, as Taj-Amir Torres jumped in front of a pass intended for Jeff Thomas and returned the interception to the Miami 14. One play later, Dillon rushed 14 yards to the end zone for a touchdown that gave Boston College a 27-14 lead.
 
A heads-up play by junior striker Romeo Finley, who had pinpoint coverage on a 3rd-and-3 play, triggered the first appearance of the turnover chain with 2:13 remaining in the third quarter. Finley intercepted a pass thrown by Brown and Miami drove to BC 3 before Rosier threw a pass intended for Langham in the end zone that was broken up by Torres. Langham appeared to take a helmet-to-helmet hit from a BC defender and the play was reviewed for targeting on Boston College, but officials determined there was no foul and the Eagles took over possession on their own 3.
 
The Eagles followed with a 13-play drive that ended in a missed 44-yard field goal, but took 7:15 off the clock. The Hurricanes took over possession on its own 27 trailing by 13 points with 5:29 remaining in the game, but could not put together a scoring drive over their final two possessions.