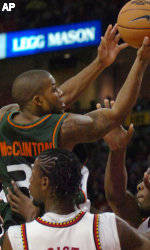 Feb. 3, 2007
CHARLOTTESVILLE, Va. (AP) -Sean Singletary and J.R Reynolds combined for 40 points and surging Virginia moved into a three-way tie for first place in the Atlantic Coast Conference on Saturday night with a 81-70 victory against Miami.
The victory was the sixth straight for the Cavaliers (15-6, 7-2) and earned them a share of the top spot with Boston College, which beat No. 16 Virginia Tech 80-59 earlier, and No. 3 North Carolina, which lost 83-79 to resurgent N.C. State.
Miami (9-14, 2-7) trailed 41-27 at halftime and never got closer than 11 in the second half. The Hurricanes lost their sixth in a row and 10th in their last 12.
Jack McClinton led Miami with 18 points, Brian Asbury had 12, and Anthony Harris and James Dews each had 10. The Hurricanes shot just 35.5 percent, Virginia 47 percent with 11 3-pointers.
Singletary finished with 22 points, Reynolds had 18 and Mamadi Diane 14 for Virginia, which sorely needed a drama-free victory. Less than 48 hours earlier, they came from behind to beat eighth-ranked Duke 68-66 in overtime on a shot by Singletary.
The six-game winning streak in the ACC is Virginia's longest since it also won six in a row during the 1994-95 season, and comes as the Cavaliers prepare for a tough week. They play at Maryland on Tuesday night and at Virginia Tech next Saturday.
The Cavaliers used a barrage of 3-pointers in the first half to pull comfortably ahead. Leading 9-8, they got 3-pointers from Diane, Adrian Joseph and Reynolds in a span of 62 seconds to open an 18-8 lead. Later, they held Miami without a point for nearly seven minutes and turned a 21-18 advantage into a 34-18 lead with 6:08 left.
The Cavaliers were 8-for-16 on 3-pointers in the half and five players made them.
The Hurricanes shot just 29 percent, making 10 of 34 shots overall.