University of Miami Athletics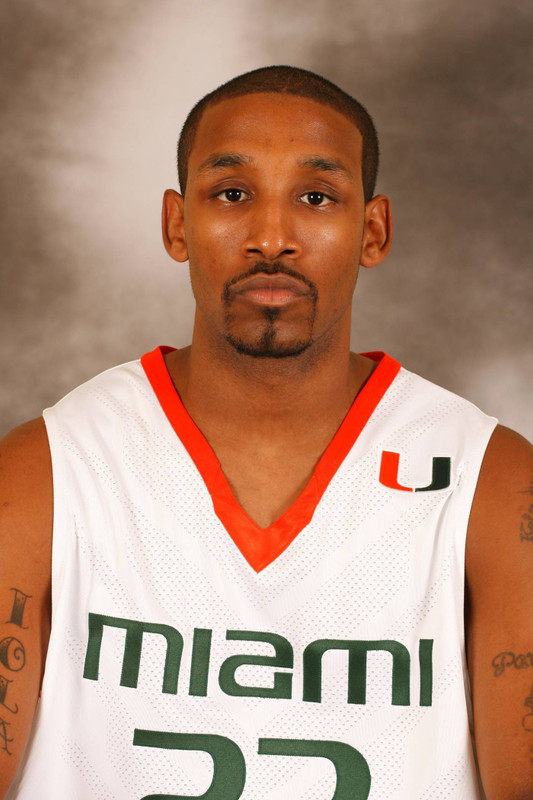 As a Junior (2008-09)
Saw action in all 32 games, including 16 starts… Third on the squad with 8.2 points per game, converting 39.3 percent from the field, 33.3 percent from beyond the arc and 75.6 percent from the line… Scored in double figures 11 times, including a season-high 19 points at Florida State (2/18)… Versus the Seminoles, hit 7-of-11 field goals and 3-of-5 three pointers, while grabbing a career-high seven rebounds… Second on the team with 44 three-pointers, including a career-high tying four in wins at Kentucky (12/6), versus Boston College (2/21) and North Carolina Central (1/3)… Hit three-plus treys eight times, including a 3-for-3 performance versus FIU (12/12) and a 3-for-4 effort at No. 3/4 Duke (2/7)… Averaged 10.6 points in his last five games as a starter… Added 2.7 rebounds, 1.2 assists and 0.8 steals per game on the season… Grabbed a season-high three steals versus No. 3/3 North Carolina (2/15), Robert Morris (12/14) and Ohio State (12/2/)… Dished out a season-high five assists (0 turnovers) with eight points and three rebounds in the NIT first-round win at Providence (3/18)…Contributed 14 points on 5-of-8 shooting from the field and 3-for-4 from long range in the overtime effort at No. 3/4 Duke (2/7)… Scored 11 points — including three three-pointers — at Georgia Tech (3/4) in his fourth-straight start… Registered 14 points — including a career-high tying four three-pointers, four rebounds, three assists, two steals and a blocked shot in a win over Boston College (2/21)… Poured in 13 points, including three baskets from long range, against Maryland (1/31)…Posted his first blocked shot of the year at No. 5/6 North Carolina (1/17)… Scored eight-straight points during Miami's 24-6 run in a comeback win over Maryland (1/14), adding five rebounds, two assists and a steal… Finished with 12 points — including a perfect 4-of-4 showing at the charity stripe, with two assists and a steal at Boston College (1/10)…Led all scorers with 16 points — including a season-high tying four three-pointers — versus North Carolina Central (1/3)… Snapped a string of 43 consecutive starts at St. John's (12/27), but still saw 26 minutes of action, finishing with nine points, including seven during a critical 9-0 Miami run, and six boards in the win at Madison Square Garden… Scored his 500th career point with an 18-point outburst in the win at Kentucky (12/6), hitting 6-of-8 from the floor, including 4-of-6 from long range, while grabbing two boards and a steal… Extended his consecutive free throw streak to 30 versus the Wildcats before missing his first free throw since Jan. 23, 2008… Scored a game-high tying 15 points versus FIU (12/12), converting 5-of-6 from the field, 3-of-3 from long range and 2-of-2 from the charity stripe.
As a Sophomore (2007-08)
Started 33-straight games, including first career start versus Marist in the second game of the season… Second on the team in scoring with 10.3 points per game, including 1.7 three-pointers per contest… Scoring improvement (+7.2 points per game between freshman and sophomore campaigns) tied for second best in the ACC, while his minutes per game improvement (+14.4) ranked fourth in the league… Named team's Most Improved Player at year-end banquet… Played at least 30 minutes in 8-of-16 regular season ACC contests… Saw a career-high 36 minutes on the court twice — in an overtime game at Florida State (3/8) and versus Texas (3/23) in the second round of the NCAA Tournament… Averaged 28.5 minutes per game — second most on the team… Sank a career-high four three-pointers twice, and hit three-or-more treys 10 times — including a five-game stretch from 12/13-12/29 in which he shot 44.7 percent from long range… For the season, converted 37.2 percent from beyond the arc… Hit a three-pointer in 16-straight games – the eighth-longest streak in program history… Scored in double figures in 18-of-34 games… Posted a team-leading 2.2 assist/turnover ratio (61 assists, 28 turnovers)… Made 31-of-32 free throw attempts against ACC opposition (96.9), including 26 straight to close the season… For the season, shot 90.7 percent from the charity stripe (49-54) — second-best on the squad and in UM history… Converted a career-best 8-of-8 from the line versus NC State (3/13) in the opening round of the ACC Tournament… Finished with 14 points and five rebounds in that win… Posted top performance as a Hurricane in the ACC opener against Georgia Tech (1/12) with a career-high 20 points, while also setting career highs in made field goals (7) and field goals attempts (16)… Scored 16 of his 20 points in the second half versus the Yellow Jackets… Scored 13 points, on 5-of-7 shooting, and grabbed four boards in victory over Maryland (2/23)… Finished with a team-high 15 points (5-of-6 FG, 3-of-4 3FG) and added three rebounds at Duke (2/2)… Grabbed a career-high tying six boards versus Florida State (2/6)… Finished with 15 points at Boston College (1/15)… Grabbed a season-high three steals twice — in the season-opener versus Florida Southern (11/9) and at Wake Forest (1/29)… Dished out a career-high six assists versus Penn (1/2)… Dropped 17 points and put up a career-high three blocks in the Puerto Rico Tip-Off championship win over Providence (11/8)… Scored 16 points versus North Carolina A&T (12/23)… Shot 60.0 percent or better from the field seven times — including converting 5-of-6 field goals at Duke for a season-best 83.3-percent performance… Only seven Hurricanes have started more than 33 games in a season, with those seven players making 34 starts.
As a Freshman (2006-07)
Appeared in more games (31) and logged more minutes per game (14.1) than any other non-starter… Averaged 3.1 points and 1.8 rebounds per game over the season, and averaged 3.3 points and 1.7 rebounds in ACC play… One of only five players on the team to play in 31 or more games… Scored a season-high 10 points at Virginia (2/3), hitting a perfect 4-of-4 attempts from the floor… Pulled down a season-high six rebounds in an upset on the road over No. 25 Maryland (1/10)… Scored nine points in 24 minutes versus Nebraska (12/30)… Averaged 22.0 minutes and 4.8 points over the last four games of the season… Scored five-or-more points in eight games and had three or more rebounds in nine games… Recorded at least three field goals in five games.
High School
The Lakota East graduate was a high school honorable mention All-American by Street & Smith, as well as a Nike All-American… Ranked in the top 100 by Lindy's, Athlon and Scout.com… Averaged 27.8 points, 4.4 rebounds, 2.0 assists and 2.0 steals per game as a senior… Greater Miami Conference Player of the Year, District Player of the Year, Butler County Player of the Year, Southwest Ohio Division Player of the Year, Cincinnati Basketball Hall of Fame Division I Player of the Year and Cincinnati Enquirer Player of the Year… Division I All-Ohio First Team selection by the Associated Press… First team all-state, all-city and all-conference… McDonald's All-America nominee… Lakota East's all-time leader in scoring (1,906), rebounds and steals… Led all of Cincinnati in scoring… High school retired his jersey (23) on February 10, 2006… Team captain as a junior and senior… All-state third team pick as a sophomore and honorable mention selection as a freshman… All-conference first team honoree as a freshman and sophomore… Led conference in scoring as sophomore and ranked second as a freshman… Coached by Wally Vickers.
Personal
A liberal arts major… Nicknames are "JD" and "Diddybop"… Off the court, enjoys going to the movies and playing video games… Would like to become a high school teacher and coach after his basketball career is over.