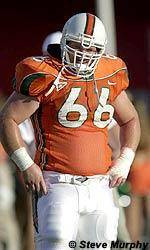 Oct. 31, 2002
Brett Romberg: Hello everyone .. I am here and ready to go!
Eric TX: OK, Brett…important question here – Barenaked Ladies or Tragically Hip? Seriously, have your recent opponents adjusted their D scheme to shut down the running game? It seems like there are fewer holes for Willis and Jason lately than there were against UF and BC.
Brett Romberg: I just think that a lot of teams are gunning for us. When you play Miami it is your chance to shine around the nation and they play their best against us..
I'm more of a Tragically Hip guy myself ..
Jim (Miami): Brett…What was being said in the huddles and on the sidelines during the 4th quarter against FSU? By the way…AMAZING JOB, it was a win for the history books!!!
Brett Romberg: We were pretty much just discussing how we were going to score some more points. We knew there was plenty of time to put ourselves in position to win the game.
Walt, Beachwood, NJ: Brett how you doing? Does it frustrate you when the defense gets a cheap shot on Dorsey or do you just let Dorsey get in the defenses face and show them up on the field?
Brett Romberg: If it comes down to a cheap shot, I take that personally. Dorsey is not the biggest guy in the world and a big gust of wind can knock him over. I will rectify the situation if I have to.
Darren (Ft. Lauderdale): Brett, have you been keeping a close eye on what the other undefeated teams are doing this year, or are you just focused on your task at hand?
Brett Romberg: I don't pay too much attention to it. We can control those outcomes. Right now we just have to focus on ourselves and what we can do. Hopefully it will all pan out in the end. I'm sure OU and ND will do their best to get to that championship game.
Phil (Long Beach): Brett, is it frustrating when people complain Miami isn't "winning like they're supposed to?" Oklahoma snuck by Alabama and Missouri, Notre Dame has squeaked by a handful of teams, Ohio State barely defeated Cincinnati and Penn St., etc. Why does it seem that only Miami gets a majority of negative press over this? Is it mainly because you guys are defending national champs?
Brett Romberg: Yeah, it's rough. Especially in the last few years seeing as how we have won so many games convincingly. We are playing near perfect football for almost two years so anything less gets criticized. But rightfully so .. we need to be perfectionists to be No. 1 again this year.
Spear: What are your feelings on the BCS system? And, as a player, would you be in favor of a playoff system, even if it meant an extened season?
Brett Romberg: It all depends. I don't really have a bitter taste about it right now. But I wasn't a happy camper after going to the Sugar Bowl. If we leave it up to the computers, it's our fault. We should have never done that. We should have taken care of business.
Don (Coral Gables): Brett…Whats the deal with the run defense? It will be fixed by the time you go to Knoxville i assume!
Brett Romberg: Yeah, it will be fixed. It was fixed probably 24 hours after the last game. The defensive side of the ball was embarassed about how many yards they gave up and took it personally. They know it is time to play football every week and not even give the opposing team a chance.
Jamal (Miami): The 2 people lining up behind you are Heisman Candidates, Don't you think you deserve some credit for that? How does Romberg for Heisman sound?
Brett Romberg: They might have to modify the trophy.. make it a short, stumpy guy. I know my position isn't a glory position. I'm happy with the press we have received. I knew from Day 1 I wouldn't be the glory boy. Looking in the mirror and seeing some chub made me realize that. I'm a bodyguard day in and day out.
Ben (Houston): Hey Brett. I was glad to see your comments in the paper this week acknowledging that you guys aren't playing with the same intensity as last year. You, Sherko, and Vilma attributed it to the young guys, but they (Winston) say they follow the upperclassmen's lead. Have you guys been doing more to show them the way this week? Can we expect to see the team play with passion for four quarters against Tennessee next weekend?
Brett Romberg: Yes. My comments were not just towards the young guys, it was to everyone. I included myself in what I said. There is always something else you can do to lead by example and get rid of that complacency.
atlanta: what gives you more satisfaction? blocking for a touchdown run or pass blocking for a touchdown pass?
Brett Romberg: The run blocking. I wouldn't be an OL if I stated otherwise. Esp. if I can get downfield and create an extra hole.
Todd (Richmond): Brett, congrats on a terrific run stemming from last year and even the one before! With the remaining games and all the hype surrounding the Dec. 7 showdown with the Hokies (possible 1 vs. 2 0r 3) is it difficult not to think about that game and stay focused on the games before?? Thanks and good luck!
Brett Romberg: It's not hard. The way we have been playing, we know we have no right to look past anybody. We have to start striking fear into our upcoming opponents like we used to. They have to know it will not be an easy day when they play us. We have to get the job done more convincingly.
Tom (Orange County): Hey Brett, what type of line-up changes, if any, is Coach Coker making to sure of the run defense? Dropping more guys in the "box?"
Brett Romberg: None that I know of. We are sticking to our guns. Our staff does a great job gameplanning. Coker lets them have freedom and that is what makes us so good.
Joe Gables: Are you a big fan of Cuban food? If so whats your favorite thing?
Brett Romberg: Yes. I love it. If I said otherwise, my girlfriend and family would have a bone to pick with them. I love my Ropa Viaha.
Frank (Toronto, Canada): Great story in the Toronto Sune last week. It must be exciting being a Canadian playing for a big time colleg football team… do you miss winter?
Brett Romberg: Kind of .. I don't miss getting up and shoveling my driveway. I do miss the cold weather and the hot chocolate.
Tim (Seattle): Brett, what's your major, and what are your plans after your football career ends?
Brett Romberg: After college football, I'm definitly working towards going to the NFL. I have been working on my schooling just as hard. I could have a master's before I leave which is great.
Ed, Miami: Brett, what's up with the hair? Not even thinking about a cut?
Brett Romberg: I don't know.. ever since I started three years ago .. I used to be the pretty boy .. but I guess it's just my identity now. It's so bloody hot down here, I'm surprised I still have it.
Eric (Largo): Brett.. Why is the offence only playing like they are the #1 tean in the nation in the 4th quarter? Is the first team offence playing against the first team defence? If so they must have a hard time stoping you guys.
Brett Romberg: That is where that complacency comes in .. I'm not sure if guys were just bored of winning or wanted to make it more interesting or what. If we don't start doing better in the first half we will be watching the championship at home.
randy (charleston): Brett, I read you havent given up a sack since you have been at Miami. was that a goal of yours when you arrived at Miami?
Brett Romberg: It wasn't a goal.. it just came with striving to be the best. I never looked at individual stats .. but I hope it still says 0 when I'm done here.
Jamal (Miami): Which one was a sweeter win, Wide Right III or Wide Left I?
Brett Romberg: I'm going with Wide Right III. Wide Left I, it shouldn't have come down to that. Our offense should have taken care of business. Wide Right III was our first win in some time over FSU. It was something that we worked so hard for. It was almost like the David and Goliath story, we were the underdog and won.
Stones: What's it like living with Dorsey? I heard he's stuck to the PS2 all day?
Brett Romberg: It's almost like picking up after your kid I guess. He has gotten better though in terms of cleaning. Some things I said in newspapers made him realize he was getting pretty bad. He plays video games all day long .. or watching movies.
Alex (Lancaster, PA): Brett, the UM football program has come a long way since probation in the mid 90's and a 5-6 season a few years back. What do you attribute Miami's return to glory to?
Brett Romberg: I attribute it to character. Coach Davis recruited good football players with good character. It might have been some of the attitudes around here during those times that just didn't get it done. They recruited great players and that did the trick.
BLed (NYC): Going to root you guys on at Rutgers on Sat. Do you think they'll be able run at our defense???
Brett Romberg: I'll rest my head and say no.. we have a very bad taste in our mouth and our practice has been really good this week. We are focusing on playing for each other and not for other things that can lead to distractions.
Thanks for the questions ..I'm flattered to see there are so many people interested in me and our team.. I hope we can convince you all by the end of the season we are the national champions.
Take care.