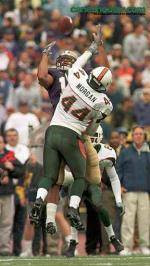 Nov. 10, 2000
by Chris Bello
Coral Gables, Fla. – www.hurricanesports.com –
Q: When we spoke in September, you said your collegiate career wouldn't be complete without defeating the Noles and the Hokies. With that dream fulfilled are we setting our sites on January 4th at Pro Player Stadium?
A: Right now, I'll be honest with you, I'm just focused on winning these last three games. Hopefully things will work out and we'll get in the National Championship game in front of our home crowd.
Q: You routed Virginia Tech 41-21 in a game that wasn't as close as the score. Did you want to see more of Michael Vick?
A: We did. He is a great player and we always want to face the best because that's the kind of people we are on defense. But he didn't play so it didn't really matter to us either way.
Q: Are you in favor of a playoff system in college football to do away with all this drama?
A: I think it'd be good to have a playoff system because then you'd really determine who the best team is.
Q: How dangerous is this year's 5-3 Pittsburgh team? They are obviously not the same team the Canes took out 33-3 in 1999.
A: They've got a real good team that is capable of making big plays on offense and their defense is better this year too. We're just going to have to worry about us and not worry about our opponent. We just have to worry about and focus on the fundamentals and be smart out there.
Q: Do you feel like the offense needs to make a statement on the scoreboard against the Panthers? It seems this race for that No. 2 spot in the BCS will come down to who scores the most.
A: I just think we need to go out and play like we usually do and not worry about the BCS and amount of points we need to score. If we worry, we're going to mess ourselves up and maybe lose a game because people tried to do stuff too hard. We're just going to go out and play like we always do.
Q: Are you guys experiencing any of that "big man on campus" treatment now that the squad is 7-1 and destined for a BCS bowl?
A: Not really. We've all been doing the same thing. You can tell a few people here and there notice what's going on. There's definitely been a lot more flags flying on cars, so that's a difference.
Q: Has it hit you yet that you are down to your final four games of your collegiate career and on the brink of fulfilling a dream of playing in the NFL?
A: It definitely has. You walk in and look at the big schedule on our door and see that there are only three more games left and you just want to enjoy these last few games.
Q: Put in words how exciting this season is after all you went through these past three years…
A: It's been great. It's been a fun season but it's not over yet. We're goint to keep having fun and we're going to keep going out and getting those wins and hopefully play in the National Championship.