University of Miami Athletics
Ron Dugans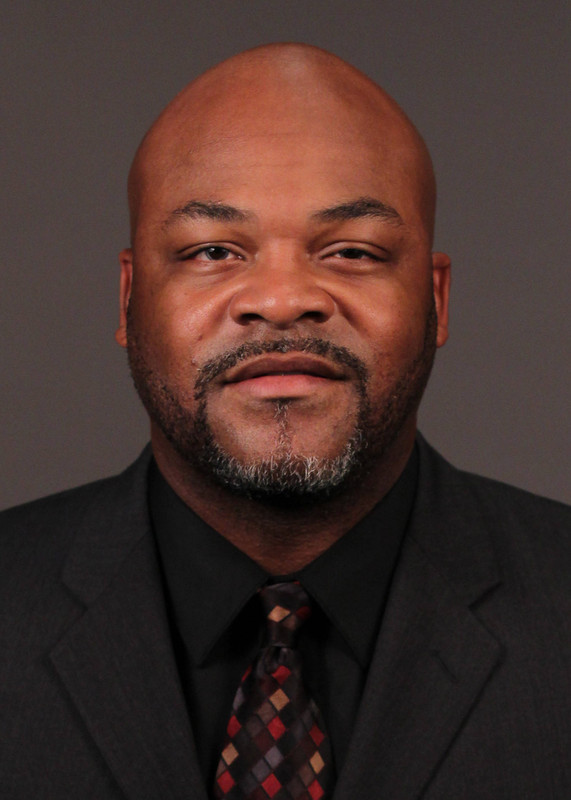 Ron Dugans is entering his third season as the Hurricanes' wide receivers coach. In addition to his duties as Miami's wide receivers coach, Dugans also serves as the team's co-offensive coordinator.
Miami's offense enjoyed a prolific 2017, including a breakout season from senior wide receiver Braxton Berrios, who earned All-ACC recognition. Berrios posted career-high totals in catches (52), yards (634) and touchdowns (nine), leading Miami in each category on his way to becoming a Campbell Trophy finalist and the Jim Tatum Award recipient from the ACC.in
Dugans guided Ahmmon Richards to freshman All-America honors and second-team ACSMA All-ACC honors his first season, as Richards set the UM freshman all-time receiving mark with 934 yards. Senior Stacy Coley, who became just the eighth Hurricane to ever top 2,000 career yards – including a career-best 754 under Dugans' watch in 2016 – was named to the All-ACC Third Team.
Dugans spent the 2016 and 2017 seasons as Miami's wide receivers coach / passing game coordinator.
Dugans, a former wide receiver with the Cincinnati Bengals, has made previous stops at Florida State, Georgia Southern, Louisville and USF.
The Tallahassee native spent the 2014 and 2015 seasons at USF, where he helped the Bulls to an 8-5 record and an appearance in the 2015 Miami Beach Bowl. Under Dugans' direction in 2015, junior wide receiver Rodney Adams posted a career-high 822 yards and hauled in a school-record nine receiving touchdowns.
In his first season in Tampa, Dugans helped guide wide receiver Andre Davis to a then-school record seven touchdown catches in 2014 despite Davis missing four games with an injury.
Before his two-year stint at USF, Dugans spent three years at Louisville where he served as an assistant on Charlie Strong's staff from 2010-13.
During his final two seasons at U of L, the Cardinals posted a 23-3 record, including an 11-2 mark and a win in the 2013 Sugar Bowl. He guided wide receiver DeVante Parker to first-team All-American Athletic Conference honors in 2013, as the junior caught 55 passes for 885 yards and 12 touchdowns. Parker, who was also a 2012 first-team All-BIG EAST selection after posting 10 touchdown receptions, logged 28 touchdown catches in his first three seasons.
Prior to his time at Louisville, Dugans coached wide receivers at Georgia Southern (2007-09) for three seasons. Under Dugans' guidance, wide receiver Raja Andrews broke several school records during his senior campaign, en route to finishing 15th nationally in receptions per game and 20th in receiving yards.
Dugans served as a coaching assistant with the NFL's Cincinnati Bengals during the 2007 season. Prior to that, he coached at his alma mater, Florida State. He spent the 2006 season as a graduate assistant coach on offense.
Dugans reunites with Richt after he played for the Hurricanes' coach during his time as offensive coordinator at Florida State.
As a player from 1995-99, Dugans played his first two seasons at FSU before taking a medical redshirt during the 1997 campaign. He returned as a starting wide receiver his final two years from 1998-99 and posted 105 receptions for 1,520 yards and seven touchdowns in his career. He caught six passes for 135 yards in the 1999 Fiesta Bowl BCS National Championship Game against Tennessee and tallied five receptions for 99 yards and two touchdowns in the 2000 Sugar Bowl BCS National Championship Game.