University of Miami Athletics
Charlie Strong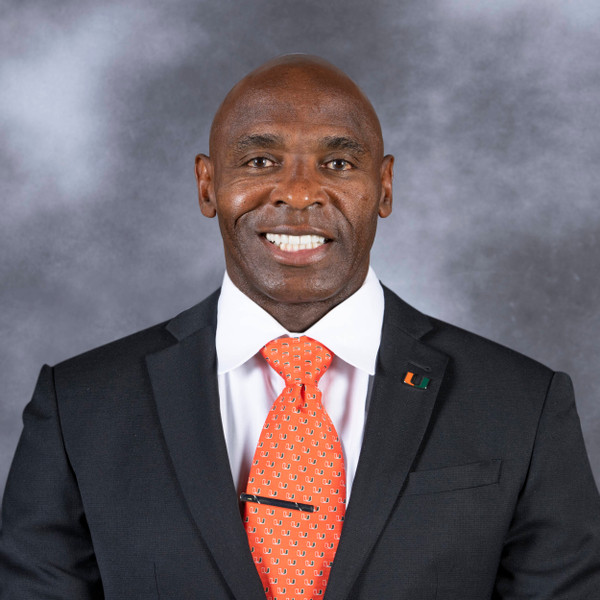 Charlie Strong is in his first season as a member of the Miami Hurricanes Football coaching staff, where he serves as co-defensive coordinator and linebackers coach.
A two-time conference coach of the year, Strong most recently served as inside linebackers coach of the NFL's Jacksonville Jaguars in 2021. Strong has 38 years of coaching experience in college football, has been a part of three national championship teams (2006, 2008, 2020) and is regarded as one of the nation's top defensive coaches and recruiters.
"I'm fired up to add Charlie Strong to our staff as co-defensive coordinator and linebackers coach," head coach Mario Cristobal said upon Strong's hiring. "'Coach Strong is an elite football mind and has a tremendous reputation as a coach with championship experience. He also has exceptional acumen as a recruiter. Coach Strong will elevate not only our defense, but our program as a whole, and I can't wait to see the impact he makes on the culture and DNA of our team."
Strong spent 18 of his 38 seasons of collegiate experience coaching in the state of Florida. He has spent 10 years as an FBS head coach across his illustrious career, with head coaching stops at Louisville (2010-2013), Texas (2014-2016) and USF (2017-19).
"I have a lot of respect for the program," Strong said upon his hiring. "And I also have a lot of respect for Mario [Cristobal]…It's a really special moment for me. Whenever you go into a program, you always look at 'Do I have a chance to be successful? Are we going to have the support that we need?' And that's what you're getting right now.
"You look at the history – a foundation has been laid here. It's the championships over the years, the great players over the years and now…everybody wants to see this program take off and everybody expects for this program to be at a different level."
Strong experienced great success as a defensive coordinator in the SEC for 11 seasons, including winning national championships at the University of Florida in 2006 and 2008. Strong has coached 15 players selected in the first round of the NFL Draft and had 38 drafted in the first four rounds, while coaching in seven bowl games and posting three 10-plus win seasons as a head coach.
In his first season leading USF, Strong's team posted a 10-2 record and defeated Texas Tech in the Birmingham Bowl for the program's second straight bowl victory. The Bulls spent the entire season ranked in the top 25, reaching as high as No. 13, before finishing No. 21 in the AP and Coaches polls.
USF's defense saw immediate improvement, finishing in the top 25 of the national rankings in six categories and going from 120th in total defense (482.0 ypg) the prior year to 37th (359.8 ypg) and 92nd (31.6 ppg) in scoring defense to 41st (21.5 ppg). The Bulls ranked second nationally in interceptions (20), fifth in tackles for loss (8.4 tpg) and 11th in sacks (3.0 spg). Strong signed 26 players in his first full recruiting cycle, as USF's 2018 class was ranked No. 2 in The American by Rivals and 247Sports.
At Texas, Strong rebuilt the roster, put his stamp on the culture and elevated the program's infrastructure.  His tenure at Texas included wins over No. 10 Oklahoma (2015), No. 12 Baylor (2015) and No. 10 Notre Dame (2016). He secured back-to-back top 10-ranked recruiting classes and a 2015 true freshman class that featured three freshman All-Americans and three other players who earned honorable mention All-Big 12 honors.
A number of players earned individual honors at Texas under Strong. Defensive tackle Malcom Brown was a finalist for both the Nagurski and Outland trophies, as well as becoming the 47th consensus All-American in school history. Brown and linebacker Jordan Hicks earned All-America honors. They were also among 12 Texas players to secure All-Big 12 accolades since 2014.
Strong also developed pressure defenses that ranked fifth in the country in sacks per game (3.08), and a turnover margin that was tied for ninth best nationally (+11) in 2015. Texas ranked fifth in the nation in sacks (3.42) and 16th in tackles for loss (7.6) in 2016. In 2014, Texas ranked 25th in the FBS in total yards allowed (348.5 per game), No. 11 in passing defense (184.2 ypg), No. 7 in yards allowed per play (4.68), 15th in passing efficiency defense (110.04 rating), tied for 11th in sacks (3.1 pg) and 31st in points allowed (23.8 pg).
Strong proved to be an exceptional developer of talent. Following the 2015 season, two of Strong's former players were taken in the NFL Draft, while eight others signed undrafted free agent contracts. Former Louisville defensive tackle Sheldon Rankins was selected 12th overall by the New Orleans Saints, while Texas DT Hassan Ridgeway was picked in the fourth round by the Indianapolis Colts.
Strong led Louisville to back-to-back Big East Championships in 2011 and 2012 and posted a 37-15 record in four seasons leading a Cardinals program that was coming off back-to-back losing seasons. He reached a bowl game in all four seasons (3-1), including a 33-23 victory over No. 4 Florida in the 2013 Allstate Sugar Bowl, completing an 11-2 season.  Strong's 2012 Louisville team finished 13th in the final top 25 rankings and his 2013 team, which competed in the American Athletic Conference, finished ranked 15th with a 12-1 mark, and posted back-to-back bowl victories for the first time in program history.
Strong is the only coach in Louisville history to have won three bowl games and prior to his arrival the Cards had won just six bowl games in the program's 100-year history. He was named Big East Coach of the Year in both 2010 and 2012. Overall, as a head coach, Strong has coached in six bowl games (3-3) during his career.
In 2013, the Cardinals led the nation in nine team categories: total defense (251.5 yards per game), rushing defense (80.7 ypg), third-down conversion defense (26.7 percent), sacks (3.31 per game), fewest passes intercepted (4), fewest turnovers lost (10), fewest first downs allowed (183), completion percentage (70.8) and punt-return defense (1.15 yards per return).
In 2012, Louisville posted an 11-2 record, claimed a Big East Championship and finished the year ranked 13th in the BCS Standings, USA Today Coaches Poll and AP Poll. The Cards capped the year with a 33-23 upset win over the fourth-ranked Gators in the Allstate Sugar Bowl.
Strong departed Louisville for the University of Texas in 2014.  He has also held positions on the coaching staffs at Florida, Texas A&M (1985, graduate assistant), Southern Illinois (1986-87, wide receivers), Mississippi (1990, wide receivers), Notre Dame (1995-98, defensive line) and South Carolina (1999-2002, defensive coordinator). He was a finalist for the Broyles Award (nation's top assistant coach) three times.
Strong began his coaching career as a graduate assistant at the University of Florida in 1983.  He spent 15 seasons as an assistant at Florida over four stints, including seven years as the defensive coordinator, the last five of which were under current Ohio State head coach Urban Meyer.  Strong also served on two of coach Lou Holtz's staffs, spending the first two years of his Notre Dame tenure under Holtz, as well as four more as defensive coordinator at South Carolina under the Hall of Famer.
Strong spent seven seasons as the defensive coordinator at the University of Florida from 2005-09 and 2003-04, where he helped the Gators win a pair of national titles – 2008 over Oklahoma and 2006 over Ohio State. From 2003-09, Strong's defensive units at Florida produced 13 All-Americans, seven first-round NFL Draft picks and 18 players that were selected in the third round or higher. His units regularly ranked among the best in the nation statistically and allowed an average of just 17.6 points per game over that span, which ranked ninth in the country. Strong coached a National Defensive Player of the Year, a Jack Tatum Award winner, two SEC Defensive Freshmen of the Year, two Thorpe Award finalists, two Nagurski Trophy finalists and the 2008 Chevrolet Defensive Player of the Year.
In 2009, Strong guided one of the nation's top defensive units, finishing in the top six in four different statistical categories. UF was fourth in the nation in scoring defense (12.4 ppg), second in passing defense (152.8 ypg), fourth in total defense (252.6 ypg) and sixth in passing efficiency defense (96.1 rating) as the Gators went 13-1, including a trip to the SEC Championship game for the third time in Strong's tenure. Florida finished the season with a 51-24 win over Cincinnati in the Sugar Bowl and a No. 3 ranking in both polls. He was named a finalist for the Frank Broyles Award for the second straight year and became only the second three-time finalist in the history of the award. In Strong's position group, LB Brandon Spikes earned consensus first-team All-America honors, earned the second of his two Butkus Award finalist nods and was a finalist for the Bednarik Award. CB Joe Haden also earned unanimous first-team All-America honors and was a Thorpe Award finalist.
In 2008, Strong's defense ranked in the top 20 nationally in 10 statistical categories, including a school-record tying 26 interceptions that also tied for the most in the country that season. UF's scoring defense showed the third-largest improvement from 2007 to 2008, finishing fourth in the nation by yielding only 12.9 points per game. The defense also ranked ninth in total defense (285.3 ypg), and third in pass efficiency defense (96.76 rating). Spikes preceded his consensus All-America honors from the previous year with unanimous honors and being named a finalist of the Lombardi and Butkus Awards under Strong. In the 2009 FedEx BCS National Championship Game versus Oklahoma, which entered the contest scoring a nation's best 54.0 ppg, the UF defense held Heisman-winning quarterback Sam Bradford and the Sooners to just 14 points and 363 total yards in a 24-14 win. The Gators ended the year with a 13-1 record and earned their second national title in three years. That came on the heels of a nine-win season in 2007 in which Florida finished No. 13 in the AP poll and No. 16 in the coaches poll with an appearance in the Capital One Bowl.
Under Strong's watch in the 2006 season, Florida set a BCS record for fewest yards allowed in the national title game, holding Ohio State to only 82 total yards. He guided a Gator defense that limited opponents to a SEC-best 72.5 rushing yards per game for the season, ranking fifth nationally, while rating sixth in the nation in total defense (255.4 ypg), sixth in scoring defense (13.5 ppg) and fourth in passing efficiency defense (98.31 rating). Safety Reggie Nelson earned first-team consensus All-America honors and was a Thorpe Award and Nagurski Trophy finalist, while the AP named CB Ryan Smith second-team All-America and LB Brandon Siler was on its third team.
The 2005 season saw Florida once again win nine games with the defense ranking in the top 10 in both total yards allowed (ninth/299.8 ypg) and rushing (10th/94.9 ypg). The Gators also ranked 18th in scoring defense at 18.8 ppg. UF defeated Iowa, 31-24, in the Outback Bowl and finished the season ranked 12th in the AP poll and 16th in the Coaches poll.
Strong made his first appearance as a head coach in the 2004 Peach Bowl in place of Zook. In 2003, CB Keiwan Ratliff was a consensus first-team All-American and a finalist for the Thorpe Award, while being named SEC Defensive Player of the Year, while in 2004, Siler was the SEC Defensive Freshman of the Year.
His stint as defensive coordinator marked his fourth tenure at Florida, including a stretch from 1991-94 in which he coached defensive ends (1991-93) and defensive tackles (1994) after coaching outside linebackers in 1988-89, and serving as a graduate assistant in 1983-84. He served as Florida's assistant head coach from 2005-07 and was the associate head coach in 2008-09.
Before returning to Florida for the fourth time, Strong received his first defensive coordinator assignment at the University of South Carolina under Holtz from 1999-2002. There, he earned his first finalist nod for the Broyles Award after he helped guide the Gamecocks to a top 20 national ranking in 2000, which he did twice while at South Carolina, peaking with a No. 13 final ranking in both polls in 2001. The 2000 squad ranked sixth in the country in scoring defense after yielding just 15.8 points per game, while the 2001 team finished 12th at 18.4 points per game. The 1999 team ranked 20th in the nation in total defense, allowing 307.7 ypg. The 2000 and 2001 seasons saw some of the highest achievements in South Carolina history to that point, ending in back-to-back Outback Bowl wins over Ohio State.
A native of Batesville, Ark., Strong was a three-year letter winner (1979-81) and three-time all-conference safety at Central Arkansas, which reached the NAIA Playoffs each of his final two seasons. He was also a two-time all-conference performer in track and field, and graduated in 1982 with a bachelor's degree in education. Strong was inducted into the Central Arkansas Sports Hall of Fame in 2009.
Strong and his wife, Vicki, have a son, Tory, and two daughters, Hailee and Hope.