University of Miami Athletics
Andrew Rossetti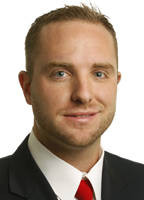 Andrew Rossetti is entering his eighth year with Miami Athletics and second as Assistant AD for Video Services.
Rossetti, who joined the Hurricanes staff in March of 2013, handles the day-to-day video needs of the football staff and the entire department. He served in the position of video coordinator for Miami until his promotion to Assistant AD / Video Services in 2019.
A native of Delray Beach, Fla., he is a 12-year member of the Collegiate Sports Video Association. Rossetti came to Coral Gables from the University of Kansas, where he was the football video coordinator during the 2012 season. While at KU, he was responsible for the day-to-day video needs of the football staff and oversaw the filming for all football practices and games.
From 2009-2011, he was the video director at Middle Tennessee, where he was in charge of all aspects of video operations and assisted in scoreboard productions for basketball games and special events. Before moving to Middle Tennessee, he spent a year as the assistant football video coordinator at Washington State.
In 2005, he co-founded Professional Sports Inc. (PSI Videos), a company specializing in editing video footage. He left PSI in 2008 for Washington State.
He is a 2005 graduate of Florida State with a bachelor's degree in mass media communications and a minor in criminology. He earned his associate's degree from Palm Beach Community College in 2002.
Rossetti and his wife, Rachel, live in Pembroke Pines, Fla.