University of Miami Athletics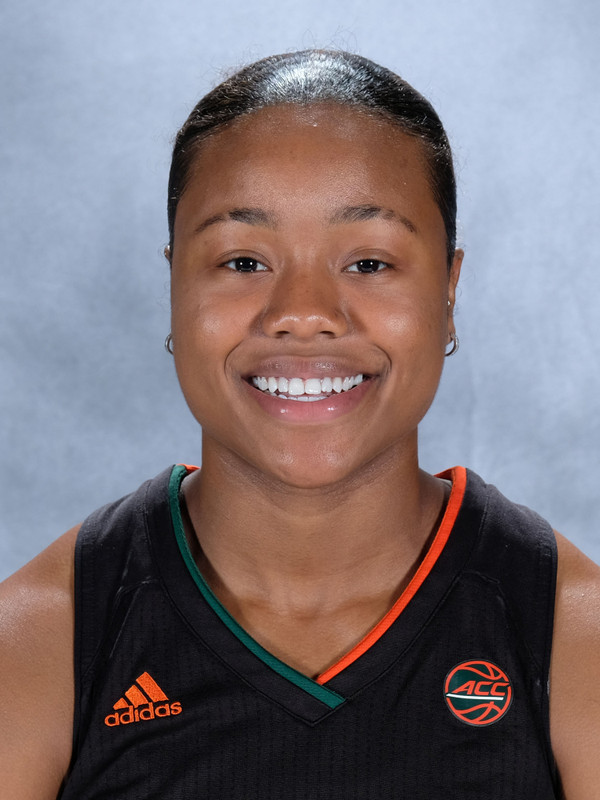 Miami Career Notes: Appeared in 116 games for the Canes, starting 20 of them…Totaled 14 double-digit scoring games, one double-figure rebounding contest and one double-double…Averaged 4.2 points, 2.3 rebounds and 1.2 assists in 116 games…Recorded a career high 15 points against Florida State (2/7/21) and a career best 10 rebounds against North Florida (11/28/20).
As a Senior (2020-21): Moved up the bench as a senior, starting 19 of 22 games played in 2020-21…Almost doubled her scoring output (4.8) and rebounding efforts (2.0) from the previous season, averaging 7.9 points and 4.4 rebounds per game as a senior…Tallied nine double-digit outings, including five in the first seven games…Recorded her first career double-double with 10 points and 10 rebounds against North Florida (11/28)…Also posted career highs in assists (five) and steals (four)against the Ospreys…Set new career highs in points and field goals made, totaling 15 and six, respectively, against Florida State (2/7).
As a Junior (2019-20): Led all Miami bench players in minutes played (18.9), 3-pointers made (14), free throw percentage (.705) and total assists (30)…Appeared in 28 games for the Canes in 2019-20…Earned the first start of her career against Pittsburgh (3/1)…Finished the season averaging 4.8 points and 2.0 rebounds per game…Totaled three double-digit outings this season, including a 15-point effort at Boston College (2/23)…Recorded a bucket in 23 of 28 games played…Tallied a career-high three steals against Washington State (12/21)…Went a perfect 4-of-4 at Clemson (2/16), setting a new career-high in 3-pointers made…One of 10 ACC players to shoot 100 percent from 3-point range in a game (one of three to go 4-of-4)…Recorded all three blocks of her career during the 2019-20 season.
As a Sophomore (2018-19): One of seven Hurricanes to play in all 34 games … Averaged 3.1 points, 2.0 rebounds and 1.2 assists in 16.0 minutes per contest … Finished with double-digit points twice and also posted five assists twice … Placed third on the team in free throw percentage (75.6) … Scored five points and tied for the game lead with a career-best five assists in the season opener at FIU (11/6) … Logged seven points, two assists and a season-best two steals, the latter tying for the team lead and matching her top career mark, in a career-high 28 minutes against Stephen F. Austin (11/9) … Recorded eight points and three rebounds in 23 minutes versus Hartford (11/11) … Tallied nine points in 26 minutes of play in the Preseason WNIT championship at Iowa State (11/18) … Registered five points and a season-high-tying five boards versus Nebraska (11/23) … Scored seven points against Temple (11/25) … Made all four of her free throws and matched her season high with five rebounds in 26 minutes at Purdue (11/29) … Compiled four points, four rebounds and three assists versus Alabama (12/21) … Matched her career high with five assists in a team-high 24 minutes against Florida A&M (12/28) … At Wake Forest (1/6), posted her first double-digit scoring performance, totaling 10 points and making her lone 3-pointer … Dished out three assists against Virginia (2/3) … Set career highs in points (13), made field goals (four) and made 3-pointers (two) in the victory over fourth-ranked Notre Dame (2/7) … Logged three assists at Virginia Tech (2/21) … Posted the first blocked shot of her career versus Georgia Tech (2/28) … Made her only 3-point attempt and grabbed three boards against No. 18/16 Syracuse (3/8) in the ACC Tournament quarterfinals.
As a Freshman (2017-18): One of four Hurricanes to play in all 32 games … Averaged 2.4 points and 1.4 rebounds in 12.4 minutes per outing … Made her collegiate debut with one assist in 13 minutes versus FIU (11/10) … Posted six points and four rebounds against Vermont (11/12), as well as set a season high in free-throw attempts, finishing 4-of-6 … Logged a season-best nine points and three made field goals against New Orleans (11/21), shooting 3-of-3 from the floor and 3-of-4 at the stripe … Notched multiple steals for the first time versus Maine (11/24) … Made her first-career 3-pointer in the win over Michigan State (11/30) … Hit both of her free throws versus St. John's (12/3), marking the fifth time in her first eight games she made multiple shots at the line … Logged four rebounds and two steals against Alabama State (12/15) … Tied her season high with two steals versus Southern Illinois (12/20) … Posted a season- and co-game-high three assists in a then-season-high 18 minutes against Bethune-Cookman (12/28) … Made a 3-pointer in ACC play for the first time at Virginia Tech (1/28) … Totaled six points and two assists versus No. 12/12 Florida State (2/11), connecting on her lone 3-point attempt … Pulled down five boards in a then-season-high-tying 18 minutes in the victory over Pittsburgh (2/15) … At Virginia (2/18), scored seven points, set a season high in free throws made (five) and tied her top mark in attempts (six) … Playing a season-best 25 minutes in her homecoming at Georgia Tech (2/22), scored seven points, tied for the game lead with a season-high seven rebounds and shot 3-of-5 from the floor to tie her best mark in makes … Totaled three assists and made a 3-pointer in the home finale versus Virginia Tech (2/25).
High School: Graduated from Norcross High School … Tabbed by espnW HoopGurlz as a four-star prospect and the nation's No. 66 recruit, including No. 21 among guards and sixth in Georgia … Ranked as a four-star player by ProspectsNation.com, which ranks her No. 82 overall, No. 18 at the guard position and No. 13 among Georgians … McDonald's All-American Game nominee … Aided her team to the region title every year and earned all-county honors three times … As a senior, selected as a 7A North All-State pick and First Team All-Region 7-7A choice by the coaches … Also tabbed as a Gwinnett Daily Post First Team All-County and Super Six honoree … Served as a captain and helped her team to the 7A state championship game, while finishing 29-3 … Posted 17 points and eight rebounds in the state final … As a junior, chosen as a Gwinnett Daily Post Second Team All-County pick, as well as a The Atlanta Journal Constitution Class 6A all-state honorable mention … Team captain as a junior and led her team to a 25-5 record … Averaged 10.8 points, 6.4 rebounds and 2.4 assists per outing … Gwinnett Daily Post Third Team All-County choice as a sophomore … Reached the 6A state championship game … Teammate of Diamond DeShields as a freshman … Won the 2016 Nike EYBL title with Team Elite … NBA players Al-Farouq Aminu, Jeremy Lamb, Gani Lawal and Jodie Meeks also attended Norcross, as did NFL players Jeff Backus, Brice Butler, Geremy Davis, Max Garcia, Larry Grant and Alvin Kamara.
Personal: Full name is Taylor Symone Mason … Nickname is Taymay … Born Sept. 8, 1998 in Baltimore … Parents are Nate and LaTonya Mason … Father is a car dealer and mother is a letter carrier … Has an older brother, Nate, who played basketball at Minnesota and was a First Team All-Big Ten pick in 2016-17 … Intends to major in human development  … Career goal is play basketball and be an entrepreneur … Enjoys running, writing poetry, meditating and listening to music … Favorite athlete is Maya Moore because she is an all-around player who never quits or shows weakness … Chose Miami because of the coaching staff, the genuine love the school is filled with and the family feeling of the basketball program … Committed to Miami over Auburn, Georgia, Ole Miss and Virginia.