Veteran Guard Group Leads Canes
CORAL GABLES, Fla. – When the Hurricanes take the court to open the 2020-21 season, they will do so with the most veteran guard group in the ACC, one anchored by a quartet of seniors-Endia Banks, Mykea Gray, Kelsey Marshall and Taylor Mason.
From totaling 222 career starts, to knocking off two top-five opponents in the span of 10 days, to playing in back-to-back NCAA Tournaments, these guards know what it takes to win at the highest level. Entering their fourth year at Miami, the expectations are high.
"We pretty much return our whole squad and added some talented newcomers, so we need to break through the second or third weekend in March," head coach Katie Meier said. "We have to put ourselves in a position where games are close at the end, and then rely on our upperclassmen, who have been there before, to hit the big shot."
The returning guards accounted for more than half (.574) of Miami's scoring a season ago and dished out 298 of the Canes' 394 assists (.776). But more than the numbers, the guard group brings back important intangibles like experience and dedication.
The Miami coaching staff has made leadership a point of emphasis for this particular guard group because they have so much experience under their belts. Early in the summer, Gray recognized that she would have to step out of her comfort zone and be more vocal on the court this year.
"I've just been communicating and talking more to the underclassmen," Gray said. "We are just trying to teach the younger ones and help them grow, while also making sure that us seniors stay dominant on the court."
In assistant coach Fitzroy Anthony's mind, the biggest leap in Gray's game this summer came off the court. He praised her leadership throughout the preseason, emphasizing the encouragement and empowerment that she is providing to the younger players.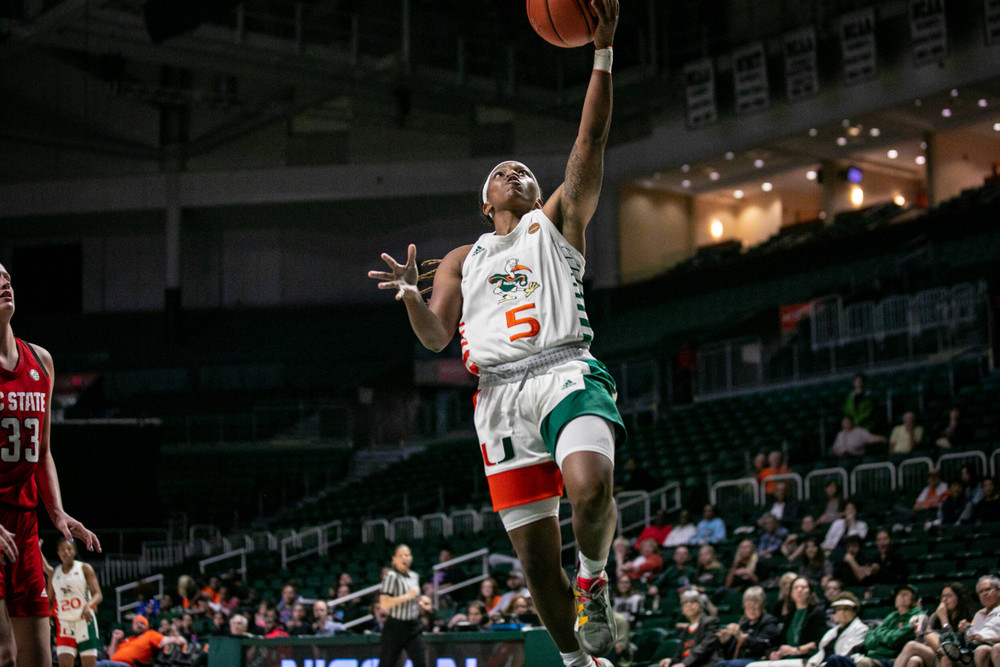 Anthony elaborates that is an added benefit of having leadership at the guard spot because they know the ins and outs of Meier's system and how to help the underclassmen along.
Like Gray, Mason has taken an active role in mentoring the new Canes, while also focusing on bettering her own game.
"I've always loved to teach and help the freshmen elevate their game," Mason said. "This year, I've worked to pick my game up and I see myself contributing a lot more."
Mason is what Anthony calls a "sleeper." Mason came off the bench as the sixth player in 2019-20, and didn't necessarily post numbers like Gray or Marshall, but she made up for it with her lockdown defense and toughness on the floor.
During the offseason, she has worked on her mid-range game, consistently knocking down pull-up jumpers, in addition to finishing at the rim and feeding her teammates. Mason has increased her time per touch tremendously and is making quicker decisions, according to Anthony.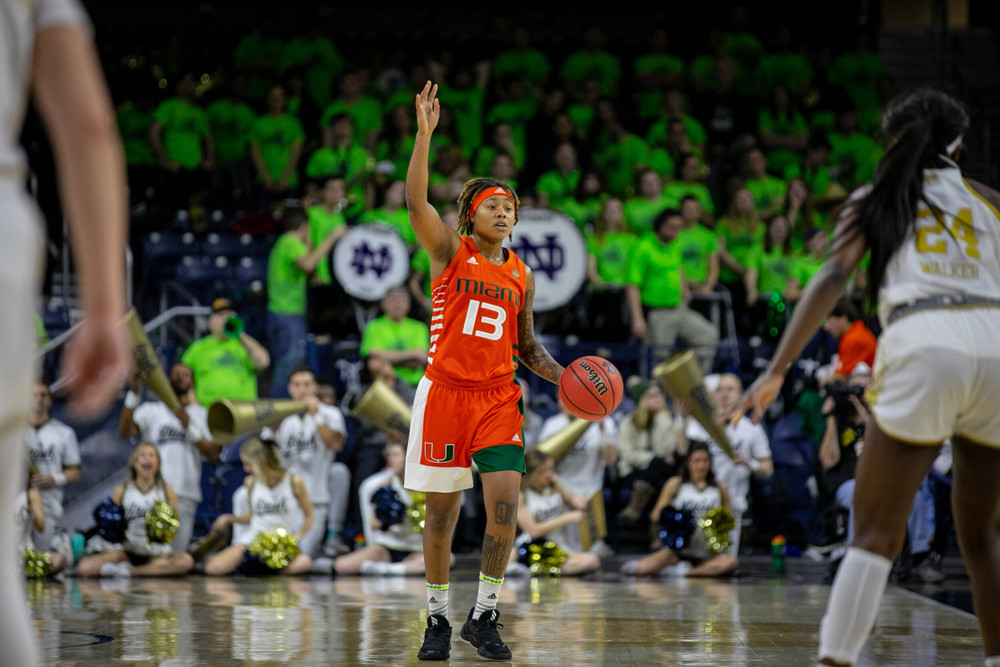 Banks and Marshall round out the senior guards, providing added depth to the Hurricanes' backcourt.
Marshall returns as Miami's leading 3-point shooter, knocking down 35.9 percent of her attempts from beyond the arc in 2019-20. She continues to climb the UM record book in 3-point shooting, sitting in third for career 3-pointers at 192.
Banks exemplifies the versatility expected of a Miami guard. The Duluth, Ga., native played almost every position on the court last season, a testament to her high basketball IQ and ability to make plays happen.
The diverseness of the guard play at Miami is something that comes in handy when going up against the best teams in the ACC.
"This conference is so good with a lot of great coaches, so having that versatility at the guard position makes it harder for teams to scout and prepare for us," Anthony said. "It's a huge benefit."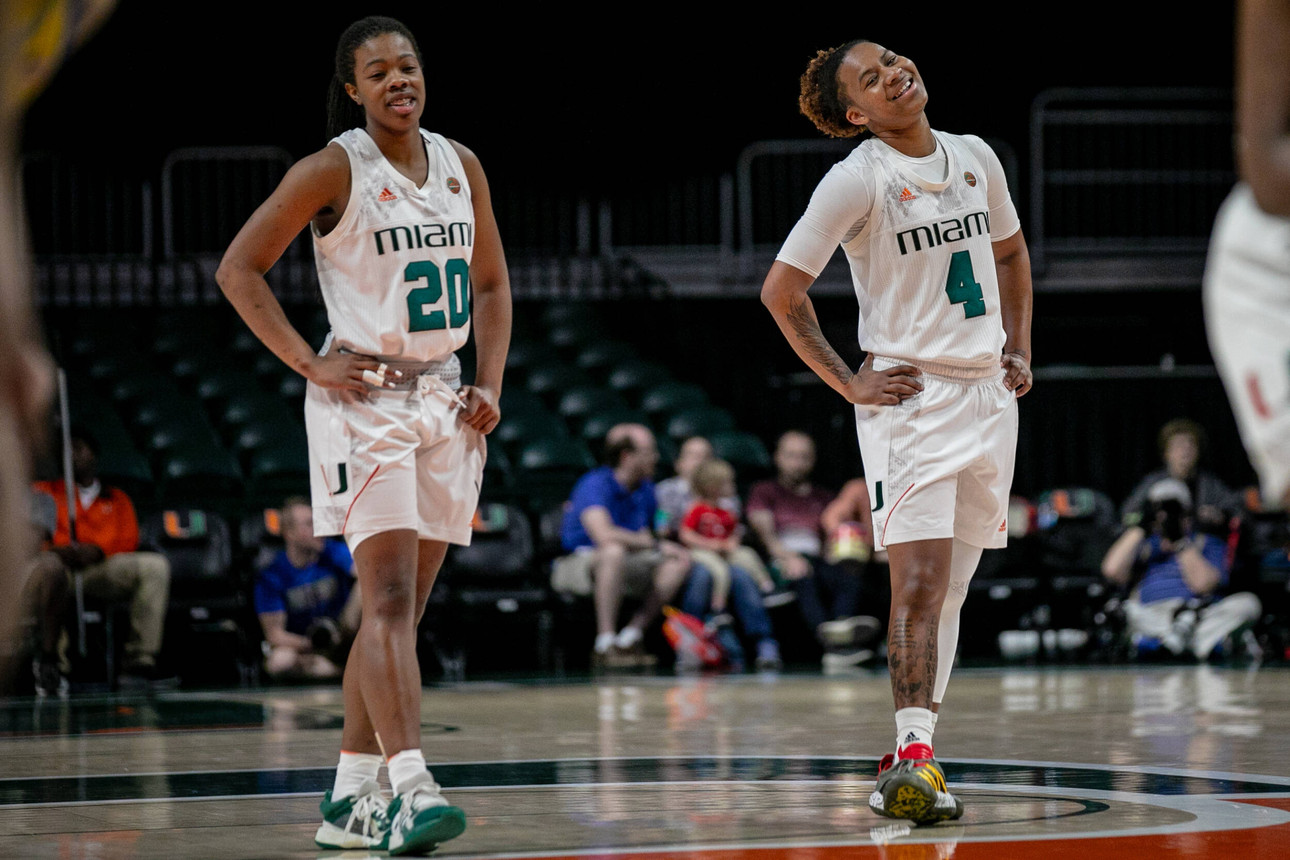 Heading into their senior year, these senior guards are ready to take the Canes to the next level.
"This year, we just want to make a statement," Gray said. "I love playing with [these seniors] and I wouldn't choose to play with anybody else. We have improved so much and I know this year is going to be amazing."
In addition to the seniors, sophomore Kenza Salgues and junior transfer Karla Erjavec have the opportunity to play pivotal roles in the backcourt this season.
Salgues and Erjavec hail from France and Croatia, respectively, bringing with them a European flare to their games. Both have incredible court vision, according to Meier, and are true playmakers at the point guard position.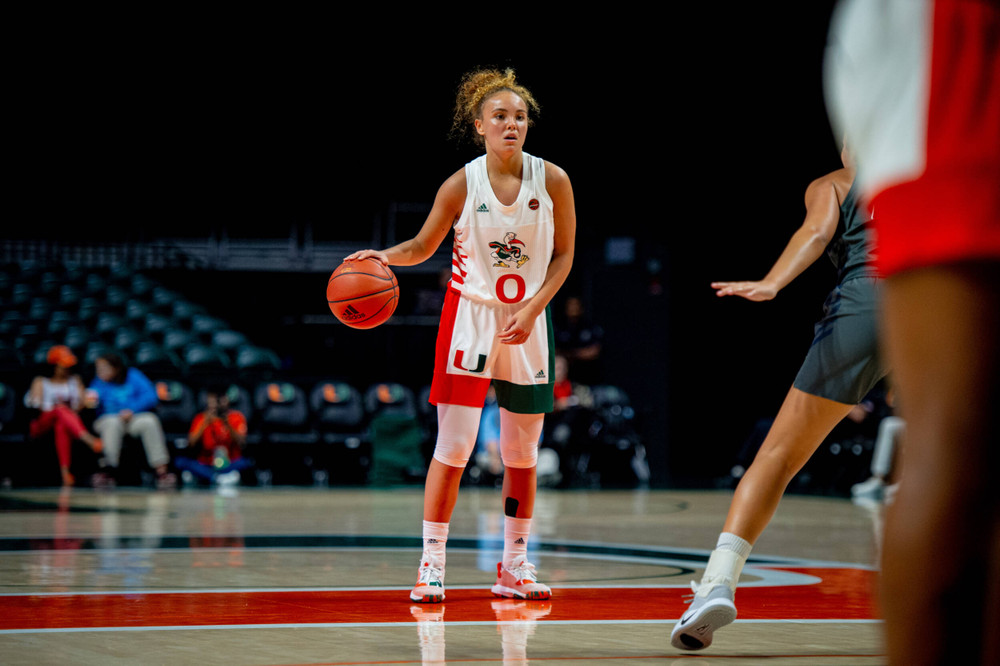 Salgues is looking to build on a freshman campaign where she saw action in 25 games, while Erjavec will be a fundamental part of the practice squad, as she sits out the 2020-21 season due to NCAA transfer rules.
As the start of the season draws closer, the Miami guards continue to put in work every day. With a roster full of scrappy, talented players, expect the Canes to take the court with excitement and explosiveness in just a three weeks' time.