University of Miami Athletics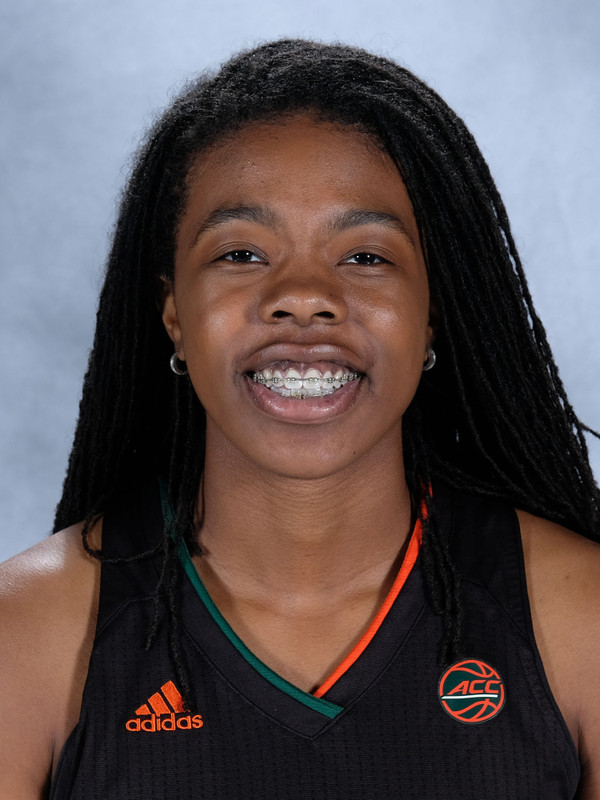 As a Junior (2019-20): Maggie Dixon Classic All-Tournament Team, Miami Holiday Classic All-Tournament Team
Started 29 of 30 games played during her junior season…Ranked third on the team in scoring (11.4) and second in free throw percentage (.721)…Finished the season fourth in the ACC in 3-point percentage (.359) and sixth in 3-pointers made (2.47)…Totaled 74 threes in 2019-20, ranking fifth in program history for 3-pointers in a season…Eclipsed the double-digit scoring mark 18 times…Paced the Canes in 20-point efforts with five in 2019-20…Shot 50 percent from 3-point range at Virginia (2/13), knocking down 7-of-14 3-point attempts…Her seven threes at Virginia placed her tied for fourth for single-game 3-pointers made in program history…Set a new career-high in scoring with 25 points at Virginia…Shot a perfect 7-of-7 from the charity stripe at DePaul (11/23), marking new career-highs in both free throws made and free throws attempted.
As a Sophomore (2018-19): Played in all 34 games, starting each of the first 20 … Scored in double figures on eight occasions, including seven times in the first 15 contests … Paced the Hurricanes in made 3-pointers (67), while finishing third in 3-point percentage (37.4) … Placed fifth on the team in both scoring (7.8) and assists (1.8) … Led or co-led Miami in steals seven times, assists four times and minutes twice … Lone Hurricane on the season to connect on three-plus 3-pointers in a game without a miss, posting a 5-of-5 outing that tied for third-best in program history … Tied for eighth on Miami's single-season made 3-pointers list and placed No. 10 in attempts (179) … Earned her first collegiate start in the season opener at FIU (11/6), tallying 13 points on 5-of-10 shooting, including a 3-of-6 mark from deep, in a team-best 26 minutes … Posted eight points, four rebounds, three assists and a co-team-best two steals against Stephen F. Austin (11/9) … Recorded eight points and a career-high-tying and season-best eight rebounds in the win over No. 19 Marquette (11/15), adding a co-game-high three assists in 30 minutes … Notched 16 points in 30 minutes and hit four 3-pointers against Nebraska (11/23) … Set a season high with 17 points in 31 minutes versus Temple (11/25), finishing 6-of-9 from the floor, including 4-of-6 from deep, and logging three assists … Co-led Miami with four assists at Purdue (11/29) … Tied for the game high with four assists against Maryland Eastern Shore (12/16) … Registered nine points and four rebounds versus Colorado (12/2) … Logged 14 points and four assists against New Orleans (12/9), posting a 5-10 mark from the floor with four made 3-pointers … Versus Alabama (12/21), tallied 13 points, went 3-of-5 from long range and tied for the game lead with a season-best five assists … Tied her season high with 17 points on 6-of-11 shooting, including a 4-of-8 mark on 3-pointers, against Florida A&M (12/28), adding three steals … Scored 12 points on 4-of-8 3-point shooting versus Central Michigan (12/30), while chipping in four rebounds … Had three assists in a career- and team-high 34 minutes against RV/No. 25 Virginia Tech (1/3) … At Wake Forest (1/6), set season bests in free throws made (three) and attempted (four), as well as in steals (co-team-best and career-high-tying four) … Finished with nine points on 3-of-5 3-point shooting, adding five rebounds in 31 minutes, versus Clemson (1/10) … Scored nine points on 3-of-5 shooting from beyond the arc in the victory at No. 13/14 Syracuse (1/23) … Equaled her season high with 17 points against Virginia (2/3), finishing 5-of-5 on 3-pointers and 2-of-2 at the line … Tallied eight points and five boards in the victory at second-ranked Louisville (2/17) … Scored nine points and went 3-of-6 from long range against Georgia Tech (2/28) … Notched points in 30 minutes at No. 10 NC State (3/3).
As a Freshman (2017-18): Blue Ribbon Panel ACC All-Freshman Team … All-ACC Academic Team
Played in 31 of 32 games, missing only the opener due to a family matter … Scored double-digit points 10 times, with nine in a span of 13 ACC games and five coming consecutively, reaching 14 in five outings and 17-plus twice … Paced Miami in made 3-pointers (51) and 3-point percentage (min. 1 3PM per game, 32.9) … Finished third among Hurricanes in free throw percentage (min. 1 FTM per game, 74.0), as well as fourth in scoring (8.0) and fifth in assists (1.3) … Led or co-led the team in assists three times and in scoring twice … Logged two of the six occurrences of a Hurricane making four 3-pointers in a game and had the most 3-point attempts (nine) in a game on the season … Placed seventh in ACC-only action with a 39.4 percent clip from 3-point range … Finished second among ACC freshmen in made 3-pointers, third in free throw percentage (min. 1 FTM per game) and fifth in 3-point percentage (min. 1 3PM per game), plus sixth in scoring … In ACC-only action, ranked first among conference freshmen in free throw percentage (min. 1 FTM per game, 82.1), second in 3-point percentage (min. 1 3PM per game, 39.4), third in made 3-pointers (28), fourth in made free throws (23) and fifth in both scoring (8.9) and field goal percentage (min. 2 FGM per game, 41.4) … Joined classmate Mykea Gray as the third and fourth ACC All-Freshman Team honorees in program history … One of three freshmen to earn All-ACC Academic Team recognition … Posted five points, three assists and a season-high four steals in her collegiate debut against Vermont (11/12) … Logged three steals and shot 4-of-6 at the line, setting a season high in attempts, versus New Orleans (11/21) … Recorded her first double-digit scoring output against No. 15/15 Maryland (11/26), finishing with 11 points … Tallied 11 points and shot 3-of-5 from deep, adding two steals, in the win over Michigan State (11/30) … Registered nine points in the triumph over No. 20/23 Kentucky (12/10) … Logged 10 points and five boards against Southern Illinois (12/20) … Totaled 14 points, shot 4-of-8 from 3-point range and added a co-team-high three assists versus Bethune-Cookman (12/28) … Turned in an 11-point performance at No. 13/12 Florida State (1/11) … Notched a season- and game-best 19 points along with a co-game-high four assists, then a season high, in 25 minutes at Clemson (1/14), shooting 5-of-7 from the floor, 4-of-5 beyond the arc and 5-of-6 at the line, setting highs in free throws made and attempted … Scored 11 points against fourth-ranked Louisville (1/25) … Posted 14 points and a team-high two steals in a season-best 28 minutes of action at Virginia Tech (1/28) … Tallied 10 points in 25 minutes at North Carolina (2/4) … Registered 14 points on 5-of-9 shooting in 25 minutes, chipping in two steals, in the victory over No. 23/23 NC State (2/8) … Capped her five-game streak of scoring in double figures with 10-point showing against No. 12/12 Florida State (2/11) … Had three assists versus Pittsburgh (2/15) … Compiled 12 points and shot 3-of-6 from 3-point range at Virginia (2/18) … In the home finale against Virginia Tech (2/25), logged a game-high 17 points and set season highs in rebounds (team-high eight), assists (game-high six) and made field goals (six), adding a pair of steals in 25 minutes.
High School: Graduated from Miami Country Day School … Listed by espnW HoopGurlz as a five-star prospect and the No. 44 player in the nation, including the No. 13 guard and third-best Floridian … Considered a four-star recruit by ProspectsNation.com, which ranked her No. 90 overall, No. 20 among guards and eighth in the state … Four-year starter, three-time Miami Herald First Team All-Dade selection and a McDonald's All-American Game nominee … Aided her team to four state titles and the DICK's Nationals crown as both a senior and sophomore … Served as a captain as a senior and averaged 18.5 points, 7.5 rebounds and 4.5 assists … Led her team to a 29-1 and No. 1 national ranking in the USA TODAY Super 25 Expert Rankings in 2016-17 … Posted 17.5 points, 6.2 rebounds and 4.7 assists per outing during a 21-6 junior campaign … Attended The Sagemont School as a freshman … Member of the honor roll her senior year … Miami head football coach Manny Diaz also attended MCDS, as did singer Emily Estefan and actresses Zoë Kravitz and Navi Rawat.
Personal: Full name is Kelsey Allysandra Marshall … Nickname is Kels … Born Feb. 26, 1999 … Parents are Joseph and Myrline Marshall … Father is a culinary arts teacher and mother is the head manager of a hospital … Has two older brothers, Khyle and Brandon … Khyle, a former professional basketball player, was a three-year starter at Butler and played in the 2011 national title game … Majoring in sport administration … Enjoys listening to music … Favorite athlete is LeBron James because he is so versatile and is a hard worker … Best sports memory is winning the DICK's Nationals title at Madison Square Garden in 2015 … Chose Miami because of how much she liked the coaches and players when she visited … Committed to Miami over Illinois and USF.