University of Miami Athletics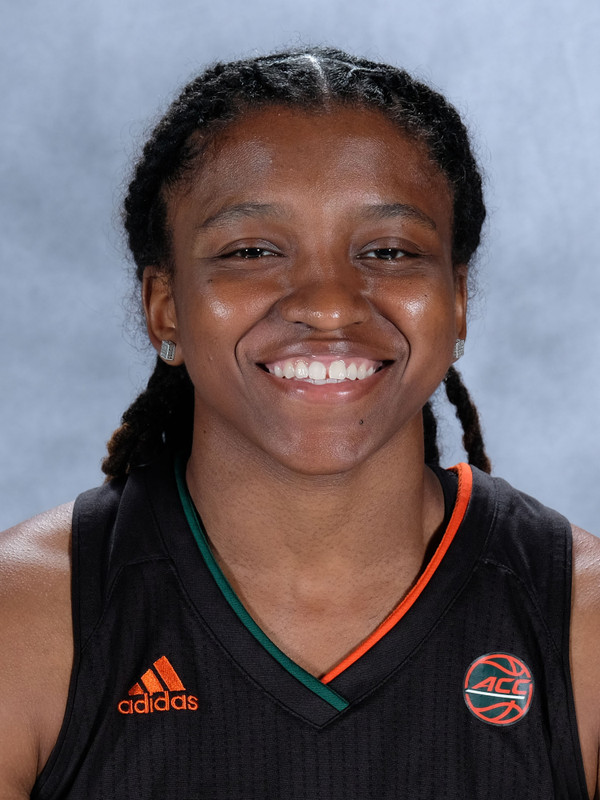 As a Freshman (2017-18): Blue Ribbon Panel All-Freshman Team & ACC Coaches ACC All-Freshman Team … Two-time ACC Rookie of the Week (11/13, 11/27) … Miami Thanksgiving Tournament All-Tournament Team
One of four Hurricanes to play in all 32 games and one of two to start all of them … Scored in double figures 18 times, including each of her first six outings, with 15-plus 10 times and 20-plus four times, including three of her first six and each of her first two appearances … Dished out five assists on four occasions … Paced Miami in free throw percentage (min. 1 FTM per game, 74.8) … Ranked second on the team in scoring (11.7), made field goals (121), made 3-pointers (48), 3-point percentage (min. 1 3PM per game, 31.6), made free throws (83), free-throw attempts (111), steals (1.4) and minutes (25.9) … Also finished third in assists (2.3) … Led or co-led the Hurricanes in assists eight times, steals eight times and scoring six times … Had the highest single-game scoring total (27) by a Hurricane … Logged four of the six occurrences of a Miami player making four 3-pointers in a contest … Placed No. 26 in the ACC in scoring … Tied for No. 13 in ACC-only free throw percentage (78.6) … Among ACC freshmen, tied for first in made free throws, ranked second in steals, free throw percentage (min. 1 FTM per game) and free-throw attempts, as well as third in scoring, fourth in made field goals and 3-pointers, plus fifth in assists … In ACC-only action, finished second among league freshmen in free throw percentage (min. 1 FTM per game) and made free throws (33), third in steals (1.1) and free-throw attempts (42), fourth in scoring (9.3) and made 3-pointers (22), fifth in assists (1.9) and tied for fifth in made field goals (47) … Joined classmate Endia Banks as the first Miami freshmen to start every game since Shenise Johnson in 2008-09 … Second player in program history to earn multiple ACC Freshman of the Week awards, along with Johnson … Joined classmate Kelsey Marshall as the third and fourth ACC All-Freshman Team honorees in program history … Facing FIU (11/10) in her first-career outing, tallied season highs in points (game-high 27), assists (co-game-high five), made field goals (eight), made free throws (eight), free-throw attempts (11) and minutes (team-high 35), adding a co-game-high three steals … Scored a game-best 21 points and shot 4-of-8 from 3-point range against Vermont (11/12) … Had 10 points and went 5-of-5 at the line at Colorado (11/18) … Notched 13 points and four assists versus New Orleans (11/21) … Posted 16 points, shooting 6-of-11 from the floor and 3-of-6 beyond the arc, to go along with a team-leading four assists against Maine (11/24) … Registered a team-high 21 points, shooting 8-of-15 from the field and 3-of-4 from deep, versus No. 15/15 Maryland (11/26) to cap her double-digit scoring streak … Notched 12 points and shot 6-of-8 from the stripe in the win over No. 20/23 Kentucky (12/10) … Scored a game-best 18 points on 8-of-13 shooting and had a co-game-high five assists, tying her top mark, against Alabama State (12/15) … Tallied 10 points, four assists and a season- and team-high four steals versus Sacramento State (12/18) … Amassed 24 points, a then-season-high four rebounds, co-team-high three assists and three steals against Bethune-Cookman (12/25), shooting 8-of-12 from the floor, 4-of-6 beyond the arc and 4-of-4 at the line … Had 11 points and went 6-of-7 at the line at No. 13/12 Florida State (1/11) … Turned in a 14-point performance at Clemson (1/14) … Posted a game-high three steals at Boston College (1/21) … Totaled 13 points and a team-leading four assists in a game-high 34 minutes against fourth-ranked Louisville (1/25) … Logged 14 points at North Carolina (2/4) … Tied for the team lead with a season-high seven rebounds in the victory over No. 23/23 NC State (2/8) … Turned in a team-leading and season-high-tying five assists in a team-best 30 minutes, adding a trio of steals, against No. 12/12 Florida State (2/11) … Compiled 17 points on 6-of-10 shooting, including a 4-of-6 mark from 3-point range, and dished out a season-high-tying five assists versus Pittsburgh (2/15) … At Georgia Tech (2/22), notched team highs in points (18), steals (three) and minutes (33), connecting on 4-of-7 3-pointers … Recorded 15 points in a team-best and season-high-tying 35 minutes against No. 11/11 Florida State (3/2) in the ACC Tournament quarterfinals … In the season finale, scored 10 points versus Quinnipiac (3/17) in the NCAA Tournament opening round.
High School: Graduated from SHABACH! Christian Academy Homeschool and played basketball for National Christian Academy … Listed by ProspectsNation.com as a four-star recruit, the No. 60 overall player and the No. 16 point guard … Ranked as a four-star prospect and the No. 69 prospect in the country by espnW HoopGurlz, as well as the No. 14 point guard and third-best player in Maryland … Two-time Washington Post First Team All-Met selection and a McDonald's All-American Game nominee … Averaged 18.9 points per game as a senior, helping her team to a 25-7 record and a No. 3 finish in the Washington Post's area rankings … Tabbed as the Maryland Gatorade Player of the Year and a USA TODAY First Team All-State pick as a junior … Logged 18.1 points, 4.2 assists and 2.9 assists, as her team finished a perfect 30-0 … Attended Capital Christian Academy as a freshman … Member of the honor society … Played on the AAU circuit with the Fairfax Stars and won the Nike EYBL championship in 2015 … Dante Taylor, a 2013 McDonald's All-American, also played for National Christian Academy, as did Kevin Durant for his first two years of high school.
Personal: Full name is Mykea Denise Gray … First name is pronounced My-KEY-Uh … Nickname is Kea … Born May 19, 1998 … Parents are Michael II and Nakia Gray … Father is a realtor and mother is a lawyer … Has a younger brother, Michael III … Majoring in criminology … Career goal is to be an FBI agent … Enjoys dancing and listening to music … Favorite athlete is Kyrie Irving because of how difficult he is to guard … Best sports memory is hitting a game-winning shot at the buzzer in seventh grade and hugging her dad afterwards … Chose Miami because it was the best school she visited in terms of the combination of academics and basketball … Committed to Miami over DePaul, George Washington, Georgia, Penn State, Rhode Island, Seton Hall, USF and Temple.