University of Miami Athletics
Mia Vallée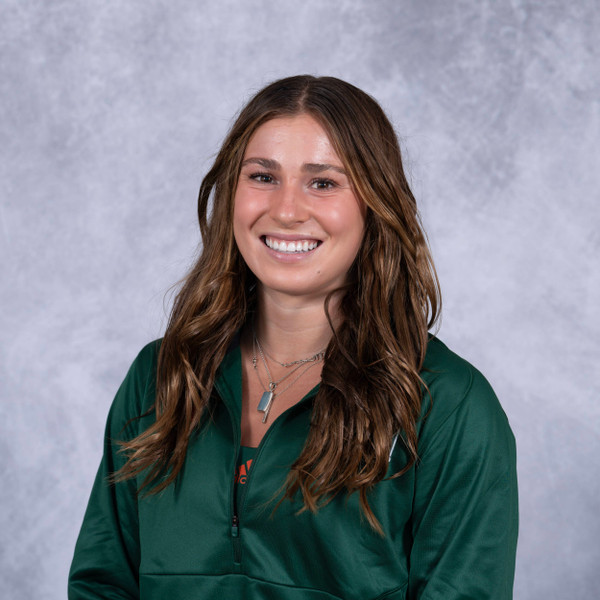 NIL Opportunities
Powered By

Engage with Mia today!

2022 NCAA NATIONAL CHAMPION (1-meter)
2023 NCAA ALL-AMERICA (1-meter, 3-meter)
2023 ACC SILVER MEDALIST (1-meter, 3-meter)
2022 ACC GOLD MEDALIST (3-meter)
2022 ACC SILVER MEDALIST (1-meter)
2021 NCAA ALL-AMERICA (1-meter)
2021 ACC GOLD MEDALIST (1-meter)
2021 ACC SILVER MEDALIST (3-meter)
ALL-ACC ACADEMIC TEAM (2020, 2021, 2022, 2023)
Fourth-Year Junior (2022-23): Delivered another standout year for Hurricanes, earning two silver medals at ACC Swimming & Diving Championships and two more NCAA All-America honors…Captured silver in both 1-meter and 3-meter springboard at ACC Championships, serving as one of event's top performers for third straight year…Posted score of 330.05 in 1-meter dive at ACC Championships…Scored 367.20 in 3-meter dive at ACCs…Qualified for both springboard events with strong showing at Zone B qualifying…Finished third nationally in 1-meter springboard at NCAA Championships in Greensboro, N.C…Finished with score of 338.10 at NCAAs in 1-meter as defending national champion…Captured fifth place finish nationally in 3-meter springboard (355.65), earning another All-America recognition.
Third-Year Sophomore (2021-22): Named ACC Women's Diver of the Year…Won NCAA national championship in 1-meter springboard with an NCAA Championships record score of 365.756….Scored 309.75 during qualifying for 1-meter, earning eighth and final spot in championship round…Became 14th diver to win national championship under Randy Ableman… Tied for fourth place in 3-meter event and earned NCAA First-Team All-America honors in both competitions…Captured two medals at ACC Championships, taking gold in 3-meter and silver in 1-meter to add to trophy cabinet…Qualified for NCAA Championships at Zone B regional meet, finishing second in 1-meter with 658.15 points.
Sophomore (2020-21): Enjoyed breakout sophomore season on boards, taking home first NCAA All-America honors of career and earning two podium trips at ACC Swimming & Diving Championships, including first gold medal…Added one NCAA Honorable Mention recognition…Selected to All-ACC Academic team…Finished in eighth place in 1-meter springboard (289.70) at NCAA Women's Swimming & Diving Championships…Added 10th-place finish in 3-meter springboard (341.70) to earn All-America Honorable Mention honors by finishing in top 16 nationally…Was top finisher in both springboard events (1-meter, 3-meter) at NCAA Zone qualifiers in Greensboro, N.C….Won first conference gold medal of career at ACC Championships, finishing with top honors in 1-meter (340.95)…Earned silver medal in 3-meter (363.20) on first night of ACC Championships.
True Freshman (2019-20): Made collegiate debut against Florida (Sept. 27) and finished third in 1-meter (282.83) and second in 3-meter (305.63)…Won 3-meter springbaord in dual meet with Boston College (Jan. 4)…Swept both springboard events in dual meet with over FGCU (Jan. 18)…Finished ninth in preliminaries of 1-meter (272.55) at 2020 ACC Swimming & Diving Championships in Greensboro, N.C….Finished first in 3-meter (692.50) at Zone qualifiers in Athens, Ga., to earn trip to NCAA Swimming & Diving Championships, which were eventually cancelled due to COVID-19 pandemic.
Before Miami: Accomplished international diver for native Canada…Three-time junior national champion..Selected to represent Canada at World University Games in Naples, Italy, qualifying for finals on every board she competed in…Won individual bronze medal at 2016 FINA Grand Prix in Gold Coast, Australia…Won gold at Grand Prix in Madrid in 2017 and placed fourth at World Junior Championships in 2016 in women's 3-meter synchronized event with partner Olivia Chamandy.