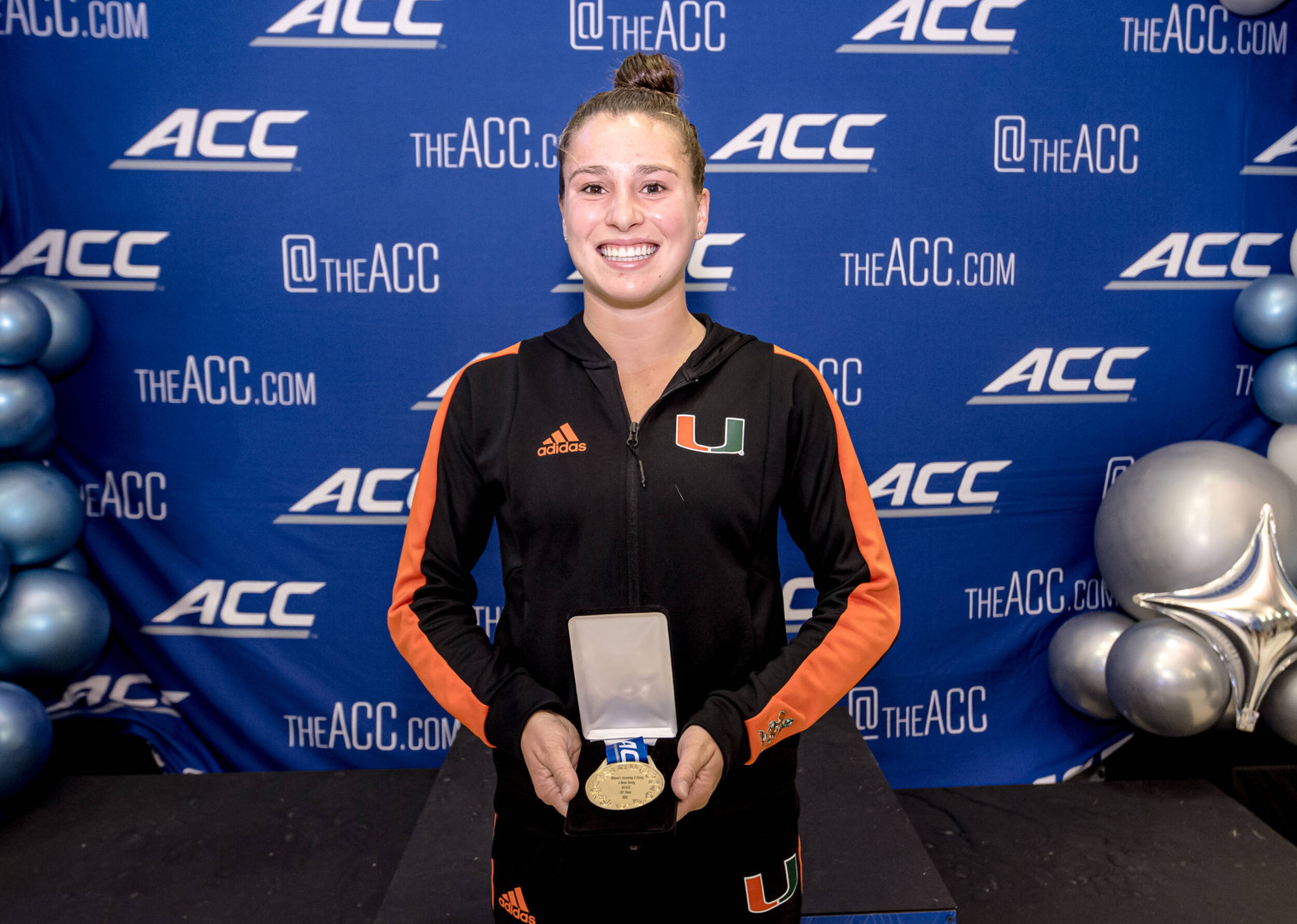 EDITOR'S NOTE: This story is part of our Together 4 Her series. Launched in conjunction with the 50th anniversary of Title IX legislation, Together 4 Her is a year-round initiative by UM Athletics that showcases accomplishments of women from around the university while supporting gender equality on and off the field of play. For more information click here.
CORAL GABLES, Fla. – Her second dive of the day was anything but perfect. Far from it, actually.
But Mia Vallée wasn't deterred.
She knew that even though she faced an uphill climb on the scoreboard during the preliminaries of the 1-meter springboard at last month's NCAA Women's Swimming & Diving Championships, she'd find a way to work her way up in the standings.
Her dives had the necessary degree of difficulty to help her make a move. She knew she had the ability to execute them.
She wasn't wrong.
Not only did Vallée fight her way into a finals field that featured just eight of the nation's top divers, but she went on to win the national championship – in record-breaking style.
The third-year diver posted a total score of 365.756 in her event – besting the mark set by Minnesota's Sarah Bacon in 2019. Vallée scored more than 60 points on three of her final six dives, her reverse 2 ½ somersault tuck netting her 69.00 points for her top score of the day.
Her resilience netted her first a spot in the finals. It later made her a champion.
"It's crazy to think about it because I have been able to step it up in finals recently a lot better than I used to," Vallée said. "So I knew once I made finals, I knew I was going to be able to dive my best. I wasn't going to hold anything back. But prelims, it's a long competition. I mean, it's about three hours, so it's really hard to keep your energy up the whole time. I guess I was just thinking that I would be devastated if I didn't make it and I just didn't get the chance…I would be upset if I didn't get another chance to give 100 percent. I think I was less thinking about 'Oh, I want to medal. Oh, I want to win' and more like 'I want to make myself proud.'"
Vallée did more than just make herself proud. She became the 14th diver under head coach Randy Ableman to win a national title and finished the weekend with All-American honors in the 3-meter springboard. She was also named the ACC Women's Diver of the Year after her memorable season.
On Sunday, she will be one of 11 Hurricanes student-athletes honored for their work in the classroom, in the community and in competition in their respective sports during Miami's eighth annual Celebration of Women's Athletics.
It's an honor her coach says Vallée more than deserves, given the fact that she's not only excelled on the boards, but in her classes as a marine sciences major, too.
"I put her in the same category as all the great divers we've had," Ableman said. "She never misses a practice. She's really into her sport. And she's more than just a diver. She's a great student in marine science. She's super, super busy, but she excels in more than one thing at a time. That's what I think all the great ones do…What I say is that she's the whole package. She's very serious about her spot. She's very serious about her academics. And yet, she's a very fun and funny person and a great teammate. She uplifts other people as well as herself."
Vallée concedes that it hasn't always been easy to stay on top of all of her responsibilities, with both her diving and her academic work. Before competing at this week's Canadian Winter National Diving Championships, she had to check in with her professors and explain why she'd be away from class.
Uncomfortable conversations like those weren't exactly her forte when she arrived at Miami, but she's found her voice and a comfort level she didn't quite have as a freshman. And she's plenty proud of the way her time management and organizational skills have improved, too.
"I'm a lot more comfortable speaking to people, like professors, because I've had to do it so much for competitions," said Vallée, who has been named to the Provost's List, Dean's List, Athletic Director's Honor Roll and All-ACC Academic Team during her time at Miami. "I've had to explain who I am, what I'm doing, things like that."
Her efforts on that front have paid off. Now, Vallée has an NCAA Championship on her resume and is well on her way to earning a degree she says she could never have imagined attaining during her childhood in her native Canada.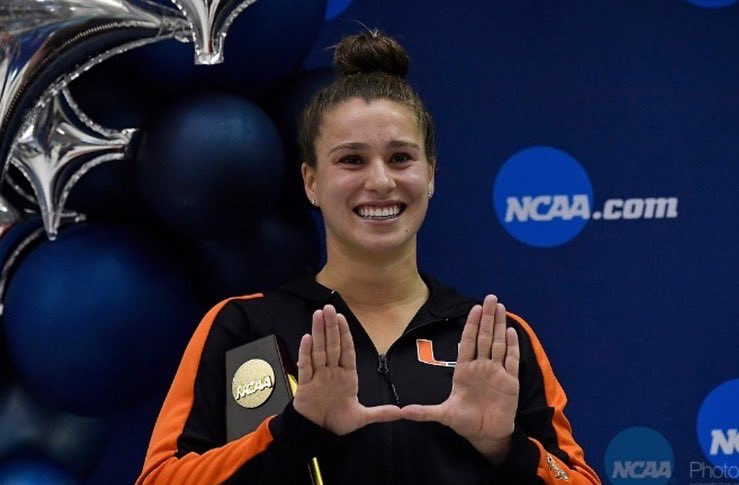 Miami helped make both of those dreams realities for her.
"I'm in an amazing position. I don't think I would have gotten the same marine bio education up in Montreal. I don't even know that I would've even chosen that major had I done my degree up there. They're definitely not going to have the same research opportunities, professors and knowledge base that Miami has," Vallée said. "So I think I would have had a completely different career path if I stayed in Canada. And the way Miami has set me up with connections has made me feeling a lot more confident than maybe I would have.
"And in terms of diving, Miami has allowed me to work with coaches that understand me very well and be part of a team that is always supportive and uplifting. I think that just makes a huge difference."
And though she's just weeks removed from winning her national championship, Vallée is already thinking about defending her title next year. Beyond that, she has her sights on the 2024 Olympics in Paris and knows a strong finish to her Miami career will only help on that front.
Ableman, who has served as a member of the U.S. Olympic Diving Team staff in three separate Games and has coached 11 different Hurricanes who've competed in the Olympics, is confident Vallée can reach that goal, too.
"I think we could see her in Paris," Ableman said. "In our sport, for any country, they can send two divers in each event. So there's not much room for error to be in the top two. A lot of it is timing. A lot of it is peaking at the right time. But physically and the list of difficult dives she can do, she has all the attributes. We just need her to stay healthy, get her to peak at the right time and I think she'll have an excellent chance to be in Paris."