University of Miami Athletics
Eric Hickson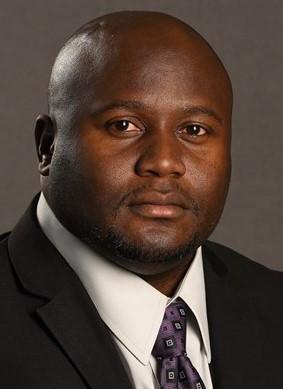 Eric Hickson is entering his third season as Miami Hurricanes' running backs coach in 2021.
Under his watch in 2020, the Hurricanes featured three impressive running backs, including veteran Cam'Ron Harris, who averaged 5.1 yards per carry and scored 10 touchdowns in his first year as a starter. In his second season at The U, the Hurricanes moved up to No. 32 in FBS in total offense, No. 29 in passing offense, No. 26 in scoring offense, No. 17 in red zone offense and No. 20 in first downs gained offense.
In his first season in Coral Gables, Hickson helped all three of the Hurricanes' primary running backs to career-high rushing totals. Among Miami's top performers on offense, DeeJay Dallas averaged six yards per rush and scored eight rushing touchdowns despite missing three games to injury and Harris finished with 576 rushing yards despite making just three starts. Dallas was selected in the 2020 NFL Draft by the Seattle Seahawks.
A native of Fort Lauderdale, Hickson came to The U after spending the 2018 season as running backs coach at his alma mater Kansas State.
In 2018, Hickson helped Wildcats junior running back Alex Barnes lead the Big 12 with 1,355 rushing yards and 12 touchdowns. Overall, Kansas State ranked third in the conference in rushing, averaging 182.6 yards per game.
Prior to his one-year coaching stint in Manhattan, Hickson spent three seasons as the running backs coach at Akron, where he helped the Zips earn a pair of bowl berths, including the 2017 campaign in which Akron won the MAC East Division and played in the Boca Raton Bowl.
Hickson joined the Zips after serving as the interim head coach, running backs coach and outgoing recruiting coordinator at Garden City (KS) Community College in 2014. Prior to joining the Broncbusters, Hickson coached at Emmerich Manual High School in Indianapolis for two seasons, serving as the head coach his last year. He launched his coaching career in the high school ranks in South Florida, first as assistant head coach at Coral Springs Charter School (2003-06) and then as running backs and special teams coach at American Heritage (2007-11).
Hickson left Kansas State in 1998 as the school's all-time leading rusher with 2,537 yards and 26 touchdowns, marks that still rank fifth and seventh in program history, respectively. A three-year starter and two-time team captain, Hickson led the Wildcats in rushing during the 1995, 1997 and 1998 seasons. He signed with the Tampa Bay Buccaneers as an undrafted free agent in 1999, and eventually played in the XFL and Arena Football League.
Hickson and his wife Keisha have one son, Eric, Jr.